Commentary
Stars passing in the night
Chargers' Rivers throws the game-winning dagger that beats "brother" Eli, Giants
Originally Published:
November 8, 2009
By
Len Pasquarelli
| ESPN.com
EAST RUTHERFORD, N.J. -- Once Eli Manning and Philip Rivers switched franchises less than an hour into the 2004 draft, the NFL fortunes of the two standout quarterbacks were forever intertwined.
But for one day at least, "forever" took a short holiday.
AFC West blog

ESPN.com's Bill Williamson writes about all things AFC West in his division blog.
Like conjoined twins surgically split apart, Manning and Rivers were separated Sunday evening in Giants Stadium.
Rivers' last-minute touchdown pass to wide receiver Vincent Jackson lifted the surging San Diego Chargers over the spiraling New York Giants 21-20. The scoring pass, which came with 21 seconds to play, culminated a frantic 80-yard drive in which Rivers methodically carved up the New York secondary.
It was the first meeting between the two sixth-year veterans. And if this was any kind of indicator of what the pair has in store for the next decade or so, the schedule makers should conjure up a way to pit them against each other more often. What started out as an interesting secondary storyline was elevated to an intriguing subplot in the final minutes.
"It was a lot more important to [get a win] than who we beat," insisted Rivers, who connected on six of nine passes for 75 yards in the final possession, which began with 2:07 to play. His dramatic drive came just after the Giants had lengthened their lead to 20-14 on Lawrence Tynes' 22-yard field goal.
[+] Enlarge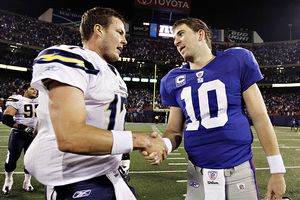 AP Photo/Julie JacobsonPhilip Rivers (left) and Eli Manning congratulate each other after a thrilling first regular-season faceoff.
"I was a [member of the Giants] for what, half an hour? It's not like I ever played for them or anything. It was just a game."
That said, it was a matchup of franchises headed in opposite directions. Jackson's touchdown -- he easily beat double coverage with a "flag" route to the back right corner of the end zone -- maintained the two teams' recent fortunes.
The Chargers, chosen by many pundits to go to the Super Bowl this season, won for the third straight time to go to 5-3. New York lost for the fourth straight time -- its first four-game losing streak since 2006 -- after starting the year 5-0.
Five weeks into the season, the Giants were not only leading the NFC East, but were considered by many to be the class of the conference. What a difference a month makes in the NFL, huh?
Manning, chosen first overall in the 2004 draft, and then traded to the Giants when he balked at playing in San Diego, noted adamantly that he and his team haven't hit rock bottom yet.
"When you hit rock bottom," Manning instructed, "is when you see guys just quitting. And we didn't quit."
For the most part, that was true. A New York defense that had surrendered an average of 37.3 points per game in its losing skein (the most in any three-game span since 1973), and allowed 15 pass plays of 20 or more yards in that stretch, held the potent San Diego offense to 14 points and just one completion of more than 20 yards (a 29-yard throwback pass to tight end Antonio Gates in the second quarter) until the final drive.
But demonstrating a nervy reserve, Rivers, who received admirable protection from his offensive line in the closing minutes, completed four double-digit passes on the final drive. The big completion was a 21-yard hookup to tailback Darren Sproles that moved the ball to the Giants' 18-yard line and directly preceded Jackson's score.
[+] Enlarge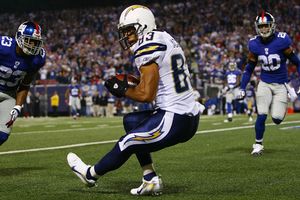 Chris McGrath/Getty ImagesVincent Jackson's smart route-running resulted in his catching the winning score.
On the play, Sproles, who was bracketed by a linebacker and safety, ran a precise "H-seam" route to get inside the coverage for the big first down. Then Jackson, noticing that a safety was overplaying him to the inside, took an outside release on the "flag" pattern and easily broke open.
And just like that Rivers, the fourth overall selection in '04, was a winner in his initial tête-à-tête with Manning.
More importantly, the Chargers -- who have started slowly each of the past two seasons and then rallied to win the AFC West -- eked out a victory against an opponent far more solid than the past month might indicate.
The statistics of the two quarterbacks were notably similar. Manning completed 25 of 33 passes for 215 yards, with two touchdown passes and no interceptions. Rivers was 24-for-36 for 209 yards, with three touchdowns and two pickoffs.
Manning, though, was sacked five times, including twice by Shawne Merriman, who was chosen with one of the draft picks the Chargers received in the Manning-for-Rivers swap. It was the second week in a row that the one-time dominant linebacker recorded two sacks. Rivers went down two times.
Of course, in the only numbers that truly count, Rivers came out on top.
Asked if the victory represented a "measuring" stick for his resurgent team, which had built its impetus with wins against inferior opponents, Chargers coach Norv Turner said the outcome was important "for the people on the outside" and downplayed the big-picture significance of it.
But his counterpart, Tom Coughlin, found it difficult to disguise his disappointment.
And so did his players, who only a month ago were riding high.
"I'm pretty discouraged right now," said tight end Kevin Boss. "I thought we had it."
It certainly seemed that way, especially after a 33-yard interception return set up the Giants, leading 17-14 at the time, at the San Diego four-yard line with just 3:14 to play.
But on the first play from scrimmage, right guard Chris Snee was flagged for holding, and then Coughlin grew ultra-conservative, calling a short, flat pass and two running plays and settling for a field goal and a 20-14 edge.
Instead of putting the Chargers away with a clinching touchdown, New York left the door ajar for Rivers to rally the Chargers back.
Said San Diego left tackle Marcus McNeill: "You ask [Rivers], and I'm sure he'd tell you it's just another win, one that we really needed to keep momentum going our way. But I'm also sure it meant a lot more to him than most wins do."
Len Pasquarelli, a recipient of the Pro Football Hall of Fame's McCann Award for distinguished reporting, is a senior writer for ESPN.com.
SPONSORED HEADLINES
MORE NFL HEADLINES
MOST SENT STORIES ON ESPN.COM
NFL WEEK 9 COVERAGE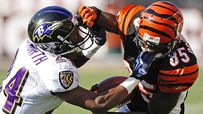 COMMENTARY/BLOGS
MNF: Steelers 28, Broncos 10