Commentary
Tip Sheet: Depth pays off for Steelers
Originally Published:
November 13, 2009
By
Len Pasquarelli
| ESPN.com
How well an NFL team is able to successfully replace injured starters with backups is always critical in the league.
INSIDE TIP SHEET
There's more to explore in this week's Tip Sheet notes.

Byrd is the word in Buffalo

Little interest in LJ

Cable dispatches

Baby steps for Giants

Bradford's place

Bad timing for Eagles' star

Centers of attention

Moving time?

Eating crow about a Steeler

On Monday night in Denver, the Steelers were without three starters on defense because of injuries or organizational diligence. The short-handed condition didn't hinder the team's performance.
Safety Tyrone Carter was cited as the AFC defensive player of the week for registering two interceptions, including one returned for a touchdown, and two other passes defensed in the Steelers' 28-10 victory. Technically, Carter wasn't starting for an injured player because free safety Ryan Clark was held out of the game over concerns about how his sickle cell trait would respond in the Mile High City's thin air. But Carter is used to solving problems in the Steelers' secondary. The 10-year veteran started four games at strong safety earlier this season when Troy Polamalu was sidelined by a sprained medial collateral ligament.
Special-teams ace Keyaron Fox, starting at inside linebacker for Lawrence Timmons (ankle), had seven tackles, with one for a loss. End Nick Eason, starting for Travis Kirschke (ankle), who had already replaced standout Aaron Smith (season-ending shoulder injury), added a tackle.
On offense, tailback Rashard Mendenhall, who won the starting job when Willie Parker went down with a toe injury a month ago, rushed for 155 yards. On many of his 22 carries, Mendenhall ran behind right guard Trai Essex, who has started all eight games because of a season-ending knee injury to Darnell Stapleton.
The Replacements
A number of veterans have started four or more games for injured teammates over the first half of the season and either played well or won No. 1 jobs because of their strong performances. Here are a few of them:
SS Melvin Bullitt (Colts):
The third-year veteran has started six games for the oft-injured
Bob Sanders
, and will continue as the starter through the season. The strong-hitting Bullitt has 35 tackles and one forced fumble.
OT Jermon Bushrod (Saints):
Missed one game because of injury, but the third-year pro has started seven times because of a season-ending hip injury to left tackle
Jammal Brown
. Before this season, Bushrod had played just three games, with no starts. Unofficially, he has allowed only four sacks for the NFL's most explosive offense.
QB Chad Henne (Dolphins):
He's started five games for the injured
Chad Pennington
, and has registered a 3-2 record. The team's quarterback of the future, Henne has completed 93 of 158 passes for 990 yards, and has respectable passer rating of 77.8.
OT Winston Justice (Eagles):
Justice, who owned just one career start before the season, has acquitted himself very well at right tackle this year, filling in for two-time Pro Bowl blocker
Shawn Andrews
. He's been a better pass-protector than expected.
RB Rashard Mendenhall (Steelers):
He got his chance when
Willie Parker
suffered a toe injury, and has claimed the No. 1 RB spot. In five starts, he has gained 528 yards, has a 5.7-yard average and posted two games of 150-plus yards.
Others (limited to at least four starts):
S
Tyrone Carter
(Steelers), G
Trai Essex
(Steelers), CB
Jerraud Powers
(Colts), CB
Shawntae Spencer
(49ers), OG
Kasey Studdard
(Texans),CB
Terrell Thomas
(Giants).
"It's what being a team is all about," said Clark, who was ruled out of Monday's game by coach Mike Tomlin. "Everyone stepped up big and contributed, and that's a tremendous tribute to us having so many guys on this team who are ready to play. When your number is called, be ready."
Not every team in the league, of course, survives the kind of attrition that has struck the Steelers in recent weeks. Yet Indianapolis has lost three-quarters of its starting secondary to injuries, and the Colts remain undefeated. Ditto for the New Orleans Saints, who have played the entire season without two-time Pro Bowl left tackle Jammal Brown (hip), with starting defensive tackle Sedrick Ellis (knee) out of the lineup for the past two weeks and likely to be absent for at least two more, and defensive tackle Kendrick Clancy (knee) lost for the rest of the season.
Philadelphia remains in the NFC East race despite playing the entire season without two-time Pro Bowl offensive lineman Shawn Andrews (back) and three games absent standout tailback Brian Westbrook (ankle, concussion). The Eagles haven't been so fortunate at middle linebacker, where they are on their third different starter after losing Stewart Bradley to a knee injury in the preseason.
For our purposes, we are primarily concentrating on those players who in the first half of the season started at least four games because of injuries. There have been, of course, some strong performances from players who started fewer than four games: New England offensive tackle Sebastian Vollmer, Seattle linebacker David Hawthorne, Eagles tailback LeSean McCoy, among others.
But from the burgeoning group of players who have started four or more games in relief, there have also been some disappointments. Giants safety C.C. Brown was benched last week because of his play while replacing injured starter Kenny Phillips (knee). In San Diego, Scott Mruczkowski and Ogemdi Nwagbuo have played pretty well, but haven't been able to fill the holes created by injuries to center Nick Hardwick (ankle) and nose tackle Jamal Williams (knee), respectively.
Likewise, New York Jets nose tackle Sione Pouha has been decent, but he is not Kris Jenkins (knee). The Bears haven't been able to find an adequate replacement for middle linebacker Brian Urlacher (wrist).
As in past years, 2009 has experienced its share of super subs and replacement flubs, and it definitely has made a difference in the standings.
Len Pasquarelli is a senior writer for ESPN.com.
SPONSORED HEADLINES
MORE NFL HEADLINES
MOST SENT STORIES ON ESPN.COM
NFL WEEK 10 PREVIEW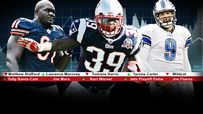 FINAL WORD
PICKS
POWER RANKINGS
PATRIOTS VS. COLTS
HOT READ: Dallas Clark
MIDSEASON REPORT
MNF: Ravens at Browns (8:30 ET)
COLUMNS/BLOG POSTS
FANTASY
SCOUTS INC.
PAGE 2