Commentary
Offensive woes have stalled Broncos
Denver searching for answers after sputtering attack results in third straight loss
Originally Published:
November 15, 2009
By
Len Pasquarelli
| ESPN.com
LANDOVER, Md. -- Before strictly adhering to his self-imposed 90-second time limit for interviews following Sunday's game, Brandon Marshall pulled on a blue T-shirt with this message emblazoned across the front: "I'm livin' out my dream. Please don't pinch me."
Consider the Denver Broncos' star wide receiver pinched. And his suddenly slumping team is in an uncomfortable squeeze, too.
The plummeting Broncos lost their third straight contest, dropping a 27-17 decision here Sunday to the previously struggling Washington Redskins, and the loss tightened things considerably in the AFC West. The Broncos, winners of their first six games of the year, fell to 6-3, and face a division showdown with surging San Diego next week. The Chargers, also 6-3, won their fourth straight on Sunday, beating the Eagles 31-23.
The two teams are now tied for the division lead, which would've been unthinkable at one point.
"I'm still trippin', man," offered puzzled tailback Correll Buckhalter, whose first-quarter fumble at the Washington 39-yard line halted a promising drive. "I mean, in this league, you find out you can lose to anybody, OK? But there are games that, if you're a championship team, you shouldn't lose. We're just in a [funk] right now."
That's especially true of the Denver offense during this losing streak.
[+] Enlarge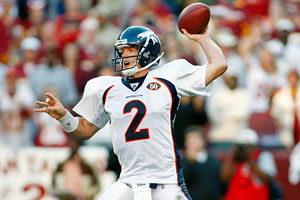 Geoff Burke/US PresswireThe Broncos' offense came to a virtual standstill after Chris Simms replaced an injured Kyle Orton.
The Broncos have scored only 34 points (their opponents have tallied 85) during the losing skein. In its six victories, Denver averaged 22.2 points. And while the Broncos' offense wasn't exactly prolific during the 6-0 start, scoring more than 30 points just once, the attack wasn't nearly as limp as it has been recently.
Denver managed only 14 first downs and 305 yards on Sunday, and the status of starting quarterback Kyle Orton, who exited at halftime with an ankle injury, is uncertain for next week's matchup with the Chargers. The Broncos generated just two touchdowns, but that paltry output equaled their total number of scores the previous two weeks.
Notably, those touchdowns came almost too easily, on Orton completions of 40 and 75 yards to Marshall, who was wide open behind the Washington defense both times. Less than 12 minutes into the contest, Marshall had two catches for 115 yards. Over the final 48 minutes, though, Marshall had just three receptions for 19 yards. And the Broncos' offense rang up only 134 yards on 47 snaps over eight possessions.
The Broncos also didn't have a pass play longer than 18 yards after Marshall torched the Redskins' secondary for the 75-yard score.
Those Denver fans who were ready to nominate youthful coach Josh McDaniels for Mensa membership might want to hold off a little longer. At least until the Broncos start challenging opponents deep.
"We just couldn't throw it the way we wanted to," said wide receiver Eddie Royal, who was limited to two catches for 21 yards.
Mostly, however, Denver couldn't throw the ball upfield, and that lack of a vertical passing game was hurtful on Sunday, as it has been much of the season. The Broncos thrive on throwing the ball short and then relying on Marshall and Royal, both of whom are slippery runners, to add yards after the catch. On Sunday, most of the Broncos' 206 passing yards came on the catch, as Marshall had to only back into the end zone on his first score and avoid falling down on his second, when he was at least 15 yards behind Washington cornerback Fred Smoot.
Rookie tailback Knowshon Moreno, the Broncos' first-round draft choice in April, rushed 18 times for 97 yards, but didn't get much help from the passing attack, particularly after backup Chris Simms replaced the injured Orton to start the third quarter. Simms completed only three of 13 attempts for 13 yards and was sacked three times.
But outside of the two long completions to Marshall in the first quarter, Orton struggled, as well. Despite notching a 134.7 passer rating in two quarters, Orton wasn't very sharp, and didn't attempt to stretch the Washington coverage very frequently.
"We knew they're a big run-after-catch team, so we had to tackle well and stay on top of those guys," explained Redskins cornerback DeAngelo Hall, whose fourth-quarter interception in the end zone killed a Denver scoring drive with the score tied at 17, and led to the Redskins' winning touchdown. "That's a large part of their game."
Denver's defense played well enough -- one of Washington's three touchdowns came on a fake field goal, when holder/punter Hunter Smith threw across the field to fullback Mike Sellers for a 35-yard score in the second quarter -- but without much offensive support, it wasn't quite enough.
Starting in place of the injured Clinton Portis (concussion), tailback Ladell Betts pounded out 114 yards for the Redskins, with most of his attempts between the tackles. Like many of Denver's recent opponents, the Redskins frequently spread the field with three wide receivers, then ran inside from that formation. Still, the Broncos limited Washington quarterback Jason Campbell to 193 yards, and he had just three completions of more than 20 yards.
But that was one 20-yard completion more than the Broncos managed all day.
Orton was averaging just 6.83 yards per attempt entering the game. That isn't great, but when the Broncos were 6-0, it didn't matter as much. He actually bettered that considerably, at 10.7 yards per pass play, against the Redskins in his one half of work. But take away the two long scores to Marshall early on, and Orton averaged a measly 4.88 yards per pass.
During the Broncos' three-game skid, Orton has averaged an underwhelming 6.08 yards per attempt, and has thrown only two touchdown passes.
"We just couldn't function," lamented McDaniels.
Now that the Broncos are in a pinch, they'd better start. And soon.
Len Pasquarelli is a senior writer for ESPN.com.
SPONSORED HEADLINES
MORE NFL HEADLINES
MOST SENT STORIES ON ESPN.COM
NFL WEEK 10 COVERAGE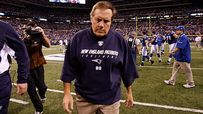 Last Call | MN HQ | Coach ratings | Blog
BELICHICK'S CALL
COMMENTARY/BLOGS
MNF: Ravens at Browns (8:30 ET)