Commentary
Tip Sheet: 24 teams vying for 12 spots
For seemingly every team, a strong finish still could secure a playoff berth
Originally Published:
November 27, 2009
By
Len Pasquarelli
| ESPN.com
With roughly two dozen franchises still in varying degrees of contention for the coveted 12 NFL postseason berths, consider these pithy words of advice for the final full month of the 2009 campaign:
Win and you're in.
INSIDE TIP SHEET
There's more to explore in this week's Tip Sheet notes.

Irsay committed to Colts

Not so fast

New coach, new QB

Jack back?

The Big Uneasy

Head games

Well, for the most part, at least.
Many coaches swear by the "playoff-spots-are-won-in-December" adage. For clubs that essentially have been eliminated for postseason consideration, that adage doesn't apply.
But for the other clubs, largely those with five or six wins through the November schedule (through the three Thanksgiving Day games, 18 teams in the league had non-losing records), the trite is often true.
"Whether you win a game in September or in the final month, it's kind of supposed to count the same, [because] it's just one win, right?" said San Diego Chargers quarterback Philip Rivers. "But it doesn't ever seem to happen that way. I guess that all [wins] are not really created equal."
Rivers' team suddenly has jumped into the lead in the AFC West, compliments of a five-game winning streak that followed a 2-3 start, and the collapse of the fast-starting Denver Broncos.
The Chargers, who have won each of the past three division championships, seem to be a prime example of that win-in-December philosophy. San Diego was just 13-11 in the first eight outings of the past three seasons (2006 to 2008) combined, but was a remarkable 14-0 in regular-season contests after November, and with a lopsided average winning margin of 15.6 points over the same December-January period.
San Diego last dropped a post-November regular-season matchup on New Year's Eve 2005, a 23-7 home loss to the Broncos.
That late-season surge has yet to translate into playoff success for San Diego, which is just 3-3 in the postseason since 2006 and has advanced to only one AFC championship game. But the ability to rally back from dismal starts, and to ring up victories during the regular-season crunch-time, has been a significant part of the Chargers' recent success.
Said cornerback Quentin Jammer: "You know, as a team, you always want to build up that [late-season] momentum. We seem to have that formula."
AFC Races
Here are the current AFC playoff leaders entering Week 12. The current AFC first-round (wild-card) matchups would be: Jacksonville at San Diego; Denver at New England.
| Division | Team |
| --- | --- |
| East | New England (7-3) |
| North | Cincinnati (7-3) |
| South | Indianapolis (10-0) |
| West | San Diego (7-3) |
| Wild cards | Denver (7-4), Jacksonville (6-4) |
Although the Chargers seem to have recently perfected that December-to-Remember mindset, they are hardly the only franchise that has earned a postseason invitation with strong performances once the calendar moves past November.
Since the NFL adopted the eight-division format in 2002, playoff clubs have won 69.5 percent (273-120-0) of their regular-season contests after November. Just 10 of the 84 playoff clubs in that period (11.9 percent) registered losing records post-November, including the New York Giants (1-3) last season. In four of the past seven seasons, there was either one or no playoff clubs with losing marks.
If teams have frequently been able to pull the playoff rabbit out of the hat by collecting December victories, then the magic number for qualifying for the postseason seems to be 11 wins. Since the 2002 season, 47 teams have registered 11 or more victories in a campaign. The 2008 New England Patriots (11-5) are the only team in that stretch to post 11 victories in a season and get shut out of the playoff tournament.
In that seven-season period, the 56 division champions averaged 11.5 victories and the 28 wild-card teams averaged 10.96 wins. The overall average for the 84 playoff clubs from 2002 to 2008 was 11.3 victories.
There have been 14 franchises since 2002 that made the playoffs with fewer than double-digit victories.
NFC Races
Here are the current NFC playoff leaders entering Week 12. The current NFC first-round (wild-card) matchups would be: Philadelphia at Dallas; Green Bay at Arizona.
| Division | Team |
| --- | --- |
| East | Dallas (8-3) |
| North | Minnesota (9-1) |
| South | New Orleans (10-0) |
| West | Arizona (7-3) |
| Wild cards | Green Bay (7-4), Philadelphia (6-4) |
Since this is a season in which every club will play five games after November ends, there remains plenty of opportunity and considerable intrigue remaining in the 2009 campaign, even though the year has been one of unusual disparity in the league.
That said, both of the NFL's remaining unbeaten teams, the Indianapolis Colts and New Orleans Saints, can secure their respective division titles this weekend. No matter what transpires in Week 12, at least six of the league's current first-place teams will enter December with an undisputed lead in their divisions.
"But there are still some great [playoff] races," said Houston Texans wide receiver Andre Johnson. "There's a lot of jockeying for positions going on. The pressure is on. The [stretch] run should be very good."
That's particularly true, as usual, for the two wild-card berths in each conference. By virtue of their Thanksgiving victories, the Green Bay Packers and Broncos (both at 7-4) now lead the wild-card races in their respective conferences. Especially compelling, though, figure to be the games matching wild-card wannabes.
The Atlanta Falcons (5-5) launch a three-game homestand this weekend, but already have lost to two NFC East teams, the Dallas Cowboys and the Giants. The Falcons play host to the Philadelphia Eagles on Dec. 6. The San Francisco 49ers (4-6) still face three NFC West matchups. The Pittsburgh Steelers and Miami Dolphins, each of whom could vie for an AFC wild-card spot, meet in the season finale. Dallas, which leads the NFC East, still has three contests in the division. The Jacksonville Jaguars' first three games in December are all home contests.
There are key matchups virtually every week in the final month of the season.
"For some teams, who need to keep winning, it's like the playoffs have already started," said Miami quarterback Chad Henne.
Len Pasquarelli is a senior writer for ESPN.com.
SPONSORED HEADLINES
MORE NFL HEADLINES
MOST SENT STORIES ON ESPN.COM
NFL WEEK 12 PREVIEW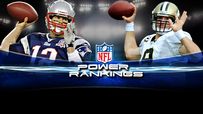 PICKS
FINAL WORD
POWER RANKINGS
HOT READ: Jim Caldwell
MNF/SUPERDOME SHOWDOWN: Pats-Saints
COLUMNS/BLOG POSTS
FANTASY
SCOUTS INC.
PAGE 2