Commentary
Let's make OT more than a footnote
NFL should consider rule changes that would make overtime about TDs, not field goals
Originally Published:
December 8, 2009
By
Len Pasquarelli
| ESPN.com
Change is typically slow for old folks, purists and those who view life from the lowest level of a pothole. Because this humble correspondent qualifies in all three categories, it is little wonder that I am mired in the dinosaur stage of the evolutionary process.
But Sunday evening, when I watched on a monitor as Garrett Hartley of the New Orleans Saints booted the winning field goal against the Washington Redskins, I experienced an epiphany of sorts. It had nothing to do with the miraculous rally the Saints staged to even reach an extra period. It occurred to me that it's probably time for the NFL to alter its overtime rules.
Through Week 13, there have been only 10 overtime games this season; all but one of them was decided by a field goal. The only team to score a touchdown was Dallas, which defeated Kansas City 26-20 in Week 5 on a 60-yard touchdown catch by wide receiver Miles Austin.
Other than that, the difference in overtime has been provided by kickers Jeff Reed, Shayne Graham, Matt Prater, Josh Scobee, Rian Lindell, Ryan Succop, Lawrence Tynes, Billy Cundiff and Hartley. There is nothing wrong with kickers. As Atlanta tight end Tony Gonzalez pointed out last week, they're "people too," and among the brightest and most conversant players in the game.
But it's time to make overtime more than a footnote.
According to two members of the NFL's influential competition committee, there has been no recent groundswell by owners or coaches to change the overtime rules. Nothing more, they claim, than the annual suggestions about how games should be decided in the fifth quarter. So the rules governing overtime aren't likely to change any time soon. And admittedly, this notion is fueled more by personal preference than empirical data.
That doesn't mean change shouldn't be considered.
The manner in which overtime contests are determined might even out a bit during the final four weeks of the season, and the current 90 percent field goal rate certainly seems aberrant. Still, in the first 35 years of the overtime scoring system (1974 to 2008), nearly 70 percent of the contests (301 of 432) ended with a field goal, and that seems to be a relatively disproportionate number.
Granted, the American sports public and particularly NFL fans want desperately to see a winner, not a tie. With the move to overtime in 1974, league officials took care of that for the most part. With only 17 ties in overtime to this point (3.8 percent), the current system has significantly reduced the number of tie games. Yet as indicated by this season's lopsided numbers, coaches often play for a field goal in the extra session, and that takes something out of the game.
We don't buy into the hackneyed argument that the team that wins the overtime toss, and thus gets the first possession, typically wins the game. Four of the 10 overtime contests in 2009 were decided on the first possession. Coming into this season, the number was 53.7 percent. But as the Saints demonstrated on Sunday, there's no rule against making a play on defense to affect an outcome. The Redskins gained the first possession on Sunday, but the New Orleans defense forced a Mike Sellers fumble to get the ball back, and that led to Hartley's winning field goal. In four of the 10 overtime games this season, each team has had at least two possessions.
That said, we're still of the belief that it's time to take the sudden death element out of overtime. Let the teams really play an extra period, all 15 minutes of it. Or eliminate the overtime field goal and force teams to score a touchdown to win the game. Such a move would make the overtime strategy different from that employed in the first four quarters, but it probably would not significantly reduce the excitement quotient.
A prohibition against overtime field goals could result in more ties. But the public's need for a definitive outcome aside, there's nothing wrong with that. In the past 10 years, there have been only two tie games. Not since overtime was implemented in '74 have there been more than two ties in a season, and the NFL once went seven seasons (1990 to 1996) without a tie. By comparison, there were 20 tie games in the three seasons before overtime was implemented.
The league was strong enough then to survive tie games, and it would be now too.
Len Pasquarelli is a senior writer for ESPN.com.
NFL WEEK 14 PREVIEW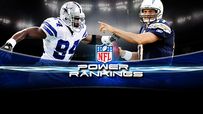 PICKS
FINAL WORD
POWER RANKINGS
HOT READ: LOST ART OF TACKLING
MNF: Cardinals at 49ers (8:30 ET)
COLUMNS/BLOG POSTS
SCOUTS INC.

MOST SENT STORIES ON ESPN.COM