Commentary
Saints, Colts passing depth test
Despite rash of injuries, both clubs stand at 13-0; others haven't been as fortunate
Originally Published:
December 15, 2009
By
Len Pasquarelli
| ESPN.com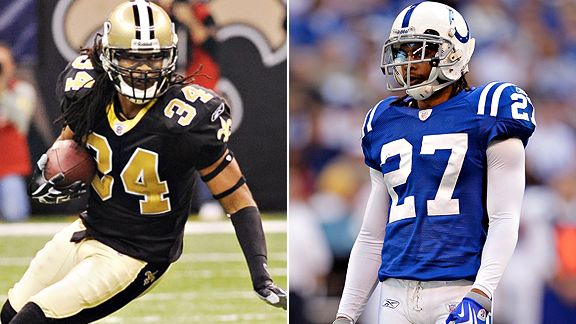 Getty ImagesVeteran Mike McKenzie, left, has helped the Saints overcome injuries in the secondary. Rookie Jacob Lacey has done the same for the Colts.
Questioned recently about injuries, Indianapolis president/general manager Bill Polian conceded that a franchise could "only stretch the rubber band so far," and suggested that the undermanned Colts might be nearing the breaking point.
Given that the Colts have played the entire 2009 season without having their projected starting secondary together for even a single snap, and have suffered injuries to other key players at various junctures of the schedule, the team's unbeaten status through 13 games is fairly remarkable. But even the Colts, with a seemingly elastic roster, were operating on a razor-thin margin, Polian allowed.
Not so thin, however, as to be threadbare.
Thanks in part to a "next man up" philosophy imbued by former coach Tony Dungy and perpetuated by successor Jim Caldwell, the Colts have compensated for their injuries far better than most other NFL teams. Indianapolis players, even the younger ones, it seems, have rallied around a familiar battle cry to which they seem to pay more attention than they pay lip service.
"The big thing around here is that they don't make excuses," said cornerback Jacob Lacey, an undrafted rookie from Oklahoma State who has started six games because of a spate of injuries that sidelined the top three players at the position. "I've learned pretty quickly that they really do expect the next man up to produce. When it's your turn, you're expected to play [well]. Being a rookie and all, I really don't know, but I [suspect] that's unusual in the league."
The Irreplaceables
There were a lot of injured players in the league in 2009 who proved to be just about irreplaceable. But here are five veterans (in alphabetical order) whose teams never seemed to find a player capable of taking their spot in the lineup:
Walter Jones, OT, Seattle:
After two offseason knee procedures, the 13-year veteran never did return to the lineup this season, and the Seahawks used four different starters at left tackle in place of the nine-time Pro Bowl performer. In part because of Jones' absence, the team's offensive line became a glaring weakness. At 35, Jones is strongly considering retirement.
Maake Kemoeatu, DT, Carolina:
On the first day of training camp, Kemoeatu sustained an Achilles injury that landed him on injured reserve. Never a Pro Bowl player, Kemoeatu was nonetheless a dominant interior run-stuffer for the Panthers, who were forced to trade for a potential replacement and claim another off waivers. Neither, though, proved to be an inside presence.
Kenny Phillips, S, N.Y. Giants:
Having started only three games as a rookie in 2008, the season-ending knee injury to Phillips didn't seem so crucial at the time. But it precipitated a season-long shuffle in New York's secondary, and the Giants have struggled versus the pass virtually all year. The coaches employed two different replacements, and then out of frustration, moved standout cornerback
Aaron Ross
to safety for a bit. None of those players, though, filled the gap created by Phillips' injury.
Troy Polamalu, S, Pittsburgh:
A pair of MCL sprains to the same knee cost the Steelers their most important defender, as Polamalu has appeared in only five games in 2009. Conventional wisdom was that veteran
Tyrone Carter
could hold the fort until Polamalu returned to the lineup, but the Steelers' Pro Bowl safety is so unconventional, and so critical to coordinator Dick LeBeau's exotic schemes, that no one could take his place. The defending Super Bowl champions are just 2-6 with him out of the lineup.
Brian Urlacher, MLB, Chicago:
The Bears on both sides of the football had problems well beyond the loss of Urlacher, but the wrist injury suffered by the six-time Pro Bowl defender in the opening game of the season was, in hindsight, insurmountable. Not only did Chicago lose a playmaker, with two different starters attempting to fill in, but it went through the season without the leadership that Urlacher, 31, typically provides.
-- Len Pasquarelli
Indeed, roster depth in the NFL, especially the kind that allows teams to plug in new starters for injured ones without a significant drop-off, is certainly rare. But while roster depth is a nebulous and relative commodity, it is nonetheless accomplished by franchises.
Some more than others.
Theoretically, at least, injuries at this point of the season are supposed to be the great equalizer. In a recent piece detailing the hurts to every team, Pro Football Weekly termed injuries the "X factor" in the playoff chase, and that is often the case. But there are several teams, Indianapolis and New Orleans among them, that remain superior because of their impressive depth and ability to deal with injuries. That both teams are 13-0 is attributable almost as much to depth as to their abilities on the playing field.
"Yeah, you think about depth, but not until you have a lot of injuries, especially at the same position," said Saints general manager Mickey Loomis. "Then it really becomes a factor. Sometimes it's not a matter of who gets hurt, as much as it is how many. When you have a run of injuries at one position, like we've had [at cornerback], it definitely tests your depth."
So far, despite playing the past five games without starting cornerbacks Tracy Porter (knee) and Jabari Greer (abdomen), the Saints have passed the test, using recent free-agent pickup Mike McKenzie, rookie Malcolm Jenkins and Randall Gay to fill the void. So have the Colts and a few other teams, as well.
For several clubs, however, injuries have revealed a critical lack of depth. And in the final month of the season, when attrition usually produces inflated NFL injury reports, that shortcoming is further magnified.
"We felt like we had good depth [going into the season], but we've faced some challenges," said Atlanta general manager Thomas Dimitroff.
League coaches tend to be incredibly pragmatic when it comes to injuries, generally citing them as just part of the game. It's unusual to hear a head coach lament publicly about his team's injuries. Atlanta coach Mike Smith, whose team has played its past two games without starting quarterback Matt Ryan and tailback Michael Turner, and who lost to Philadelphia two weeks ago when five offensive starters were sidelined, noted that injuries were "no excuse" for the Falcons' slump.
But make no mistake: Injuries and the inability to overcome them, typically because of a lack of depth, do make a difference. For example, Washington has been unable to recover from season-ending injuries to six-time Pro Bowl tackle Chris Samuels and standout guard Randy Thomas, and the team's offensive line has been a revolving door.
Said Gay, whose playing time has increased dramatically the past month: "Sometimes injuries and how you deal with them becomes the difference between going to the playoffs and going home."
Not surprisingly, the seven teams that currently have 10 or more players on injured reserve have an aggregate record of just 36-55 (.396). Only two of those clubs, the Saints (12 players on injured reserve) and Baltimore Ravens (11), have winning records. Three of the clubs have won two or fewer games apiece.
There are eight franchises with three or fewer players each on injured reserve, and their combined record is 57-47 (.548). Five of those eight teams own winning marks, and three either lead or are tied for the lead in their respective divisions. From that group, only the Oakland Raiders (three players on IR) have fewer than five victories.
Since the implementation of the salary cap, depth has been fairly elusive for most general managers and personnel directors. But the Colts and Saints, and a few other franchises, have demonstrated that even with financial restrictions, depth is achievable.
"You're always trying to weigh what a guy can mean to you now, as opposed to what he might become in a couple seasons," Loomis said. "Look, in this game, you can never have enough depth. I don't know anyone who doesn't want more [depth]. Sometimes the guys you think won't have to play for you for a year or two and up having to play now. Injuries can force you to speed up the [learning] curve, but that's just part of the game."
Len Pasquarelli is a senior writer for ESPN.com.
SPONSORED HEADLINES
MORE NFL HEADLINES
MOST SENT STORIES ON ESPN.COM
NFL WEEK 15 PREVIEW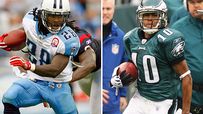 PICKS
PLAYOFF PICTURE
FINAL WORD
POWER RANKINGS
MNF: Giants at Redskins, 8:30 ET
COLUMNS/BLOG POSTS
SCOUTS INC.