Commentary
Tip Sheet: An 'all-star' team to avoid
Minus a new CBA, some free agents will wear unwanted "restricted" labels
Originally Published:
February 12, 2010
By
Len Pasquarelli
| ESPN.com
At their pre-Super Bowl news conferences last week, NFLPA executive director DeMaurice Smith and league commissioner Roger Goodell presented the respective stances of their constituents.
While the rhetoric and tone of the two men was certainly disparate, their message was pretty much the same: The NFL is headed for an "uncapped" season in 2010. There are ramifications beyond that, of course -- such as a potential lockout in 2011 if a new extension to the collective bargaining agreement isn't finalized by March 5 -- but the most immediate impact for players will be the lack of a spending ceiling or salary floor next season.
And while NFLPA officials were adamant that they have educated their members about what lies ahead -- and most understand the realities of an uncapped season -- it doesn't mean that players have to like what is about to occur.
INSIDE TIP SHEET
There's more to explore in this week's Tip Sheet notes.

Inside the Rams sale

Sharper image

Bush redux

Bengals' stripes

Under the bus

Line dance

Brackett-ed

"You play your career and set certain targets for yourself, and the four-year [seniority mark] is almost like a Holy Grail to most," allowed
Philadelphia Eagles
fullback
Leonard Weaver
, one of several players who attended Smith's news conference. "And then you get to it, and it's taken away from some people. It's almost like hitting the [finish] line, and then they stretch the tape a yard or two further." There are a number of changes that an uncapped year will bring to the league -- the absence of a spending maximum or minimum, a rule that severely limits the free-agent pursuit by the NFL's "final eight" playoff franchises, the addition of an extra "transition" tag by which teams can further limit player movement. Still, the rules provision about which most players are talking is the one that requires six seasons for unrestricted free agency.
The limit in the past has been four seasons, and the increase to six will have a profound effect.
Weaver, who signed a one-year contract with Philadelphia last spring, after spending his first four seasons with the
Seattle Seahawks
, is certainly an unusual case. Weaver gained unrestricted free agency last spring, and his one-year deal with the Eagles was designed in part to put him back on the market in 2010. But because he has just five accredited seasons in the NFL, and not the six required by the uncapped year, Weaver is a restricted free agent again. The Pro Bowl fullback is hardly alone.
[+] Enlarge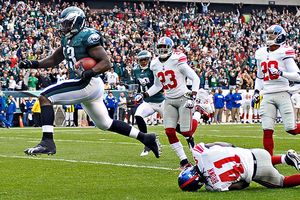 Drew Hallowell/Getty ImagesPhiladelphia fullback Leonard Weaver is among the free agents hoping to avoid "restricted" status.
The NFLPA has calculated that there are 212 players who would have been unrestricted free agents in a normal season, but whose status reverts to restricted free agency with the lack of a salary cap for 2010. The difference between being a restricted free agent and an unrestricted free agent, both sides acknowledge, is significant. "It's not business as usual," said
Atlanta Falcons
owner Arthur Blank. "There is a lot more uncertainty involved, and the preparation and planning is different. The one thing that seems certain is that [with an uncapped year], you're not going to have the kind of player movement to which we've become accustomed." Slightly more than one-third of the 212 players whose status is affected by an uncapped season were starters in 2009, and they will doubtless be affected the most by the provision. But everyone, from all of the players affected to the 32 teams as well, will feel some impact. Because player mobility is certain to be blunted, planning for the NFL draft in April likely takes on more importance, and there could be an increase in trades, as clubs compensate for a diminished free-agent pool. Franchises that rely on unrestricted free agency to acquire much-needed talent will have to compensate as they try to fill holes in their lineups. The wholesale movement that has been a part of the NFL's fabric for the past decade and a half will not exist as owners, fans and players have come to know it.
[+] Enlarge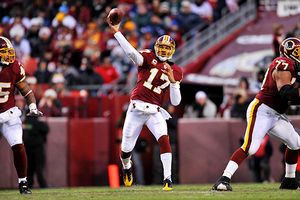 Larry French/Getty ImagesWashington quarterback Jason Campbell also is among the star free agents who might be labeled "restricted" soon.
"It's going to be a whole, new world, and people are going to have to adjust to it," said
Tennessee Titans
center
Kevin Mawae
, the NFLPA president. "We may not like it, but unless something dramatic happens quickly, that's how it is."
Essentially by definition, because the six-year requirement for unrestricted free agency means that most available veterans will be older players, there will be less movement of younger players.
The average age of the 22 players on the ESPN.com all-restricted team (see boxes below), not counting kickers, is just 26.2 years. Only one of the players, Titans defensive tackle
Tony Brown
, is older than 29. Eight of the veterans are 25 or younger. The owners who do decide to spend money in free agency could be doing so on a pool of players whose futures are more difficult to project. Said
New England Patriots
owner Bob Kraft after taking in the sobering reality of the commissioner's address: "It's going to be tricky … for everyone."
Restricted All-Stars: Offense
Without an extension to the collective bargaining agreement, the 2010 season will be an "uncapped" year. Under those circumstances, players will need six accredited seasons (not the usual four) to be eligible for unrestricted free agency. The change could affect more than 200 players, who otherwise would have been unrestricted. Here are some of the best, by position.
| Position | Player | Team | Accrued seasons |
| --- | --- | --- | --- |
| WR | Miles Austin | Dallas | 4 |
| WR | Brandon Marshall | Denver | 4 |
| TE | Owen Daniels | Houston | 4 |
| LT | Jammal Brown | New Orleans | 5 |
| LG | Logan Mankins | New England | 5 |
| C | Nick Cole | Philadelphia | 4 |
| RG | Jahri Evans | New Orleans | 4 |
| RT | Jeremy Trueblood | Tampa Bay | 4 |
| QB | Jason Campbell | Washington | 5 |
| RB | Darren Sproles | San Diego | 5 |
| FB | Leonard Weaver | Philadelphia | 5 |
| PK | Stephen Gostkowski | New England | 4 |
Restricted All-Stars: Defense
| Position | Player | Team | Accrued seasons |
| --- | --- | --- | --- |
| LE | Ray Edwards | Minnesota | 4 |
| NT | Barry Cofield | N.Y. Giants | 4 |
| DT | Tony Brown | Tennessee | 5 |
| RE/LB | Elvis Dumervil | Denver | 4 |
| SLB | Thomas Davis | Carolina | 5 |
| MLB | DeMeco Ryans | Houston | 4 |
| WLB | Shawne Merriman | San Diego | 5 |
| CB | Richard Marshall | Carolina | 4 |
| CB | Carlos Rogers | Washington | 5 |
| FS | Nick Collins | Green Bay | 5 |
| SS | Roman Harper | New Orleans | 4 |
| P | Sam Koch | Baltimore | 4 |
Len Pasquarelli, a recipient of the Pro Football Hall of Fame's McCann Award for distinguished reporting, is a senior writer for ESPN.com.
EDITORS' PICKS
Marcus Mariota still doesn't trump Jameis Winston, but he makes a lot of sense for Tennessee at No. 2.
McShay

Mailbag: John Clayton explains why expanded playoffs are on hold and discusses overtime rules and extra points.
Story »

The Falcons should feel grateful that their punishments for piping in crowd noise weren't a lot more severe.
McClure »

MOST SENT STORIES ON ESPN.COM