Commentary
Staying home a popular choice
For many free agents, keeping status quo trumped allure of greener pastures
Originally Published:
March 9, 2010
By
Len Pasquarelli
| ESPN.com
In free agency, the money is typically a lot greener on the other side of the street.
That isn't always true, though, for the grass.
"It's usually an individual thing, and every player is a different case," said prominent agent Brian Mackler of Manhattan-based Sportstars, one of the most aggressive and active negotiators in the earliest stages of free agency. "Sometimes, it goes beyond just the money involved. It can vary from player to player. … And, really, sometimes it's a [function of] comfort level."
In the first four days of player movement, Mackler has walked both sides of the golden-paved free-agent street, moving premier cornerback Dunta Robinson from Houston to Atlanta (six years, $57 million) and solid defensive tackle Fred Robbins to St. Louis from the New York Giants (three years, $13 million), but keeping standout middle linebacker Gary Brackett with the Indianapolis Colts ($33 million over six years).
[+] Enlarge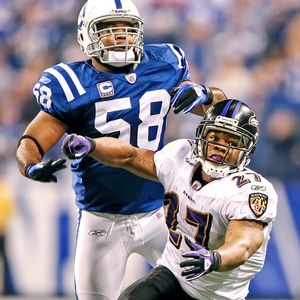 Icon SMIColts LB Gary Brackett chose stability over the chance to obtain a higher tax status.
A few years from now, all three veterans will be considerably richer financially, for sure. Less certain, however, is which player will be happier. Chances are just as good that it will be Brackett, who chose to forego an opportunity for a potentially higher tax status with another club (although his $12 million signing bonus with the Colts is nearly $2 million more than the seven-year veteran earned in his previous four seasons in Indianapolis) to instead maintain the status quo of sorts.
Make no mistake, free agency is generally a handy tool and nifty negotiating mechanism for improving an NFL veteran's economic standing. But as hackneyed and downright corny as the old adage sounds, money -- even the seven- or eight-figure signing bonuses NFL franchises throw around at this time of year -- doesn't always guarantee happiness.
Familiarity frequently breeds contempt. But there are those times in free agency, it seems, when it actually breeds contentment. The past 17 years of free agency have provided plenty of examples of guys who cashed in on a big-money score but were diminished on the satisfaction scoreboard.
Said Brackett, who entered the NFL as an undrafted free agent in 2003 and now ranks as one of the league's five highest-paid middle linebackers: "I'm playing for one of the most stabile organizations in football. People here not only gave me an opportunity, but have been very fair to me. It's not like, suddenly, there's going to be a big change in the team or the coaching. I know these people and they know me. And we've got some unfinished business here, I feel. So why move?"
That might explain in part why, through early Monday evening, more free agents re-signed with their incumbent clubs (32) than had changed addresses (25). Beyond Brackett, the players who were arguably the top unrestricted veterans at quarterback (Chad Pennington), fullback (Leonard Weaver), wide receiver (Kevin Walter), offensive tackle (Chad Clifton), nose tackle (Vince Wilfork) and hybrid outside linebacker (Tully Banta-Cain), agreed to return to their old teams rather than relocate to new ones.
Pittsburgh could have suffered immeasurably from the defections of nose tackle Casey Hampton and free safety Ryan Clark, but re-signed both players. The Patriots, who have a long history of retaining their own best players, added right guard Stephen Neal to the Vince Wilfork and Tully Banta-Cain haul. Washington re-upped center Casey Rabach to help stabilize its rebuilding offensive line, and Kansas City signed an extension with outside linebacker and team leader Mike Vrabel.
And the list goes on.
The 2010 season certainly provides an asterisk of sorts, with the uncertainty and lack of predictability of the uncapped year perhaps reducing offers or forcing clubs to operate with more judiciousness and deliberation than demonstrated in the past. But there is also some sentiment that returning to a team doesn't mean going poor, and that sometimes the best place to be, all things just about equal, is with teammates and an organization that know you best.
And that you know best, too.
"There are times," said Clifton, who actually visited with Washington officials before re-upping with the Packers, "where the prettiest girl at the prom isn't the best dancer."
Or the most attractive option.
In virtually any given free-agency year, league records indicate, nearly as many unrestricted players stay put as move on. This spring, the lack of travel stickers on veterans' luggage might be more pronounced at this very early juncture. "If you've got a good situation, sometimes [staying] is the right move," Walter said.
One of the lesser-known players in the unrestricted pool, but a veteran who would have merited several suitors, Walter flirted with a few other franchises before opting to stay in Houston on a five-year, $21.5 million deal. The seven-year veteran won't starve, will get to continue playing opposite Andre Johnson (which will enhance his statistics), and can now take his home off the market.
"There's something to be said for stability," Walter said after agreeing to the Texans' home-sweet-home sales pitch. "I think more guys are coming to that conclusion."
Banta-Cain might be the best example of having experienced both extremes as a free agent, and he decided that putting down some roots isn't necessarily a bad thing. In 2007, Banta-Cain signed a three-year, $8.9 million deal to leave New England as an unrestricted free agent and sign with San Francisco. After two years with the 49ers (and about $6.3 million), Banta-Cain was released, having registered only four sacks. He re-signed with the Patriots, who play a system he knows best and whose coaches are most familiar with his skill set, and notched a career-best 10 sacks in 2009.
Maybe the '09 season -- in which he was the only defender except for Julius Peppers to net 10 sacks -- was a fluke. But it earned him interest from a few other teams and eventually a new three-year deal in New England that included a $6 million signing bonus and a maximum value of $19 million. In the case of Banta-Cain and others, the old sentiment that you can never go home again simply isn't true.
Bob Prince, the late and colorful Pittsburgh Pirates announcer I listened to religiously as a kid, used to opine that sometimes the wisest deals were the ones that were never made.
Turns out that, years before free agency was even thought about, he was right.
Len Pasquarelli, a recipient of the Pro Football Hall of Fame's McCann Award for distinguished reporting, is a senior writer for ESPN.com.
SPONSORED HEADLINES
MORE NFL HEADLINES
MOST SENT STORIES ON ESPN.COM
2010 FREE AGENCY
Free agency began Friday, March 5. Veteran DE Julius Peppers was the big prize, signing with Chicago.
Free-agency blog
|
FA tracker
COLUMNS/BLOG POSTS
FANTASY