Commentary
Tip Sheet: The Broncos' one constant
No matter how things change in Denver, team's failure to develop D-linemen persists
Originally Published:
March 19, 2010
By
Len Pasquarelli
| ESPN.com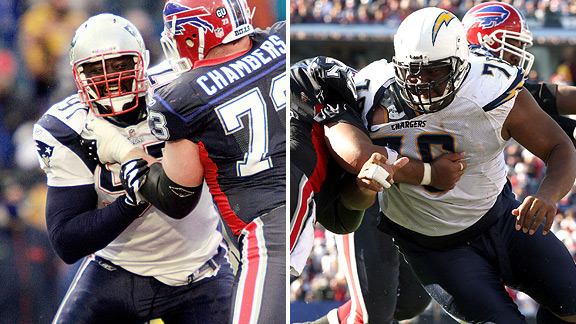 Icon SMI/US PresswireThe Broncos signed Jarvis Green, left, and Jamal Williams to help solidify their defensive line.
Over the past 13 months, the Denver Broncos have changed their head coach and general manager, gone through two defensive coordinators and transitioned their base scheme from a 4-3 look to a 3-4.
Still, no matter the wholesale makeover, it seems that whenever it comes to defensive linemen, the more things change in The Mile High City, the more some issues remain the same.
Like the Broncos' maddening, and apparently ongoing, inability to draft and develop their own up-front players on defense.
Despite moving to No. 7 in overall defense in 2009 (from 29th the previous season), the Broncos parted ways with coordinator Mike Nolan in January -- he took on the same role with the Dolphins -- and replaced him with linebackers coach Don Martindale. The apparent progress aside, Denver is revamping its front line, likely a result of its late-season meltdown against the run and a No. 26 ranking in '09 versus the rush. The Broncos have not ranked in the top 10 against the run since 2004.
Ill Trade Winds
Because of their abysmal track record in the draft, the Denver Broncos have traded for eight veteran defensive linemen since 2004, usually with mixed results. Here's a look at the eight players acquired via trade:
DE Ellis Johnson (Atlanta, 2004):
In his only season in Denver, longtime Indianapolis standout and first-round pick in 1995 played in just 13 games, with no starts. In limited playing time, Johnson, acquired from the Falcons for a fifth-round pick, had 16 tackles and three sacks.
DE John Engelberger (San Francisco, 2005):
Totaled 118 tackles and three sacks (never more than one sack in a season), in 61 games and 22 starts over four years with Denver. Started 15 games in 2007. Acquired after five seasons with the 49ers in exchange for cornerback
Willie Middlebrooks
.
DE Ebenezer Ekuban (Cleveland, 2005):
Acquired from Browns for tailback
Reuben Droughns
. Started in 29 of 46 appearances in three seasons with Denver, and registered 104 tackles and 16 sacks. Former Dallas first-rounder (1999), solid but not spectacular against the run, had seven sacks in 2006.
DT Michael Myers (Cleveland, 2005)
: Essentially a throw-in to the Ekuban-Droughns trade, the journeyman interior lineman was one of the Broncos' few bargains. Started in all but one of his 32 appearances in two seasons. Had only three sacks, but was solid versus the run, with 88 tackles.
DT Gerard Warren (Cleveland, 2005):
Started all of his 31 appearances in two seasons, but onetime third overall pick in draft (2001) posted just 49 tackles, and with 5½ sacks, was not the inside presence many felt he would be. Browns dealt him to Broncos after four seasons for only a fourth-round choice.
DT Jimmy Kennedy (St. Louis, 2007):
First-round pick of Rams in 2003 was traded for a sixth-round draft choice, but never played in a regular-season game for the Broncos. Released before the start of the '07 campaign.
DT Dewayne Robertson (N.Y. Jets, 2008):
The fourth overall selection in 2003 was dealt to Denver for a conditional draft pick. The conditions were never met, so New York got nothing from the trade. Started in all 15 appearances in '08 and had 22 tackles and 1½ sacks.
DE Le Kevin Smith (New England, 2009):
Acquired from the Pats, along with seventh-round pick, for fifth-round choice. Played in only 13 games in '09, with two starts, and had 10 tackles and one sack. Not tendered by Broncos at end of season, but recently re-signed with Denver for 2010 campaign.
-- Len Pasquarelli
Denver has signed three veteran linemen as unrestricted free agents in the first two weeks of the free-agency period: nose tackle Jamal Williams (San Diego) and ends Justin Bannan (Baltimore) and Jarvis Green (New England). All three project as starters for the Broncos in 2010.
Of course, Denver started three outsiders on the defensive line in 2009 (Ronald Fields, Ryan McBean and Kenny Peterson), so employing retread imports to compensate for Denver's defensive-line shortcomings in the draft is hardly anything new for the club.
But it's got to be getting a little old.
"It's a difficult position to fill," conceded Broncos second-year coach Josh McDaniels at the NFL combine last month. "I think historically that has been the case."
True enough. For the Broncos, however, it's all but impossible, no matter if the coach is McDaniels or predecessor Mike Shanahan.
The last time the Broncos selected a player who made the Pro Bowl as a defensive lineman was in 1997, when they grabbed Trevor Pryce with the 28th pick in the first round. Elvis Dumervil earned a Pro Bowl nod in '09 after leading the league in sacks, but the fourth-year veteran, taken as an undersized 4-3 end in the 2006 draft, wasn't chosen for the all-star game until he switched to a hybrid rush linebacker in the 3-4 changeover under Nolan.
"They've had some turnover here," said Fields, a starter for all 16 games at nose tackle last season after signing as a free agent after four years in San Francisco (the five-year veteran likely will give way to Williams for the upcoming campaign).
Rarely, though, is the turnover due to an influx of young, homegrown linemen.
Since the 2000 season, the Broncos have used 27 different opening-day starters on the defensive line. Only seven were players originally drafted by the Broncos or signed as undrafted college free agents. Just twice in that 10-year stretch has Denver had more than two homegrown D-line starters in its Week 1 lineup. Five times in that span, the Broncos' Week 1 D-line starters who began their careers in Denver numbered either zero or one.
Pryce and Dumervil are the only homegrown defensive linemen to start consecutive season openers since 2000.
"It's been like a revolving door [of veteran linemen]," said tackle Gerard Warren, who was acquired from Cleveland in a 2005 trade, but who lasted just two years in Denver before being shipped to Oakland in 2007.
Blame it in large part on the glaring liabilities in drafting along the defensive line.
Including Dumervil and 2009 first-rounder Robert Ayers, who was chosen as an end but moved to outside linebacker in the 3-4 Nolan implemented last season, the Broncos have selected 15 defensive linemen in the draft since 2000. Only three of those players ever started more than eight games in a season, just Dumervil more than once. Seven of those draft picks are no longer in the league, and 10 logged fewer than five total starts in Denver. Seven never started a single contest during their Broncos' tenures.
Denver has suffered its share of poor luck with linemen in the draft -- such as the knee problems that have plagued end Jarvis Moss, limiting the 2007 first-round pick to one start in three seasons -- but the Broncos' track record has been nonetheless dismal.
Because of the obvious shortcomings in the draft, Denver imported 19 defensive-line veterans (11 in free agency and another eight via trades) from 2000-2009. In 2005, the Broncos added four linemen via trades, including three from the Cleveland Browns. Many of the newcomers fizzled as well, such as former No. 1 overall draft choice Courtney Brown; onetime first-rounders Daryl Gardener, Dewayne Robertson, Jimmy Kennedy, Ebenezer Ekuban, Marco Coleman, Ellis Johnson, and Warren; and notable players like Leon Lett, Lional Dalton, and John Engelberger.
So while free agency has slowed mostly to a waltz in its first two weeks, in Denver, it's pretty much been the annual line dance.
Len Pasquarelli, a recipient of the Pro Football Hall of Fame's McCann Award for distinguished reporting, is a senior writer for ESPN.com.
EDITORS' PICKS
Mastery of the salary cap's intricacies, with its spending limits and minimums, is a necessity in today's NFL.
Ashley Fox »

How much does the combine matter in draft analysis? Look at Kevin White's surge up Mel Kiper's board.
Mock 3.0

Durable, fiery and talented, Ndamukong Suh would thrive on any NFL team. We size up his leading suitors.
Dominik

MOST SENT STORIES ON ESPN.COM