Commentary
Tip Sheet: Wide receiver shuffle
Buyer's market has created a flurry of recent WR trades; more could be on the way
Originally Published:
April 16, 2010
By
Len Pasquarelli
| ESPN.com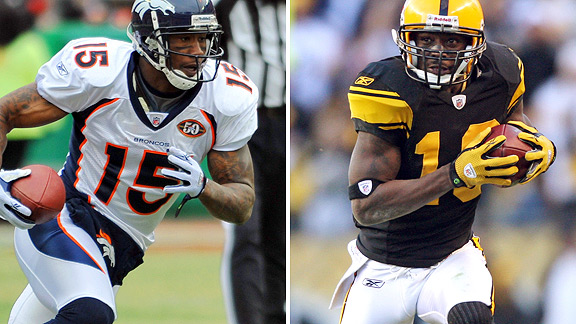 US PresswireBrandon Marshall (Denver to Miami), left, and Santonio Holmes (Pittsburgh to N.Y. Jets) were traded this week, joining a long list of veteran wide receivers who have been dealt since 2006.
When the premier pass-catcher in NFL history can be traded, as was the case with Jerry Rice (from Oakland to Seattle) in 2004, anything -- or more appropriately, make that just about anybody -- goes.
And when it comes to the wide receiver position, that "anything goes" approach has pretty much been the philosophy under which the league has operated in recent years.
Thirty-one veteran wide receivers have been dealt since the spring of 2006, according to the "NFL Record & Fact Book" -- including this week's trades of former Super Bowl MVP Santonio Holmes and two-time Pro Bowler Brandon Marshall.
And there figure to be more before next weekend's draft, during the draft, and after it.
"[That's] a lot of action at receiver," said three-time Pro Bowl wide receiver Anquan Boldin, traded from Arizona to Baltimore this spring. "It's like wide receiver has kind of become the currency of choice in the league these days."
There have been a few wide receiver deals that were good investments and more that were the equivalent of counterfeit $100 bills. Among the former were trades involving Randy Moss and Wes Welker, both to New England in 2007. The latter? Take your pick: Roy Williams (to Dallas, 2008), Mike Williams (to Oakland, 2007), Darrell Jackson (to San Francisco, 2007), Javon Walker (to Denver, 2006), Deion Branch (to Seattle, 2006) and plenty more.
Dropping The Ball
Since the spring of 2006, there have been 31 veteran wide receivers involved in trades, with the results decidedly mixed. Here are three of the least-productive deals:
Deion Branch:
Eight-year veteran was the most valuable player of Super Bowl XXXIX with New England (11 catches, 133 yards), but after a contract dispute was traded to Seattle in 2006 for a first-round pick in the '07 draft. In four seasons with Seahawks, injuries have limited Branch to 47 games and 37 starts. Has 177 catches, 2,235 and 14 touchdowns for the Seahawks, but has never played a 16-game season. The former Louisville standout, 30, has only one year with more than 50 receptions and one with more than 700 yards.
Javon Walker:
Currently a free agent after being released by Oakland, he will be with his fourth franchise in six seasons if he signs somewhere for 2010. Dealt from Green Bay to Denver during 2006 draft for a second-round pick. Walker, 31, posted 69 catches for 1,084 yards in first season with Broncos, but was released after two years. Signed with Oakland in 2008, but managed only seven starts in two seasons, and was released this spring. Former Florida State star, a first-round choice by Packers in 2002, has just one touchdown catch in each of his last three seasons.
Roy Williams:
In two seasons in Dallas, has appeared in 25 games with 20 starts, and has only 57 receptions, 794 yards and eight touchdowns. At age 28, six-year veteran is no longer viewed as Cowboys No. 1 receiver. In 4½ seasons in Detroit, former first-round pick (2004) compiled 264 catches for 3,884 yards and 29 scores. Former University of Texas star was acquired by Dallas from the Lions in 2008 for first-, third-, and sixth-round picks in the 2009 draft and a seventh-rounder in 2010. Cowboys signed Williams to five-year extension with maximum value of $45 million.
-- Len Pasquarelli
But the lopsided bust-to-boom ratio certainly hasn't stopped franchises from making deals to acquire veterans as the pass-catcher spot becomes increasingly devalued by the diva nature of the position, declining skills, age, disappointing production, internecine squabbling and various off-field indiscretions.
Those factors, or a combination thereof, certainly have created a buyer's market this offseason.
Of the four veteran wide receivers traded through Thursday evening, three (Boldin, Marshall and Holmes) had combined for six Pro Bowl appearances, two Super Bowl berths, a Super Bowl title and a Super Bowl MVP award. But Marshall and Boldin either wanted their contracts reworked or squabbled with management (or both), and Holmes faces a four-game suspension (the second disciplining) of his career.
The fourth, Reggie Brown (Philadelphia to Tampa Bay), was a second-round pick in 2005 but only once caught more than 60 passes in a season, just once posted more than 800 yards, and had dropped precipitously on the Eagles' depth chart as the club revamped the position with exciting youngsters DeSean Jackson and Jeremy Maclin.
Notably, none of the four wide receivers traded to this point included a first-round draft pick in return. Brown was shipped to the Bucs for a sixth-rounder. Despite his first-round pedigree and MVP award in Super Bowl XLIII, Holmes netted the Steelers only a fifth-round pick from the Jets. The Steelers, who reportedly were prepared to release Holmes outright, were fortunate to net that much in return in the giveaway fire sale.
The Jets have taken advantage of the deflated market to add two starters (Braylon Edwards and Holmes) in the past seven months. Total compensation: three middle-round draft choices (a third-rounder and two fifth-round picks) and a trio of backup-caliber veterans. Of course, New York must now find a way to handle its talented but troubled windfall, but general manager Mike Tannenbaum suggested coach Rex Ryan possesses "a unique skill set" that permits him to deal with such flawed players.
In the meantime, expect the Filene's Basement-type bargain discounts to continue. Not since the Williams deal in '08 has a wide receiver trade included a first-round draft pick. Before that, it was the Branch swap in 2006.
Sports psychologist Larry Kessler has cited the "diva quotient" at wide receiver as critical in driving down trade prices. Although attempts to reach him this week were unsuccessful, sports consultant Jonathan Niednagel acknowledged a few years ago that wide receivers might be "wired differently" than players at most positions.
And there is this fact, as well: Over the past five seasons, there have been 26 different wide receivers who registered at least 70 catches and eight or more touchdowns in the same season. Ten of those players originally entered the NFL in the third round or after, with seven in the sixth round or later.
Three of those players originally came into the league as undrafted college free agents.
"You can find somebody late, who, if he's got talent and works hard, can catch the ball," said New Orleans wide receiver Marques Colston, a three-time Pro Bowl performer and a seventh-round pick in 2006.
That certainly seems to be the case in the 2010 draft, regarded as one of the deepest talent pools in recent years.
Len Pasquarelli, a recipient of the Pro Football Hall of Fame's McCann Award for distinguished reporting, is a senior writer for ESPN.com.
EDITORS' PICKS
2015 contract

How will free agency unfold in 2015? We have biggest needs, top targets and predictions for every team.
Buyer's guides

First LeSean McCoy, now Matt Cassel. The Bills aren't waiting for free agency to upgrade their offense.
Rodak »


MOST SENT STORIES ON ESPN.COM