Commentary
Tip Sheet: Rookie's tough choice
Steelers OL Maurkice Pouncey left twin brother to pursue pro dream
Originally Published:
May 28, 2010
By
Len Pasquarelli
| ESPN.com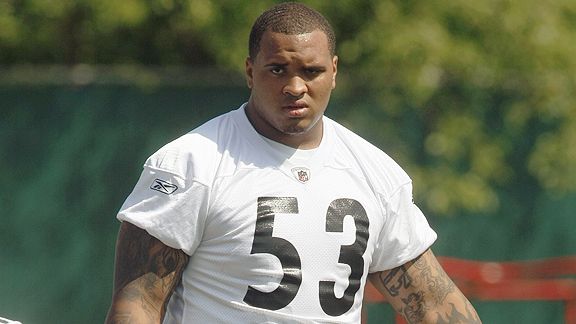 AP Photo/Keith SrakocicFirst-round draft pick Maurkice Pouncey, who's just 20 years old, will be vying to start as right guard as a Steelers rookie this season.
Having departed the University of Florida about 20 credit hours shy of his degree,
Maurkice Pouncey
doesn't have to worry anymore about hustling from the practice field to sociology class. But Pouncey, an underclassman who was drafted by the
Pittsburgh Steelers
in the first round last month, still must hit the books hard.
"When you're in college, you could go home and get away with maybe not looking at the playbook some nights," said Pouncey earlier this week. "Here, believe me, they know right away. It's something you just have to do. You kind of get used to it." The 18th prospect selected overall and the NFL's highest-drafted center since
Damien Woody
was the No. 17 pick by New England in 1999, Pouncey is regarded as the top interior blocking prospect in the 2010 draft.
SMOOTHING OUT THE EDGES
While the transition from center to right guard doesn't figure to be easy for Pittsburgh first-rounder Maurkice Pouncey, the difficulty might be mitigated by the fact that the Steelers' youngster is working with a man who has presided over such a conversion in the recent past. Steelers first-year offensive line coach Sean Kugler held the same position with the Buffalo Bills last season, when first-round choice Eric Wood was switched from center to right guard. The 28th choice in the first round in 2009, Wood started the first 10 games of the season at right guard until his year was ended by a broken lower left leg. Wood, who started 49 straight games at center for Louisville in college, didn't exactly make a seamless transition to guard (unofficially he surrendered three sacks), but played well for the most part before the injury. "It's a tough transition," Kugler said of moving from center to guard. "Playing at center, your base is more balanced, more equally distributed, and at guard you're probably leaning a bit more. And there are, obviously, some technique things you've got to get accustomed to. The footwork is different and, at guard, obviously, you're not using a hand to snap the ball like at center." Kugler cited the blocking adjustment calls as one area of difference, and also noted that, in a league where the 3-4 front has become increasingly predominant, the center frequently has a defensive lineman directly across from him. There is, he said, probably a little more room to operate at guard. "At center," Kugler said, "you're usually working in close quarters." Pouncey and Wood, according to Kugler, have similar makeups and temperaments. Both are very bright, understand the game, have excellent strength, project to be able to play both interior positions, and want to be good. Like Pouncey, Wood's long-term future is at center, but five-year veteran Geoff Hangartner played well there for the Bills last season and started every game. Although Wood had played so long at center in college, Buffalo officials were confident that he could switch to guard. Pittsburgh brass is just as certain that Pouncey -- the team's first interior lineman selected in the first round since guard Kendall Simmons in 2002 -- can make the same move. Of course, as Kugler noted, some old habits are hard to break. There are times when muscle memory overrides even the best intentions. Case in point: The first several times Wood lined up at guard, his hand would come up on the snap, as if he were centering the ball to the quarterback. So far, Pouncey has not reverted to simulating the snap motion when aligned at right guard.
--Len Pasquarelli
He's currently lining up at right guard, the position at which he is vying for a starting job with the Steelers, and where the former Gators star is favored to win the No. 1 spot for opening day. Pouncey, 20, is also getting used to playing without his best friend alongside him. Since they were 6 years old, Pouncey, and his twin brother, Mike, have played football together. For nearly a decade and a half, Maurkice Pouncey was able to look over for reassurance that Mike had his back (or, more accurately, his flank).
But while Maurkice Pouncey made the decision to forgo his senior season at Florida, Mike opted to remain behind in Gainesville for his final year of eligibility.
In 2010, Mike Pouncey is expected to move from right guard to the center spot his brother formerly occupied for the Gators. Mike Pouncey likely will be a high-round choice in the 2011 draft. There is some degree of separation anxiety, Maurkice allowed, but the demands of his new job dictate that he doesn't dwell too much on the unusual split.
"I talk to [Mike] all the time, and I'm happy for him, really," Maurkice Pouncey said after a midweek practice. "But it was just my time [to leave], even though I thought about it a lot and it was a hard decision. We're all grown up now, and it's time to step out on our own. And, let's face it, even if [Mike] had gone into the draft, we probably wouldn't have been on the same team anyway. We still would have been split up."
Said Mike Pouncey: "It got to the point where we were always known as 'the Pouncey twins,' and that followed us around, you know? It was time for Maurkice to step out and gain some identity of his own."
With his long-term future probably at center, Maurkice Pouncey could be the next in a long line of Steelers standout snappers. Current Pittsburgh starter Justin Hartwig will be 32 in November and might not be quite as stout against the 3-4 nose tackles featured by the Ravens and Browns in the AFC North.
The late Hall of Fame center Mike Webster, three-time Hall of Fame finalist
Dermontti Dawson
(who also started his career at right guard before moving to center) and
Jeff Hartings
held down the position from 1979 to 2006. The trio combined for 18 Pro Bowl appearances. One of only five centers selected in the top 20 of the first round since 1980, and the first Pittsburgh first-round center since 1937, Pouncey understands there are big shoes to fill. For now, though, he is trying to assimilate the nuances of playing guard, a spot at which he hasn't lined up since his freshman season in college. Steelers coach Mike Tomlin termed guard "a position where you receive information … instead of giving it," referring to the blocking adjustments for which the center is principally responsible. Pouncey conceded he misses making the blocking calls on every play, but as Hartwig's primary backup, he still must learn them. In fact, he was at center Wednesday when he received a minor injury, with guard
Trai Essex
stepping on his foot. For now, though, he is married to the right guard spot, a position at which the Steelers have had a revolving door of sorts the past few seasons. And according to Steelers first-year offensive line coach Sean Kugler, he is performing well, both physically and mentally. "He's the kind of guy where, if he makes a mistake on a play, he's immediately right over to you to get [an explanation]," Kugler said. "You've got to tell him, 'Don't worry, we'll go over that.' He really wants to be good; he's into it." The good-natured Pouncey, who was termed an "energy giver" by Florida offensive line coach/offensive coordinator Steve Addazio in an interview with the Pittsburgh Post-Gazette, seems enthusiastic about all things football -- and family-related. One of the reasons Pouncey opted to enter the draft was so that he financially could help his family, which lives in Lakeland, Fla. The family has had some tough times since his stepfather, Robert, lost a leg in a rail-car accident in 2008. Upon being drafted by the Steelers, Pouncey announced that his great-grandmother, 82, was done cleaning other people's homes. Mentally tough, Pouncey played against rival Florida State less than a week after his stepfather's devastating accident. At the Sugar Bowl earlier this year, he was treated for kidney stones just hours before the game against the University of Cincinnati, but lined up anyway for his 40th consecutive start.
So moving to guard, even temporarily, Pouncey said, is a small sacrifice.
"If it's what I've got to do, then I'll do it," Pouncey said. "It's always been that way."
Len Pasquarelli, a recipient of the Pro Football Hall of Fame's McCann Award for distinguished reporting, is a senior writer for ESPN.com.
EDITORS' PICKS
Marcus Mariota still doesn't trump Jameis Winston, but he makes a lot of sense for Tennessee at No. 2.
McShay

Mailbag: John Clayton explains why expanded playoffs are on hold and discusses overtime rules and extra points.
Story »

The Falcons should feel grateful that their punishments for piping in crowd noise weren't a lot more severe.
McClure »
Nike Men's Home Game Jersey Pittsburgh Steelers Lawrence Timmons #94 Shop »
MORE FROM ESPN NEW YORK

Check out ESPN New York, your destination for sports coverage in the Big Apple.
MOST SENT STORIES ON ESPN.COM