Commentary
Recycling offensive coordinators
Few teams defy trend to hire architects with previous NFL experience in the job
Originally Published:
June 8, 2010
By
Len Pasquarelli
| ESPN.com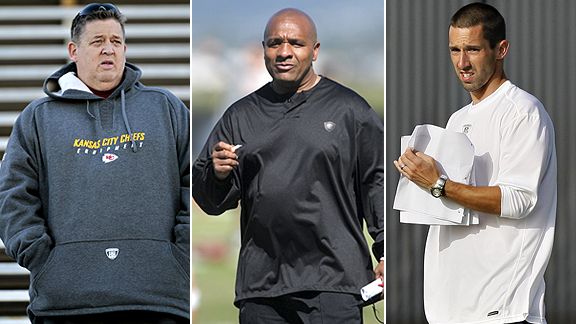 US Presswire/AP PhotoKansas City's Charlie Weis, Oakland's Hue Jackson and Washington's Kyle Shanahan are among offensive coordinators with new teams this season who have experience in the post elsewhere in the league.
When filling offensive coordinator positions in the NFL, only the experienced need apply.
Well, that's true to a certain extent. The league isn't quite a domain exclusive to offensive coordinators who previously served in the same capacity before landing their current jobs. But it's awfully close, and this spring provided more evidence. There are eight new offensive coordinators in the NFL for 2010 and all but two of them (the
Buffalo Bills
' Curt Modkins and the
Seattle Seahawks
' Jeremy Bates) have held the same job in the NFL in the past. Bates, who also was courted by the
Chicago Bears
before they hired Mike Martz, was offensive coordinator for first-year Seahawks coach Pete Carroll at the University of Southern California last year. He has been an assistant coach for three NFL franchises and is the son of longtime defensive coordinator Jim Bates.
Under Scrutiny
Here are three incumbent offensive coordinators whose work will be closely scrutinized in 2010:
Bruce Arians, Pittsburgh Steelers
: The Steelers ranked seventh in total offense and No. 9 in passing offense in 2009. Still, Pittsburgh's ground game was 19th, marking the second straight season it ranked in the bottom half of the league. That's a no-no in the Steel City. There were published and broadcast reports, both discredited by coach Mike Tomlin, that Arians would have been dismissed except for the intervention of quarterback
Ben Roethlisberger
.
Brian Daboll, Cleveland Browns
: A first-time coordinator entering his second season with the club, Daboll can't be blamed for the Browns' lousy quarterback performance in 2009. But like the rest of Eric Mangini's staff, he'll be closely evaluated by new team president Mike Holmgren in 2010. Cleveland finished last in the league in total offense and passing offense in 2009 and was 29th in scoring. He needs the new quarterbacks to play well.
Jimmy Raye, San Francisco 49ers
: One of the NFL's most respected assistants is in his seventh stint as a coordinator in the league. Raye's preference for physical style jibes well with the philosophy of coach Mike Singletary, but the 49ers need consistency at the quarterback spot, preferably from former No. 1 overall pick
Alex Smith
. San Francisco ranked in the bottom third in total yards (27th), passing yards (22nd) and rushing yards (25th) in 2009, and was 18th in scoring.
-- Len Pasquarelli
The eight new coordinators for 2010 include Martz and the
Kansas City Chiefs
' Charlie Weis, both of whom claimed Super Bowl rings as offensive coordinators. It clearly helps to have a résumé that includes the "coordinator" entry on it. Only a few of the candidates who even interviewed this year for coordinator vacancies -- the
Indianapolis Colts
' Clyde Christensen was the only man promoted by a team that already employed him -- did not previously hold down a coordinator spot. A factor that's almost as important is having previously worked with (and usually for) the man who is the team's head coach. All of this year's new offensive coordinators at some point in the past (college or pros) worked with their bosses. "It's important to have the same kind of philosophy about the game," acknowledged Kansas City Chiefs head coach Todd Haley, who once shared an office with Weis when they were assistant coaches with the
New York Jets
. In some cases in the NFL, familiarity breeds a comfort level, not contempt. The process of recycling candidates is usually regarded negatively at the head coach position, but apparently isn't such a drawback at coordinator. Sometimes, the best ideas are those that have worked well in the past. "It's great to have a guy who has been there before and done it," said Indianapolis coach Jim Caldwell, who replaced the venerable Tom Moore (who will serve as a senior consultant) with Christensen, the Colts' wide receivers coach since 2002 and the
Tampa Bay Buccaneers
' offensive coordinator in 2001. "Having been a coordinator in the past isn't [a prerequisite for the job], but the experience is great." In his first season of calling plays, Christensen, who as receivers coach the past eight seasons designed much of Indianapolis' third-down and red zone packages, figures to be under the microscope. He's only the second coordinator with whom
Peyton Manning
has worked since the quarterback entered the NFL in 1998. But the scrutiny and pressure typically afforded an offensive coordinator is only one element in which previous experience serves a coach well. Certainly the offensive coordinator class of 2010 will be just about as scrutinized as any such group in recent seasons. Can former
St. Louis Rams
guru Martz, whose once-blazing star waned a bit during stints with the
San Francisco 49ers
(2008) and
Detroit Lions
(2006-2007), rehabilitate the career of enigmatic Chicago quarterback
Jay Cutler
? The mercurial Cutler threw for more than 4,500 yards with the
Denver Broncos
in 2008, then led the league in interceptions (26) in his first year with the Bears.
In his first year working with Chiefs starting quarterback Matt Cassel, will Weis emulate the kind of success he enjoyed with Tom Brady and the Patriots?
[+] Enlarge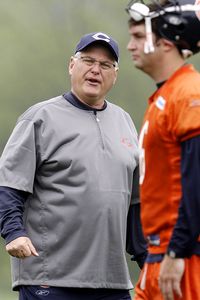 AP Photo/Nam Y. HuhNew Bears offensive coordinator Mike Martz, left, will keep his eyes on Bears quarterback Jay Cutler.
Is former
Atlanta Falcons
offensive coordinator Hue Jackson, who was the
Baltimore Ravens
' quarterbacks coach last season, the man to resuscitate a feeble
Oakland Raiders
offense that hasn't ranked in the league's top 20 since 2004? There will be plenty of eyes on Christensen, whose Bucs offense was 26th in 2001. He supplants Moore, under whose tutelage Manning won a league-record four most valuable player awards. There will be a spotlight on
Houston Texans
coordinator Rick Dennison, who inherits 2009 passing yardage king
Matt Schaub
. The Texans have never been to the playoffs. Former Texans coordinator Kyle Shanahan and his famous father, Mike, will take over a
Washington Redskins
offense that hasn't won an NFC East title since 1999. Seattle's Bates and Buffalo's Modkins -- who has been in the league only since 2008 and will leave the play calling to Bills first-year coach Chan Gailey -- must demonstrate their readiness. All of the new coordinators, obviously, will face questions. Said Weis, the one-time New England coordinator and former Notre Dame head coach, speaking generally about the job: "You've got to have a thick skin." Head coaches around the league seem to agree. Of the 30 franchises that currently list offensive coordinators as part of their staffs, 20 employ men who were previously NFL offensive bosses. Two more have assistants who were coordinators in the past at the college level. There are nine current offensive coordinators in the NFL who have twice been coordinators and/or assistant head coaches with coordinator responsibilities for other franchises. Three previously have been coordinators three or more times. The position has grown in recent seasons, but especially in the past year. In 2009, only two of the top 10 teams in scoring failed to make the playoffs. Six of the top 10 defensive units qualified for postseason play. In a one-week period prior to the beginning of the 2009 season, three offensive coordinators were dismissed. The Bills' Turk Schonert was a first-time coordinator in the league. There is a reason -- beyond their ability to design a productive offense, and in most cases, their acumen in calling plays -- why experienced coordinators are in demand. "You'd like someone that you know, who has a history with you," said Houston coach Gary Kubiak, who played and worked with Dennison at Denver. "And who's done this before."
Len Pasquarelli, a recipient of the Pro Football Hall of Fame's McCann Award for distinguished reporting, is a senior writer for ESPN.com.
SPONSORED HEADLINES
MORE NFL HEADLINES
MOST SENT STORIES ON ESPN.COM
EDITORS' PICKS
In a win over Detroit, a hobbled Aaron Rodgers once again proved why he's MVP-worthy.
Demovsky »

The Seahawks might be better than they were last year. Can anybody stop the champs from repeating?
Clayton »

Jim Harbaugh and the 49ers have agreed to part ways, ending the coach's four-year run in San Francisco.
Story »
ESPN FAN SHOP