Commentary
Tip Sheet: Campbell was a major steal
Raiders' acquisition of veteran quarterback was offseason's ultimate bargain
Originally Published:
July 16, 2010
By
Len Pasquarelli
| ESPN.com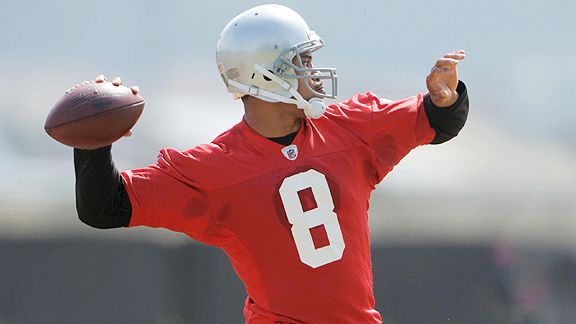 Kirby Lee/Image of Sport/US PresswireJason Campbell brings experience and an accurate arm to the Raiders' struggling offense.
In a league in which a half-dozen quarterbacks completed roughly two-thirds of their attempts last season, 10 threw for at least 4,000 yards and 12 tossed 25 touchdown passes or more, the 2009 campaign registered by Jason Campbell might seem relatively unspectacular by comparison.
Starting in all 16 games for the Washington Redskins, in his fifth NFL season, Campbell completed a career-best 64.5 percent of his pass attempts (327-of-507), and the one-time first-round pick (in 2005) also notched career zeniths in yards (3,618) and touchdown passes (20).
So not too bad, right?
Well, for the Oakland Raiders, such otherwise modest passing numbers are deemed downright astronomical.
Bargain basement
There have been 17 trades in the NFL this offseason in which franchises received a veteran player for a fourth-round draft choice or lower. Beyond the Oakland Raiders' acquisition of quarterback Jason Campbell for a fourth-round pick in the 2010 draft, arguably the best of the bargain-basement trades, here are six more notable such deals:
WR Santonio Holmes:
The most valuable player in Super Bowl XLIII and a first-round pick in 2006, Holmes is coming off career highs in catches (79) and yards (1,248), and his 15.8-yard average in 2009 was third-best among players with 70 or more receptions. But the four-year veteran faces a four-game suspension for violation of the NFL's substance-abuse policy, and his off-field indiscretions led the Steelers to trade him to the
New York Jets
for a fifth-round pick.
QB Byron Leftwich:
The Steelers needed veteran short-term insurance because of starter
Ben Roethlisberger
's season-opening suspension and got Leftwich from Tampa Bay for a seventh-round choice. A former first-rounder in 2003, Leftwich will be with his fourth team since 2007, but he knows the Pittsburgh offense, having spent '08 with the Steelers.
CB Bryant McFadden:
The Steelers ranked 16th against the pass in 2009 and got only two interceptions from their cornerbacks, so they needed to make a move. They re-acquired McFadden (along with a sixth-round pick) from Arizona for a fifth-rounder in 2010, and he could start at right corner. A five-year veteran, McFadden spent his first four years in Pittsburgh (2005-08), before signing a two-year, $10 million deal with the Cardinals as a free agent in 2009. He has 34 career starts, knows the Pittsburgh defense well and signed new three-year, $7.5 million deal after the trade.
MLB Kirk Morrison:
Despite starting all but one game in five seasons, Oakland shipped Morrison (and a fifth-rounder) to Jacksonville for a fourth-round choice in 2010. Morrison, who led the Raiders in tackles four straight years, is the new starter for the Jaguars. Not a particularly overpowering defender, the dependable Morrison became expendable when the Raiders drafted
Rolando McClain
.
FS Kerry Rhodes:
The five-year veteran fell out of favor with Jets coach Rex Ryan in '09, and even lost his starting job for a while, but still had three interceptions and a career-best 13 passes defensed. For a fifth-round pick in 2010 and a seventh-rounder in '11, Arizona got a veteran replacement for the departed
Antrel Rolle
. Rhodes, 27, has averaged 83.4 tackles per season in his career, with 15 career interceptions and 42 passes defensed.
DT Corey Williams:
Never a good fit at end in Cleveland's 3-4 scheme, Williams was dealt to Detroit (along with a seventh-rounder) for the Lions' fifth-round pick. The six-year veteran will return to his more natural tackle spot in the Lions' 4-3 scheme and should get plenty of playing time on a revamped unit.
Others:
WR
Reggie Brown
(Philadelphia to Tampa Bay, for a sixth-round pick in 2010); DT/DE
Adam Carriker
(St. Louis to Washington, for a flip of fifth- and seventh-round picks in 2010); WR
Ted Ginn
(Miami to San Francisco for fifth-round pick in 2010); RB
Leon Washington
(New York Jets, along with a seventh-round pick in 2010, to Seattle for a 2010 fifth-rounder).
-- Len Pasquarelli
Not since 2002, when Rich Gannon connected on 67.6 percent of his attempts, have the Raiders employed a starting quarterback with a completion mark in excess of 60 percent. The last time an Oakland quarterback threw 20 or more touchdown passes was in 2005, when Kerry Collins recorded 25. And the Raiders have gone four straight seasons without as many aggregate passing yards as a team as Campbell rang up individually in '09.
So for the Raiders, who ranked No. 29 or lower in the league in passing offense each of the past four seasons, and were last or next-to-last from 2006 to 2008, Campbell represents a dramatic upgrade at the game's most critical position.
"He's brought stability, and leadership, and professionalism," assessed fourth-year tight end Zach Miller, the club's leading receiver in 2009, of Campbell's arrival.
Through Thursday, there have been 17 offseason trades in which a team acquired a veteran player in exchange for a fourth-round draft choice or less. Some of them, such as the New York Jets' addition of Pittsburgh wide receiver Santonio Holmes (although there were extenuating circumstances) for only a fifth-rounder, were flat-out steals. But the Raiders' draft weekend acquisition of Campbell for only a fourth-round pick was arguably the equivalent of a Brink's heist -- especially given the critical nature of the position, Campbell's youth and growth potential, the abject failure of former overall No. 1 pick JaMarcus Russell in Oakland, and the ability to land a starting-pedigree quarterback at such a bargain-basement price.
Rarely in recent years has a starting-caliber quarterback been dealt for so little. Byron Leftwich went from Tampa Bay to Pittsburgh this spring for a seventh-round pick. Ditto for Shaun Hill, acquired by Detroit from San Francisco. But Leftwich is seen as an insurance policy against Ben Roethlisberger's suspension at the start of the '10 season. Hill, who started the first six games for the 49ers in 2009, lost the No. 1 job and, at best, is No. 2 on the Lions' depth chart, behind Matthew Stafford.
Campbell, 28, was deemed expendable by Washington after the Redskins and new coach Mike Shanahan acquired Donovan McNabb from the Philadelphia Eagles. The compensation for McNabb -- a second-round choice in 2010 and a fourth-round pick in 2011 -- was considered more than palatable. But the deal for Campbell, who has 52 starts on his résumé and represents a quantum leap over the inconsistency of the erratic (on and off the field) Russell, might be even more tasty.
In the interest of full disclosure, this correspondent must admit that he has championed Campbell over the past two years, certainly for his embracing the high road following Washington's two previous failed attempts to supplant him, but also because of what is perceived as his potential on the field.
There are some negatives -- Campbell has averaged only 6.63 yards per attempt in his career and dumps off the ball too regularly, has taken way too many sacks, and still lacks some awareness in the pocket. But those negatives are outweighed by the positive components he provides for an Oakland franchise whose progress has been slowed by the flawed Russell experiment.
For sure, Campbell doesn't represent the laid-back Bay Area stereotype. He is competitive and passionate about the game, and his even-keeled nature probably helps camouflage a fiery persona. But he also has a strong arm, is accurate (a 62.4 percent completion rate in his three full seasons as a starter) and understands the game. And the former Auburn standout, who spent some time in Hattiesburg, Miss., throwing with Brett Favre this spring, won't tarnish the Golden Gate image.
While the deal to Oakland represents another change in coordinator for Campbell, who has experienced a revolving door at the position since his tenure at Auburn, the relationship with first-year Raiders offensive coordinator Hue Jackson should be beneficial.
Said Campbell after a recent minicamp: "Things are coming along."
One ancillary benefit to having the more stable Campbell, who has received solid reviews from his new teammates, is that an Oakland defense that includes some compelling players should benefit from having a less erratic offense. The unit, which ranked 26th in overall defense in 2009, should make good progress.
The Raiders have been a chic pick by the pundits at this early juncture to be one of the league's most improved clubs in 2010. I don't yet share that view. But if the Raiders are among the NFL surprises this season, Campbell is likely to garner the lion's share of the credit.
Which as the steal of the offseason, at least in my view, he should.
Len Pasquarelli, a recipient of the Pro Football Hall of Fame's McCann Award for distinguished reporting, is a senior writer for ESPN.com.
2010 NFL TRAINING CAMPS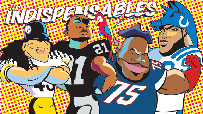 Follow ESPN's NFL coverage on Twitter
GREAT DEBATES
INDISPENSABLE PLAYERS
NFL BLOG NETWORK
CAMP CONFIDENTIAL: NFC
CAMP CONFIDENTIAL: AFC
COMMENTARY/BLOG POSTS
ESPN LOCAL COVERAGE
Nike Men's Home Limited Jersey Oakland Raiders Darren Mcfadden #20 Shop »

MOST SENT STORIES ON ESPN.COM