Commentary
Tip Sheet: No place like home
Citing practicality and bottom lines, more teams staying home (or close to it) for camp
Originally Published:
July 23, 2010
By
Len Pasquarelli
| ESPN.com
When the Kansas City Chiefs moved from the University of Wisconsin-River Falls to Missouri Western State University (St. Joseph's, Mo.) this summer, the unraveling of the so-called "Cheese League" was complete.
As recently as 20 seasons ago, five league teams held their training camps in Wisconsin. But when the NFL opens summer workouts over the next 10 days -- with all 32 franchises set to be bivouacked by Aug. 1 -- only the Green Bay Packers will practice within the state's borders.
The Packers' camp, held at St. Norbert College for a league-record 53rd straight summer, is only an Aaron Rodgers bomb to Greg Jennings removed from the club's regular-season practice facility. In the interest of full disclosure, the camp is actually about five miles away in De Pere, a Green Bay suburb. In recent years, though, NFL teams have moved even closer than that.
For the second straight season, and the third time in four summers, 17 teams will conduct training camps at or near their regular-season home bases. In 2002, the number of clubs that opened training camps at home was still in single digits and just five franchises had camps on their home turf in 2001. But the days of trekking to some small college to conduct scrimmages and sweat in a bucolic place are over for most franchises.
"As the game has grown, its popularity and demands, the amenities of being at home just make a lot more sense," said New Orleans general manager Mickey Loomis, who in 2009 returned the Saints' camp to the club's Metairie, La., facility after three years at Millsaps College in Jackson, Miss. "The trend definitely is for staying [at the regular-season complex]. It's just more feasible anymore."
Home sweet home
For the second year in a row, and the third time in four seasons, 17 NFL teams will conduct their training camps at their in-season facilities or in their hometowns. Here's a list of how the trend has evolved since 2001:
| Year | Teams |
| --- | --- |
| 2001 | 5 |
| 2002 | 7 |
| 2003 | 12 |
| 2004 | 12 |
| 2005 | 15 |
| 2006 | 13 |
| 2007 | 17 |
| 2008 | 14 |
| 2009 | 17 |
| 2010 | 17 |
There was a time when a family would pile into the car, endure a drive of a few hours, arrive at an NFL training camp, lay out the picnic blanket, salivate over the "Oklahoma" drill (which immediately tested a player's machismo) and sweat through two-a-day, head-knocking practices. Now the "Oklahoma" and two-a-days, and the thump of helmets and pads against each other, have largely gone the way of the single wing.
Hardcore NFL fans used to schedule their vacations to coincide with the start of training camps. Camp is still the most difficult time of year for teams, but compared to the way things used to be, it's the players on vacation now, not the fans.
Players still spend time in college-type dormitories, but those rooms often now come with air conditioning.
One of the old memories of summer was watching the Pittsburgh Steelers' veteran players arrive, with several window fans in tow, to check into the steamy dorms at St. Vincent College (Latrobe, Pa.), where the team will hold camp for the 44th straight summer.
But the romanticism of training camps, and some of the off-told tales, has been superseded by the need to sell T-shirts and season tickets. Where curious fans once crowded camp fences for a glimpse of their heroes catching a chilly swig of water, there now is advertiser signage. In the increasingly corporate NFL, camps have sponsors now; not that long ago, the only specter of capitalism at camps was an enterprising kid stationed behind his lemonade stand in the parking lot.
The financial realities of having camp away from home, particularly in the current economic climate, are hard to endure for franchises and families. The everyday wrestling match for the disposable dollar and the rising costs of doing business have forced NFL owners into submission -- and forced them to use their teams' training camps as a revenue stream.
As much as those of a certain vintage still cherish the times when a day was made of visiting camps -- as a teen and then a young reporter, it was a thrill traveling to Latrobe and battling the cars that lined up miles down Route 30 to watch the Steelers' practices -- the game has changed.
And not just for financial reasons.
It's simply easier to drag a blocking sled from a team's home facility, and to place it in the corner of a field tended year-round, than it is to haul it a few hundred miles on a truck, unload it, and dump it onto a field for two months a year.
"The logistics are so much easier," Tennessee coach Jeff Fisher said. "You just have some things [at a home facility] that you can't have anywhere else. And it makes everything, from the weather to a lot of other things, easier to handle."
Indeed, many clubs that train at home have access to indoor facilities -- to which they can escape when the weather is too hot or becomes inclement -- that they might otherwise not have at their disposal. And while teams don't make a great deal from camp, even those that charge admission for parking, there is some benefit gained from the exposure of having a franchise's fan base much closer, and from having the players practice in a familiar environment.
"It's not so much 'home sweet home' as it is about 'home sensible home' now," San Francisco defensive end Justin Smith said. A nine-year veteran, Smith spent the first seven seasons of his career with the Cincinnati Bengals, who train in Georgetown, Ky., before signing with San Francisco, which has camp at its own complex.
Some coaches still lean on the old adage that the team bonds better when it is away from the distractions of home -- "You want them [thinking] about football," said New York Giants coach Tom Coughlin, whose club trains at the University of Albany -- but such a mindset isn't as prevalent anymore.
Clearly, pragmatism has overtaken perspiration in a lot of ways.
Or as Detroit coach Jim Schwartz, whose team is one of the 17 homesteaders, recently noted: "It really doesn't matter so much where you train as how you train."
Len Pasquarelli, a recipient of the Pro Football Hall of Fame's McCann Award for distinguished reporting, is a senior writer for ESPN.com.
SPONSORED HEADLINES
MORE NFL HEADLINES
MOST SENT STORIES ON ESPN.COM
2010 NFL TRAINING CAMPS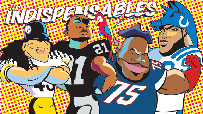 Follow ESPN's NFL coverage on Twitter
GREAT DEBATES
INDISPENSABLE PLAYERS
NFL BLOG NETWORK
CAMP CONFIDENTIAL: NFC
CAMP CONFIDENTIAL: AFC
COMMENTARY/BLOG POSTS
ESPN LOCAL COVERAGE