Franchise takes it 'one game at a time'
While the league is set up to keep teams from establishing dynasties, the Patriots are beating the system.
Updated:
October 10, 2004, 12:00 PM ET
By
Len Pasquarelli
| ESPN.com
Ever thumbed through the "NFL Record and Fact Book," the must-have tome which serves as the football Bible for the media covering the league, and which includes a fat section on both team and individual records?
Probably not, since only the hardest-core fans are even cognizant of the existence of the indispensable reference tool known to most media hacks simply as "the white book." But you can pick up the latest volume at the bookstore in your local mall and, should you opt to make such an investment, we suggest you take a day or two to thumb through all 768 pages. From the front cover featuring (who else?) New England quarterback Tom Brady, to the final page with the NFL insignia at the bottom, invest some time getting cozy with the league's encyclopedia.
And, oh, yeah, while you're at it, let us know when you find the listing in the "Records" section that documents all of the franchises which have won 18 consecutive games. Here is a hint: You won't be reaching for the telephone anytime soon.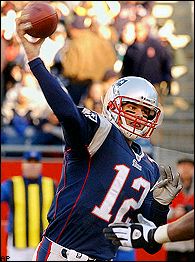 The Patriots' last loss was during Week 4 of the '03 season.
On page 636, under the heading "Most Consecutive Games Won," the
Chicago Bears
of 1933-34 top the litany, with 17 victories. There are three more clubs with 16 straight wins and two more with 15 in a row. Nothing about any 18-game winning streaks. No mention, even before the Patriots captured an 18th straight win last Sunday, of the other five clubs that accomplished a similar milestone. And why not?
Because league historians, and the folks who deal with every bit of monumental minutiae, don't officially recognize streaks that include postseason victories, that's why.
Why, then, is so much time and space and verbiage being devoted to the New England quest to notch a 19th consecutive victory on Sunday afternoon against a winless and woebegone Miami Dolphins team? Because while the record winning streak is unofficial, there is no denying that it is also unbelievable, particularly at this juncture of league history.
"I mean, you're talking about 18 straight wins, man," said Buffalo Bills linebacker Takeo Spikes, whose team was the Pats' latest victim last weekend. "Eighteen straight! That's a big, big number, OK? The way this league is, you have to be playing great to win three or four games in a row. Eighteen is (mind-)boggling."
That's 18, of course, and counting. New England is all but certain to break the unofficial mark on Sunday, ironically against a traditional divisional rival that, not too long ago, absolutely owned the Pats. Maintaining the streak gets a little more daunting after that, with home matchups against Seattle and the New York Jets, both currently undefeated, and road trips to Pittsburgh and St. Louis.
But at this point, many observers agree, it is difficult to bet against a team that hasn't lost in more than a calendar year now. While most of the New England players down play the significance of the streak, taking their cue from head coach Bill Belichick, the grandeur and scope of what the Patriots have accomplished isn't lost on those who achieved the record skein. It has been suggested the Patriots relegate the streak to back-burner status, but it isn't as far from the players' consciousness as some would have you believe.
But if the beauty of the undefeated Dolphins team of 1972 was its ability to just focus on the immediate task, as former Miami safety Dick Anderson pointed out this week, one of the strengths of the Patriots is their shared tunnel vision.
"To say you're not aware of it would be lying," conceded Pats cornerback Tyrone Poole. "But the way we look at it, this has been more like 18 one-game winning streaks, and no one ever looks down the road and tries to figure out how long it can go. The first goal is to win this week, to make it 19, and to move on. But there might be a few minutes in the week when you allow yourself the (luxury), for a short time, to think about how the streak really is so amazing."
Just how amazing is the methodical domination of the Patriots, a team with precious few superstars, and on which Belichick truly has inculcated a collective mindset accentuating the sum over the individual?
Consider this: During the New England skein, which began with a victory over Tennessee on Oct. 5, 2003, the next closest winning streak is but halfway to the Pats' mark, a nine-game stretch by the Philadelphia Eagles last season. There have been, during this period, only five winning streaks of six games or more. Only 20 teams have won three games or more since early last October and, at the same time, there are 13 league franchises that have failed to win more than two games in a row.
Remember, this comes at a time when parity rules the NFL universe, and when the salary cap and free agency have allegedly conspired to make so-called dynasties obsolete. It is supposed to be an era of unleavened competition, one where the annual roster turnover renders last year's contenders into this season's pretenders, but the Patriots organization either didn't receive those memos on mediocrity or chose to ignore them.
A third Super Bowl triumph in four years would make the Pats, no matter the criteria that is used for assessing franchises of disparate eras, a team for the ages. Truth be told, their winning streak might already qualify them, some league observers feel.
The longest winning streak for the Pittsburgh Steelers assemblage that claimed four Super Bowl titles in the '70s, for instance, was a dozen games. The Dallas Cowboys of the '90s never won more than 10 straight games. The 49ers' best skein in the '90s was 11 games. Denver is one of five other teams that have won 18 straight, in 1997-98, but no one thinks of the Broncos as a dynasty and the recent revelations of their salary cap circumventions clearly tarnish their accomplishments.
"I think if there is anything that sets (the New England streak) apart," said Pats linebacker Mike Vrabel, "it's that it happened when everyone said it couldn't be done because of the (salary) cap and stuff."
Indeed, such success would be remarkable in any era. But for it to have come at a time when the system is so stacked against maintaining excellence even for a short period is all the more incredible.
The current salary cap/free agency nexus was instituted in 1993 and, since then, there have been just 10 double-digit winning streaks. For that matter, through 11 full seasons of the current system and four weeks of the 2004 campaign, there have been just 65 skeins of six or more wins in a row. Inserting the New England streak into that kind of historical perspective, when virtually every team churns over one-third of its roster annually and the personnel tradeoffs inherent to the salary cap make continuity near impossible, adds even more weight to the Patriots accomplishments.
| | | |
| --- | --- | --- |
| | " | To say you're not aware of it would be lying. But the way we look at it, this has been more like 18 one-game winning streaks, and no one ever looks down the road and tries to figure out how long it can go. The first goal is to win this week, to make it 19, and to move on. " |
| | | —CB Tyrone Poole |
In truth, this is more than just a terrific football team, because the brilliance in managing the fine balance championship clubs need extends throughout the entire organization. The league is about being able to navigate the salary cap high-wire now, to fashion a roster that someone defines a semblance of synergy, to mesh personalities at a time in general history when the individual characteristically supercedes the collective.
Certainly Belichick, owner Bob Kraft and personnel director Scott Pioli have fashioned a formula other franchises are struggling to emulate. It is now called, around the league and in most teams' front offices, doing things "the Patriots way." They sign their players at relatively reasonable deals, approach free agency cautiously, toe the line on salaries in many cases, preach a gospel that convinces players that Belichick will find a role for all.
The latest example of doing things "the Patriots way" came on Tuesday, when the club struck a six-year contract extension with starting left offensive tackle Matt Light, a player who could have become an unrestricted free agent next spring. A starter since his rookie year, and a real key for a club whose offensive line has been in flux, Light clearly would have gotten a better contract had he gone onto the open market. But the Pats were fair and Light, a man of modest desires, felt like $27 million for six more seasons, with bonuses totaling $9 million, was enough to make him happy.
"The simple fact is," said agent Ben Dogra, who along with partner Jim Steiner finished the deal, "he didn't want to leave. The Patriots have a way of doing that sometimes. They do a good job of maintaining continuity."
They also have an uncanny knack for maintaining their victory streak.
Some naysayers contend the Pats aren't really that much better than the rest of the league. But it is no coincidence that in the regular-season opener, certainly outplayed by Indianapolis, the Patriots made all the important plays at the end of that contest. Just last Sunday, with Buffalo poised to score a late-game touchdown that would have knotted the score and perhaps sent the contest to overtime, linebacker Tedy Bruschi forced a fumble that defensive end Richard Seymour returned for a clinching touchdown.
Those things, folks, aren't just good fortune, serendipity or happenstance. They aren't even a combination of all three. They are instead the mark of a team that now only knows how to win but also how to defy the odds in doing so week after week.
Len Pasquarelli is a senior NFL writer for ESPN.com. To check out Len's chat archive, click here
.
SPONSORED HEADLINES
MORE NFL HEADLINES
MOST SENT STORIES ON ESPN.COM
EDITORS' PICKS
Why Calvin Johnson gives DBs nightmares.
Rothstein »

Ray Rice took a positive step toward righting a wrong.
Hensley »

Can anyone dethrone Seattle out West? We predict the division.
4 Downs »