Raider or not, Hall question lingers
Updated:
July 18, 2005, 4:42 PM ET
By
Ray Ratto
| Special to ESPN.com
Tim Brown announced his retirement Monday, a year after effectively ending his career.
But that's the inherent beauty of the flexible retirement date -- it's flexible.
It's flexible because it can come at any time, and it can come even though you left the team you are "retiring" from with recriminations and harsh words. It is, in short, show business of the most shallow and transparent sort, and perfect for the athlete who needs his retirement to become a special occasion.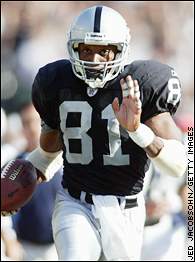 Tim Brown has the statistics of a Hall of Famer, but is that enough?
Sort of like "The Kennedy Center Salutes Vanilla Ice."
Now that is probably an unfair comparison for Brown, who was actually quite a good receiver in his day. Still, it isn't as though anyone thought of him as a Tampa Bay Buccaneer at any point, so the "retiring as a Raider" sham, with the one-hour contract, is really for nobody except himself and his most ardent believers.
This is, however, essentially victimless stuff (although today's party was scheduled through Brown's "people," so the Raiders didn't know it was coming). Like his predecessors in this encore/coda, Brown likes the attention, his fans like to lavish it upon him, and no people or animals are harmed in its staging, so let's not dwell on its essential silliness.
Brown, though, is an interesting case in that it is his future, rather than his past, that is most intriguing. Namely, his future as it relates to Canton, Ohio, and the Pro Football Hall of Fame.
He caught 100 touchdown passes, the last in Oakland against the Raiders. He caught 1,094 balls for 14,934 yards, six catches and 66 yards short of two other major mathematical milestones. I mean, what sounds better than 100, 1,100 and 15,000?
But that's the thing about Tim Brown's career -- it's mostly mathematics. He is, if you think about it a moment, the Rafael Palmeiro of football.
Palmeiro just passed 3,000 hits, and between that and his other statistics, is considered by some a slam-dunk Hall of Famer. But his is also a career without any shining individual moments or seasons, and his detractors use that as the argument for voting against him. The most compelling argument for and against Palmeiro is the fact that Don Sutton is a Hall of Famer.
But this isn't about Palmeiro, or Sutton for that matter, and Dave Campbell's argument that anyone who doesn't vote for Palmeiro is "an idiot" probably isn't as persuasive as Campbell would like.
Brown's career, though, is Palmeiro's. He was a Raider for all but those last 24 catches, and the Raiders went thorough a largely fallow period during his tenure. They went to one Super Bowl in his time and reached the postseason four other times -- in 17 seasons.
Thus, his best work was done with unaccomplished teams, and though he played his first seven years in Los Angeles, where presumably his light would shine brightest, it actually got lost there. And in Oakland, the Raiders have assembled three meaningful years (2000 through '02) in their 10 years.
In other words, Brown's show largely was ignored, because most of the teams he played on were ignored. He caught all those balls and amassed all those yards and scored all those touchdowns on teams with average records of 8-8.
Logic tells us Brown should not be punished for this, but it also tells us that he should not be rewarded for it, either. The only point in bringing it up at all is that assessing Brown's career means facing up to the fact that the history of the sport can be written with only a passing mention of him, despite his numbers, which leaves voters in the same quandary as those who must confront Rafael Palmeiro.
But there's more here. It is far more difficult to get into the Pro Football Hall of Fame than the Baseball Hall of Fame, because the voting sample is smaller, gathered in one room, and more susceptible to a spirited argument. How, for example, can a voter split the difference between Brown and, say, Andre Reed, or Art Monk, both of whom played in multiple Super Bowls and neither of whom is a Hall of Famer?
It is the classic math vs. memories argument, the one that will catch Palmeiro in its pincers in five or six years. The only difference between Brown and Palmeiro ultimately is this:
Brown is retiring as a Raider, with a one-day deal that will make people ooh and ahh a bit and then move on with their lives. Palmeiro has to figure out a way to retire as both a Ranger and an Oriole.
Unless he still has a soft spot for the Cubs. After all, he couldn't have done it without those 257 hits right at the start, in the same way that Brown doesn't catch that 100th touchdown without the Bucs.
That's the thing about a career based on numbers -- you need every number you can get, no matter how you get it.
Ray Ratto is a columnist with the San Francisco Chronicle and a regular contributor to ESPN.com
EDITORS' PICKS
Is Jameis Winston still the top pick? Here's how the combine impacted Todd McShay's first-round outlook.
Mock 3.0

The league's extensive analysis of in-game data may yield endless possibilities for the future of the game.
Seifert »

Josh McCown is a great guy. But he isn't a great option to clear up the Browns' unsettled QB position.
McManamon »

MOST SENT STORIES ON ESPN.COM