Commentary
In young QB market, Cutler hot, Eli Manning not
Among a group of 11 young quarterbacks, Denver's Jay Cutler is most likely to join Peyton Manning and Tom Brady in the very elite class, Mike Sando writes.
Originally Published:
December 13, 2007
By
Mike Sando
| ESPN.com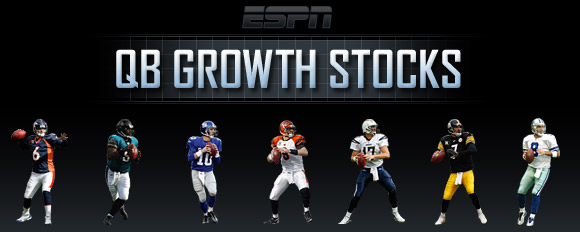 ESPN.com Illustration
GRAPHIC:
From Anderson to Young, ESPN.com charts the progress of 11 young starting QBs.
Pittsburgh's
Ben Roethlisberger
and Dallas'
Tony Romo
impress with their ability to strike downfield after leaving the pocket.
Cincinnati's Carson Palmer dazzles with his arm strength and his ability to sniff out opposing defenses.
Houston's
Matt Schaub
has a better feel for the pocket than most, while Jacksonville's
David Garrard
brings poise and a high football IQ to the quarterback position.
QB RATINGS
Strong Buy: Analysts have a hard time seeing him failing. Reserved for those who possess the physical tools and intangibles to join the very elite. Buy: Should enjoy a long, productive career with Pro Bowls in his future. Minor limitations separate them from the highest rating. Hold: Has the potential to take the next step, but it's unclear how high his stock might rise. Underperform: The jury has returned its verdict, and the news isn't very good. Sell: Trade him now.

For all their differences, most of the NFL's promising young quarterbacks share a striking similarity in the eyes of scouts and coaches: They can't touch Denver's
Jay Cutler
for sheer potential.
Asked to evaluate 11 young starters, experts singled out Cutler as the quarterback most likely to reach the elite status currently shared by Tom Brady and Peyton Manning.
"The kid in Denver, to me he is the future of this league," an AFC pro scout said. "I would jump on that boat," an NFC personnel director said. "He isn't quite there, but you see those flashes of a guy who, once he has the whole playbook in his mind and he's made all the mistakes he needs to make in learning it, man, he's going to be a special player." ESPN.com granted anonymity to two pro scouts, one personnel director, a defensive coordinator and a defensive backs coach in exchange for unvarnished evaluations. The experts analyzed starting quarterbacks younger than 30 and with fewer than four seasons of starting experience. San Francisco's
Alex Smith
and Arizona's
Matt Leinart
fell from consideration because neither has established himself as a long-term starter. That left 11 young quarterbacks standing: Roethlisberger, Romo, Palmer, Schaub, Garrard, Cleveland's
Derek Anderson
, San Diego's
Philip Rivers
, Tennessee's
Vince Young
, Washington's
Jason Campbell
, the
New York Giants
'
Eli Manning
and, of course, Cutler.
STRONG BUY
Jay Cutler, Broncos


CUTLER WATCH
Bullish: Exceptionally strong arm, good mobility and accuracy, calm under pressure. Showed toughness in returning quickly from painful leg injury.
Bearish: Like many hard throwers, trusts his arm strength too much at times.

2007 most yards per attempt

| | |
| --- | --- |
| Player | YPA* |
| Tom Brady | 8.60 |
| Tony Romo | 8.58 |
| Brett Favre | 7.96 |
| Jay Cutler | 7.92 |
| Peyton Manning | 7.90 |
| *minimum 100 attempts | |
The second-year pro has completed better than 60 percent of his passes through his first 18 regular-season starts, but the numbers don't begin to explain what separates Cutler from the others. "I love him," the AFC scout said. "He's athletic, poised, smart, accurate -- and there was just something about that kid coming out, the way he was wired." The Broncos have had problems surrounding Cutler with a consistent supporting cast. Losing veteran center
Tom Nalen
was a significant setback. Top receiver
Javon Walker
has hardly played. Top running back
Travis Henry
has 34 carries over the last seven games. Cutler's numbers have suffered as a result, but he's still averaging 7.9 yards per attempt, putting him up there with
Brett Favre
(7.96) and Peyton Manning (7.9). "He has an unbelievable career ahead of him," the NFC personnel director said. "He is Romo [in terms of confidence] with the physical tools to match. He's fun to watch because he's kind of like the kid who plays quarterback down at the playground. 'Let's just go play.'" Cutler, 24, has less experience than the other quarterbacks on our list, leaving more for the imagination. But his poise and physical ability are obvious already. "He has a cannon of an arm, obviously, and when he's in the pocket, he has the arm strength to make all the throws," an NFC pro scout said. "Throw in the fact that he can move around and buy additional time, and he's got a pretty impressive arsenal in terms of ability and arm strength and feet."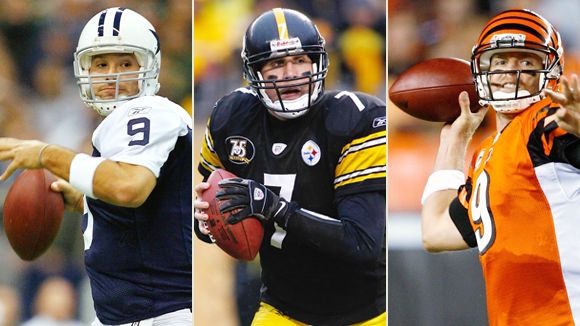 Getty ImagesDallas QB Tony Romo, left, may not have the physical ability of Pittsburgh's Ben Roethlisberger, center, and Cincinnati's Carson Palmer, but his confidence makes him especially dangerous.
BUY
Tony Romo, Cowboys


ROMO WATCH
Bullish: Accurate, mobile, able to strike downfield after leaving the pocket. Off-the-charts confidence and a strong supporting cast help him approach elite status.
Bearish: Lacks the raw physical attributes of other quarterbacks on this list, notably pure arm strength.
2007 TD passes 20 or more yards

| | |
| --- | --- |
| Player | TDs |
| Tony Romo | 18 |
| Tom Brady | 14 |
| Peyton Manning | 12 |
| Brett Favre | 9 |
| Derek Anderson | 9 |
| | |
Few quarterbacks produce more with less obvious physical ability. That's not intended as a criticism, either. Romo has enough physical ability, no question, but his confidence makes him especially dangerous. "If you put him in the room with great quarterbacks and broke down their qualities, you wouldn't say this guy is No. 1 in any of those things," the NFC personnel director said. "But he might be No. 1 in confidence. I think he gets a lot of stuff done with attitude and mind-set and preparation and confidence." The approach is working. Romo, 27, has 35 touchdowns and a 107.7 rating this season for the best team in the NFC. He's averaging 8.6 yards per attempt and has been sacked just 19 times in 13 starts this season. The Cowboys are getting elite production from a player with only 23 regular-season starts. "He throws a nice ball, one of those catchable balls," the secondary coach said. "He's not going to have the biggest arm, but he's accurate." Most quarterbacks worry about backside pressure when moving outside the pocket. Romo seems unperturbed. And he's more dangerous than other quarterbacks once he breaks outside containment. "He always keeps his head up when he's outside the pocket," the NFC pro scout said. "Most guys look five or 10 yards down the field, but it's like Romo looks 40 yards downfield and works his way back. He'll throw to the other side of the field and a guy will be uncovered because everyone [bailed]."
Ben Roethlisberger, Steelers


ROETHLISBERGER WATCH
Bullish: Size, arm strength and mobility make Roethlisberger extra dangerous when he leaves the pocket. Seems to be taking his craft more seriously following a career-threatening motorcycle accident.
Bearish: Struggles to read defenses at times. Takes too many sacks.
Most sacked since 2006

| | |
| --- | --- |
| Player | Sacked |
| Jon Kitna | 112 |
| Ben Roethlisberger | 84 |
| Marc Bulger | 78 |
| J. P. Losman | 61 |
| Matt Hasselbeck | 60 |
Roethlisberger stands 6-foot-5 and weighs more than 240 pounds, making him the biggest player on our list. He's also putting up big numbers. There's a lot to like, but also a few concerns. "If you can keep him in the pocket, he struggles with coverage," the defensive coordinator said. "I'm not convinced that he might not always struggle that way. I would say that is probably, to me, his only negative." Roethlisberger, 25, appears destined to rank among the league leaders in yards per pass attempt (7.8 yards), arguably the most telling statistic for quarterbacks. His completion percentage is above 66.4 percent this season, also a high figure. "We played him early in his career and I wasn't impressed at all," the secondary coach said. "I just thought he had a good supporting cast. I like him better after watching him this season. He's a tough quarterback to defend because he makes plays out of the pocket. He's getting better." Uncommon size and strength allow Roethlisberger to stand tall in the pocket, but sometimes he holds the ball too long, leading to unnecessary sacks. Opponents have sacked Roethlisberger more than 80 times in the last two seasons. Finding the right balance could allow Roethlisberger to take another step toward elite status. "There are a lot of things that make him good," the defensive coordinator said. "He's big, so he can avoid sacks or get out of a sack situation. When the receivers alter their routes, he can get out of the pressure. He has a good arm. Once he finds the guy open, he can drill the ball. "The only real nick in his armor is if you can keep him in the pocket. Once he escapes the pocket, he has the comfort of being able to run. Usually there will be one guy after him instead of four or five."
Carson Palmer, Bengals


PALMER WATCH
Bullish: Accuracy, smarts and arm strength separate him from most others.
Bearish: Palmer wasn't particularly mobile before suffering a serious knee injury. He's no threat to run. Chronic organizational turmoil is a potential limiting factor.
2005 to present

| | | | |
| --- | --- | --- | --- |
| Year | Comp. Pct. | Sacks | INT. |
| 2007 | 65.2 | 17 | 17 |
| 2006 | 62.3 | 36 | 13 |
| 2005 | 67.8 | 19 | 12 |
Palmer, 27, has bounced back from a career-threatening knee injury, but whatever mobility he possessed is mostly a memory. That hasn't stopped him from threatening 4,000 yards passing most seasons. "From a mental standpoint and managing the game, I would put him right there with Tom Brady," the defensive coordinator said. "He is smart and he can do what Brady does in terms of calling the offense on the line of scrimmage and changing things." Palmer's arm strength and accuracy impact the way defenses plan for the Bengals. "I'm scared to death of him," the secondary coach said. "That guy, wow. He can make any throw. He is putting balls in there that should be picked." Some of those balls have been picked. Palmer already has more interceptions this season (17) than he threw last season or in 2005. But he is taking fewer sacks and completing a higher percentage. "The only thing with Carson is, which he can't do anything about, is his mobility," the coordinator said. "He can escape a little bit of the rush, but he is of no danger to you."
David Garrard, Jaguars


GARRARD WATCH
Bullish: Possesses accuracy, arm strength and a strong feel for the position. Has the ability to scramble if needed, but has the mindset of a pocket passer.
Bearish: Lacks the weapons to maximize his potential.

Top passer rating in 2007

| | |
| --- | --- |
| Player | Rating |
| Tom Brady | 123.5 |
| Tony Romo | 107.7 |
| David Garrard | 103.3 |
| Ben Roethlisberger | 101.4 |
Garrard, 29, quietly developed as a spot starter when
Byron Leftwich
was struggling to stay healthy. The team remained committed to Leftwich until this season, but that wasn't a bad thing for Garrard. The situation allowed him to work on his game without the pressure of being The Man. "The thing with him has always been his poise and his clear understanding of the position," the NFL personnel director said. "I think he is instinctive as a quarterback in his understanding of the big picture more than just trying to be a strong-armed guy." Garrard has flourished in the months since the organization released Leftwich. The last-minute move seemed risky because the regular season was only days away, but Garrard was clearly ready. "He's athletic, he has a big arm and he's in a pretty good comfort zone there," the AFC scout said. Jack Del Rio is a defensive head coach who prefers a run-first approach on offense. The Jaguars also lack receivers, making it unlikely Garrard will put up MVP-caliber numbers anytime soon. But in throwing 10 touchdown passes before his first interception this season, Garrard showed he won't force things.
"As far as being able to make the throws, he can do all that," the NFC personnel director said. "And mentally, he is a quarterback; most people consider him to be a leader of men. He is a good runner, strong in the hips, but he thinks more like a conventional quarterback."
Matt Schaub, Texans


SCHAUB WATCH
Bullish: Possesses a better feel for the pocket than most. Accurate, level-headed and mature.
Bearish: He's had trouble staying healthy despite limited starts. Schaub might be more of a "system" passer than other QBs in this story.

2007: Hot start, colder finish
Sept.
Since Sept.*
W-L
2-2
2-5
Comp. pct.
74.0
60.8
Pass ypg
251.3
176.6
TD/INT
5-3
4-6
Rating
101.2
76.8
*Missed 2 games with injury
Schaub, 26, seems to have a natural feel for the position. Other quarterbacks on the list have stronger arms and better scrambling ability, but one of our experts ranked Schaub near the top. "Schaub and Cutler are the two young guys that excite me, guys that if they fail, then I don't know what the hell I'm doing," the NFC pro scout said. Schaub stands 6-foot-5 and weighs 237 pounds, but he rarely takes sacks. A helmet-to-helmet hit from Tennessee's
Albert Haynesworth
knocked Schaub from an Oct. 21 game, altering the quarterback's season. The Titans knocked out Schaub again more recently, this time with a dislocated shoulder. Schaub sat on the bench in Atlanta for three seasons even though "he ran the West Coast offense better than
Michael Vick
ever could," the secondary coach said. "I really liked him," the coach said. "And then seeing him again this season, he was really good." Pocket awareness separates Schaub from most quarterbacks. His predecessor,
David Carr
, took 41 sacks in 16 starts for Houston last season. Schaub took 16 in his first 11 starts this season. "Get a running game with him and he's going to be tough," the NFC scout said.
HOLD
Philip Rivers, Chargers


RIVERS WATCH
Bullish: Seems to play his best under pressure. Good accuracy. Knows when to find his playmakers.
Bearish: Has thrown into coverage too frequently. Others have stronger arms.

2007 rankings
Passer rating
78.9
18th
INT
15
T-4th
YPA
6.9
T-17th
Comp. Pct.
59.6
29th
San Diego took a step back offensively this season, but Rivers has shown signs of improvement. He has forced too many balls into coverage, leading to more interceptions (15) and a pedestrian passer rating so far (78.9). Rivers, 25, spent two seasons behind veteran
Drew Brees
before helping San Diego to a 14-2 record in 2006, his first season as a starter.
"He's an accurate guy, but I wasn't impressed with his arm strength," the secondary coach said. "I was more impressed with his leadership and the other things he does, more than being a pure quarterback.
"You watch him and he has a good feel for the game, he knows where to go with the ball and who needs to get the ball. Some guys don't get that. You see guys all the time, it's a critical situation and they throw to some guy who never had a catch. Part of being a good player and a good quarterback is getting the ball to right guys."
The Chargers acquired wide receiver Chris Chambers from Miami, but they could use more at the position.
"It seems like his lack of receivers has really caught up with him," the NFC scout said. "Teams are taking [Antonio] Gates away and they had [center] Nick Hardwick hurt for a while, so they couldn't run the ball as well."
Vince Young Titans


YOUNG WATCH
Bullish: Possesses rare playmaking ability. Has shown an ability to win in the clutch.
Bearish: Poor mechanics could affect his development as a pocket passer. Hasn't protected the ball well enough. Could use better receivers.
More INTs than TDs in 2007

| | | |
| --- | --- | --- |
| Player | INTs | TDs |
| Vince Young | 16 | 7 |
| Damon Huard | 13 | 9 |
| Brian Griese | 12 | 10 |
| Trent Dilfer | 12 | 7 |
Young, 24, overcame average numbers as a rookie (51.5 completion percentage) by making clutch plays to win games, often with his legs. Defenses have adjusted this season, and Young has struggled. He has seven touchdowns and 16 interceptions in 12 starts despite completing a higher percentage of his passes. "I can't get over the throwing motion," the AFC scout said. "At some point, you have to make throws from the pocket in the passing game. He'll have some good games, but week in and week out, every week is chaos to him. "If your biggest threat is pulling it down and running, maybe there's a reason." Young tends to deliver the ball with his elbow low, reducing his options. "It's hard to throw the ball with any sort of loft or touch," the AFC scout said. "It's one of
Joey Harrington
's issues, that and not waiting to get the ball out. It's never changed with David Carr, either. They had Carr throwing over chairs and ladders and it's not going to change. It is what it is. "A guy like Vince, I love to watch him play. He's fun and he runs around and he creates, but there were a million guys who failed before Bernie Kosar had success with that motion." Young also suffers from a short supply of talented receivers.
Jason Campbell, Redskins


CAMPBELL WATCH
Bullish: Appears to have a strong command of the huddle. Good physical skills.
Bearish: Still learning the offense.

Year-to-year

| | | |
| --- | --- | --- |
| | 2006 | 2007 |
| Comp. pct. | 53.1 | 60.0 |
| Rating | 76.5 | 77.6 |
| TD/INT | 10-6 | 12-11 |
| W-L | 2-5 | 6-7 |
Coaches generally change a quarterback's throwing motion only as a last resort. Washington appears to have succeeded in helping Campbell, 25, overhaul his mechanics. Campbell has improved his completion percentage significantly, but he's still in the early stages of development. "He is a big, talented kid," the secondary coach said. "He can pretty much throw any ball you need. They are probably taking it easy with him with the idea of, 'Hey, listen, don't lose the game for us.' But he might be able to win for them with time." The AFC scout studied Campbell at length, starting with the seven starts Campbell made last season. "They really did a nice job of changing his throwing motion," the scout said. "They really shortened his stroke, which helped him. I was really surprised at how much better he got during the summer." Campbell might be more of a born leader than some quarterbacks. "He takes charge of things," the secondary coach said. "You don't see other guys in the huddle saying, 'Let's do this, let's do that.' They have some veteran guys. He carries himself that way. I'd be willing to bet he has good leadership ability."
Derek Anderson, Browns


ANDERSON WATCH
Bullish: Uncommon height helps him see the field well. Benefits from very good pass protection and solid options at the skill positions.
Bearish: Not particularly mobile.

Vs. Peyton Manning in 2007

| | | | | |
| --- | --- | --- | --- | --- |
| Player | TDs | INTs | Pass YDs | Sacked |
| D. Anderson | 26 | 14 | 3247 | 11 |
| P. Manning | 27 | 13 | 3358 | 17 |
Even the Browns have been surprised with Anderson's sudden emergence as a productive, winning quarterback. As a result, scouts and coaches haven't studied him as much. Anderson, 24, looks the part at 6-foot-6 and 230 pounds. "At this point, I don't think there is anything real negative about him. He just needs to keep his entire game going," the defensive coordinator said. "I understand he's a real smart kid. I think if he applies himself, he's going to get better and better. "They are going to be an offensive team to reckon with even more than they are now once they get real confidence in what they are doing." The Browns have done an outstanding job protecting Anderson, the coordinator said. "We were kind of lukewarm on him when we played him and we might have to revisit that," the AFC scout said.
UNDERPERFORM
Eli Manning, Giants


ELI MANNING WATCH
Bullish: Strong arm, good size.
Bearish: Not particularly accurate. Not a natural leader.

Manning vs. other NFL QBs
Year
Passer rating
NFL avg.
2004
55.5
82.8
2005
75.9
80.1
2006
77.0
80.4
2007
75.2
82.9
Credit: Elias Sports Bureau
Our panel of experts wasn't impressed with Manning even before the quarterback's four-interception implosion against Minnesota in Week 12. "I think he's got good skills," said the secondary coach, speaking before the Minnesota game, "but all the other stuff, the intangible stuff, I don't think he has it. He gets scared when you get after him in the pocket. All the things you hate a quarterback to have, he has. And he's not accurate." Even Giants' general manager Jerry Reese admitted that Manning, 26, had become "skittish" in recent weeks. "He missed throws in our game," one of the pro scouts said. "There were throws you need to make if you are a front-line guy. He left yards on the field against us."
Mike Sando covers the NFL for ESPN.com.
NFL Insider
ESPN Insider NFL columnist and blogger
Covered the NFL since 1998
Member of Pro Football Hall of Fame selection committee
SPONSORED HEADLINES
MORE NFL HEADLINES
MOST SENT STORIES ON ESPN.COM
HOT READ: QB WATCH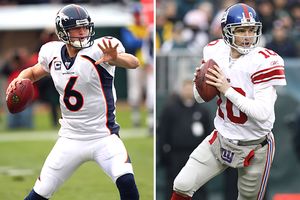 Where do Jay Cutler, left, and Eli Manning rank among the NFL's best young quarterbacks? In a special two-part Hot Read, ESPN.com examines the league's most important position.


Part 2
•
Sando: Cutler hot, Eli not in young QB market
•
Graphic: QB growth stocks
•
Hall of Famer Steve Young is bullish on...

•
Keyshawn Johnson: I like Tony Romo!

Part 1
•
Scouts Inc.'s ranks quarterbacks 1-64
•
ZOOM Gallery: Best 10 QBs in 2008 draft
•
SportsNation: Rank NFL's starting QBs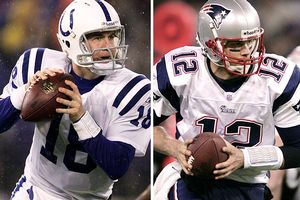 QB field of 64
Now that Scouts Inc. has ranked the 64 top quarterbacks in the NFL, let's imagine if this were, say, an NCAA Tournament bracket (we'll skip the play-in game and office pools). How would each round shake out? Here are the "game by game" results, with the "higher seeds" advancing (pick your own upsets!).

First round
Tom Brady
(1) def.
Jamie Martin
(64)
Peyton Manning
(2) def.
David Carr
(63)
Brett Favre
(3) def.
Patrick Ramsey
(62)
Tony Romo
(4) def.
Anthony Wright
(61)
Ben Roethlisberger
(5) def.
Ryan Fitzpatrick
(60)
Carson Palmer
(6) def.
Dan Orlovsky
(59)
Matt Hasselbeck
(7) def.
Matt Cassel
(58)
Drew Brees
(8) def.
Cleo Lemon
(57)
Donovan McNabb
(9) def.
Luke McCown
(56)
David Garrard
(10) def.
John Beck
(55)
Jay Cutler
(11) def.
Jim Sorgi
(54)
Derek Anderson
(12) def.
Quinn Gray
(53)
Marc Bulger
(13) def.
Seneca Wallace
(52)
Jeff Garcia
(14) def.
Brad Johnson
(51)
Vince Young
(15) def.
Kelly Holcomb
(50)
Philip Rivers
(16) def.
Damon Huard
(49)
Eli Manning
(17) def.
Todd Collins
(48)
Jason Campbell
(18) def.
Brodie Croyle
(47)
Jon Kitna
(19) def.
Charlie Batch
(46)
Jake Delhomme
(20) def.
Trent Dilfer
(45)
Kurt Warner
(21) def.
Gus Frerotte
(44)
Matt Leinart
(22) def.
Sage Rosenfels
(43)
Matt Schaub
(23) def.
A.J. Feeley
(42)
Chad Pennington
(24) def.
Kerry Collins
(41)
Rex Grossman
(25) def.
Byron Leftwich
(40)
Tarvaris Jackson
(26) def.
Billy Volek
(39)
Kellen Clemens
(27) def.
Joey Harrington
(38)
Trent Edwards
(28) def.
Brady Quinn
(37)
Alex Smith
(29) def.
JaMarcus Russell
(36)
Aaron Rodgers
(30) def.
Brian Griese
(35)
Steve McNair
(31) def.
J.P. Losman
(34)
Daunte Culpepper
(32) def.
Kyle Boller
(33)
Second round
Brady def. Culpepper
P. Manning def. McNair
Favre def. Rodgers
Romo def. Smith
Roethlisberger def. Edwards
Palmer def. Clemens
Hasselbeck def. Jackson
Brees def. Grossman
McNabb def. Pennington
Garrard def. Schaub
Cutler def. Leinart
Anderson def. Warner
Bulger def. Delhomme
Garcia def. Kitna
Young def. Campbell
Rivers def. E. Manning
Third round
Brady def. Rivers
P. Manning def. Young
Favre def. Garcia
Romo def. Bulger
Roethlisberger def. Anderson
Palmer def. Cutler
Hasselbeck def. Garrard Brees def. McNabb
Quarterfinals
Brady def. Brees
P. Manning def. Hasselbeck
Favre def. Palmer
Romo def. Roethlisberger
Semifinals
Brady def. Romo
P. Manning def. Favre
Final
Brady def. P. Manning