Commentary
'07 Dolphins have plenty of company in recent football futility
The Dolphins still might become only the 12th team since the 1970 AFL-NFL merger to finish a full season with fewer than two victories. There are colorful stories behind the Excruciating Eleven.
Originally Published:
December 19, 2007
By
Mike Sando
| ESPN.com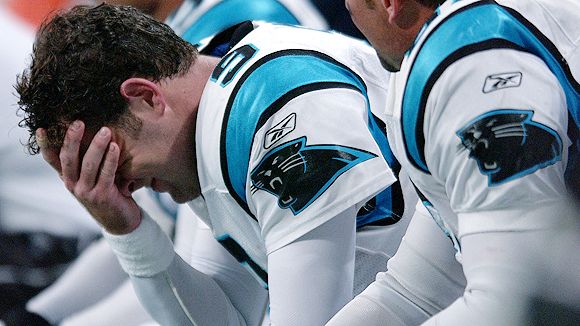 Elsa/AllsportFor QB Matt Lytle (9) and the rest of the Panthers, the 2001 season was a tough one to watch.
The next bus out of town wasn't fast enough for this future Hall of Famer following the Houston Oilers' 1-13 seasons in 1972 and 1973.
"I would have my car packed and ready, and at halftime of the final game I would tell the trainer to go out there and start it up, because when the game finished, I wasn't even taking a shower," former defensive end Elvin Bethea said. Such is the ignominy of sustained, incurable losing. Miami's victory over Baltimore on Sunday left the 1976
Tampa Bay Buccaneers
as the NFL's only winless team in a non-strike season since World War II. But the Dolphins, 1-13 after outlasting the Ravens in overtime, aren't finished flirting with the dark side of NFL history.
They still might become only the 12th team since the 1970 AFL-NFL merger to finish a full season with fewer than two victories. Bethea, 61, wishes he still owned the getaway car he drove home to North Carolina, a Dodge Charger powered by 440 cubic inches under the hood. It's the numbing defeats he could do without. "I peeled rubber when I left the stadium," Bethea said of his season-ending escapes, "and I drove all night to get out of that town." Take heart,
Jason Taylor
. Take heart,
Zach Thomas
,
Keith Traylor
and the rest of the 2007 Dolphins. Some of the NFL's finest players endured utterly futile seasons and lived to laugh about them. Haven Moses averaged better than 18 yards per reception during a 14-year career that landed him in the
Denver Broncos
' Ring of Fame. His 168 yards and two touchdowns helped Denver beat Oakland in the 1977 AFC title game. In another life, Moses and the 1971
Buffalo Bills
lost by scores of 19-0, 43-0, 34-0 and 24-0. They finished 1-13.
[+] Enlarge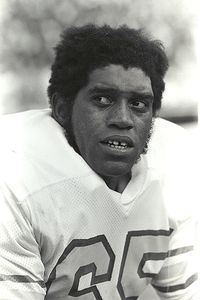 George Gojkovich/Getty ImagesPlaying for back-to-back 1-13 Oilers teams had Elvin Bethea looking for the exits.
"The fans in Buffalo could be brutal," Moses said. "We caught the wrath in public. When you're winning, everyone opens the door and buys you drinks. They charged us double." Those early-70s Bills teams were cycling through quarterbacks in the post-Jack Kemp era. They struggled making the transition from the AFL. Moses remembered fans booing the Bills before the national anthem. The players had their fun away from the field. Paul Costa, a tight end and tackle from Notre Dame, dressed as a priest for the annual Halloween party. His wife dressed as a nun. While stopped at a toll booth on their way to the party, Costa put his plan into action. "While he was waiting for change, he would start making out with his wife, the nun," Moses said. "The guy in the toll booth just went crazy when he saw a priest kissing this nun. Paul was a fun guy." Costa, who runs a ministry from Texas and lists a doctorate in theology among his academic achievements, said he punctuated the prank by letting out a salty expletive and grousing about running 15 minutes late. "We had six coaching changes in eight years," said Costa, who played under Lou Saban, Joe Collier, Harvey Johnson, John Rauch, Johnson (again) and Saban (again) from 1965 to 1972. "It was a fiasco. The only thing we had was one another, the camaraderie we had, cutting up …" The worst teams tended to suffer from issues beyond the immediate control of players. Front-office instability, coaching deficiencies and overall incompetence created cultures where even mediocrity seemed unattainable. Bethea and his Oilers teammates learned to laugh at coach Bill Peterson, who signed a fat contract but rarely made sense. Few incidents compared to the time Peterson, having long since lost the team, found no volunteers to lead players in the Lord's Prayer. "I'm going to say it," Peterson finally told them. What followed armed Bethea with world-class banquet material. Peterson knelt and began to pray: "Now I lay me down to sleep …" "That was, I think, the icing on the cake as far as knowing he can't coach and can't even say the Lord's Prayer," Bethea said.
[+] Enlarge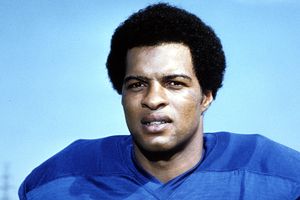 NFL/WireImage.comHaven Moses remembers how tough it was for his Buffalo Bills in 1971: "When you're winning, everyone opens the door and buys you drinks. They charged us double."
Those Oilers weren't without talent. Cornerback Ken Houston, also a future Hall of Famer, was still with the team in 1972. Dan Pastorini was the quarterback. But Peterson, who was successful during an 11-year run at Florida State, had trouble reaching players at the professional level. They weren't sure what to do when he asked them to pair off in groups of three before lining up in a circle. "We were standing on the sideline and he told everyone to put the sideline under their left arm and stand on their helmets," Bethea said. "He came in and didn't know anyone's names, called me 'Alvin' all the time. You get to the point that you just totally focus him out." The 1990
New England Patriots
won their second game before losing 14 in a row. They finished 1-15. "You figure, at 1-1, you are going to be OK," said former Pro Bowl linebacker Andre Tippett. You don't figure, at 1-1, that a few teammates will sexually harass a female reporter in the locker room one day after the victory, creating a national story that brings down the general manager while hastening the sale of the franchise. "You're like, 'Oh my god, we've really hit the bottom, truly,'" said Tippett, who had helped New England reach Super Bowl XX only five years earlier. "And then, when you are told that you can't leave because your name is up and you have to go upstairs to be deposed and I'm sitting across from three attorneys who are treating me like I have something to hide and I had no idea … "To have that and the publicity, I'm surprised I didn't become an alcoholic."
[+] Enlarge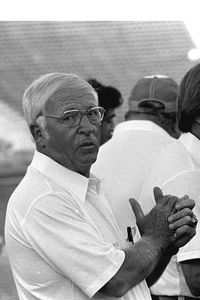 AP Photo/gbTampa Bay Buccaneers head coach John McKay kept the gallows humor flowing even after he finally won a game.
Levity with a shot of sarcasm had to suffice for the 1976 Bucs and wisecracking coach John McKay. Whether he said it or not, McKay might be best known for reportedly answering a question about his team's execution by saying he was all for it. When the Bucs finally ended their skid -- 13 games into the 1977 season -- McKay unloaded with a quote unfiltered by the threat of sensitivity training: "Three or four plane crashes and we're in the playoffs." The Bucs' 26-game losing streak ended with a victory over the franchise that turned paper grocery sacks into fashionable stadium headwear in 1980. The
New Orleans Saints
finished that season with a 1-15 record despite Archie Manning's then-franchise-record 3,716 yards passing. They lost their first 14 games, one-upping the current Dolphins, before finally edging the
New York Jets
, 21-20, at Shea Stadium. Steve Rosenbloom, the Saints' chief executive at the time, told The New York Times after the game that the victory excited him more than Baltimore's Super Bowl victory years earlier, when his father owned the Colts. That's how loss upon loss can affect the psyche. The Oilers replaced Peterson with Sid Gillman after opening the 1973 season with five consecutive defeats. When they finally won, upsetting the Colts in Baltimore, Gillman broke out champagne on the return flight. "It was like we just won the Super Bowl," Bethea said. "People were jumping around, hugging each other, kissing each other." A year earlier, the Oilers' 34-0 home loss to Oakland produced one of the more memorable moments for "Monday Night Football." An ABC camera zoomed in on a sleeping fan in a mostly deserted Astrodome, only to have the fan wake up and extend his middle finger. Don Meredith made a crack about the fan thinking the home team was No. 1.
Getty ImagesRich Kotite's 1996 Jets team lost its first eight games before recording its only victory.
The worst teams from yesteryear endured the wrath of cranky fans and the usual jabs on late-night TV, but they never had to relive their futility through the Internet, talk radio and the 24-hour news cycle.
"This is more embarrassing for the Dolphins because at that time, nobody cared about Buffalo in the rest of the league," said Moses, who averaged 20.4 yards per reception for the 1971 Bills. "I came back to California after the season and nobody even said anything. My family wasn't getting the games on TV and you couldn't keep up with it. That's why I feel more for the guys now. It's truly more personal now. It's in their face all the time." San Diego (2000) and Carolina (2001) have posted the only 1-15 records since the Rich Kotite-coached Jets lost 15 games in 1996. Mike Riley, the Chargers' coach from 1999 through 2002, somehow kept his composure while watching
Ryan Leaf
and
Moses Moreno
take turns at quarterback, wasting the talents of a capable defense. Riley showed up for his postgame radio obligations week after week, smiling through the worst season in franchise history. Hank Bauer, the Chargers' radio commentator, finally asked Riley how he did it. "Hank, I only laugh to keep from crying," Riley responded.
The NFL's Worst Teams Since 1970
The Dolphins still might become only the 12th team since the 1970 AFL-NFL merger to finish a full season with fewer than two victories. Here's the group they want no part of:
The Excruciating 11
Year
Team
Record
Skinny
1971
Buffalo Bills
1-13
A coaching change less than two months before the season set an ominous tone for a struggling franchise, even with O.J. Simpson on the roster.
1972
Houston Oilers
1-13
"Now I lay me down to sleep," coach Bill Peterson began, attempting to lead the team in the Lord's Prayer. The Oilers didn't have a prayer on the field, either.
1973
Houston Oilers
1-13
Ownership replaced coach Bill Peterson with Sid Gillman during the season. When the team finally won a game, Gillman surprised players with champagne on the team flight.
1976
Tampa Bay Buccaneers
0-14
Wisecracking coach John McKay provided all the highlights for the worst expansion squad in league history. Asked about the execution of his team, McKay said he was all for it.
1980
New Orleans Saints
1-15
This was the season Saints fans popularized the practice of wearing paper bags over their heads at games. Archie Manning and the offense weren't particularly bad, but the defense allowed 487 points.
1989
Dallas Cowboys
1-15
Jerry Jones, Jimmy Johnson and Troy Aikman barely made it through their first season in the NFL. There was talent on the roster, but only a 13-3 victory over Washington stood between the Cowboys and 0-16.
1990
New England Patriots
1-15
Five years after appearing in a Super Bowl, the Patriots bottomed out with their most embarrassing season. Zeke Mowatt, Robert Perryman and Michael Timpson made headlines across the country after allegedly harassing a female reporter.
1991
Indianapolis Colts
1-15
The Jeff George era hit full stride in the quarterback's second season. He finished with 10 touchdown passes in 16 starts.
1996
New York Jets
1-15
Rich Kotite won 36 games in four seasons with Philadelphia, but that didn't do the Jets much good. They won four games in two seasons, ending Kotite's career as a head coach.
2000
San Diego Chargers
1-15
Former No. 2 overall draft choice Ryan Leaf took 29 sacks in nine starts that season. He took six of them during a November game against Kansas City, but the Chargers won anyway, 17-16.
2001
Carolina Panthers
1-15
The Panthers lost their final 15 games, an inglorious end to George Seifert's coaching career. "The energy has been sucked out of our organization and our fan base," owner Jerry Richardson said.
Mike Sando covers the NFL for ESPN.com.
NFL Insider
ESPN Insider NFL columnist and blogger
Covered the NFL since 1998
Member of Pro Football Hall of Fame selection committee
EDITORS' PICKS
Recent winning ways have helped a handful of 5-2 teams make headway.
Power Rankings »

TMQ needed only seven weeks to determine which teams are playoff material, and which ones aren't.
TMQ »

Take a comprehensive look at Peyton Manning's historic touchdown numbers.
Mega-graphic »