Commentary
Mediocre market has allowed role players to cash in
A lot of money has been spent in free agency, but most of it has gone to role players who don't appear to have large upsides, writes Mike Sando.
Originally Published:
March 11, 2008
By
Mike Sando
| ESPN.com
The lights have dimmed on the NFL's latest free-agent signing period.
Nearly 40 percent of unrestricted free agents had found new homes or re-signed with their previous teams through Monday night, the 11th day of free agency. The 188 remaining UFAs can expect plenty of minimum-salary deals.
The big money is spent, but what did it buy? Role players, mostly.
Six players with Pro Bowl experience have changed teams as UFAs this offseason.
Five of the six are in their 30s: Tony Richardson, Alan Faneca and Damien Woody of the New York Jets, Sammy Knight of the New York Giants and special-teamer Brendon Ayanbadejo of the Baltimore Ravens.
[+] Enlarge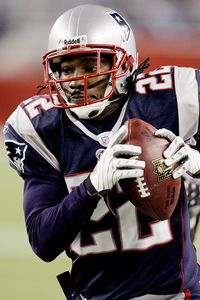 AP Photo/Stephan Savoia Asante Samuel belongs to a small group impact free agents who have switched teams.
Richardson, Woody and Ayanbadejo combined for 11 starts last season. Philadelphia Eagles cornerback Asante Samuel, formerly of the New England Patriots, stands as the only UFA in his 20s who brings Pro Bowl credentials to his new team. The Eagles expect to pay him $20 million in bonuses this year and next, a steep price for the top young free agent unburdened by a franchise tag.
Broader trends affirm the difficulties teams face in improving their rosters with UFAs:
• Josh McCown, Cleo Lemon and J.T. O'Sullivan are the only UFA quarterbacks to change teams so far.
• Nine UFA running backs have changed teams. Six landed with the Seattle Seahawks, the Minnesota Vikings and the Jets. Julius Jones (Seattle) started 16 games last season. The other eight combined to start 19. Michael Turner (Atlanta Falcons) might be the only other high-impact player among the group.
• More tight ends (seven) than receivers (six) have changed teams through the unrestricted market, little help for teams seeking playmakers. Minnesota, which added Bernard Berrian from the Chicago Bears at great cost, has been the only NFC team to add a receiver through the unrestricted market.
• Every team in the NFC South has added a UFA defensive lineman, but those teams have found mostly role players: Bobby McCray (New Orleans Saints), Tyler Brayton (Carolina Panthers), Jimmy Wilkerson (Tampa Bay Buccaneers) and Tim Anderson (Atlanta). Teams seeking established players at the position generally have had to trade for them. No team in the NFC East or AFC West bothered with the 11 UFA defensive linemen who have changed teams. Bryant Young might be the best remaining UFA defensive lineman, and he's retiring.
• Thirty of the 188 remaining UFAs started at least eight games last season. The number shrinks in significance upon closer inspection. Fifteen of the 30 spent last season with the St. Louis Rams (four), San Francisco 49ers (three), Miami Dolphins (two), Kansas City Chiefs (two), Carolina (two) and the Jets (two). Bad teams with injury problems rely upon players with borderline starting ability.
• Eighty-four of the 188 remaining UFAs are at least 30 years old. Forty-eight are at least 33. Thirty-one are at least 35, including four who have reason to feel even older after spending last season with the 49ers: Young, Chris Weinke, Larry Allen and Michael Lewis (the receiver).
A few years ago, the typical free-agency analysis rewarded high activity levels. The most active teams generated the most excitement and the most positive coverage. That remains true to an extent, particularly for teams that seem to build on strong seasons by making frequent moves.
The Cleveland Browns are the latest example.
The Browns, having traded away their top three picks in this year's draft, appear better on paper for the players they landed in return. But teams overspend in free agency. And they often overspend when they rework the contracts of players acquired through trades -- players who were deemed expendable by their previous employers.
The Browns would be wise to remember the adage about teams not picking up where they left off the previous season. Schedules change. Locker room dynamics change. Luck changes.
The Washington Redskins chose a good year to sit out free agency. Chicago, the Green Bay Packers, the Dallas Cowboys, the Indianapolis Colts and the San Diego Chargers also refrained from signing a single UFA from another team during the first 11 days of the signing period. Those teams might rank among the true "winners" of this free-agent season, simply by avoiding costly mistakes.
Inactivity, however, isn't always the best policy. Count the Arizona Cardinals among the teams that probably have missed out.

Defensive End
Arizona Cardinals
2007 Season Stats

| | | | | | |
| --- | --- | --- | --- | --- | --- |
| Tot | Solo | Ast | FF | Sack | Int |
| 12 | 8 | 4 | 4 | 6 | 1 |
Despite signing pass-rusher Travis LaBoy from the Tennessee Titans, the Cardinals could use another veteran starter or two to help second-year coach Ken Whisenhunt further establish a hard-nosed identity. But with Larry Fitzgerald's contract eating up nearly $16.5 million in salary-cap space until today, Arizona hasn't even re-signed any of its own UFAs. Fourteen hit the market. Two signed elsewhere.
The Cardinals own rights to 48 players, counting three restricted free agents and franchise player Karlos Dansby. The other 31 teams claim 64 players on average. The Denver Broncos claim a league-high 78. Arizona is the only team with fewer than 54 (Kansas City).
Including LaBoy, the Cardinals own rights to only 16 defensive players, another league low and well off the average for other teams (27.7). LaBoy, who has battled concussions, is one of 25 UFAs who have changed teams after starting fewer games last season than in 2006, a potential sign of diminishing production. The Bucs, Dolphins and Patriots each signed three of the 25. The Jets signed two.
Seven UFAs have changed teams after posting reduced starts in every season since 2005. Four of the seven landed in the AFC East: Courtney Anderson (Buffalo Bills), Randy Starks (Miami), Richardson (Jets) and Jason Webster (New England). The Bills doubled up by trading for Marcus Stroud, who started 16 games in 2005, 11 in 2006 and nine last season.
New Orleans has quietly re-signed eight of its own UFAs since free agency opened, a league high that accounts for one-sixth of the NFL total. The Saints have added two UFAs from other teams while watching one of their own leave. They added linebacker Jonathan Vilma via trade, leaving the Saints plus-nine through the UFA market and trades.
At the other end, Tennessee stands minus-five after watching a league-high six of its UFAs sign elsewhere. The Titans have signed only one UFA from another team while adding no players through trades.
The imbalance qualifies the Titans as losers in free agency to the extent that aging Pro Bowl players qualify the Jets as winners -- tenuously.
Mike Sando covers the NFL for ESPN.com.
NFL Insider
ESPN Insider NFL columnist and blogger
Covered the NFL since 1998
Member of Pro Football Hall of Fame selection committee
SPONSORED HEADLINES
MORE NFL HEADLINES
MOST SENT STORIES ON ESPN.COM
2008 FREE AGENCY
NFL teams began shopping for free agents on Feb. 29, with approximately 320 players available. Randy Moss (right), one of the top free agents available, re-signed with the Pats.
• Free-agent tracker


Commentary/Features
•
Paolantonio: Raiders wasting cash on Hall
•
Clayton: Raiders immersed in spending spree
•
Yasinskas: Bucs spending wisely
•
Third And Short: Free-agent analysis
•
Clayton: Best remaining players
•
Clayton: Top 10 free-agent gambles
•
Yasinskas: Saints rolling dice on Vilma, Morgan
•
Sando: Role players cashing in
•
Yasinskas: Jets improved, but QB remains issue
•
Yasinskas: Browns focused on winning
•
Clayton: Moss-Patriots deal meant to be
•
Clayton: Winners and losers
•
Chadiha: Reese sets the standard for rookie GMs
•
Yasinskas: Five aggressive teams in the market
•
Pasquarelli: Big payoffs await less-heralded FAs
•
Clayton: It's better to keep your own guys
•
Research: Top 10 free agents of all time
•
Yasinskas: Redskins to try new approach
•
Joyner: Evaluating four big names

•
Chadiha: Dealing with the franchise tag
News
March 28
•
Panthers continue O-line makeover, sign Brown
March 21
•
Browns help LB depth, sign Orr to 1-year contract
March 20
•
Pats agree to deal with CB Bryant
•
Roundup: Rams re-sign Romberg
March 19
•
Packers agree with LB Chillar
•
Bengals' Andrews signs franchise tender
•
Punter Turk re-signs with Texans
•
Colts keep defensive end Thomas with new deal