Commentary
Start with Rice No. 1, Moss No. 2 in best WR debate
There's no debating the best receiver of all time. After Jerry Rice, however, the debate gets tricky, Mike Sando writes.
Originally Published:
March 26, 2008
By
Mike Sando
| ESPN.com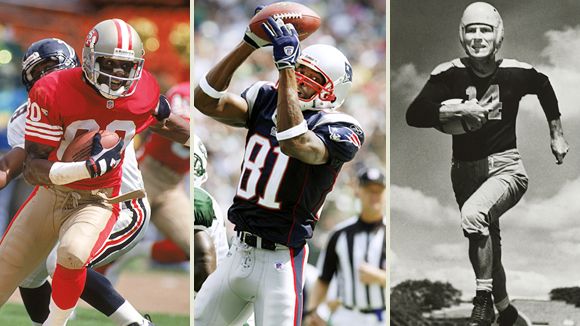 Getty Images, US PresswireIn an ESPN.com survey of seven NFL experts, Jerry Rice (left) was a unanimous pick for best wide receiver of all time, followed by Randy Moss (center) and Hall of Famer Don Hutson.
Jerry Rice caught passes from two of the greatest quarterbacks in NFL history. He played for the most influential offensive coach of his era, surrounded by a roster flush with talent.
The most prolific receiver in NFL history also flourished after the league changed rules to favor the passing game, fueling statistical inflation on a scale previously unseen.
Rice had a lot going for him, in other words, but not enough to dissuade seven expert panelists from naming him the greatest receiver in NFL history. Singling out Rice was the easy part.
"Jerry Rice, he's so obvious, it scares me," said panelist Boyd Dowler, a longtime scout and coach who finished his playing career in 1971 with 474 receptions, five championships and an eventual spot in the Green Bay Packers Hall of Fame.
Top 10 WRs of All Time
Raymond Berry, Boyd Dowler, Mike Holmgren, Ken Houston, Warren Moon, Keyshawn Johnson and Ted Thompson helped ESPN.com evaluate the best wide receivers in NFL history. ESPN.com weighed their contributions, balancing rankings with anecdotal evidence, to create the following list. (
Click here for ZOOM Gallery
.)
1. JERRY RICE
Career:
Played for 49ers, Raiders and Seahawks from 1985-2004. Holds NFL records for receptions (1,549), receiving yards (22,895), TD receptions (197), TDs (207).
Quick quote:
"Jerry had a tremendous combination of speed, size, toughness, smarts." -- Holmgren, Rice's offensive coordinator in San Francisco
2. RANDY MOSS
Career:
Set NFL record with 23 TD catches last season with Patriots.
Quick quote:
"
Randy Moss
catches the ball so well almost without looking at it sometimes. He is scary physically." -- Boyd Dowler, retired scout and former NFL receiver.
3. DON HUTSON
Career:
Played for Packers from 1935-45. Held 18 NFL records when he retired. Elected to Hall of Fame in 1963.
Quick quote:
"Lean and swift, and boy, he could catch the heck out of it." -- Hall of Famer Berry, who studied films of Hutson in detail.
4. MICHAEL IRVIN
Career:
Played for Cowboys from 1988-99. Had 750 career receptions for 11,904 yards. Elected to Hall of Fame in 2007.
Quick quote:
"People might not like some of the other things, but when he was on those stripes, he was as competitive as there is." -- Hall of Fame QB Moon
5. PAUL WARFIELD
Career:
Played for Browns, Dolphins from 1964-77. Averaged 20.1 yards per catch. Elected to Hall of Fame in 1983.
Quick quote:
"Warfield was a lot like Charlie Joiner. Every step meant something to those guys. Warfield got into his route and it was like somebody falling off the face of the earth. That's how quick he could be into it." -- Hall of Fame safety Houston
6. CHARLEY TAYLOR
Career:
Played for Redskins 1964-77. All-time leading receiver with 649 catches for 9,110 yards when he retired. Elected to Hall of Fame in 1984.
Quick quote:
"Those types of athletes who played more than one position --- Charley Taylor -- are worth the price of admission just to see them line up. That is an athlete right there, a subject in itself." -- Berry
7. STEVE LARGENT
Career:
Played for Seahawks from 1976-89. Had 819 catches, 13,089 yards, 100 TDs. Elected to Hall of Fame in 1995.
Quick quote:
"He was as crafty as anybody I could recall. He wasn't a big guy, but he knew exactly how to lean on people and his hands were unbelievable." -- Packers GM Ted Thompson
8. CRIS CARTER
Career:
Played for Eagles, Vikings, Dolphins from 1987-2002. Had 13,899 yards receiving, 130 TD receptions.
Quick quote:
"I've never been around a guy as competitive as he is. He is so confident. He was a hard worker, which I enjoyed because whatever I got in practice, I knew that's I was going to get in the game." -- Moon
9. TERRELL OWENS
Career:
Has 129 TD receptions in career with 49ers, Eagles, Cowboys.
Quick quote:
"My biggest knock on him is he drops too many balls, but he makes a lot of big plays and he's as good as there is after the catch and he makes difficult catches." -- Moon
10. MARVIN HARRISON
Career:
Has spent entire 12-yard career with Colts. Set NFL record with 143 receptions in 2002.
Quick quote:
"Of all the things that impresses me, it's how he goes about his job, how he goes about his business. He's not a fanfare guy. He's just a football player." -- Holmgren
Unanimity turned to ambiguity when ESPN.com asked Dowler and fellow panelists Raymond Berry, Mike Holmgren, Warren Moon, Ken Houston, Ted Thompson and Keyshawn Johnson to rank the greatest receivers after Rice. Panelists placed 13 players in the second through fifth overall slots. They ranked seven others between sixth and 10th. That left 20 all-time greats fighting for nine spots, and much work to be done.
"You reach a certain point and it's hard to do," said Berry, the NFL's career leader in receptions and receiving yards when he retired from the Baltimore Colts in 1967. "I've seen too many great ones, and it's hard to find a standard."
An exhaustive analysis of the panelists' rankings, supplemented by more than six hours of interviews, gave New England's Randy Moss a slight edge over Green Bay legend Don Hutson for the second overall spot. Michael Irvin was fourth, followed by Paul Warfield, Charley Taylor, Steve Largent, Cris Carter, Terrell Owens and Marvin Harrison. (Click here for bios of panelists.)
"Moss has the best hands of anyone today," said Thompson, the Packers' general manager. "A lot of guys can catch. He can catch on any platform, as we say in scouting. He can adjust and catch it over the top of somebody's head, catch it falling down -- and it doesn't matter if he is covered."
All 10 receivers put up numbers that ranked them among the top producers of their eras. But panelists unanimously discounted raw statistics as a meaningful tool. They explained how changes in the game made the number of receptions less relevant than ever. They placed more value on touchdowns and yards per reception. They also singled out toughness as a leading characteristic of the great ones.
"They've got to have big-play ability," said Moon, one of three panelists enshrined in the Pro Football Hall of Fame, along with Berry and Houston. "They have to have toughness. They have to be able to get off man-for-man, bump-and-run at the line of scrimmage. And they have to be able to make the big play at the right time."
Inside the Rankings
Among those left on the outside, Art Monk, Berry and James Lofton came closest to cracking the top 10.
ESPN.com asked panelists to pay particular attention to their top five overall choices. The goal was to make sure players commanding multiple high selections made it onto the list.
Berry declined to vote for himself. Three other panelists ranked Berry between eighth and 10th. An additional ranking among the top five probably would have moved Berry onto the list.
Monk drew two top-five selections, topped by a No. 4 ranking from Johnson. Three other panelists left off Monk entirely. Johnson, the youngest panelist by a wide margin, steered clear of ranking players from earlier eras. The rankings provided by more seasoned panelists carried more weight as a result.
No player without a top-five ranking earned a spot on the list. Lofton drew three top-10 votes, but none in the top five. Two of the three top-10 votes cast for Taylor fell in the top five, helping him land the sixth overall spot.
Charlie Joiner -- once described by Bill Walsh as "the most intelligent, the smartest, the most calculating receiver the game has ever known" -- was the only receiver other than Moss and Hutson to earn a No. 2 overall ranking from a panelist. But five other panelists left off Joiner from their top 10s, another indication of the project's complexity.
ESPN.com provided panelists with a list of nearly 200 receivers. The list showed Hall of Famers at the top. The rest were sorted by most seasons played, beginning with Rice (20).
With so many candidates, panelists hunted for ways to narrow their lists. For some, misgivings about defensive talent during the early days of the AFL hurt Hall of Famers Lance Alworth and Don Maynard.
Panelists agreed to participate as long as their full rankings remained private. They wanted to offer unvarnished rankings without offending former associates who failed to appear on their lists.
ESPN.com also adjusted for favoritism. Holmgren and Thompson offered strong arguments for Sterling Sharpe, but their testimony on the subject carried less weight because Sharpe played for them in Green Bay, and he failed to generate momentum among other panelists.
Moon ranked Carter, his former Minnesota Vikings teammate, among his top five. Four other panelists ranked Carter among their 10 best, including two who ranked him sixth. Harrison, Moss and Rice were the only others to appear on at least five top 10 lists. That was enough to affirm Carter's standing among the greats.
"I think the best hands of the bunch belonged to Cris Carter in terms of just making unbelievable catches," Dowler said.
Irvin placed among the top five three times.
"I thought he was one of the guys that probably could have played in any era," said Houston, one of nine safeties in the Hall of Fame. "That is probably a good way to put it when talking about these guys: Could you play in any era? He would fit that profile."
Hutson, Rice and Largent remain the only players since 1950 to hold the career records for receptions, receiving yards and receiving touchdowns. Two panelists ranked Largent fourth overall. Two others ranked him eighth.
"Steve Largent has to be a guy I would think about right away with his consistent track record and production over the years," Berry said.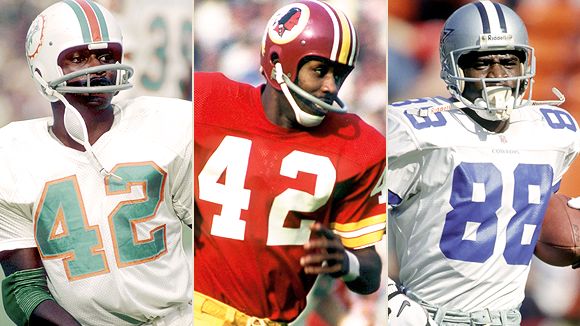 US PresswireFrom left, Hall of Famers Paul Warfield and Charley Taylor played in an era when passing was not as prevalent. Former Cowboy Michael Irvin, also in the Hall of Fame, earned high marks from ESPN.com panelists for his toughness.
What To Do With T.O.
No receiver generated a wider range of opinions than Owens.
Most panelists criticized the Dallas Cowboys receiver for dropping far too many passes. (Owens dropped a league-high 17 in 2006 and 10 more in 2007, tied for third-most in the league, according to Stats, LLC.) But most panelists also lauded Owens' toughness and big-play ability (he has nearly twice as many touchdowns as Monk -- 129 to 68 -- despite 58 fewer receptions and 51 fewer games).
Dowler, who retired in 2007 after a decade in scouting with the Atlanta Falcons, ranked Owens third, behind only Rice and Moss. Two other panelists ranked Owens sixth and seventh. A fourth panelist ranked him 10th.
Dowler's input was significant because he played the position at a high level and coached with five NFL teams before becoming a scout. His willingness to rank Moss and Owens among his top three suggested Dowler, a member of the NFL's all-decade team for the 1960s, wasn't partial to a bygone era.
"(Owens) probably drops too many passes to be on this list," Dowler said, "but he makes so many that are so good, it's incredible. The ones he drops, he comes right back. I can't eliminate him. He is so big and so strong.
"And he is the epitome of toughness. It isn't good enough to just go out there when you are hurt. If you go out there and play, you have to play the same. Some guys are capable of doing that."
Even Johnson, one of Owens' most outspoken critics, grudgingly found a spot in his top 10 for the Dallas receiver.
"It's a hard one not to put him in because he has good numbers," said Johnson, who caught 814 passes with four teams, most recently Carolina in 2006. "The reasons why he shouldn't be in are because he drops too many balls, he isn't as consistent, he's not a complete wide receiver in my book, he doesn't dominate all the time, he doesn't dominate in playoff games, he didn't help his team win the Super Bowl and he's selfish."
Three other panelists left off Owens altogether.
"The No. 1 job, you gotta catch it," one of the dissenters said. "You would never consider a guy who drops 17 balls in a season. It's off-the-board ridiculous."
A Different Game
Twenty-four players caught at least 75 passes last season.
Berry never caught more than 74 in a season. Taylor never caught more than 72. Warfield peaked at 52 in his rookie season with Cleveland in 1964.
The numbers don't just lie. They also cheat and steal, particularly across eras.
Seasons have grown in length from 12 to 14 to 16 games.
The NFL has expanded from 12 teams to 32 teams.
When Berry played for Baltimore in the 1950s, the six-team Western Division featured five Hall of Fame quarterbacks: Y.A. Tittle, Johnny Unitas, Norm Van Brocklin, Bobby Layne and Bart Starr.
"Today you look at a 16-game schedule and ask yourself, 'Is there anything halfway close to facing a Hall of Fame quarterback 80 percent of the time?'" Berry said.
Years ago, receivers lined up in sprinters' stances, the better to launch themselves downfield against tight man-to-man coverage. Rules allowed defensive backs to make contact with receivers until the ball was in the air. Officials held offensive linemen to stricter standards for holding. The best teams ran the ball on early downs, passing more out of necessity than by design.
Pittsburgh's Steel Curtain defense came to dominate.
"In those days, to get open you had to work very, very hard on technique, your releases, your leans, whatever technique you used, because you could get banged around a lot," said Holmgren, entering his 10th and final season as Seattle Seahawks coach. "Those guys like Freddie Biletnikoff became wonderful technicians of their trade. You still have those today, but you don't have as many. It's not quite as necessary because you don't see a lot of teams who are just going to challenge you man-for-man all the time."
A few players with world-class speed managed to succeed by outrunning defenders. Olympic sprint champion and longtime Cowboys receiver Bob Hayes averaged 20 yards per reception in the 1960s and 1970s. More than any receiver in NFL history, Hayes forced opponents to abandon man-coverage schemes for safer zone-based approaches. He had run the 100 meters in 10.05 seconds at the 1964 Olympics, tying the world record at the time.
"We played a lot of single-high (safety) and man-on-man back then, so speed and catching was a big thing," said Hall of Fame cornerback and Atlanta Falcons assistant coach Emmitt Thomas. "Now it's more combination coverages. You have to be mentally tough to work in the crevices and you must have great hands to catch because you're going to get hit much sooner (after the catch) than you would when I played (from 1966 to 1978)."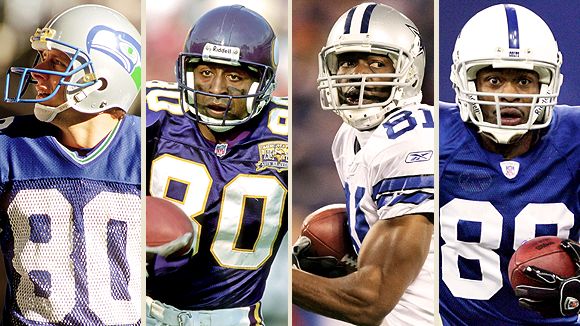 US PresswireFrom left: Steve Largent had 100 TD catches in his career; Cris Carter had two seasons of 100-plus catches with Minnesota; Terrell Owens already has 129 TD receptions; and Marvin Harrison had an NFL-record 143 catches in '02.
Adjusting For Inflation
Rules began to change as the NFL sought ways to increase scoring in the late 1970s.
Defensive backs could no longer rough up receivers more than 5 yards past the line of scrimmage, even if the ball remained in the quarterback's possession.
The trend toward offense has continued. Above-average receivers are posting numbers previously associated only with the greats. Detroit's Shaun McDonald caught 79 passes last season.
"This is what you call inflation," Berry said. "The numbers have gotten worth a lot less."
Offenses have become far more sophisticated, regularly using three and four receivers, even on early downs. Defenses have countered, but often their third and fourth cornerbacks are outgunned.
Receivers now stand upright at the line of scrimmage, allowing them to read increasingly complex defenses before the snap. Short passes have replaced running plays in some cases.
Indianapolis completed 12 passes to Reggie Wayne during less than two quarters of a game last season. The receptions netted only 87 yards, but they allowed Wayne to finish with a league-leading 1,510 for the season.
Four receivers have more than 1,000 career receptions. None began his career earlier than 1985. Rice leads the way with 1,549 receptions for 22,895 yards and 197 touchdowns.
"You have to say he was a great receiver, but he played at a time where you couldn't bump a receiver, where they are throwing three out of four downs or whatever," said Houston, a 10-time Pro Bowl choice for Houston and Washington from 1967 to 1980. "That would not necessarily change my ranking on him, but it would for a lot of others.
"When you go and compare that to Charley Taylor or Paul Warfield, where they fought off the line of scrimmage and they only threw the ball on third down, you have to kind of figure how many balls they would catch in an era like they would now."
Warfield averaged 20.1 yards per reception. He scored 85 touchdowns on only 427 receptions, retiring in 1977.
"A guy like Paul Warfield or Lance Alworth or Charley Taylor, those guys could sit down in the cracks of these defenses today and they would kill people," said Thomas, who played his entire career with Kansas City. "And they were good runners once they caught it."
Only Tough Need Apply
Moss is the only top 10 receiver known for possessing great stopwatch speed. He reportedly has finished a 40-yard dash in 4.25 seconds, a feat that is significant only because Moss is so productive on the field.
"If you are going to pick your best receivers by their 40-yard time, you're going to end up with a lot of players who aren't very good," Dowler said.
Moss is an exception that way. He routinely runs past defenders five years younger than he is. Most of the other top 10 receivers earned respect for other qualities, notably toughness.
"What separates those guys at that position is their courage and their ability to concentrate when they know they are going to get tagged," Holmgren said.
Taylor, 6-foot-3 and 210 pounds, spent two-plus seasons as a running back before the Redskins moved him to receiver in 1966. He retired after the 1977 season with 649 receptions, the most in league history at the time.
"Charley Taylor, I thought he was extremely tough," Houston said. "James Lofton was, I like to say, a mean receiver. He would fight you.
"Back then, you couldn't run across the middle and catch the ball without fighting your way across the middle first. And I guess the guy that I would put in that category from today's receivers is Terrell Owens."
Houston called Owens a throwback.
"If I had to pick a receiver out of today's guys, I'd pick him over Randy Moss because he's tough," Houston said. "Say what you want to about him, he will go across and catch the ball. I've seen Randy and he's great -- I love to watch Randy Moss -- but I've seen him kind of deny some passes across the middle where he just didn't want to go in there and catch those kinds of balls."
Conclusion
Of all the ways to separate Rice, Keyshawn Johnson might have settled on the simplest one.
"Jerry Rice is probably the only guy at a position that is clearly, clearly the best ever at his position," he said. "You could debate anybody, but you can't debate him."
Johnny Unitas or Joe Montana at quarterback? Tough call.
Jim Brown or Walter Payton at running back? What about Barry Sanders?
At receiver, there's Rice -- and then there's everyone else.
"First of all, you had a very gifted guy," Holmgren said. "You had a work ethic that was unparalleled. I can't imagine anyone working harder and preparing more for what he did.
"When I was in San Francisco with him, he was virtually unstoppable in the red zone. If you covered him man-for-man, it was a gimme almost."
ESPN.com's seven-member panel has combined to make 30 Pro Bowl teams in 77 NFL seasons. The panelists have combined to win 12 NFL championships as players, coaches and executives. They feature two members of the league's 75th anniversary all-time team, and members of the all-decade teams for the 1950s, 1960s and 1970s. Three of the seven are enshrined in the Pro Football Hall of Fame.
Raymond Berry
Born: Feb, 27, 1933
Credentials: Hall of Fame receiver retired as the NFL's all-time leader in receptions (631) and receiving yards (9,275). A six-time Pro Bowl choice, Berry caught 68 touchdown passes during the Baltimore Colts' glory years with Johnny Unitas at quarterback ... Caught 12 passes for 178 yards and a touchdown during the 1958 NFL championship game ... Also helped the Colts win a championship the following season ... Fumbled only once during a 13-year career and almost never dropped a pass ... Named to the NFL's 75th anniversary team and its all-decade team for the 1950s. Berry served as an assistant coach before New England hired him as head coach in 1984. He led the Patriots to their first Super Bowl appearance, posting a 48-39 record (.552) over six seasons.
Boyd Dowler
Born: Oct. 18, 1937
Credentials: Caught 474 passes for 7,270 yards and 40 touchdowns during a 12-year NFL career. A two-time Pro Bowl choice, Dowler played on five championship teams in 11 seasons with Green Bay, earning a spot on the NFL's all-decade team for the 1960s. A big target at 6-foot-5 and 224 pounds, Dowler helped the Packers beat Oakland in Super Bowl II with a 62-yard touchdown reception. Dowler worked as an assistant coach for five NFL teams before joining Carolina and later Atlanta as a scout. He joined the Falcons in 1997 and retired after the 2007 draft.
Mike Holmgren
Born: June 15, 1948
Credentials: Seattle Seahawks head coach broke into the NFL with San Francisco just as Jerry Rice was becoming the game's most feared receiver. Holmgren collected two Super Bowl rings with the 49ers and one as head coach of the Packers ... Helped the Seahawks end an 11-year playoff drought and a 21-season run without a playoff victory ... Also guided the Seahawks to their lone Super Bowl appearance ... Drafted by the St. Louis Cardinals in 1970 as a quarterback from USC.
Ken Houston
Born: Nov. 12, 1944
Credentials: Hall of Fame safety picked off 49 passes, returning nine for touchdowns, during a 196-game career with Houston and Washington from 1967 to 1980 ... Returned nine interceptions for 220 yards and four touchdowns during the 1971 season alone ... Also scored touchdowns by punt return, fumble return and blocked field-goal return during his career. A 10-time Pro Bowl choice, Houston appeared on the NFL's 75th anniversary all-time team, joining Ronnie Lott and Larry Wilson as the only safeties. The NFL also named Houston to its all-decade team for the 1970s.
Keyshawn Johnson
Born:July 22, 1972
Credentials: Caught 814 passes for 10,571 yards and 64 touchdowns during an 11-year career with the New York Jets, Tampa Bay, Dallas and Carolina. A three-time Pro Bowl choice, Johnson started 162 of the 167 regular-season games he played from 1996 to 2006 ... Helped the Bucs reach and win a Super Bowl for the first time ... Caught 10 touchdown passes during the 1998 season while helping the Jets to the AFC title game, two seasons after the team posted a 1-15 record when Johnson was a rookie.
Warren Moon
Born: Nov. 18, 1956
Credentials: Hall of Fame quarterback passed for nearly 50,000 yards during 17 NFL seasons with Houston, Minnesota, Seattle and Kansas City ... Passed for 9,379 yards and 56 touchdowns over the 1990 and 1991 seasons. A nine-time Pro Bowl choice in the NFL, Moon also passed for more than 21,000 yards while winning five Grey Cups during a six-year run in the CFL from 1978 to 1983, all with Edmonton.
Ted Thompson
Born: Jan. 17, 1953
Credentials: Packers general manager since 2005 ... Previously spent 13 seasons in personnel for Green Bay and Seattle ... Claimed a Super Bowl ring with Green Bay following the 1996 season ... Used a 2006 second-round draft choice for Greg Jennings, who caught 12 touchdown passes for the Packers last season. Thompson played linebacker for the Houston Oilers from 1975 to 1984, missing only one game during that span ... Broke into the NFL as an undrafted free agent from SMU.
Mike Sando covers the NFL for ESPN.com.
NFL Insider
ESPN Insider NFL columnist and blogger
Covered the NFL since 1998
Member of Pro Football Hall of Fame selection committee
BEST WIDE RECEIVERS

In Part 1 of a two-part report, Scouts Inc. ranks today's wide receivers from 1 (Randy Moss) to 64 (James Jones). In Part 2, ESPN.com ranks the top 10 wide receivers of all time. In the first presentation of this occasional series, ESPN.com ranked the all-time best QBs in February. | Discuss


HOT READ PART 1: Today's best WRs
•
Scouts Inc.: Ranking top receivers 1-64

•
Debate: Randy Moss vs. T.O.

•
49ers CB Nate Clements on his top 10
•
SportsNation: Rank the top 10
•
Hashmarks blog: Mosley take on top 64
•
Scouts Inc.: Ranking wideouts in draft
•
Floyd Reese: Scouting criteria for WRs
HOT READ PART 2: All-time best WRs
•
Sando: Receivers revisited
•
Sando: Jerry Rice is No. 1, but who's next?
•
Zoom Gallery: Top 10 receivers of all time
•
Sando: Who is Don Hutson?
•
SportsNation: Wide receiver quiz
•
SportsNation: Rank the all-time best
•
Debate: Current WRs who belong in top 10

•
Green, Sando on best WRs in history

•
Luksa: Bob Hayes an overlooked great
BEST QUARTERBACKS OF ALL TIME
•
Sando: Ranking the all-time great QBs
•
ZOOM gallery: Top 10 QBs of all time
•
Chadiha: Ranking the best QBs by decade
•
Klancnik: Best QBs by jersey numbers
•
Scouts Inc.: Ranking the top 64 QBs of today

•
SportsNation: Rank the greatest QBs
|
Vote
•
SportsNation: Think you know QBs?
•
Super Bowls: Ranking every QB's performance

MOST SENT STORIES ON ESPN.COM