Commentary
Bills' offense faces steep learning curve
Because of injuries and Jason Peters' contract concerns, the Bills are slightly behind schedule in their transition to new coordinator Turk Schonert's offense, writes Mike Sando.
Originally Published:
June 27, 2008
By
Mike Sando
| ESPN.com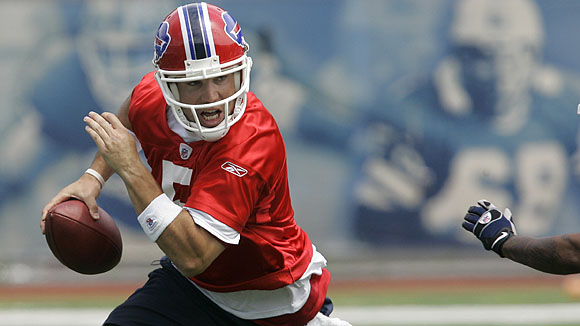 AP Photo/David Duprey Second-year QB Trent Edwards has been working hard to learn the nuances of the Bills' new offense.
The Bills were aggressive in adding veterans for the second consecutive offseason, this time on the defensive side.
They expect defensive tackle Marcus Stroud and linebacker Kawika Mitchell to fortify the front seven, making life easier on first-round rookie cornerback Leodis McKelvin and veteran safety Donte Whitner.
Fantasy Update
Eric Karabell breaks down the fantasy prospects for the Bills. Story
But like most teams, the Bills will go as far as their quarterback can take them. Minicamps gave young starter
Trent Edwards
a chance to take tighter control of the offense.
What we learned from minicamp
Edwards proved he's serious about the opportunity by showing up bigger, stronger and eager to run the offense under new coordinator Turk Schonert. Former starter J.P. Losman helped the situation by keeping a low profile. Quarterback transitions can divide a team, but the Bills appeared unified behind Edwards throughout minicamps. That was important for a team already dealing with a hit-and-run case involving Marshawn Lynch.
Schonert, promoted from quarterbacks coach after Steve Fairchild left for Colorado State, unveiled an offense that he borrowed from his days as a backup quarterback for Sam Wyche's Cincinnati Bengals. Those offenses used tempo and continuity to stay ahead of defenses, but the Bills aren't close to that level yet. Injuries and left tackle Jason Peters' contract concerns kept key members of the offense off the field during minicamps.
On defense, cornerback Jabari Greer served notice that he won't surrender his starting job without a fight. McKelvin is going to start eventually, but the Bills won't have to rush him into the lineup if Greer picks up in training camp where he left off in minicamps.
Greer entered the league with Buffalo as an undrafted free agent in 2004. Nothing was handed to him. McKelvin brings a different pedigree as the 11th player chosen in the draft. Both figure to play extensively this season.
Still unresolved
Peters' contract situation could be a tough one for the Bills to resolve. The Pro Bowl left tackle has three years remaining on a deal that pays him $4 million a year, less than half what an elite player at the position might command on the market. Buffalo set the bar high by paying $7 million a year for guard Derrick Dockery, but it's tough to pay market value for a player with three years remaining on his contract.
NFL players rarely leave regular-season paychecks on the table, and Peters has given no indication he'll miss games. But few players have been in his position during recent seasons. Franchise players are generally the ones who skip training camp, only to report when fat paychecks are at stake. Peters' paychecks total $3.3 million this season, less than half what franchise players usually command.
The Bills have invested too much in their offensive line and they have too much riding on Edwards to proceed without Peters at left tackle.
Injury analysis
Injuries prevented No. 1 receiver Lee Evans and starting tight end Robert Royal from participating in minicamps. Their absence was more significant because the Bills are installing a new offense with inexperienced players in a few key positions.
Edwards isn't leaving anything to chance. He planned to throw with Evans and Royal on his own time after minicamps. All parties will benefit when Edwards can throw to them in the structure of the offense. That won't happen until training camp.
Starting center Melvin Fowler sat out most of the spring practices following shoulder surgery. He expects to be ready for training camp.
On defense, two key contributors made it through minicamps without aggravating injuries. Second-year linebacker Paul Posluszny showed no effects of the broken arm that limited him to three starts as a rookie. Stroud, acquired by trade from the Jacksonville Jaguars, has chronic ankle problems and missed three starts last season. Keep an eye on Stroud in particular once the Bills put on the pads. His health could be crucial for the team's defense.
Rookie refrain
Seventh-round rookie Steve Johnson impressed the Bills during minicamps with his run-after-catch ability, but young receivers often disappear midway through training camp. More than a few rookie receivers have made positive impressions in shorts. Some manage to sustain their momentum through the first week or two of training camp. However, veterans tend to assert themselves once the exhibition games begin.
That's something to keep in mind when setting expectations for Johnson and second-round receiver
James Hardy
, who also impressed during minicamps.
Training camp start date: July 25
Mike Sando covers the NFL for ESPN.com.
NFL Insider
ESPN Insider NFL columnist and blogger
Covered the NFL since 1998
Member of Pro Football Hall of Fame selection committee
SPONSORED HEADLINES
MORE NFL HEADLINES
MOST SENT STORIES ON ESPN.COM
DIVISION CHECKUP
With the draft way back in the rearview mirror and minicamps over, ESPN.com takes a division-by-division look at every team before training camps begin next month. Training camp dates

•
Arizona: All eyes on quarterback
•
San Francisco: Can Martz rejuvenate offense?
•
Seattle: Hawks hope young WRs emerge
•
St. Louis: Shortcomings at wide receiver
•

Scouts' NFC West roundtable
•
SportsNation:
Vote on who will win West, more
•
Denver: Who's the featured back?
•
Kansas City: Instant impact from picks?
•
Oakland: Turning the corner?
•
San Diego: Runaway train?
•

Scouts' AFC West roundtable
•
SportsNation:
Vote on who will win West, more
•
Atlanta: New beginning
•
Carolina: Fox in the crosshairs
•
New Orleans: Defensive overhaul
•
Tampa Bay: Gruden weathering storm
•

Scouts' NFC South roundtable
•
SportsNation:
Vote on who will win South, more
•
Houston: In the running?
•
Indianapolis: Depth perception
•
Jacksonville: O-line is cause for concern
•
Tennessee: Young saddled with shaky WRs
•

Scouts' AFC South roundtable
•
SportsNation:
Vote on who will win South, more
•
Chicago: Many pressing questions
•
Detroit: Blue-collar mentality
•
Green Bay: Great expectations
•
Minnesota: Meshing new with old
•

Scouts' NFC North roundtable
•
SportsNation:
Vote on who will win North, more
•
Baltimore: Change in the air
•
Cincinnati: Johnson in eye of storm
•
Cleveland: Riding the momentum
•
Pittsburgh: Big Ben armed and ready
•

Scouts' AFC North roundtable
•
SportsNation:
Vote on who will win North, more
•
Dallas: Beware of Ware
•
New York: Will Super Bowl affect focus?
•
Philadelphia: Counting on McNabb
•
Washington: Campbell adapting to Zorn
•

Scouts' NFC East roundtable
•
SportsNation:
Vote on who will win East, more
•
Buffalo: Edwards taking control
•
Miami: Parcells turning up the heat
•
New England: Veterans still hungry
•
New York Jets: Pennington or Clemens?
•

Scouts' AFC East roundtable
•
SportsNation:
Vote on who will win East, more

Nike Women's Home Game Jersey Buffalo Bills Stevie Johnson #13 Shop »