Commentary
Jets still facing questions at quarterback
x
Originally Published:
June 27, 2008
By
Mike Sando
| ESPN.com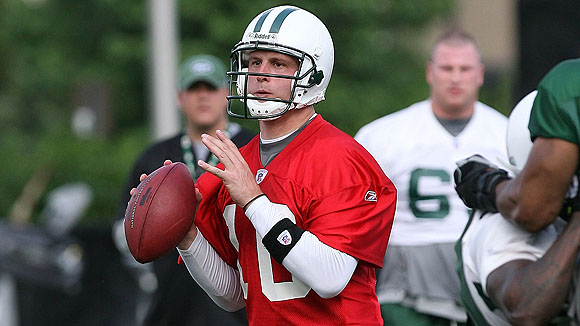 Al Pereira/Getty ImagesThe Jets know what they'll get out of Chad Pennington, but is it enough to name him starter?
A handful of NFL teams emerged from minicamps without a declared starting quarterback. Two of them play in the AFC East and the Jets are one of them. The organization committed massive contracts to veterans, including free-agent left guard
Alan Faneca
and linebacker
Calvin Pace
. How much will the changes help if the Jets don't find a consistently productive leader under center?
Fantasy Update
Eric Karabell breaks down the fantasy prospects for the Jets. Story
What we learned from minicamp
The Jets don't like any of their quarterbacks enough to name a starter before training camp.
They know what Chad Pennington can give them when healthy. They know less about Kellen Clemens, who started half the games last season. Clemens, the Jets' second-round choice in 2006, would appear to represent the future. But how soon?
The Jets alternated between Pennington and Clemens throughout their minicamps. No clear favorite emerged.
Faneca, defensive tackle Kris Jenkins and running back Thomas Jones made more definitive impressions.
Faneca carried himself like the new leader of the line, as expected after the Jets paid him $8 million a season. Jenkins attacked minicamps as if determined to prove the Carolina Panthers will miss him. Jones, meanwhile, seemed reinvigorated by the Jets' remade line.
The anticipated punting battle between Ben Graham and Jeremy Kapinos ended abruptly when the team waived Kapinos. The Jets signed free-agent punter Joe Smith, a 27-year-old who had been playing for the Yakima (Wash.) Mavericks of the Evergreen Semi-Pro League.
Still unresolved
Tight end Chris Baker remains unhappy with his contract. Baker said the Jets promised to rework his deal. The team has suggested otherwise. Baker has dropped hints about his situation becoming a distraction in the mold of Pete Kendall's dispute last season. The Jets appear ready to move on without Baker after drafting Dustin Keller in the first round and signing free agent Bubba Franks as insurance.
Every team seems to have an unknown receiver flashing potential this time of year, and the Jets are no exception. Chansi Stuckey, a seventh-round choice in 2007, reportedly has a shot at becoming the third receiver behind Laveranues Coles and Jerricho Cotchery. He'll have to prove it in training camp. Stuckey, 24, has never played in a regular-season NFL game.
On defense, the Jets gave Eric Smith a long look at safety, but it's unclear whether he'll win the starting job alongside Kerry Rhodes. Abram Elam started half the games at strong safety last season. Smith and Erik Coleman split the remaining starts, but Coleman signed with the Atlanta Falcons in free agency. Smith, a third-round pick in 2006, has yet to seize the job.
Elam missed time during minicamps while tending to the latest in a string of family tragedies (a brother was murdered in May). His well-established ability to persevere makes him a candidate to win the job.
Injury analysis
Justin Miller appears to be the favorite to start at right cornerback after a disastrous 2007 season that began with a hamstring injury and ended with reconstructive knee surgery after two games.
Miller, a second-round pick in 2005, started eight games as a rookie, four in 2006 and none last season. He worked with the starters during minicamps, a clear indication the team wants him to emerge as more than a return specialist, even after the devastating injury.
Pennington is in better position to win and keep the starting job at quarterback now that his right ankle has had time to heal. Pennington suffered a severe sprain early last season. An injured right ankle can make it harder for a right-handed quarterback to plant and throw with authority. Pennington's already-limited arm strength probably took a hit.
Jenkins hasn't missed a game over the past two seasons, but weight problems have made his long-term durability a concern. Jenkins reported to Jets camp in better shape, saying he had lost more than 30 pounds. Mangini joked that Jenkins, who has admittedly threatened 400 pounds, made 360 look good.
Confession time
Perhaps no Jets player has more to prove than linebacker Bryan Thomas. The 29-year-old starter admitted to becoming complacent after signing a lucrative contract last offseason.
The money wasn't necessarily what made him ease off, Thomas said, but no matter. He's put himself in position to produce or face questions about his effort level. The confession might prove instructive for Pace, who signed a $42 million contract as a free agent from the Arizona Cardinals.
Training camp start date: TBA
Mike Sando covers the NFL for ESPN.com.
NFL Insider
ESPN Insider NFL columnist and blogger
Covered the NFL since 1998
Member of Pro Football Hall of Fame selection committee
SPONSORED HEADLINES
MORE NFL HEADLINES
MOST SENT STORIES ON ESPN.COM
DIVISION CHECKUP
With the draft way back in the rearview mirror and minicamps over, ESPN.com takes a division-by-division look at every team before training camps begin next month. Training camp dates

•
Arizona: All eyes on quarterback
•
San Francisco: Can Martz rejuvenate offense?
•
Seattle: Hawks hope young WRs emerge
•
St. Louis: Shortcomings at wide receiver
•

Scouts' NFC West roundtable
•
SportsNation:
Vote on who will win West, more
•
Denver: Who's the featured back?
•
Kansas City: Instant impact from picks?
•
Oakland: Turning the corner?
•
San Diego: Runaway train?
•

Scouts' AFC West roundtable
•
SportsNation:
Vote on who will win West, more
•
Atlanta: New beginning
•
Carolina: Fox in the crosshairs
•
New Orleans: Defensive overhaul
•
Tampa Bay: Gruden weathering storm
•

Scouts' NFC South roundtable
•
SportsNation:
Vote on who will win South, more
•
Houston: In the running?
•
Indianapolis: Depth perception
•
Jacksonville: O-line is cause for concern
•
Tennessee: Young saddled with shaky WRs
•

Scouts' AFC South roundtable
•
SportsNation:
Vote on who will win South, more
•
Chicago: Many pressing questions
•
Detroit: Blue-collar mentality
•
Green Bay: Great expectations
•
Minnesota: Meshing new with old
•

Scouts' NFC North roundtable
•
SportsNation:
Vote on who will win North, more
•
Baltimore: Change in the air
•
Cincinnati: Johnson in eye of storm
•
Cleveland: Riding the momentum
•
Pittsburgh: Big Ben armed and ready
•

Scouts' AFC North roundtable
•
SportsNation:
Vote on who will win North, more
•
Dallas: Beware of Ware
•
New York: Will Super Bowl affect focus?
•
Philadelphia: Counting on McNabb
•
Washington: Campbell adapting to Zorn
•

Scouts' NFC East roundtable
•
SportsNation:
Vote on who will win East, more
•
Buffalo: Edwards taking control
•
Miami: Parcells turning up the heat
•
New England: Veterans still hungry
•
New York Jets: Pennington or Clemens?
•

Scouts' AFC East roundtable
•
SportsNation:
Vote on who will win East, more