Commentary
Parcells & Co. turning up intensity, changing culture
The Dolphins still have plenty of holes, but the new regime appears to be making strides in its efforts to establish a winning culture, writes Mike Sando.
Originally Published:
June 27, 2008
By
Mike Sando
| ESPN.com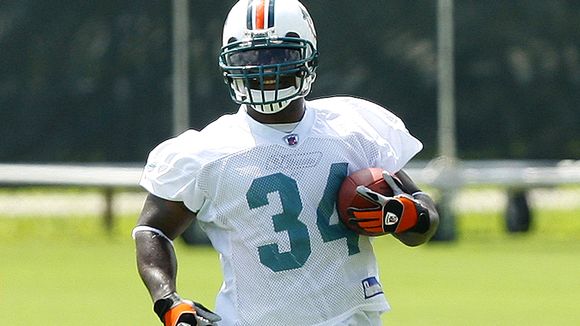 Joel Auerbach/US PRESSWIRE.At 31, Dolphins RB Ricky Williams looks poised for his first productive NFL season since 2005.
Executive vice president Bill Parcells, general manager Jeff Ireland and coach Tony Sparano have succeeded in setting a more urgent tone. They have turned up the intensity of the offseason program while quickly striking deals with most of their draft choices, as if the upcoming season cannot arrive quickly enough.
Fantasy Update
Eric Karabell breaks down the fantasy prospects for the Dolphins. Story
It's a logical approach for a team that's coming off its worst season in franchise history. The team is still in the early stages of development and lacks a clear-cut starting quarterback. But the foundation is in place.
What we learned from minicamp
The spring in Ricky Williams' step restored needed sizzle to the Dolphins' running game. Williams embraced the offseason program and reportedly moved well during practices. He might never become a dominant back again, but the dedication he showed suggests Williams might be ready to contribute for the first time since the 2005 season, even at age 31.
The front office and coaching staff appeared to be winning the battle to remake the team's culture. Though defensive end Jason Taylor drew most of the attention for staying away, linebacker Joey Porter worked hard with assistant coach Paul Pasqualoni on technique. Porter isn't the type to play along for the sake of keeping up appearances. His genuine excitement suggested the staff was getting through to key players.
Even Taylor's relationship with the team appeared to be improving. Sparano acknowledged meeting with Taylor and assuring the defensive end that the team wanted him back. The Dolphins' inability to find adequate trade value for Taylor -- so far, anyway -- increased the chances of Taylor finishing his career in Miami. The alleged rift between Parcells and Taylor generated more hype than verifiable hard feelings.
Still unresolved
Josh McCown is the early favorite to emerge as the starting quarterback ahead of John Beck and Chad Henne, but nothing is settled.
Beck has impressed the new staff with his approach and overall performance. The staff is working with him to improve mechanics that have suffered since Beck sustained a shoulder injury at BYU. Beck could challenge for the starting job with a strong training camp.
Henne might have the best shot at starting in the long term, but we shouldn't read much into his getting work with the starters during a recent practice. The Dolphins' experience last season demonstrated the perils of throwing a rookie quarterback into the lineup ahead of schedule.
McCown turns 29 next month. He started nine games for the Oakland Raiders last season and six for Arizona in 2005. McCown's experience amid tough circumstances gives him an edge.
Injury analysis
Ronnie Brown
's surgically reconstructed right knee held up well, but the true test will come when the Dolphins start hitting. Brown suffered a career-threatening injury just as his career appeared to be blossoming last season. The Dolphins were struggling as a team, but Brown was closing in on his fifth consecutive 100-yard rushing performance when the knee gave out during an October game against New England.
Brown ran hard during an 11-on-11 session, inviting as much contact as rules permitted. The Dolphins could have an enviable one-two punch at the position if Brown is healthy and Williams continues his comeback.
Linebacker Channing Crowder, safety Renaldo Hill and cornerback Michael Lehan also are returning from injuries. A knee injury limited Crowder during minicamp. Hill, also recovering from a knee injury, worked with the backups. He expects to be at full strength for training camp. An ankle injury continued to sideline Lehan.
All were relatively established players under the previous staff, but that doesn't mean as much now. Each needs to get healthy for training camp to impress Sparano and the new front office.
Tight end Anthony Fasano, who underwent offseason shoulder surgery, also is working his way back from injury. Parcells reportedly labeled him "General Hospital" and suggested he wear a gown, but Fasano holds an advantage over the other injured players. The new staff knows him from their days together in Dallas. The Dolphins also invested draft-choice compensation to acquire Fasano, an indication he fits into their plans.
Strong words
The Dolphins' new strength coaches are putting the team through a tougher-than-usual training regimen. Parcells has been known to stare at players while they lift weights, creating an extra edge.
The new strength coaches, Evan Marcus and Dave Puloka, suffered through a brutal season with the Atlanta Falcons in 2007. The Dolphins fared worse on the field with their 1-15 record. Together, they might take out their frustrations in the weight room. McCown, now on his fourth NFL team, has told reporters he has never worked so hard.
Training camp start date: July 25
Mike Sando covers the NFL for ESPN.com.
NFL Insider
ESPN Insider NFL columnist and blogger
Covered the NFL since 1998
Member of Pro Football Hall of Fame selection committee
DIVISION CHECKUP
With the draft way back in the rearview mirror and minicamps over, ESPN.com takes a division-by-division look at every team before training camps begin next month. Training camp dates

•
Arizona: All eyes on quarterback
•
San Francisco: Can Martz rejuvenate offense?
•
Seattle: Hawks hope young WRs emerge
•
St. Louis: Shortcomings at wide receiver
•

Scouts' NFC West roundtable
•
SportsNation:
Vote on who will win West, more
•
Denver: Who's the featured back?
•
Kansas City: Instant impact from picks?
•
Oakland: Turning the corner?
•
San Diego: Runaway train?
•

Scouts' AFC West roundtable
•
SportsNation:
Vote on who will win West, more
•
Atlanta: New beginning
•
Carolina: Fox in the crosshairs
•
New Orleans: Defensive overhaul
•
Tampa Bay: Gruden weathering storm
•

Scouts' NFC South roundtable
•
SportsNation:
Vote on who will win South, more
•
Houston: In the running?
•
Indianapolis: Depth perception
•
Jacksonville: O-line is cause for concern
•
Tennessee: Young saddled with shaky WRs
•

Scouts' AFC South roundtable
•
SportsNation:
Vote on who will win South, more
•
Chicago: Many pressing questions
•
Detroit: Blue-collar mentality
•
Green Bay: Great expectations
•
Minnesota: Meshing new with old
•

Scouts' NFC North roundtable
•
SportsNation:
Vote on who will win North, more
•
Baltimore: Change in the air
•
Cincinnati: Johnson in eye of storm
•
Cleveland: Riding the momentum
•
Pittsburgh: Big Ben armed and ready
•

Scouts' AFC North roundtable
•
SportsNation:
Vote on who will win North, more
•
Dallas: Beware of Ware
•
New York: Will Super Bowl affect focus?
•
Philadelphia: Counting on McNabb
•
Washington: Campbell adapting to Zorn
•

Scouts' NFC East roundtable
•
SportsNation:
Vote on who will win East, more
•
Buffalo: Edwards taking control
•
Miami: Parcells turning up the heat
•
New England: Veterans still hungry
•
New York Jets: Pennington or Clemens?
•

Scouts' AFC East roundtable
•
SportsNation:
Vote on who will win East, more

MOST SENT STORIES ON ESPN.COM