Commentary
Patriots still sorting out offensive line, secondary
The Patriots are heading into the season as Super Bowl losers for the first time in Tom Brady's career. The team is saying all the right things as it tries to put to rest the Super Bowl curse, writes Mike Sando.
Originally Published:
June 27, 2008
By
Mike Sando
| ESPN.com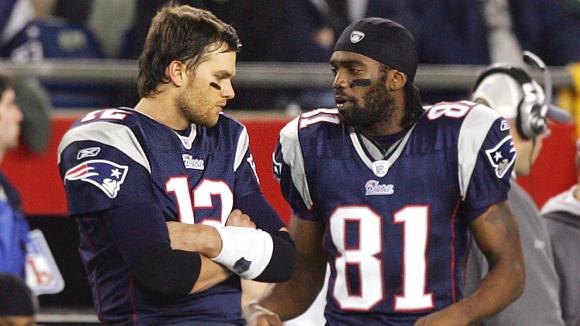 Jim McIsaac/Getty ImagesQuarterback Tom Brady and wide receiver Randy Moss fueled the Patriots to a perfect regular season before stumbling in the Super Bowl. Both must come back strong in 2008 to avoid the Super Bowl curse.
Six of the last seven Super Bowl losers have failed to qualify for the postseason after losing the big game. The Patriots' loss to the
New York Giants
in Super Bowl XLII was particularly excruciating after a 16-0 regular season and two playoff victories. That's why it was important for New England to dive into its minicamps without wallowing in what could have been.
Fantasy Update
Eric Karabell breaks down the fantasy prospects for the Patriots. Story
The Patriots opened practices with their usual fast tempo. Their leaders said the right things and sounded genuine saying them.
What we learned from minicamp
The Patriots are hungry. Quarterback
Tom Brady
made that clear in his comments early in the June minicamps. "You come out here the first day and it's not like this is the 2007 team revisited," Brady said. "There are new players and there's a new element to what we're going to face. We don't pick up where we left off last year. We're starting where everybody else is starting." Brady set the example and safety
Rodney Harrison
and other veterans have helped to drive home the point.
The Patriots boasted full attendance for organized team activities. Even right tackle Nick Kaczur, revealed as a federal informant only days before minicamp, showed up and practiced.
On the field, linebacker
Victor Hobson
worked at inside linebacker along with
Tedy Bruschi
and first-round rookie
Jerod Mayo
.
Adalius Thomas
worked some on the outside, perhaps indicating a position change. The mix could change again if the Patriots re-sign
Junior Seau
. The addition of safety
Tank Williams
armed defensive coaches with another versatile player. Williams has the size to double as a linebacker in certain situations. He could also provide insurance for Harrison, who has missed 23 games to injury and suspension over the past three seasons. Williams looked the part in practices and made a positive impression. Offensively, receiver
Chad Jackson
worked extensively with the starters while
Wes Welker
rested what appeared to be a minor injury. Jackson worked on the outside opposite
Randy Moss
, with
Jabar Gaffney
in the slot.
Donte' Stallworth
's departure to the
Cleveland Browns
in free agency means the Patriots could use more production from Jackson, who should continue to get quality reps in training camp.
Still unresolved
The Patriots aren't sure how their offensive line will shake out. Kaczur's situation could remain fluid while the legal system sorts out his alleged role in a scheme involving illegally acquired painkillers. Kaczur is the incumbent starter at right tackle, but coaches played him at right guard during minicamps. The move allowed
Russ Hochstein
to get work at right tackle, providing the Patriots with another potential fallback option if Kaczur isn't available. Depth on the line will improve once starting right guard
Stephen Neal
and newly acquired veteran right tackle
Oliver Ross
return from injuries. On defense, cornerback
Fernando Bryant
is the favorite to replace
Asante Samuel
in the starting lineup. Past Patriots teams have leaned on a strong front seven while scheming around personnel issues in the secondary. The challenge could become more difficult this time because Samuel, now with the
Philadelphia Eagles
, was coming off an outstanding season.
Injury analysis
Unlike other injured players, Welker participated in a walk-through session to end the most recent mandatory minicamp. That's a solid indication that his injury, undisclosed by the team, isn't serious.
Neal and tight end
Benjamin Watson
are returning from surgeries. Offensive linemen often have an easier time fighting their way through such things. Skill-position players can lose speed and confidence if their legs aren't just right. Watson's surgically repaired left ankle isn't the only injury affecting the Patriots' tight ends. Backup
David Thomas
is returning from a broken foot. Free-agent newcomer
Marcus Pollard
could earn a spot in the rotation at tight end, but the Patriots won't be the same without a healthy Watson. Pollard, 36, wore down during his lone season with the
Seattle Seahawks
. Nagging injuries hurt his play and Pollard struggled during the playoffs, losing a fumble and dropping a touchdown pass during a divisional-round defeat to the
Green Bay Packers
at Lambeau Field.
File it away
The ankle injury Brady suffered during the playoffs last season may or may not have affected his performance in Super Bowl XLII. It did, unquestionably, highlight the team's lack of experienced depth at the position. None of the Patriots' backup quarterbacks has started a regular-season game in the NFL and together, they have combined to attempt just 39 passes, with all but one by
Matt Cassel
. The Patriots have a full training camp to sort out their offensive line. Brady's health -- and, by extension, the team's playoff hopes -- could hang in the balance.
Training camp start date: July 25
Mike Sando covers the NFL for ESPN.com.
NFL Insider
ESPN Insider NFL columnist and blogger
Covered the NFL since 1998
Member of Pro Football Hall of Fame selection committee
DIVISION CHECKUP
With the draft way back in the rearview mirror and minicamps over, ESPN.com takes a division-by-division look at every team before training camps begin next month. Training camp dates

•
Arizona: All eyes on quarterback
•
San Francisco: Can Martz rejuvenate offense?
•
Seattle: Hawks hope young WRs emerge
•
St. Louis: Shortcomings at wide receiver
•

Scouts' NFC West roundtable
•
SportsNation:
Vote on who will win West, more
•
Denver: Who's the featured back?
•
Kansas City: Instant impact from picks?
•
Oakland: Turning the corner?
•
San Diego: Runaway train?
•

Scouts' AFC West roundtable
•
SportsNation:
Vote on who will win West, more
•
Atlanta: New beginning
•
Carolina: Fox in the crosshairs
•
New Orleans: Defensive overhaul
•
Tampa Bay: Gruden weathering storm
•

Scouts' NFC South roundtable
•
SportsNation:
Vote on who will win South, more
•
Houston: In the running?
•
Indianapolis: Depth perception
•
Jacksonville: O-line is cause for concern
•
Tennessee: Young saddled with shaky WRs
•

Scouts' AFC South roundtable
•
SportsNation:
Vote on who will win South, more
•
Chicago: Many pressing questions
•
Detroit: Blue-collar mentality
•
Green Bay: Great expectations
•
Minnesota: Meshing new with old
•

Scouts' NFC North roundtable
•
SportsNation:
Vote on who will win North, more
•
Baltimore: Change in the air
•
Cincinnati: Johnson in eye of storm
•
Cleveland: Riding the momentum
•
Pittsburgh: Big Ben armed and ready
•

Scouts' AFC North roundtable
•
SportsNation:
Vote on who will win North, more
•
Dallas: Beware of Ware
•
New York: Will Super Bowl affect focus?
•
Philadelphia: Counting on McNabb
•
Washington: Campbell adapting to Zorn
•

Scouts' NFC East roundtable
•
SportsNation:
Vote on who will win East, more
•
Buffalo: Edwards taking control
•
Miami: Parcells turning up the heat
•
New England: Veterans still hungry
•
New York Jets: Pennington or Clemens?
•

Scouts' AFC East roundtable
•
SportsNation:
Vote on who will win East, more


MOST SENT STORIES ON ESPN.COM