Commentary
Let's applaud the Patriots
New England doesn't have some of its best players, but it has NFL's best record
Originally Published:
November 5, 2010
By
Adam Schefter
| ESPN.com
Week after week, the spotlight seems to go everywhere except the New England Patriots.
Last week, the spotlight focused on the questions about Brett Favre, whom the Patriots managed to beat.
NFL Insider Adam Schefter

Check out Schefter's Insider blog

for more NFL coverage and analysis.
This week, it shined back on Randy Moss, whom the Patriots traded for a third-round pick before he could implode again.
But at some point, New England must be cited for what it has done. As impressive as the Indianapolis Colts and Green Bay Packers have been this season in overcoming adversity, no NFL team has done a better job of winning despite losing players.
New England Pro Bowl guard Logan Mankins stayed away from the team until this week in a contract dispute, and the Patriots still have allowed only 12 sacks.
New England's top defensive end, Ty Warren, suffered a season-ending hip injury in training camp, but the Patriots still have not allowed a 100-yard rusher this season.
New England's top cornerback, Leigh Bodden, suffered a season-ending shoulder injury before the season kicked off, and the Patriots still have nine interceptions.
New England's third-down specialist, Kevin Faulk, suffered a season-ending knee injury in the second game; Moss was traded after the fourth game; and Mankins' potential replacement, Nick Kaczur, was lost to a season-ending back injury. But nothing has slowed New England. Good teams like the Patriots don't stress the importance of a single player. They stress the importance of a unit.
Indianapolis is winning without safeties Bob Sanders and Melvin Bullitt as well as tight end Dallas Clark. Green Bay is winning without running back Ryan Grant, linebacker Nick Barnett, tight end Jermichael Finley and defensive backs Al Harris, Atari Bigby and Morgan Burnett.
But at this point in the season, no team has won as often as the Patriots (6-1). New England doesn't have some of its best players, but it has football's best record.
Now, on to this week's 10 Spot:
[+] Enlarge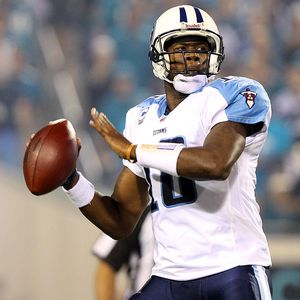 Kim Klement/US PresswireTennessee's Vince Young directs an offense that surprisingly leads the NFL in scoring.
Tennessee's waiver claim of wide receiver Randy Moss is a case of an explosive team becoming more explosive. Hard as it might be to imagine, the Titans have scored an NFL-best 224 points. The Colts are known for instant offense, but they've scored 193 points in one fewer game than the Titans. The Houston Texans are known for instant offense, but they've scored 170 points in one fewer game than the Titans. Now, the Titans get to take maybe the greatest long-ball receiver in NFL history and pair him with a quarterback, Vince Young, whose top passing strength is his ability to throw the long ball. And Tennessee has yet to play either Indianapolis or Houston this season. The Titans are gearing up.
Forget Randy Moss, Brett Favre, Brad Childress. As good and impressive as defensive coordinator Leslie Frazier is -- and he will be a head coach in the NFL in 2011 -- Minnesota has gone three straight games without a sack. Game circumstances are holding back the Vikings' pass rush. Through seven games, Minnesota has held the lead for only 69 minutes, 54 seconds, including 34:44 in a game against the Lions. In the other six games, Minnesota has rarely led. The Vikings have been playing from behind for the majority of the season, and nowhere is it more evident than in the pass rush this team has -- or actually hasn't -- generated.
No passing zone
The Browns' passing yardage totals in each of their past seven wins:
| Date | Opp. | Passing yds. |
| --- | --- | --- |
| Oct. 24 | at N.O. | 85 |
| Oct. 3 | vs Cin. | 179 |
| Jan. 3 | vs Jac. | 86 |
| Dec. 27 | vs Oak. | 118 |
| Dec. 20 | at K.C. | 66 |
| Dec. 10 | vs Pit. | 84 |
| Oct. 11 | at Buf. | 22 |
New England faces a different challenge Sunday. It plays Cleveland, which has been one of the league's craftiest teams. No team has won more games while getting so little out of its passing attack. In their past seven wins dating to Oct. 11, 2009, the Browns have averaged 91.4 passing yards per victory. So it might not matter whether Colt McCoy starts Sunday as planned or Cleveland turns back to Seneca Wallace. To win, Cleveland doesn't have to throw.
Heads-up, Charlie Whitehurst: As if the Seahawks' quarterback doesn't have enough to worry about as he makes his first career start, he must go against the one team that has tormented quarterbacks more than any other this season. In each of their past three games, the Giants have knocked out the opposing team's starting quarterback. First, New York battered and concussed Bears quarterback Jay Cutler with nine sacks, ending his night before the second half kicked off. Then, New York defensive tackle Barry Cofield broke Lions quarterback Shaun Hill's left forearm. And two Monday nights ago, before New York's bye week, Giants linebacker Michael Boley fractured Cowboys quarterback Tony Romo's collarbone and ended his season.
[+] Enlarge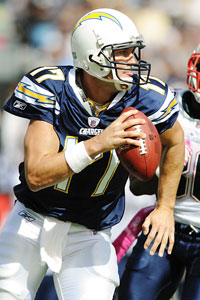 Christopher Hanewinckel/US PresswireThe Chargers' Philip Rivers is on pace to shatter Dan Marino's season record for passing yards (5,084).
Halfway through the season, San Diego's Philip Rivers is piling up numbers no other quarterback has. Rivers has thrown for 2,649 yards, topping the previous midseason high of 2,580 by Dan Fouts in 1982. Rivers' numbers projected over an entire season come out to 5,298 yards, which would shatter the season passing yardage mark of 5,084 yards that Dan Marino set in 1984. Rivers has five games of 300-plus passing yards this season, as many as he had all last season. As Rivers embarks on the season's second half Sunday, he has an ideal launching pad. His first game will come against the Houston Texans and their 32nd-ranked pass defense.
If the 2009 draft were held again, some NFL people would pick Josh Freeman over Matthew Stafford and Mark Sanchez. But Freeman was the third quarterback picked in the class of 2009, after Detroit drafted Stafford first overall and the Jets traded up to select Sanchez fifth overall. Now, as Stafford and Sanchez square off Sunday in Detroit, Freeman is engaged in an NFC South battle for first place against Atlanta. In the 15 games he has started since taking over the job at this time last year, Freeman has a 7-8 record. Five of those wins are come-from-behind, fourth-quarter victories. At age 22, he's already Mr. Clutch.
It's not too early to award this season's defensive rookie of the year to Detroit defensive tackle Ndamukong Suh, who has helped transform the Lions' defensive line. Despite consistently being double-teamed, Suh has 6.5 sacks and could challenge the rookie season sack record (14.5) that Jevon Kearse set with Tennessee in 1999. Interestingly, one of Kearse's coaches in Tennessee was Jim Schwartz, Suh's head coach in Detroit. Schwartz knows dynamic defensive linemen when he sees them. Comparing the two linemen this week, Schwartz said, "I think you can see some similarities with Ndamukong." Whether Suh can match Kearse's rookie record is uncertain. What is not is that Detroit has a player to build around for the next decade.
Pittsburgh is on prime time again, Monday night against Cincinnati. Yet it's easy to overlook how good Steelers wide receiver Hines Ward has been for so long. Since the Steelers picked him with the 92nd selection in the third round of the 1998 draft, Ward has gone on to do things no other Steeler has. Ward's 922 career receptions are 49 more than Steelers Hall of Fame wide receivers Lynn Swann and John Stallworth combined. Fourteen other wide receivers were drafted ahead of him: Kevin Dyson, Randy Moss and Marcus Nash in Round 1; Jerome Pathon, Jacquez Green, Pat Johnson, Germane Crowell, Tony Simmons, Joe Jurevicius and Mikhael Ricks in Round 2; and Brian Alford, E.G. Green, Jammi German and Larry Shannon in Round 3.
As much as the NFL has shifted to a passing league, Kansas City and Oakland prove there still is a place for teams that can grind it out. As the Chiefs and Raiders prepare to play their most significant game in years, Kansas City ranks first in the league in rushing offense and Oakland ranks second. Raiders running back Darren McFadden ranks seventh in the league with 668 rushing yards, Chiefs running back Jamaal Charles ranks eighth with 666 rushing yards, and teammate Thomas Jones -- who this season became the first player in NFL history to rush for at least 500 yards with five different teams -- ranks 14th with 538 yards. If the difference in Sunday's game is run defense, favor the Chiefs. Kansas City ranks seventh in the league in run defense; Oakland is 26th.
A word of warning to the Washington Redskins or anyone else dealing with the Eagles: No team in the league is better at knowing when to get rid of a player. From Troy Vincent to Bobby Taylor to Ricky Watters to Jeremiah Trotter to Michael Lewis to L.J. Smith to Lito Sheppard to Reggie Brown, the Eagles repeatedly have demonstrated they know when to sever a relationship. Two of the rare times they missed were with guard Bobbie Williams, who signed with Cincinnati as a free agent in 2004, and safety Brian Dawkins, who defected to Denver in 2009. But by and large, if the Eagles are bidding farewell to a player, they almost always know what they're doing. Head coach Andy Reid knows how to evaluate talent, and president Joe Banner and general manager Howie Roseman know how to deal with it. Teams have done studies to see who in the league is wisest about parting ways with players. No team has gotten higher grades than the Eagles. And next up will be the challenge of the Michael Vick-Kevin Kolb situation.
THE SCHEF'S SPECIALTIES
Game of the week: Chiefs at Raiders. Hard to imagine, but it's true.
Player of the week: Vikings RB Adrian Peterson. With sudden and unexpected questions at wide receiver in Minnesota, it's Peterson's time to shine.
Upset of the week: Browns over Patriots. Cleveland seems to play all good teams tough.
Adam Schefter is an ESPN NFL Insider.
ESPN NFL Insider
Joined ESPN in 2009
Former president of the Pro Football Writers of America and the author of four books
NFL WEEK 9 PREVIEW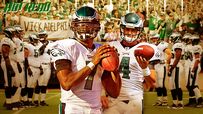 POWER RANKINGS
HOT READ: EAGLES QBs
PICKS
FINAL WORD
RANDY MOSS TO TITANS
COMMENTARY/BLOG POSTS
MNF: Steelers at Bengals, 8:30 ET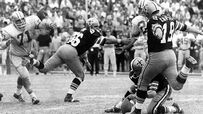 Tom Dempsey's NFL record 63-yard field goal celebrates its 40th year Nov. 8. What's behind that kick?
Inside A Moment In Time
INSIDE A MOMENT IN TIME: TOM DEMPSEY
FANTASY FOOTBALL
NFL BLOG NETWORK
FOLLOW US ON TWITTER