Late drive ended with stop on Martin
At the most critical juncture of the game, something unusual happened to Curtis Martin -- he lost yardage.
"It's almost impossible to get him for negative yardage. He hardly ever loses yardage when he carries the ball."
-- Bill Belichick on Curtis Martin
FOXBORO, Mass. -- Curtis Martin gains yardage. Give him the football and, more often than not, he will advance it. That's it. That's all he does. His brilliance is his subtlety. His career average yards per carry: 4.0. Not 3.9, not 4.2. Four. That is solid. And it is appropriate.
With a 5-yard burst 18 minutes into Sunday's game between the Jets and Martin's original team, the Patriots, Martin had gained more yards than all but six men in NFL history, including perhaps the greatest running back, if not player, ever, Jim Brown. Martin rushed for 70 yards in the game and now has 12,332 -- 66 fewer than Pittsburgh's Jerome Bettis. By season's end, Martin's 10th, he should pass both Bettis and Tony Dorsett and enter the top five.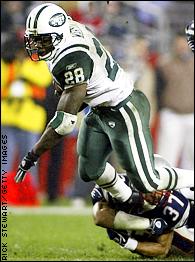 Getty ImagesMartin should have no problem getting into the Hall of Fame.
"And he's only getting better, that's the funny thing," said Patriots linebacker
Willie McGinest
, a teammate of Martin's from 1995-97 and an adversary since Martin joined the Jets in '98. "He's only running harder. The guy works hard. On and off the field, he's a solid guy. He's one of those guys you love to have on your team."
Every retired running back in the top 10 is in the Hall of Fame. Martin should join them someday. But that, as they say, is a story for another day. The story of the Patriots' 13-7 victory, as it has been with most of their regular-season-record 18 in a row and 21 straight overall, is that they made big plays at big moments. None was more critical than Martin, on what would be his final carry of the game, doing something he does about as infrequently as he fumbles: lose yardage.
"They don't have many bad plays," Belichick said of the Jets on Thursday. "You hardly ever see a play with the Jets where they just blow it, (opponents) turn a guy loose and he comes into the backfield and blows up the play or hits the quarterback. They get everybody taken care of. You just (don't) see guys come clean and just blow up the play. That hardly ever happens to them."
Wouldn't you know it, it happened Sunday, and at the worst possible time, no less.
It was third and 5 with 2 minutes 48 seconds to go, and the Jets were on the Patriots' 27-yard line, driving toward a possible go-ahead touchdown. New England's defense crowded the line of scrimmage. Jets quarterback Chad Pennington surveyed this and, given the flexibility to call a "check with me" and expecting the Patriots, as they had all game, to back out of their blitz look, audibled to a draw. It was designed to go the left side. There was but one problem with the decision: the Patriots weren't bluffing this time. They fooled Pennington. That isn't easy to do.
"With New England, what you see is not always what you get," Pennington said later. "A lot of times you don't know what they're in until the ball is snapped."
By the time Martin got the ball, McGinest was in his grill getting ready to make another game-changing play in someone's backfield. Had McGinest missed, Richard Seymour would have had his back.
"I had (Seymour's) gap, he had mine," McGinest said. "(Martin) just happened to run into my gap." McGinest and Seymour shared credit for tackling Martin for a 3-yard loss.
The play set up fourth and 8, and after the Jets used their first timeout, Pennington's pass intended for Wayne Chrebet was knocked away by Rodney Harrison. The Patriots ran out the clock and survived the battle of unbeatens.
Martin, naturally, was simple in his explanation of the breakdown.
"I just know I didn't get the first down," said Martin, who with his fifth carry passed Barry Sanders for fourth place on the all-time list for rushing attempts. After 20 carries Sunday, he now has 3,076, fewer than only Emmitt Smith, Walter Payton, and Bettis. "It was just a tough play. They outplayed us on that play."
That's because they were on alert for the draw. "He's the foundation of that team," McGinest said. "When you think of the Jets, it starts with Curtis Martin.
"You gotta play the run first, especially with those guys. The draw is one of their favorite plays. He's gashed us off that play before many times. They were running that play when (Patriots offensive coordinator) Charlie Weis was there."
Where the Jets are now is in second place in the AFC East. For that reason, Martin, while respectful of league history, wasn't in the mood after the game to celebrate his place among the greats.
"Playing New England is very much like playing chess," Martin said. "When you've got two good people playing chess, the one that makes the mistake usually loses. That's what happened today."
Michael Smith is a senior writer for ESPN.com
NFL Senior Writer
Michael Smith joined ESPN in July 2004 as a National Football League senior writer for ESPN.com, covering league news and major events such as the NFL Draft, NFL Playoffs and the Super Bowl, and continues to write breaking news stories. He is also a correspondent for E:60, ESPN's first multi-themed prime-time newsmagazine program, which debuted October 2007.
EDITORS' PICKS
Mastery of the salary cap's intricacies, with its spending limits and minimums, is a necessity in today's NFL.
Ashley Fox »

How much does the combine matter in draft analysis? Look at Kevin White's surge up Mel Kiper's board.
Mock 3.0

Durable, fiery and talented, Ndamukong Suh would thrive on any NFL team. We size up his leading suitors.
Dominik


MOST SENT STORIES ON ESPN.COM