Crennel's journey to top ends in Cleveland
It's been a long road for Romeo Crennel, but he's finally made it to the top of the coaching ladder.
Originally Published:
February 11, 2005
By
Michael Smith
| ESPN.com
BEREA, Ohio -- This particular Chevy Tahoe lacked a third seat, so rather than sit in back between Romeo Crennel and his agent, Joe Linta, I lay down in the SUV's spacious trunk area. The cramped quarters were a far cry from sitting across from Crennel on Randy Lerner's private plane that morning. Fortunately, it was only a short ride from the Browns' complex to dinner Tuesday night with the Crennel family and Cleveland's new football family.
Browns general manager Phil Savage drove. His wife, Dorothy, was in the front passenger's seat. At some point, the conversation turned to Dorothy Savage's struggles as an aspiring actress/singer. In the company of one of the NFL's top talent evaluators, one of its most accomplished and admired coaches, and an agent probably qualified enough to work in some team's scouting department, Mrs. Savage easily knew the least about the sport.
So, naturally, she produced the line of the day, one that put the developments of the past month of Crennel's career into perfect context.
Turning to her left and toward the back seat, she said, "It's not so much waiting for a 'Yes' but how many 'Nos' you can take and still keep your chin up. Sometimes you just have to be excited because you know you did a good job."
Crennel, seated behind Savage, kept quiet, as he often does. But he knew exactly what she was talking about.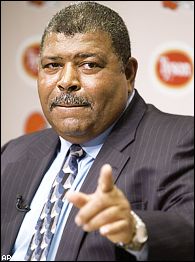 APRomeo Crennel missed out on the Patriots parade to be introduced as the Browns' new coach.
A long journey
Crennel, 57, has coached football for 35 years. He started as a graduate assistant and then the defensive line coach at his alma mater, Western Kentucky. He's been in the NFL since joining the Giants' staff as a special teams and defensive assistant in 1981. He spent 12 years as an assistant with the Giants, four with the Patriots, and three with the Jets before the Browns hired him as defensive coordinator/d-line coach in 2000.
When Crenell's call finally came, he allowed ESPN.com to come along for the ride and granted us inside access to his first days as the Browns' head coach.
More puzzling than why it's taken four years and three championships with New England to get his first shot as a head coach is why it took nearly two decades of working alongside the likes of Bill Parcells and Bill Belichick before he got to coordinate a defense.
"That was the more frustrating wait, " acknowledged Crennel on Tuesday morning during the 75-minute flight from Providence, R.I., to the Cleveland area aboard Lerner's Falcon 50.
The irony in all this is that the Browns interviewed Crennel following the 2000 season for the head-coaching position that ended up going to Butch Davis. So they're basically righting a prior wrong here. Several other teams didn't think Crennel was the right guy for the job, either. The 49ers interviewed him after the 2002 season and again after this season and passed both times. Crennel spoke with the Bears, Bills, Cardinals, Giants, and Falcons during the playoffs last year. Again, no takers.
Crennel concedes there were times he wondered if he'd ever see another promotion.
"That goes through your mind," he said as he, his wife Rosemary, his youngest of three daughters Kristi Cullinane, and her husband David flew the friendly skies.
"I felt like if it had not happened this year," continued Crennel, taking a break from his reading, "it probably wouldn't happen. If it didn't happen, I still had a good job [last postseason, he agreed to an extension that would have kept him employed with the Patriots through '06].
"There are a lot of good coaches in the NFL who never get the opportunity to become head coaches," Crennel said. "But that doesn't make them bad coaches. I've been fortunate to get this opportunity, even though it took a while to get here. It's finally here, and that's gratifying to know that you can work hard, do a good job, and people will notice and give you an opportunity as a result of it. Still, in my mind, until I can win and be successful as a head coach, then I really haven't made it."
It seems crazy that before now a team didn't leap at the chance to make a coach with four Super Bowl rings (now five) the boss, but owners and GMs weren't crazy about waiting for the Patriots to finish their annual Super Bowl run, what with the frantic offseason schedule looming.
The Browns' brain trust of owner Randy Lerner, president John Collins, and Savage was, however, willing to wait until after Sunday's Super Bowl, and for that they were rewarded with a good coach and by all accounts a good man. More important, the right man to turn around Cleveland (4-12 last year, 30-66 since 1999).
Crennel has developed into a better interview, sure. He's still the same person, though. His values and philosophies didn't change. The difference this time was that the Browns, for what they needed (an infusion of character, for one), simply deemed him worth the inconvenience. They visited with him more than a month ago, during the first week of January.
"When we met Romeo, it was so clear," said Collins. "It was never about this guy versus that guy. Really, it was about Romeo. We felt so good about his career, his value system, his respect of the relationships that he has with his players, with other staff, his passion for the game. All three of us [Lerner, Collins, and Savage] were sort of looking at each other going, 'This is the guy.' Why wouldn't you wait?
"He's got so much credibility and is so well-respected in the coaching community, we just felt that he would be able to overcome any disadvantage in terms of timing by being able to attract people who wanted to work with him ... Definitely, Romeo's character absolutely resonated with all of us."
Crennel seems universally respected, if not loved, which makes sense with a name like Romeo, inspired by his late father Joseph's trip to the city of romance, Paris.
"I hope," said son-in-law David Cullinane, and with all sincerity, "to be fraction of what that man is someday."
Family man
Crennel puts his family first -- literally. When it came time to exit Lerner's jet and walk out onto a patch of red carpet at the end of the steps, where three television cameras awaited, Crennel turned to his children and wife of 38 years (they met in college and married when they were 19) and said, "Well, this is it. Do you want to go first or do you want me to go first?" They suggested he go.
Kristi Cullinane was 3 years old when her father first broke into the NFL. She received the call from Collins on the ALLTEL Stadium field minutes after the Super Bowl, passed the phone to her father, and was the first to give him a congratulatory hug. Like many professional coaches who double as fathers, Crennel often left for work and returned home when his children were asleep. But he always made it a point to stop by and kiss his daughters. It did not go unnoticed. "It always let you know that he was thinking about you," Kristi said.
| | | |
| --- | --- | --- |
| | " | When we met Romeo, it was so clear. It was never about this guy versus that guy. Really, it was about Romeo. We felt so good about his career, his value system, his respect of the relationships that he has with his players, with other staff, his passion for the game. All three of us [Lerner, Collins, and Savage] were sort of looking at each other going, 'This is the guy.' Why wouldn't you wait? " |
| | | — John Collins, Browns president and CEO |
Crennel thinks of everything. He gets his attention to detail from his father, Joseph, an Army sergeant who didn't take any guff, especially when it came to household chores. "He moved every three years, whether he wanted to or not. So I'm kind of conditioned for that," said Crennel, the oldest of six. Crennel isn't into taking shortcuts, either; fundamentals and techniques are important to him. That helps to explain why he and Belichick worked so well together.
Crennel also is into life's little details. He's an amateur photographer who has been known to break out his 35mm to take photos of flowers, buildings, conversations. On a trip to Italy a few years back, he got a shot of two locals quarrelling. "He has a great eye," David Cullinane said.
And a great pair of ears. Crennel says two of his strengths are his skills as a communicator and a motivator. He gets his patience and calm demeanor from his late mother, Mary -- and he needed it Tuesday, when, following his hour-long press conference, the Browns media relations director guided him from interview to interview and appearance to appearance for another two hours. Crennel says he isn't a yeller or a screamer, and watching him conduct radio interviews, you'd have thought he were an R&B singer if you didn't know any better.
And while he certainly enjoys listening to his smooth grooves, he's also into hip-hop. Kristi was surprised to get into her father's car one day and find Eminem in the CD player. So much for being too old to relate to younger players.
The right fit
Judging by the way they interacted over dinner, Crennel (who had steak by the way), Collins, Lerner, and Savage should get along just fine, too.
What each has working for him is he seems to know what he does and doesn't know. Crennel, for his part, realizes that there are major differences between running a defense versus an entire team, so many to where he hadn't had the time as of the trip on Lerner's plush plane to even bask in the fulfillment of a dream. Instead he said he was brainstorming about a staff, free agency, the draft, and the overall responsibilities that awaited.
"A coach who's done it before," he said during the flight, "he knows where the pitfalls are and he can avoid those things. But a first time coach, he doesn't know what lies ahead a lot of times, and what kinds of problems will arise. All of those things are running through my head right now."
Though he worked in the shadows for just about his entire career (for all but three seasons he coached under Belichick or Bill Parcells, who don't allow much access to their assistants), Crennel didn't seem at all overwhelmed by the spotlight. In fact, he seemed quite comfortable in it. But if he can help it, he won't reside there. This isn't a man who's into himself. When asked on the plane if there were any significance to his choice of suits (two-button, navy pinstriped with a French blue shirt), he said simply, "It fits."
"To keep it in perspective, if it weren't me, it would be somebody else," he said of all the attention during a break between media obligations. "They'd be there for whoever else it was. It's the job. The job puts you in the forefront. Now, being able to get the job says something there. You've got to make it work now. If it doesn't work, sure you were a head coach, but you were not a successful head coach. I want to be successful."
By Tuesday night, a whirlwind 48 hours between winning his fifth Super Bowl and his first day on his first head-coaching job had successfully exhausted Crennel. "When he walked into the [Crennels' temporary] apartment," Linta said the next morning, "a stiff wind would have blown him over."
Crennel very well may falter early on as the head coach of a struggling franchise. The key: remembering to keep his chin up.
Michael Smith is a senior writer for ESPN.com.
NFL Senior Writer
Michael Smith joined ESPN in July 2004 as a National Football League senior writer for ESPN.com, covering league news and major events such as the NFL Draft, NFL Playoffs and the Super Bowl, and continues to write breaking news stories. He is also a correspondent for E:60, ESPN's first multi-themed prime-time newsmagazine program, which debuted October 2007.
EDITORS' PICKS
J.J. Watt envisions himself in the pantheon of NFL greats, and nothing will stop him from making it a reality.
Ashley Fox »

Peyton Manning is up to an unprecedented 510 TD passes, and he's far from done.
Legwold »


The Percy Harvin trade has long-term ramifications for Seattle.
Sando