McNabb sending reminder that he's a great QB
What, T.O. leaves and everyone forgets Donovan McNabb can play QB? Well, No. 5 is sending a not so subtle reminder he's still a great QB.
What'd LL say? Don't call it a comeback?
Enter The Big Top
The Terrell Owens circus is headed to Philadelphia on Sunday as the Eagles host the Cowboys.
Smith: McNabb fine without T.O.
What, T.O. leaves and everyone forgets Donovan McNabb can play QB? Well, No. 5 is sending a not so subtle reminder he's still a great QB.
Paolantonio: Philly ready for circus
The Terrell Owens circus is coming to Philadelphia and the city is buzzing for Sunday's game, writes Sal Paolantonio.
Smith: Must-see performers
There are certain players who are just impossible to ignore. Here are the 10 you have to watch every weekend.
Clayton: Parcells perfect ringleader
By keeping his distance, Bill Parcells is doing a masterful job of leading the T.O. circus, writes John Clayton.
Timeline: T.O. over the years
Some of Terrell Owens' notable lowlights over his 11-plus year career with the 49ers, Eagles and Cowboys.
Chat wrap: George Teague

Former Cowboys' safety George Teague stopped by SportsNation to talk about Terrell Owens and more.
SN: Tired of T.O.
While SportsNation's level of dislike for T.O. is nowhere near that of Philly's, there is definitely plenty of anti-Owens sentiment.
Analysts: Expect chilly reception
We asked some of our experts what kind of reception they think Terrell Owens will get in Philly this weekend.
And what was the title to that track Roy Jones recorded a few years back, "Ya'll Must've Forgot"?
C'mon now. Dude went to four Pro Bowls and was MVP runner-up before Terrell Owens landed with the Eagles. So Donovan McNabb had little -- if anything -- to prove this season, the first of the post-T.O. era.
And yet McNabb is proving himself. Because that's what great players do. They prove themselves even when it seems unnecessary.
McNabb is proving through Philadelphia's 3-1 start, perhaps once and for all, that he is indeed in the same class of quarterbacks with Tom Brady and Peyton Manning. McNabb, whose critics have tried to hang the overrated tag on him, is proving that he isn't just good, pretty good, or very good. He's legitimately great.
It's hard to argue against the man's greatness when he loses a great wide receiver and performs just as well. There's no denying that McNabb posted the best numbers of his career in the one full season he and T.O. played together. Obviously McNabb doesn't miss T.O. in the locker room or during the week. That he wouldn't miss arguably the game's most dynamic receiver on game days or that the Eagles' offense would fail to miss a beat seemed like a foolish prediction before the season.
Guess we forgot. Forgot that Five led Philly to three NFC title games without defenses rolling their coverages to T.O. Forgot that McNabb entered the season first among active QBs and second all time in both career touchdown-to-interception ratio and lowest interception percentage. Forgot that he is, really, just entering the prime of his career.
And so here he is, healthy again and leading the league in touchdown passes (nine, to one pick) and passing yards (1,248). He's third in the league in efficiency rating (106.0). McNabb's even running again, scoring twice and picking up a couple of first downs Monday night against the Packers.
The Circus is in Dallas now, stopping Sunday in Philly, where the show has gone on. Or, better yet, resumed.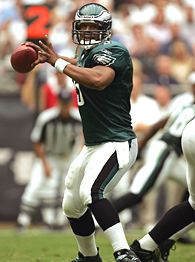 Ronald Martinez/Getty ImagesDonovan McNabb was great before T.O. and he's playing great after T.O.
"I wanted to make a statement this year," said McNabb, who had nine TDs to one pick through four games two years ago, and 11 TDs and three picks this time last year. "I think some people may have forgot that I used to play this game and had some success here."
So don't call it a comeback.
McNabb is making his statement and it's important that we all comprehend it. He was an elite player before T.O., will continue to be without T.O. And vice versa. McNabb and Owens are great players who were great together. Neither made the other.
McNabb admittedly took a more "hands-on" approach to offseason training, working out in Philly with his teammates more than in past offseasons. The point wasn't so much to reestablish that he's the leader; that would imply that that was in question. Rather, the point was to lead differently, to demand that his teammates follow him rather than expect it. McNabb still keeps things loose, but team insiders also see that he's taking the game more seriously than ever.
As for those workouts, the Eagles say they can see how much better McNabb's conditioning is by the spring in his step the play after a scramble. In the past, an incompletion was a given after he'd run around the play before. Now McNabb comes right back without a problem.
Five Eagles receivers already have touchdown catches and four have two apiece, so McNabb doesn't have the problem of trying to keep one receiver happy. As proof that he's seeing the entire field and progressing through his reads like a QB who's been in the West Coast offense for seven seasons, McNabb has completed passes to seven receivers in each game. Each week someone different has been featured in the passing game. Top to bottom, when they're all healthy, this is probably the best group of pass catchers McNabb's had when you include tight end L.J. Smith and running back Brian Westbrook.
The Donte' Stallworth trade was nothing short of a brilliant move by Andy Reid and GM Tom Heckert. They got the speedy Stallworth from New Orleans in return for veteran linebacker Mark Simoneau and a fourth-round pick that becomes a third if Philadelphia is able to sign him long term after the season, when his contract expires. If Stallworth keeps up the kind of season he's having and walks, the Eagles probably will get a fourth-round compensatory pick in return.
We learn something from every relationship, failed or successful, and it's clear that what McNabb learned from T.O. was trust. Yes, trust … in his receivers' ability to make plays. Even when T.O. looks covered, he's open because he can make a play on the ball, and when he was in Philly you saw McNabb (and Reid) take more chances downfield. Even with T.O. gone, McNabb is still giving his receivers opportunities to be playmakers. Witness the back shoulder throw McNabb fired to Reggie Brown for a touchdown in the Giants game.
McNabb already has 26 completions of 20 or more yards, one fewer than last season, and he's more than halfway to the 50 such pass plays he tossed in 2004. Those 26 through four games are the most by one NFL team in 23 years. So the big plays are still there even without a big-time, big-play receiver like T.O. McNabb is averaging a league-best 8.73 yards per attempt, which if he keeps it up would be a career high.
The Eagles' early success in the passing game is also a credit to their retooled offensive line that includes a new center in Jamaal Jackson (started eight games last year), a new left guard in Todd Herremans (four games at left tackle in '05) and a trimmed-down Shawn Andrews (from 380 last year to about 330).
It's also helped that assistant head coach/offensive coordinator Marty Mornhinweg coached with Reid in Green Bay and before that at Texas-El Paso and Missouri. Their chemistry has allowed the Eagles to lose Brad Childress to the Vikings and not miss a beat. In hindsight, it was silly to doubt that Philly's offense would be any good without T.O. considering the track record Reid and McNabb have together.
McNabb no longer has T.O. to throw to and he's at or near the top of any early MVP list. That pretty much says it all about McNabb. It says we're talking about a great player.
Michael Smith is a senior writer for ESPN.com.
NFL Senior Writer
Michael Smith joined ESPN in July 2004 as a National Football League senior writer for ESPN.com, covering league news and major events such as the NFL Draft, NFL Playoffs and the Super Bowl, and continues to write breaking news stories. He is also a correspondent for E:60, ESPN's first multi-themed prime-time newsmagazine program, which debuted October 2007.
SPONSORED HEADLINES
MORE NFL HEADLINES
MOST SENT STORIES ON ESPN.COM
EDITORS' PICKS
Eric Berry has received an outpouring of support since being diagnosed with cancer.
Ashley Fox »

John Clayton's mailbag: Give Jerry Jones his due for the Cowboys' success. Plus: Russell Wilson's value and more.
Mailbag »

Vikings QB Teddy Bridgewater, not Odell Beckham Jr., is the best choice for offensive ROY.
Joyner