Commentary
Despite losing streak, no need to hit Giants' panic button
Aside from always concerned coach Tom Coughlin, few Giants seemed worried following their 20-8 loss at Dallas. The Giants have things in proper perspective, Stephen A. Smith writes.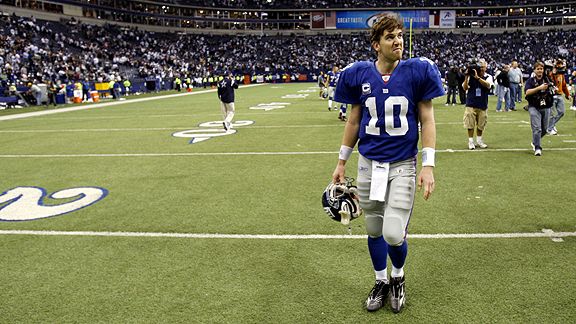 Andrew Mills/US PresswireIt's lonely at the top. After a humbling loss at Dallas on Sunday, Eli Manning and the Giants are facing their first losing streak of 2008. They hope to snap it next week against the surging Carolina Panthers.
IRVING, Texas -- Another season in peril. Well, sort of, anyway. You could see the visual, cringing, familiar effects all over the face of always cautious, rarely optimistic head coach Tom Coughlin. He's a man who doesn't seem to take anything for granted. He doesn't care that his
New York Giants
are reigning Super Bowl champions, and pays no attention to those who possess that "been-there, done-that" mentality for his team as a perfect excuse for their nonchalance. Instead, he's not shy about telling anyone, "This is not a good time for us to be playing this way. I'm very concerned." Give him credit for being a lone ranger. Barely anyone else inside the Giants' locker room seemed worried at all following their 20-8 loss to the host
Dallas Cowboys
on Sunday night. Not
Jerry Reese
, the team's general manager. Not
Antonio Pierce
, wearing the almost obligatory smirk on his face, as if to say, "Go ahead! Doubt us again!" Not even
Amani Toomer
, the veteran wideout who's probably suffered more than anyone else these past two weeks -- outside of quarterback
Eli Manning
-- since Toomer's been asked to pick up the slack in the absence of suspended wideout
Plaxico Burress
.
New England Patriots
elevated the Giants' confidence level to Super proportions. Obviously, times are different now. The Giants' first losing streak this season is significant because it includes setbacks to NFC East rivals the
Philadelphia Eagles
and the Cowboys. Sunday in Texas Stadium, Manning suffered eight sacks and managed to complete just 18 of 35 passes for 191 yards. There was no Giants running game to speak of (
Derrick Ward
, 14 carries, 64 yards), and no real passing game because of the pressure Dallas applied. As a result, the Giants -- considered a lock for the NFC's No. 1 seed and home-field advantage in the playoffs just two weeks ago -- now find themselves in a battle with the
Carolina Panthers
for the top slot next week in the Meadowlands. "You might find this hard to believe, but I'm not worried at all," a confident and unfazed Reese said minutes after the game. "I know what this team is made of. Plaxico [suspended for the rest of the season] is out.
Brandon Jacobs
[sidelined by injury] is out. Of course, you feel the effects of that and recognize there are some things we need to get together. But we're still sitting here 11-3, in first place, ticked off that we've lost these games and hell-bent on doing something about it.
"This team has tremendous resolve. We will respond because we always do. That's our makeup. It's what we've been about. So don't expect any changes in that regard." Sounds good. Reese's thought process is apropos, quite honestly, because nothing was expected from the Giants around this time last season. Folks in New York were calling Eli Manning "She-Li" Manning, labeling him soft as Cottonelle tissue, destined to be second fiddle to his big brother, Peyton, for football eternity. The Giants, themselves, couldn't win a home game. Victories occurred away from Giants Stadium. Fans were left wondering if their presence was contaminating the franchise and Coach Coughlin was universes away from a hefty contract extension, let alone being a Super Bowl championship coach. One season later, the Giants were 11-1 after 12 games and considered the class of the NFL. Manning was being mentioned in the same breath as Peyton. Jacobs had rendered once-prominent franchise running back Tiki Barber a distant memory. And they had done this with Burress (35 catches, 454 yards) having a less-than-stellar season. Then their world turned upside down. After accidentally shooting himself in the thigh at a nightclub the day after Thanksgiving, Burress has been charged with carrying a concealed weapon unlicensed in the state of New York. Pierce was subsequently interrogated about his role in the incident, in which he may have contributed to concealing a crime by taking Burress' handgun across state lines back to New Jersey, and played like garbage in the loss to the Eagles eight days ago, perhaps because of it. The Giants' role in the matter is unclear, except for the part where they decided to suspend Burress for the season. The soap opera that has occurred in the aftermath has been rivaled only by the drama the Cowboys have generated with some alleged rift involving quarterback Tony Romo, receiver Terrell Owens and tight end Jason Witten regarding who's getting enough balls thrown in his direction. The difference is the Cowboys (9-5) -- despite just three receptions for 38 yards by Owens and a grand total of 100 yards rushing -- still managed to defeat the Giants Sunday night. The Cowboys' victory kept their playoff hopes alive and allowed them to inch toward the East-leading Giants in the process. "It's a problem," Pierce explained, matter-of-factly, alluding more to the team's offense than its defense. "Bottom line: We're not making enough plays. Playmakers not playing. Offensively. Defensively. Special teams. Nothing's clicking right now. "We had no turnovers. We got sacks [four] on Romo but offensively, we had no big plays. No umph! Nothing! "I don't fault the [Burress] distraction. I don't think it's bothering this team. Injuries are bothering this team. We need Brandon Jacobs. We need Fred Robbins. We need Kareem McKenzie [injured Sunday night]. "The thing is, everybody's nicked up, though, at this time of year. Every team we're gonna play. We just got to be mentally tough. No excuses. We have to be just like we were when it counted last year. That's all. Nothing else." Works for me.
Stephen A. Smith is a columnist for ESPN.com and ESPN The Magazine.
ESPNNewYork.com columnist
Stephen A. Smith is a featured columnist for ESPNNewYork.com, a co-host on First Take" and a regular on "SportsCenter."
EDITORS' PICKS
Elite DE prospect

The Saints are positioned to land impact players early in the draft. Who else is in a favorable situation?
Barnwell »

Darrelle Revis is just what the Jets' D needed. Which other '15 acquisitions will pay immediate dividends?
Williamson
Nike Women's Home Game Jersey New York Giants Eli Manning #10 Shop »

MOST SENT STORIES ON ESPN.COM