Commentary
Career revivals commonplace in 2010
Bernard Pollard and Mike Williams among those thriving in new surroundings
Originally Published:
October 20, 2010
By
Ross Tucker
| ESPN.com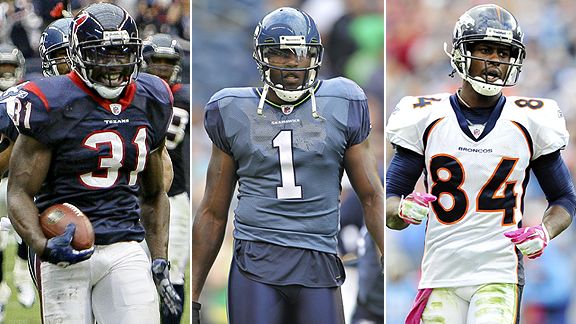 Getty ImagesHouston's Bernard Pollard, left, Seattle's Mike Williams and Denver's Brandon Lloyd are all on the upswing after having spotty track records entering 2010.
Sheryl Crow once sang, "A change would do you good," and perhaps nowhere is that more evident than early in this NFL season.
All across the league, there are players making huge impacts for their teams after doing little in previous stops.
Any questions?
Have a question for Ross Tucker? Connect with him here. He may answer your question in a mailbag column.
Texans safety Bernard Pollard is a great example. He went from being released by the Chiefs to becoming one of the best players Houston has on defense and a true tone-setter with his physicality.
How about Seattle receiver Mike Williams? The same player who flamed out in Detroit, Tennessee and Oakland after being a top-10 pick had a career-high 10 catches for 123 yards in the Seahawks' huge road win over the Bears in Week 6. (Check out the story on Williams by Arash Markazi of ESPN Los Angeles.)
The list goes on and on. Broncos receiver Brandon Lloyd is having a career year after both the Redskins and Bears essentially gave up on him in recent years. Speaking of the Broncos, they traded high second-round pick Alphonso Smith to the Lions for a backup tight end after only one season, and he already has paid immediate dividends in Detroit, intercepting a pass and returning it for a touchdown in the Lions' Week 5 win over the Rams.
Football Today Podcast
Ross Tucker is joined by Texans OT Eric Winston to discuss the NFL's suspensions for big hits and more. Plus, Tucker speaks with Herschel Walker. Listen

Career revivals seemingly happen all the time in New England, and this season is no different. Running back Danny Woodhead has been a revelation for the Patriots even though the Jets didn't deem him worthy of a roster spot. Even wide receiver Deion Branch already has benefited greatly by going back for a second stint in New England.
Why does this seem to happen all the time? Why does it appear that in the NFL, more than in any other professional sports league, one team's trash can become another team's treasure? There are several factors and possible explanations.
For one, look at the players themselves. Maybe they just got better. More likely, the fact that one team was willing to let them go was the wake-up call they needed to reignite their careers.
Sometimes, however, the player is essentially the same and it is the surroundings that allow him to excel. It could be that he makes a great first impression with his new club and his new coaches put him in a position to succeed. Maybe he is simply a better scheme fit in the new situation.
Although the reasoning might be unclear, the message is certainly not. Just because a player is released or traded does not necessarily mean he cannot provide value, and in some cases a tremendous amount of value, to another team that is willing to give him a new opportunity.
From the inbox
Q: I just read your column. You are one sick [expletive]. The idea that you can call James Harrison's punishing hit on Josh Cribbs "awesome" is completely disgraceful, as is the idea that you have a soapbox on ESPN. Get out of here.
Anon in Houston
A: What is disgraceful about writing honestly about my initial reaction to those hits when I saw them on the highlights? Would you prefer that I write something I don't really believe? Sorry, but I can't do that. Clearly you disagree and didn't have the same reaction I did, and I can understand that. But I know for a fact, based on a lot of people I have spoken with as well as a lot of the e-mails and tweets I have received, that there are a lot of others who felt the same way I did. That's not to say people like me were not subsequently concerned for the health and well-being of the men involved, but that doesn't change my initial instinct regarding the collision.
Tucker's Top 10
1. Pittsburgh Steelers
2. New York Jets
3. Baltimore Ravens
4. New England Patriots
5. New York Giants
6. New Orleans Saints
7. Indianapolis Colts
8. Tennessee Titans
9. Philadelphia Eagles
10. Atlanta Falcons
Q: Yours is one of the more ignorant articles I've read yet about helmet-to-helmet hits, and will probably be the same attitude held by others in the NFL that will ultimately lead toward regulators, legislators or other outside forces changing the rules of the NFL instead of the NFL itself. Perhaps leading with your head when you played is what is affecting your ability to understand the issue at hand. I'd only ask that if you have children who ever want to play the game, you offer to have someone with a little more common sense than you have teach them how to tackle.
Paul in Chicago
A: What rule is it exactly that you want regulators or legislators to adopt? Helmet-to-helmet contact with a defenseless receiver is already a penalty and a fineable offense. The league is already doing all the right things in my opinion to discourage that type of contact, and I applaud it for that. My point is, the league will never be able to fully legislate hits like that out of the game for the reasons I stated. The game moves too fast, and it is foolhardy to think players' heads would never be involved in tackling. The league can suspend guys all it wants, and that will certainly help make guys more cognizant, but it will never be able to completely eliminate that type of helmet-to-helmet contact.
Q: How much does having a new owner affect the Rams? I would think having someone who has been successful in professional sports would make a positive difference. The possible elements of change could make players insecure. Anything has to be better than the limbo the team was in. Were you ever in an ownership change? As a former player what are your thoughts?
Craig in Tacoma, Wash.
A: My impression is that players don't really think about big issues like that nearly as much as you might think. They are much more concerned about their personal careers and the task at hand on any given day. There is no question ownership, especially over an extended period, can have a gigantic impact on a team's record, but I doubt having a new owner and the Rams' no longer being in limbo are big reasons for their early-season success.
Q: As a Chargers fan, here's my outsider, uninformed, non-scientific theory on the Chargers: Ownership, management and coaches need to look at how they manage players. The underachievement of the team is linked to how subordinates perceive their worth as expressed by the actions and deeds of their superiors. I've worked in circumstances where management exhibited poor leadership, and while I did my job, there was no enthusiasm or extra effort on my part. What do you think?
Bruce in Gaborone, Botswana
A: Interesting theory. I'm not sure I totally agree and I haven't heard about a lack of extra effort on behalf of any of the Chargers' players, but I can tell you that I think there has been some sort of a hangover effect with this team as a result of its handling of Marcus McNeill and Vincent Jackson.
Q: Do the guys in the TV booth get to see a replay a couple of seconds before it is replayed to us at home? Are there multiple replays at once in the booth? The announcers seem to be too on top of what just happened. And then we at home get to see the replay. The announcers almost always seem to be exact with their remarks -- and there is no way they can be watching everything going on that well, even with their helpers in the booth.
Dana in Buffalo, N.Y.
A: There are several reasons for this. First and foremost, the color analysts are there for a reason and they have a trained eye that allows them to see much more of the field and in much greater detail than the casual fan. They have been watching film, typically as a player or coach, for years and years. Secondly, there are a number of people working on the broadcast in the television truck who are watching each play from any number of camera angles. They can relay to the broadcaster what they have seen and tee him up for the replay. Finally, there are always multiple monitors in the broadcast booth, and sometimes the color commentator gets a preview of the replay before it is shown to the viewer at home.
Ross Tucker, who played on the offensive line for five teams during his seven-year NFL career, writes regularly for ESPN.com.
Ross Tucker, who played on the offensive line for five teams during his seven-year NFL career, writes regularly for ESPN.com. Tucker, who also hosts ESPN.com's Football Today podcast, graduated from Princeton.
SPONSORED HEADLINES
MORE NFL HEADLINES
MOST SENT STORIES ON ESPN.COM
NFL WEEK 7 PREVIEW
POWER RANKINGS
PICKS
FINAL WORD
MNF: Giants at Cowboys, 8:30 ET
VIOLENCE IN THE NFL
COMMENTARY/BLOG POSTS
FANTASY FOOTBALL
NFL BLOG NETWORK
FOLLOW US ON TWITTER