Commentary
NFC has Cowboys, Packers and not much else
The Cowboys and Packers are clearly the class of the NFC, but that's not really saying much, writes Seth Wickersham.
This is the season of fractions. What, you haven't noticed? A few weeks ago, the Patriots-Colts game was tabbed as Super Bowl XLI½.
Just this week, someone on television mentioned the Packers-Cowboys Thursday nighter is Super Bowl XLI¾. Although this frightening, idiotic trend is rich for mocking -- if the Colts and Pats meet in the AFC Championship, will that be Super Bowl XLI 9/10? -- for immediacy's sake, it's best to focus on Thursday's game with a simple question: How good are the Packers and Cowboys?
The short answer is: plenty good. After all, each is 10-1 and has proved it can win at home and on the road. Each has a star quarterback playing at the top of his game, with big-play receivers and a scary pass rush. There's no question Dallas and Green Bay are the NFC's best. The problem is the whole "NFC" part of it.
The NFC stinks. Aside from Dallas and Green Bay, playoff spots are going for cheap. An 8-8 record probably will not only be good for a division title but maybe even a home playoff game. That's not to say Seattle and Tampa Bay will finish 8-8 -- didn't Jeff Garcia admit just this week that his back pain is so great that he's "not at a point now where I can even throw"? And aren't the Seahawks, well, the Seahawks?
Put it this way: If you need a nap, don't miss the NFC division playoff games. Can't wait for a 13- or 14- or 15-win Dallas or Green Bay team to host .500 Arizona.
Which brings us back to the fractions. If people are saying the Cowboys versus the Packers is Super Bowl XLI¾, how can we be sure? How legit are the Cowboys and Packers, since they're in the NFC?
The Cowboys already had their crack at the Patriots. Couldn't ask for anything more: Had them at home, had them on national television (another thing about Super Bowl XLI¾ -- only a fraction of fans will see it because it's on the NFL Network, which apparently is available only in certain parts of Nome) and even led New England in the second half.
And then, of course, Tom Brady and Co. woke up and spanked Dallas like a good AFC team should. And no, Cowboy Nation, you can't play the "we were right there with them" card when you lose 48-27 at home. Nor can you play the "we're so much better than we were in October" card because the Pats are, too -- only more so. While Dallas has scored 30-plus points three times since its lone loss, New England has scored 49, 52 and 56 points, not to mention knocking off the Colts in Indy.
The Packers, meanwhile, will oppose their first true elite team of the season in Dallas. It's so tempting to believe in the Packers. Brett Favre is playing his best football this century, and you get the feeling that his throwing to Greg Jennings, Donald Driver, James Jones and others is the NFC's best shot against either the Colts or Patriots in a fraction-free Super Bowl XLII.
Making Green Bay look even more formidable is a scary defense that keeps beating the hell out of opponents despite injuries at defensive lineman (Johnny Jolly), safety (Nick Collins) and cornerback (Charles Woodson). Plus, Green Bay is confident. No matter how mediocre the Broncos and Chiefs are, the fact that the Packers won at Mile High and Arrowhead on consecutive weekends is impressive.
We'll learn more about the Packers on Thursday than we will about the Cowboys. Can they run when it matters? Plus, there's something unsettling about the Packers, because it seems like after every game, Favre says something to the effect of, "If you'd asked me before the season if we'd be [insert one: 4-0, 5-1, 6-1, 7-1, 10-1], I'd have said no."
Still, despite being from the NFC, the Cowboys and Packers are far from disrespected or underappreciated. Nearly every prognosticator has them ranked among the top three teams league-wide, and you probably will never see an NFC Pro Bowl squad more dominated by two teams -- deservedly so. In a season so starved of exciting matchups and so full of Baltimores-at-Buffalos, if two 10-1 teams are meeting, we'll take it.
Just don't call it Super Bowl XLI¾.
NFC Championship½ is plenty good enough.
Seth Wickersham is a senior writer for ESPN The Magazine and a columnist for ESPN.com. For Wick's Picks, click here.
ESPN The Magazine senior writer
Seth Wickersham joined ESPN The Magazine after graduating from the University of Missouri. Although he primarily covers the NFL, his assignments also have taken him to the Athens Olympics, the World Series, the NCAA tournament and the NHL and NBA playoffs.
SPONSORED HEADLINES
MORE NFL HEADLINES
MOST SENT STORIES ON ESPN.COM
PACKERS AT COWBOYS (Thursday, 8:15 ET)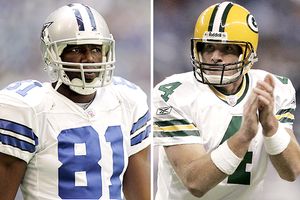 Terrell Owens and the Dallas Cowboys (10-1) play host to Brett Favre and the Green Bay Packers (10-1) on Thursday night in a game that could determine homefield advantage in the NFC playoffs. Only about a third of the homes in the U.S. will be able to watch the game on TV. Here's why

| Discuss the game.

Commentary/features
•
Power rankings: Dallas second, Green Bay third
•
Garber: Romo, Favre are improvising masters
•
Garber: Five improvising QB masters
•
Snoop Dogg raps Tony Romo
•
Clayton: First and 10
•&nbsp
Grant's run to glory
•
Wickersham: Best of weak NFC
•
Packers or Cowboys? Experts make their picks
•
Page 2: Inside Favre's brain
•
Cowboys-Packers through the years
News
•
Clayton: Injury report

ZOOM galleries
•
Top 5 NFL improvisational QBs
•
Top 5 NFL improvisational QBs ever
•
Top 5 college improvisational QBs
Video
•
Steve Young: QB improvisation about awareness
•
Brett Favre: "Play loose but be ready to play"
•
Dissecting Brett Favre's renaissance
•
Keyshawn Johnson's advice for Tony Romo
•
Field Pass: Green Bay vs. Dallas
•
Phillips and McCarthy surprising many
Simulation
•
EA Simulation: The winner in OT is...
Scouts Inc.
•
Tale of the tape: Too close to call
•
Offenses are in high gear
•
Improved Packers' O-line benefits Grant
•
Packers' terrific cornerback tandem
•
Packers' coaches are the key
•
Game could be decided by trench warfare
•
Horton: Notes from the film room