Commentary
Brees: Helping New Orleans is rewarding experience
Saints QB Drew Brees talked to ESPN The Magazine's Seth Wickersham about his charitable foundation and the personal rewards of being involved in New Orleans' post-Hurricane Katrina rebuilding process.
Editor's note: New Orleans Saints QB Drew Brees described his charitable foundation and the personal rewards of being involved in New Orleans' post-Hurricane Katrina rebuilding process to ESPN The Magazine's Seth Wickersham.
My wife, Brittany, and I have always been very hands-on with our foundation. I know it's much easier to just put your name on something and withdraw yourself from it, but that's not the reason we do it. It's important to us. We care.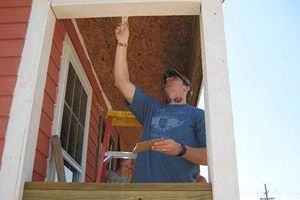 Brees Dream FoundationWhen it comes to helping New Orleans rebuild, Drew Brees isn't standing on the sidelines.
We started the foundation in 2003 when I was with the Chargers, and we still host a golf tournament in San Diego. We do a lot of work at Purdue, and made a $2 million commitment for a new student-athlete academic center. But helping in New Orleans has been our calling.
I made my visit to New Orleans roughly six months after Katrina. A lot of the city was still damaged. People were living in FEMA trailers. I appreciated how the Saints didn't try to hide anything from me. They showed places that hadn't recovered. They showed me how I could be a part of the city's rebuilding process. Now, some might be intimidated by that. My wife and I thought it was a calling.
I look at it as, What's going to bring people back to New Orleans? The first thing families have to consider is the quality of life for their children. Is there a place for kids to go to school? Are there parks and playgrounds? Are there after-school programs? They have to know that their kids will have an opportunity to grow up and be successful. That's what's going to attract people back to New Orleans.
Brees On The Seas

Drew Brees and other Saints players recently took sick children redfishing off the coast of Louisiana as part of the Brees for the Seas charity. Story
Our foundation is called Operation Kids: Rebuilding Dreams. Our goal is to raise $2 million, with all of it going toward the rebuilding of schools, parks, playgrounds, athletic fields and mentoring programs. Right now, we're closing in on the $1.5 million mark. It's hard to raise money in this community because everybody has been in such dire straights, just trying to rebuild their lives, rebuild their own homes. The biggest donation we got was actually last week. National Auto Dealers Foundation donated $400,000, specifically earmarked for one of our projects: to rebuild the athletic fields at Lusher Charter School in the uptown area of New Orleans, near where we live. I'm proud that what we're doing is really making a difference. We didn't make empty promises. We're going to follow through.
Seth Wickersham is a senior writer for ESPN The Magazine and a columnist for ESPN.com. For information on the Drew Brees Dream Foundation, visit http://www.drewbrees.com/home.html
ESPN The Magazine senior writer
Seth Wickersham joined ESPN The Magazine after graduating from the University of Missouri. Although he primarily covers the NFL, his assignments also have taken him to the Athens Olympics, the World Series, the NCAA tournament and the NHL and NBA playoffs.
Email him
and follow him on Twitter at
@sethwickersham
.
SPONSORED HEADLINES
MORE NFL HEADLINES
MOST SENT STORIES ON ESPN.COM
Fathead Drew Brees "In Your Face" Wall Graphic Shop »