Commentary
Wilson valued for impact on past, future
Originally Published:
August 6, 2009
By
Seth Wickersham
| ESPN The Magazine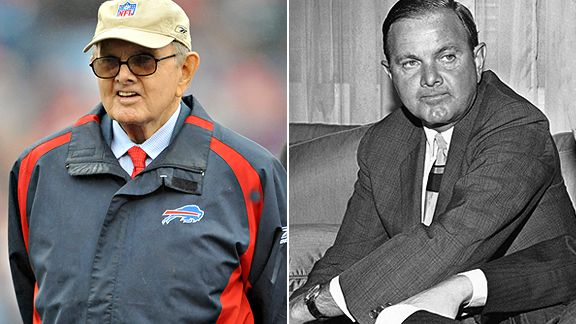 US Presswire/AP PhotoRalph Wilson's influence on pro football spans generations. In the 1960s, he was president of the American Football League owners and key player in the merger with the NFL. In 2008, Wilson is pictured addressing a Bills crowd at Ralph Wilson Stadium.
Saturday in Canton, Ohio, Ralph C. Wilson Jr. will become the oldest person inducted into the Pro Football Hall of Fame.
He's 90, and not getting any younger. In recent years, Wilson often has spoken about his death and what it'll mean for the team he owns, the Buffalo Bills -- and more specifically, for Buffalo and the NFL as we know it.
AFC East blog

The Bills had nothing to lose aside from nine more football games and some cash so they took a flyer on linebacker Shawne Merriman, ESPN.com's Tim Graham writes. Blog
A champion for small-market teams, Wilson has declared that the Bills won't remain in his family after he dies. The team Wilson has owned since its conception 50 years ago won't be passed to his wife, Mary, or his two daughters. Too many issues are involved to keep the team in the family, least of all steep inheritance taxes.
So there will be change in Buffalo after he's gone, hopefully not soon, and nobody knows what the change will look like. The Bills could stay or go. The only certainty is that NFL fans -- not just Bills fans -- should appreciate Wilson and his beliefs more than some of his fellow owners do.
Perhaps more than any other Hall of Famer, Wilson is as crucial to the game's future as he has been to its past.
And he's meant plenty: A World War II vet and original "Foolish Club" member of American Football League owners, he purchased the team for $25,000. A former minority shareholder in the Detroit Lions, Wilson did not buy the Bills as a vanity purchase.
"He got into the game not because he knew it would be a moneymaker but because he loved it," former Bills coach and GM Marv Levy says. "And still does."
Wilson always has been daring. His deceased daughter, Linda Bogdan, was the game's first female scout. He's always been kind: He extended former GM Bill Polian's health benefits even after he fired him. And he's always been blunt: Lou Saban, who coached the Bills in the 1960s, once groused to Wilson that he wanted to quit because he had lost the team. Wilson snapped, "Well, where did you put it?"
Two of Wilson's teams won AFL championships. Buffalo played in four consecutive Super Bowls, a record that is as underappreciated as the collection of talent that set it (including Wilson's fellow HOF class of 2009 inductee, defensive end Bruce Smith). During those years, Wilson purposely stayed in the background, allowing his coaches and players to soak up the spotlight. He lost Super Bowls to owners who did the opposite, such as Jack Kent Cooke and Jerry Jones.
"He's always understood that owners own, coaches coach, and players play," former Bills player Paul Maguire says. "He always knew to stay in the background, as hard as it is for some owners to do."
In recent years, that task has been harder for Wilson.
The work of his youth -- running a world-class, small-market team -- has become the cause of his later years. The league as he knows and loves it is gone. He's now known as one of the stodgy "old-guard" owners fighting the newer, younger, slicker power brokers over the collective bargaining agreement. Never mind that he had the foresight to oppose the current CBA two years before every other owner followed suit and opted out of it.
His precious team in a precious football town is in trouble. Wilson has had some desperate moments in handling it, whether it's eliciting former New York Gov. George Pataki and Sen. Charles Schumer as support to get the league's attention to increase revenue sharing, or playing eight games in the next five years in Toronto, which would be a top-five market if it were in the United States. The Bills will make $78 million for those games, a nice bump but still far shy of the dough pocketed by Dan Snyder and Jones.
Once known for his bold moves -- such as turning down numerous tempting trade offers for the rights to Jim Kelly in 1987 by saying, "He's the cornerstone of the franchise" -- Wilson recently has presided over mediocrity.
The team has finished the season with a winning record only once in the past nine years. Local media speculated that the only reason Wilson didn't fire coach Dick Jauron after last year's 5-1 start turned into a 7-9 record was that he was too cheap to pay the contract's buyout. In a move that can be characterized only as desperate, reputed team killer Terrell Owens is now a Bill -- when he's not filming his reality show, of course. Losing never strengthens bonds between a city and team.
On top of that, Wilson has had a tough go recently: Bogdan died; so did former U.S. congressman and Bills quarterback Jack Kemp; so did No. 1 fan Tim Russert.
But Wilson has believed that when life is tough, lend a hand. After all, he lent money to the fledgling Oakland Raiders during the AFL's early days.
As Wilson stands behind the podium in Canton this weekend and accepts his introduction, remember that he's a league-first guy.
"I can tell you that I have great respect for Ralph's understanding and wisdom when it comes to the economics of the game," said Polian, now the president of the Indianapolis Colts.
"He's right on almost all the time. That's something that everyone can benefit from."
Let's hope so.
Seth Wickersham is a senior writer for ESPN The Magazine and a columnist for ESPN.com.
ESPN The Magazine senior writer
Seth Wickersham joined ESPN The Magazine after graduating from the University of Missouri. Although he primarily covers the NFL, his assignments also have taken him to the Athens Olympics, the World Series, the NCAA tournament and the NHL and NBA playoffs.
Email him
and follow him on Twitter at
@sethwickersham
.
SPONSORED HEADLINES
MORE NFL HEADLINES
MOST SENT STORIES ON ESPN.COM
2009 HALL OF FAME INDUCTION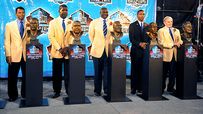 On Aug. 8, the Pro Football Hall Of Fame welcomed the Class of 2009: Rod Woodson, Ralph Wilson, Bruce Smith, Derrick Thomas, Randall McDaniel and Bob Hayes. Blog


NEWS
COMMENTARY/FEATURES
VIDEO
AUDIO
CHATS
PHOTOS
2009 HALL OF FAME CLASS
BOB HAYES

Position: Wide receiver
Teams: Cowboys/49ers
Years: 1965 to 1975
Seasons: 11
Presented by: Roger Staubach
Honors and achievements:
• Seventh-round choice in 1964
• Four-time all-NFL performer
• Cowboys-record 71 TDs
RANDALL MCDANIEL

Position: Guard
Teams: Vikings/Buccaneers
Years: 1988 to 2001
Seasons: 14
Presented by: O.K. Fulton
Honors and achievements:
• First-round pick in 1988 draft
• Blocked for six 1,000-yard rushers
• Selected to 12 consecutive Pro Bowls
BRUCE SMITH

Position: Defensive end
Teams: Bills/Redskins
Years: 1985 to 2003
Seasons: 19
Presented by: Ted Cottrell
Honors and Achievements:
• No. 1 overall pick in 1985 draft
• NFL's all-time leader in sacks (200)
• Member of four consecutive AFC championship teams

DERRICK THOMAS

Position: Linebacker
Team: Kansas City Chiefs
Years: 1989 to 1999
Seasons: 11
Presented by: Carl Peterson
Honors and achievements:
• Finished career with 126½ sacks
• Member of the NFL's all-decade team in 1990s
• Selected to nine Pro Bowls

RALPH WILSON JR.

Position: Founder/owner
Team: Buffalo Bills
Years: 1960 to present
Seasons: 50
Presented by: Chris Berman
Honors and achievements:
• One of the original founders of American Football League
• Formed Bills in 1959
• Served on NFL pension committee among others

ROD WOODSON

Position: Cornerback/safety
Teams: Steelers/49ers/Ravens/Raiders
Years: 1987 to 2003
Seasons: 17
Presented by: Tracy Foster
Honors and achievements:
• Member of NFL's 75th-anniversary team
• Selected to 11 Pro Bowls
• 71 career interceptions

Wild Sports Buffalo Bills Tim Wolfe Series Desktop Helmet Statue Shop »