Commentary
Strong legs in demand
Latest trend favors place-kickers who feature power over precision
This story has been corrected. Read below
Jeff Wolfert, the most accurate kicker in NCAA history, has a Twitter account. His tweets are hopeful -- and kinda depressing.
You see, Wolfert, a two-time all-conference pick during his years at Missouri, is trying to land an NFL job. And so far, a guy who hit an NCAA-record 94.9 percent of his college kicks can't get more than a look.
Very little interest ... I went to the Bears rookie minicamp and that is all the opportunity I have been given. Still trying.
On way to Vegas for another kicking combine event. The more exposure the better ... trying to get my name out there.
Flying to New York on Tuesday for a Jets workout.
Why can't he find work? Wolfert -- and other accurate and unemployed kickers like Matt Stover -- are victims of a curious preference in how teams scout kickers: Kickoff ability is valued as much, if not more, than field goal accuracy.
"And it's really frustrating," Wolfert says.
[+] Enlarge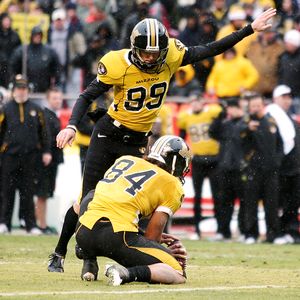 Daniel Turner/Icon SMIDespite hitting 94.9 percent of his college kicks, Jeff Wolfert hasn't been able to land an NFL job.
On the surface, it makes no sense, especially if you're a Ravens or Cowboys fan who suffered through missed kicks last year. You'd think precision would matter more than anything when judging kickers. In an offense-driven league -- in a game where a coach's confidence wavers most on a quarterback first, kicker second -- wouldn't GMs always want the most reliable point producers?
Well, not exactly. Statistically speaking, kickers aren't reliable. As Football Outsiders wrote in 2007, "Kickers are unbelievably inconsistent from year to year. In fact, there is just about zero correlation between a kicker's field goal percentage one year and his field goal percentage the next. Kickoff distance is more stable."
But it's about more than stability: It's about value. Coaches want accurate kickers, but they also want guys who can boot the ball out of the end zone.
Teams justify it in different ways. Some, like Carolina and Dallas, carry a specialist. One team exec -- speaking on condition of anonymity -- uses math dividing the collective number of yards leaguewide by total offensive points scored. That way, he can determine how many yards equals each point.
In 2009, for example, there were 178,656 total offensive yards and 10,267 offensive points, according to the Elias Sports Bureau. Divide the former by the latter, and you have 17.4 yards per point. If a team kicks off, say, five times a game, yards lost due to a weak leg add up, thus translating into points on the wrong side of the scoreboard.
Of course, no kicker wants a rep as a kickoff specialist -- just like no quarterback wants to make his living handing off -- but they have no choice but to embrace it. With roster space limited, most teams don't want to carry two kickers.
"If you're a special-teams coach, you want the best of both worlds," says Stover.
Gary Zauner, former special-teams coach for the Vikings, Ravens and Cardinals, operates kicking combines (http://www.coachzauner.com/) a few times each spring, a chance for scouts to view kickers up close. Zauner works with kickers to improve accuracy; he counts Stover and Oakland's Sebastian Janikowski among his prized pupils. He thinks kickers often get a raw deal, that they're judged by scouts who don't understand the finer points of the profession -- including the notion about kickoffs mattering more than accuracy.
"It doesn't make a lot of sense," he says.
Wolfert has attended Zauner's combines, reconfirming his place among the most accurate free agents, tweeting afterward about all the field goals he made. And after each event, he's told by teams that what's in demand is a stronger kickoff leg off the tee, even if it means average accuracy off turf.
"That's the opposite of what I am," Wolfert says.
Look, I get it. I understand why teams want kickoff legs, and I hear Football Outsiders' point about inconsistency. Still, I wonder if the league is taking accuracy for granted. Placing power above precision in 2009 led to a leaguewide field goal percentage of 81.3 -- lowest in three years. Some of the best kickers -- Adam Vinatieri, David Akers, John Kasay -- aren't known for thunderous boots off a tee. Coaches should strive to do what the Falcons, for example, did last year: designate punters to kick off; save kickers for field goals.
Of course, the preference for a kickoff leg could change in December, when less-talented kickers miss chip shots with the playoffs on the line. Suddenly, kickoffs probably won't matter as much.
And who knows? Wolfert's tweets might just take a positive turn.
Seth Wickersham is a senior writer for ESPN The Magazine and a columnist for ESPN.com.
In an April 8 story on ESPN.com, the numbers used for a math formula to determine yards per point were incorrect. The numbers have been corrected
ESPN The Magazine senior writer
Seth Wickersham joined ESPN The Magazine after graduating from the University of Missouri. Although he primarily covers the NFL, his assignments also have taken him to the Athens Olympics, the World Series, the NCAA tournament and the NHL and NBA playoffs.
SPONSORED HEADLINES
MORE NFL HEADLINES
MOST SENT STORIES ON ESPN.COM
EDITORS' PICKS
Big-name QBs lead off Todd McShay's first 2015 mock draft. Is RB Melvin Gordon far behind?
McShay

Drew Brees and his contemporaries have obliterated the numerical feats of Johnny Unitas and his peers.
Seifert »

Long before moneyball, Dallas, aided by a football novice, used advanced stats to gain a scouting edge.
Watch