Commentary
Several '08 picks should make immediate impact
A strong draft class has the Chiefs poised to contend in the future, but this season the team will struggle to stay above .500, writes Bill Williamson.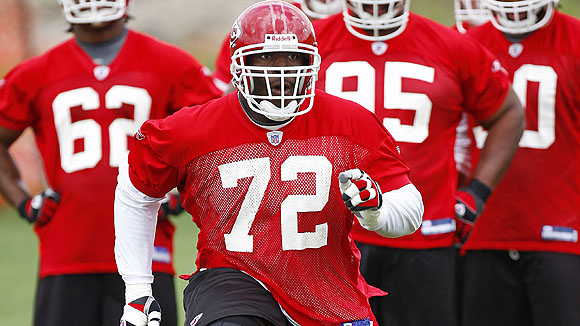 G. Newman Lowrance/Getty ImagesGlenn Dorsey, the No. 5 overall pick in the 2008 draft, is expected to be an immediate impact player for the Chiefs. Dorsey fills a void left by Pro Bowler Jared Allen, who was dealt to the Vikings this offseason.
Perhaps no team in the NFL has needed the minicamp and OTA season more than the
Kansas City Chiefs
.
This team will be a work in progress all season. Yes, the season starts in May and will likely end in December for the Chiefs.
Fantasy Update
Tristan Cockcroft breaks down the fantasy prospects for the Chiefs. Story
Thanks to a potentially strong draft class, Kansas City will be a team to watch in the coming years. But it may be too much to expect the Chiefs to be a contender or to even finish .500 in 2008. This season, no doubt, will be all about a youth moment in Kansas City and it began in the minicamp season.
What we learned from minicamp
Youth will be served. The Chiefs are going young and the young are going to play now. Several young players stood out in the minicamp season.
Most notably are the Chiefs' top draft picks. The team dealt defensive end Jared Allen, its best player, for a cache of draft choices, and is excited about several of the 2008 picks. It all starts with first-round choices Glenn Dorsey (the defensive tackle from LSU who was the No. 5 pick) and Branden Albert (the left tackle from Virginia was the No. 15 pick). Dorsey was widely considered a top-three player on most boards and Albert was considered one of the best offensive line players in the draft. Both should make an impact as rookies.
Dorsey and Albert will be instant starters. Other players who are leaving the minicamp season expected to make contributions include second-round pick Brandon Flowers, third-round pick Jamaal Charles, third-round pick DaJuan Morgan and fourth-round pck Will Franklin, who could challenge for a starting spot opposite No. 1 receiver Dwayne Bowe, a second-year player.
Still unresolved
The Chiefs still don't know if
Brodie Croyle
can be their quarterback of the future or if he can even be the quarterback of this season for that matter. While the Chiefs are committed to their youth movement, it is still unclear if Croyle will be part of the mix. However, the team is committed to giving the third-year player the first crack at the job.
Croyle, who finished last season as the starter, lost the starting job to Damon Huard during camp last season. But he earned praise during the recent minicamps. Both Bowe and coach Herman Edwards said Croyle was full of confidence and showed a good grasp of the offense.
Some observers believe Tyler Thigpen will push Croyle. The quarterback job will be Croyle's if he performs well, but it is surely the biggest unknown heading into training camp and it will be one of the most closely watched stories in the AFC West in the preseason.
Injury analysis
The most closely watched injured player in Kansas City is clearly running back
Larry Johnson
. The Chiefs departed the minicamp season feeling good about Johnson. He tested his broken right foot, which caused him to miss the final eight games of 2007, during camps and reported no pain. The team was satisfied with what it saw in Johnson. He'll likely be ready to go during training camp and although Charles will get some looks, Johnson, 28, looks to be well on his way to total recovery.
The hot seat
Many league observers believe both Edwards and general manager Carl Peterson are on the hot seat. If Peterson, who has been the Chiefs' general manager since 1989, is, so is Edwards. The two are close and are a package deal. Also, whenever a new GM is brought in, the existing coach is often in trouble.
But are Peterson and Edwards really in trouble? The Chiefs did a good job drafting and this is a young roster. Miracles aren't expected. Peterson and Edwards should be safe unless absolutely zero progress is made this season.
Training camp start date: July 25.
Bill Williamson covers the NFL for ESPN.com.
ESPN Oakland Raiders reporter
Covered AFC West for five seasons for ESPN.com
Covered Broncos for Denver Post
Also covered Vikings, Packers, Seahawks
SPONSORED HEADLINES
MORE NFL HEADLINES
MOST SENT STORIES ON ESPN.COM
DIVISION CHECKUP
With the draft way back in the rearview mirror and minicamps over, ESPN.com takes a division-by-division look at every team before training camps begin next month. Training camp dates

•
Arizona: All eyes on quarterback
•
San Francisco: Can Martz rejuvenate offense?
•
Seattle: Hawks hope young WRs emerge
•
St. Louis: Shortcomings at wide receiver
•

Scouts' NFC West roundtable
•
SportsNation:
Vote on who will win West, more
•
Denver: Who's the featured back?
•
Kansas City: Instant impact from picks?
•
Oakland: Turning the corner?
•
San Diego: Runaway train?
•

Scouts' AFC West roundtable
•
SportsNation:
Vote on who will win West, more
•
Atlanta: New beginning
•
Carolina: Fox in the crosshairs
•
New Orleans: Defensive overhaul
•
Tampa Bay: Gruden weathering storm
•

Scouts' NFC South roundtable
•
SportsNation:
Vote on who will win South, more
•
Houston: In the running?
•
Indianapolis: Depth perception
•
Jacksonville: O-line is cause for concern
•
Tennessee: Young saddled with shaky WRs
•

Scouts' AFC South roundtable
•
SportsNation:
Vote on who will win South, more
•
Chicago: Many pressing questions
•
Detroit: Blue-collar mentality
•
Green Bay: Great expectations
•
Minnesota: Meshing new with old
•

Scouts' NFC North roundtable
•
SportsNation:
Vote on who will win North, more
•
Baltimore: Change in the air
•
Cincinnati: Johnson in eye of storm
•
Cleveland: Riding the momentum
•
Pittsburgh: Big Ben armed and ready
•

Scouts' AFC North roundtable
•
SportsNation:
Vote on who will win North, more
•
Dallas: Beware of Ware
•
New York: Will Super Bowl affect focus?
•
Philadelphia: Counting on McNabb
•
Washington: Campbell adapting to Zorn
•

Scouts' NFC East roundtable
•
SportsNation:
Vote on who will win East, more
•
Buffalo: Edwards taking control
•
Miami: Parcells turning up the heat
•
New England: Veterans still hungry
•
New York Jets: Pennington or Clemens?
•

Scouts' AFC East roundtable
•
SportsNation:
Vote on who will win East, more