Commentary
Rivers' gutsy playoff performance paying dividends
Philip Rivers expects to be fully healthy by the time training camp rolls around. That's good news for a Chargers team that doesn't have many question marks heading into 2008, writes Bill Williamson.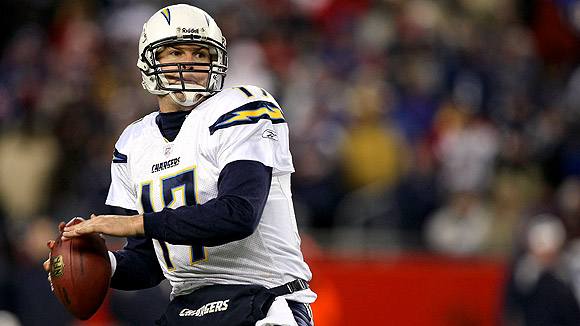 Al Bello/Getty ImagesPhilip Rivers' team fell one win short of the Super Bowl in 2007 as he played through a torn ACL in the playoffs. But Rivers' knee is healthy, and he's ready to take the Chargers one step further in 2008.
Some oddsmakers have the San Diego Chargers as a prohibitive 1-3 favorite to win the AFC West.
Who are we to argue?
Fantasy Update
Tristan Cockcroft breaks down the fantasy prospects for the Chargers. Story
The Chargers are loaded. After winning 14 games in 2006 and advancing to the AFC Championship Game last season, the Chargers emerged from minicamp as the division's clear-cut favorites and seem poised to make another run at the Super Bowl.
What we learned from minicamp
Quarterback
Philip Rivers
has full control of this team. Rivers is not the Chargers' best player, or even their best player on his side of the ball. But as the team moves forward, Rivers is the clear leader and motivator. Rivers has built a 25-7 career regular-season record as the team's starter. But after his courageous performance at the end of last season, Rivers forever has the respect and attention of his teammates.
New England Patriots
, but still elected to play. His team lost, and so did his knee; he underwent major surgery after the game. Rivers has had a super-fast rehabilitation and was working during the team's minicamp on the first weekend of May.
Still unresolved
Not much. The fact that the Chargers have few position battles is further evidence that they are the clear favorites in the AFC West. Other than keeping tabs on injuries, it might be a dull training camp in San Diego. All 22 starting spots and both kicking specialist jobs are spoken for. It will be interesting to see if second-round pick
Jacob Hester
can develop into the backup tailback to replace
Michael Turner
-- who departed for Atlanta as a free agent -- and whether Hester can spell fullback
Andrew Pinnock
. Another spot to watch is nickel cornerback, where first-round pick
Antoine Cason
is poised to unseat
Paul Oliver
. Also, with inside linebacker
Stephen Cooper
serving a four-game league suspension for the use of banned substances, it looks like newly signed veteran
Derek Smith
will take over. However, the team is very intrigued by second-year pro
Anthony Waters
, who could push Smith while Cooper is out.
Injury analysis
The only real concern for San Diego after the minicamp season is the team's injury situation. Many of its top players are hobbling. Rivers is expected to be ready for training camp and the regular season, although he might be rested at times during camp. Star running back
LaDainian Tomlinson
is coming off an MCL injury. He said in May that he would be 100 percent by training camp. Things, however, aren't quite as definite for star tight end
Antonio Gates
and center
Nick Hardwick
, who anchors the offensive line. Gates and Hardwick are coming off foot injuries, and their recoveries might extend into the regular season. The team will not provide more concrete timetables on Gates or Hardwick until later in the summer.
The time is now
The theme of the 2008 season for the Chargers is simple: The time is now. That was the talk during minicamp and that will be the chatter during training camp. The Chargers feel they are ready to make a move and get to the Super Bowl. This team is as talented as any in the NFL, and after knocking on the door the past two seasons, it knows it has to finish the job now. The window isn't exactly closing on the Chargers, but the team isn't getting any younger, either. If the Chargers take a step backward this season, folks will begin to wonder about coach Norv Turner again. Remember, Marty Schottenheimer went 14-2 in the regular season just two years ago, but was fired when his team lost its first playoff game, to the Patriots in the divisional round. And anything less than a trip to the Super Bowl for this Chargers team could be seen as a step back. Rivers admitted there is a sense of urgency felt around the organization and said there is no reason why the Chargers can't take the next step forward. At this time of year, every team thinks Super Bowl. But the Chargers leave the minicamp season as one of a handful of teams that isn't delusional about those thoughts.
Training camp start date:
July 25.
Bill Williamson covers the NFL for ESPN.com.
ESPN Oakland Raiders reporter
Covered AFC West for five seasons for ESPN.com
Covered Broncos for Denver Post
Also covered Vikings, Packers, Seahawks
DIVISION CHECKUP
With the draft way back in the rearview mirror and minicamps over, ESPN.com takes a division-by-division look at every team before training camps begin next month. Training camp dates

•
Arizona: All eyes on quarterback
•
San Francisco: Can Martz rejuvenate offense?
•
Seattle: Hawks hope young WRs emerge
•
St. Louis: Shortcomings at wide receiver
•

Scouts' NFC West roundtable
•
SportsNation:
Vote on who will win West, more
•
Denver: Who's the featured back?
•
Kansas City: Instant impact from picks?
•
Oakland: Turning the corner?
•
San Diego: Runaway train?
•

Scouts' AFC West roundtable
•
SportsNation:
Vote on who will win West, more
•
Atlanta: New beginning
•
Carolina: Fox in the crosshairs
•
New Orleans: Defensive overhaul
•
Tampa Bay: Gruden weathering storm
•

Scouts' NFC South roundtable
•
SportsNation:
Vote on who will win South, more
•
Houston: In the running?
•
Indianapolis: Depth perception
•
Jacksonville: O-line is cause for concern
•
Tennessee: Young saddled with shaky WRs
•

Scouts' AFC South roundtable
•
SportsNation:
Vote on who will win South, more
•
Chicago: Many pressing questions
•
Detroit: Blue-collar mentality
•
Green Bay: Great expectations
•
Minnesota: Meshing new with old
•

Scouts' NFC North roundtable
•
SportsNation:
Vote on who will win North, more
•
Baltimore: Change in the air
•
Cincinnati: Johnson in eye of storm
•
Cleveland: Riding the momentum
•
Pittsburgh: Big Ben armed and ready
•

Scouts' AFC North roundtable
•
SportsNation:
Vote on who will win North, more
•
Dallas: Beware of Ware
•
New York: Will Super Bowl affect focus?
•
Philadelphia: Counting on McNabb
•
Washington: Campbell adapting to Zorn
•

Scouts' NFC East roundtable
•
SportsNation:
Vote on who will win East, more
•
Buffalo: Edwards taking control
•
Miami: Parcells turning up the heat
•
New England: Veterans still hungry
•
New York Jets: Pennington or Clemens?
•

Scouts' AFC East roundtable
•
SportsNation:
Vote on who will win East, more

MOST SENT STORIES ON ESPN.COM