Jets' woes much bigger than QB problems
His daily briefings are still a beauty to behold, Jets coach Herm Edwards preaching at the pulpit, pulling on the lessons born of an Army brat's childhood. Edwards is a seller of possibility within New York's parlor of gathering hopelessness.
All the bluster and bravado will be lost on these Jets, a tortured team threatening to bottom out. They come staggering into "Monday Night Football" now, with the Falcons looming like an anvil over the Jets. This is the season of survive and advance for the Jets, a season of just getting from week to week alive.
"We have little margin of error," Edwards said.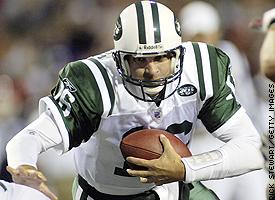 Rick Stewart/Getty ImagesWas Vinny Testaverde really Carolina's best choice?
It won't be long until Edwards is out of breath, the way the Jets are out of weapons. The Jets had balanced the franchise on the flimsiest of foundations -- the crumbled shoulder of
Chad Pennington
-- and everything has come crashing down for them. This offense has turned into one of the biggest eyesores in the sport, left in the hands of a couch potato off Long Island, N.Y., slinging the final throws of a long-gone career.
Vinny and the Jets is the rerun no one expected to see this season, but they're left with Vinny Testaverde trying to make the best of a brutal situation. A 2-4 record is threatening to turn into a free fall for the Jets, whose offense has scored just five touchdowns in the previous four weeks.
"Our offense is struggling," Edwards said. "There's a reason for it, but no excuses."
All in all, this has been a dreadful year for the Jets. Woody Johnson bought this team five years ago with the distinct desire to construct the Jets their own palace on the West Side of Manhattan, a home for the football franchise that has longed for an identity in New York for decades. After a long, nasty discourse, the idea died. Grudgingly, Johnson will become a partner with the Giants in New Jersey for a new football stadium at the Meadowlands.
This was the last thing the Jets wanted to do, but they have no choice. They have nowhere else to go. In a lot of ways, this is a franchise desperate for direction. After losing Pennington and backup quarterback Jay Fiedler against Jacksonville in September, they lost the offensive line's anchor, center Kevin Mawae -- one of the throwback leaders on the Jets -- for the season with a torn triceps.
Once the season is over, the Jets come to a crossroads: What do they do with Pennington? They can't possibly count on him ever again, but the $64 million investment in him leaves the salary cap strapped. Everyone believed the Jets held such promise with Pennington, but after he injured his rotator cuff for a second time in 10 months, New York must move on believing Pennington might have thrown his last pass. It has been a cold, cruel fate for such a gentleman and finalist for a Rhodes scholarship out of Marshall, but there's no room for sentimentality for broken quarterbacks.
Chad Pennington
Quarterback
New York Jets

Profile
2005 SEASON STATISTICS
Att
Comp
Yds
TD
Int
Rat
83
49
478
2
3
70.9
A willful leader, Pennington offered nothing more than a character playing parts of the past two seasons in piercing pain. Yet, in the end, there can be no disputing that Pennington was rushed back far too soon. His arm had nowhere near the strength needed for him to be a serviceable passer -- never mind a playoff quarterback.
Through it all, Pennington has had a big heart, but most important for an NFL quarterback is durability. He must stay on the field. In three straight years, Pennington couldn't do it. The Jets wanted to see him make it a full season in 2004 before investing that new contract in him. Even so, general manager Terry Bradway paid Pennington in the preseason anyway, and it all blew up on them.
The best the Jets can hope is that the Texans and Vikings fight it out for the No. 1 overall pick in the draft, with neither wanting to use the pick on USC quarterback Matt Leinart. This could give the Jets a shot at trading up in the April draft, but that's months away.
Monday, the Jets are trying to hold together a season that's falling apart with this crumbling football team. Here they wobble into the Georgia Dome, hanging on by a thread with old Testaverde standing over center. From the impassioned pulpit of Edwards, from the brink of a lost season, Monday night in Atlanta is the immediate referendum on what's left of this franchise.
Adrian Wojnarowski is a sports columnist for The Record (N.J.) and a regular contributor to ESPN.com. He can be reached at ESPNWoj10@aol.com. His new book, The Miracle Of St. Anthony: A Season with Coach Bob Hurley And Basketball's Most Improbable Dynasty, is available nationwide.
EDITORS' PICKS
Many teams created buzz, but who has done the best work in free agency? Our experts hand out grades.
Sando

Mark Ingram had a breakout 2014. That's not the only reason the Saints RB is feeling blessed these days.
Triplett »

Darrelle Revis is just what the Jets' D needed. Which other '15 acquisitions will pay immediate dividends?
Williamson
Nike Men's Home Game Jersey New York Jets David Harris #52 Shop »

MOST SENT STORIES ON ESPN.COM