Commentary
Memo to Patriots: Moss has plenty of options
After the opening weekend of free agency, one major question lingers: What will happen with Randy Moss? Pat Yasinskas looks at some possible landing spots for the enigmatic wide receiver.
It would be easy to rip Randy Moss, and that was the original plan for this column.
From "mooning'' Green Bay fans when he was with the Vikings to taking plays off when he was with the Raiders, Moss has made himself an easy target. No, he's not quite on the level of
Terrell Owens
. But he's at least a notch or two above
Chad Johnson
,
Steve Smith
and
Keyshawn Johnson
on the list of egomaniac wide receivers, the most self-centered position in football. But as the third day of free agency passed without any solid news on Moss, the best free agent on the market, a thought popped up. The popular school of thought is that Moss should just re-sign with the
New England Patriots
. Moss, who has yet to accept a standing New England offer, is suddenly making it known he'll listen to overtures from other teams. Maybe, for a change, Moss is right.
[+] Enlarge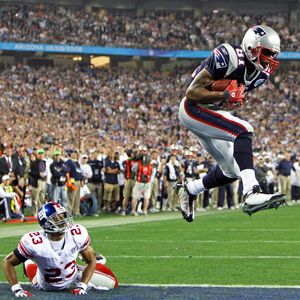 Ben Liebenberg/NFL Photos/Getty Images After a record-breaking season, Randy Moss has a lot more leverage than he did a year ago.
Think about this: Moss gave New England an NFL record 23 receiving touchdowns last season. He also gave the Patriots a discount on his salary and his absolute best behavior.
So what did Moss get in return? No Super Bowl ring and an offer from the Patriots, who've led the league in arrogance throughout the Bill Belichick era, that's demanding Moss give them a discount, simply because they are who they think they are.
If this were baseball, an arbitrator would look at the numbers and side with Moss. But it's not and the Patriots are banking that the lure of playing with quarterback
Tom Brady
and automatically contending for championships will bring Moss back at New England's price. But, maybe, Moss is playing his hand perfectly and calling New England's bluff. The best receiver in football can get what he wants without giving in to the second-best team in the NFL. Moss doesn't want to get back into a situation like Oakland. But there are enough other teams with good quarterbacks, good rosters and enough money in their checking accounts to make Moss happy. Here's a look at some potential landing spots for Moss or teams that, simply by showing legitimate interest in the receiver, could get him or make the Patriots up their offer in a hurry:
Dallas Cowboys:
There've been rumblings about Dallas' making a possible run ever since the Patriots decided not to use the franchise tag on Moss. On the surface, the Cowboys don't need Moss because they already have Owens. The "Odd Couple'' wouldn't have worked with two Oscars as roommates.
But Dallas owner Jerry Jones never has been conventional. Even though the Cowboys' salary-cap situation isn't great, Jones has an ego bigger than Texas and it wouldn't be shocking if he tried to make something happen. The Cowboys were at their best back in the 1990s when Michael Irvin was running wild, Jimmy Johnson was feuding with Jones, and Barry Switzer was stumbling through the NFL.
Quarterback
Tony Romo
might have a tough time keeping both receivers happy. But Moss and Owens could dominate the news every night and they could fill a lot of seats in that new stadium the Cowboys are building.
Green Bay Packers:
Brett Favre
made a lot of noise about wanting the Packers to bring in Moss last season. That didn't happen. But Favre reportedly is on the verge of deciding whether he'll play another season or retire. Having a weapon like Moss is enough to make any quarterback want to play forever. But something like this will happen only if Favre is firm on playing again. The Packers already have a solid group of receivers and it's hard to imagine Moss (or anyone) believing
Aaron Rodgers
is the next Brady or Favre.
Tampa Bay Buccaneers:
Aside from making
Jeff Faine
the league's highest-paid center, the Bucs haven't done a lot with the $44 million in cap space they had at the start of free agency. They're ready to pounce on something huge, and Moss would make sense in a lot of ways. The Bucs have an aging, but still productive,
Joey Galloway
at one receiver spot. But they have no other playmakers on offense and Moss would make quarterback
Jeff Garcia
a lot better than he was last year, which wasn't bad.
Tennessee Titans:
They're another team with a ton of salary-cap room and they're on the verge of falling way behind in a division where the Texans finally have a clue and the Jaguars and Colts already are very good.
Quarterback Vince Young has a ton of potential, but no talent around him. Moss could turn Young into the best quarterback in the league and make the Titans a contender.
Denver Broncos:
Mike Shanahan has never met a problem player he wouldn't take a chance on. He recently cut
Javon Walker
, and quarterback
Jay Cutler
needs help. Oh, and because Shanahan always loves to stick it to the Raiders, this would be an opportunity to show up Oakland owner Al Davis, who didn't get much out of Moss.
New York Jets: Speaking of grudges, this would be an expensive way to tweak the Patriots. But Eric Mangini seems to take pride in that. Laveranues Coles has been making noise about his contract. The Jets could dump Coles, get a much better receiver in Moss and forever give Belichick a legitimate reason to stop shaking Mangini's hand after games.
Pat Yasinskas covers the NFL for ESPN.com.
ESPN Tampa Bay Buccaneers reporter
Previously covered NFC South for ESPN.com
Covered Panthers for The Charlotte Observer from 1999-2008
Began journalism career with The Tampa Tribune in 1990
2008 FREE AGENCY
NFL teams began shopping for free agents on Feb. 29, with approximately 320 players available. Randy Moss (right), one of the top free agents available, re-signed with the Pats.
• Free-agent tracker


Commentary/Features
•
Paolantonio: Raiders wasting cash on Hall
•
Clayton: Raiders immersed in spending spree
•
Yasinskas: Bucs spending wisely
•
Third And Short: Free-agent analysis
•
Clayton: Best remaining players
•
Clayton: Top 10 free-agent gambles
•
Yasinskas: Saints rolling dice on Vilma, Morgan
•
Sando: Role players cashing in
•
Yasinskas: Jets improved, but QB remains issue
•
Yasinskas: Browns focused on winning
•
Clayton: Moss-Patriots deal meant to be
•
Clayton: Winners and losers
•
Chadiha: Reese sets the standard for rookie GMs
•
Yasinskas: Five aggressive teams in the market
•
Pasquarelli: Big payoffs await less-heralded FAs
•
Clayton: It's better to keep your own guys
•
Research: Top 10 free agents of all time
•
Yasinskas: Redskins to try new approach
•
Joyner: Evaluating four big names

•
Chadiha: Dealing with the franchise tag
News
March 28
•
Panthers continue O-line makeover, sign Brown
March 21
•
Browns help LB depth, sign Orr to 1-year contract
March 20
•
Pats agree to deal with CB Bryant
•
Roundup: Rams re-sign Romberg
March 19
•
Packers agree with LB Chillar
•
Bengals' Andrews signs franchise tender
•
Punter Turk re-signs with Texans
•
Colts keep defensive end Thomas with new deal