Commentary
Rodgers says he's ready to lead Packers
Replacing a legend isn't easy, but Aaron Rodgers says he's prepared to handle the scrutiny and pressure he'll face as the Packers' starting quarterback, writes Pat Yasinskas.
They had been teammates for a full year before Brett Favre and Aaron Rodgers started talking the same language.
It was sometime in minicamp or training camp of 2006 when Favre reached out to the man he knew would someday replace him as quarterback of the Green Bay Packers.
[+] Enlarge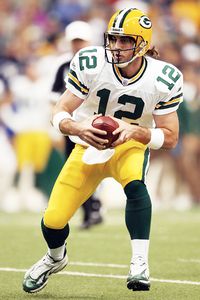 Paul Spinelli/Getty ImagesAfter a long wait, Aaron Rodgers is looking forward to taking over as the Packers' starting quarterback.
"That's when Brett came to me and he really encouraged me in a couple areas where I could improve my mental toughness and the way I would deal with adversity,'' Rodgers said Wednesday by telephone from California. "He told me it was important to think about body language and attitude all the time because everybody's watching you at all times.''
That's even truer now than it was then. With Favre's retirement Tuesday, Rodgers suddenly is the king of the cheeseheads. His every move will be scrutinized by just about everyone in Wisconsin. Come September, he'll become the first player to start at quarterback for Green Bay since Favre took over in 1992.
"You can't replace a legend and I know that going in,'' Rodgers said. "All I can do is try to be the best quarterback I can be. I'm not going to let anyone outwork me and I'm going to be accountable to my coaches and teammates. I know it's a challenge, but I've got a good team around me and I had three years to learn from Brett, who is the greatest quarterback ever.''
But Rodgers said he and Favre weren't always so close. Drafted in the first round (24th overall) in 2005, Rodgers said he felt tension early on.
Kiper on Rodgers

Although Aaron Rodgers will be entering his fourth NFL season, playing behind Brett Favre didn't produce many on field opportunities.
To get familiar with Rodgers, the player, Mel Kiper Jr. looks back at his original draft report on the former Cal quarterback. Story
"Obviously, when a team drafts a quarterback in the first round, that's a pretty big statement,'' Rodgers said. "At that time, Brett felt like he still had plenty left in his tank and those are some pretty difficult terms to come in under. That first year, we were just teammates.''
But the relationship began thawing in 2006, after Favre flirted with retirement. With Favre at home in Mississippi for a good chunk of the offseason, Rodgers got most of the first-team work as the Packers installed a new system with new coach Mike McCarthy. When Favre returned for minicamp, Rodgers helped translate the new offense.
A bond started forming and the talks grew longer and more in-depth.
"We went from being just teammates that first year to being pretty close friends,'' Rodgers said. "As we got to know each other and he saw my work ethic, a level of trust developed. It got to a point where Brett didn't mind me being his little shadow and that was pretty amazing for me because I grew up watching and admiring Brett Favre.''
Shadowing Favre was about all Rodgers could do for his first three NFL seasons. He's attempted only 59 career passes and thrown for just one touchdown. His most extensive playing time came last season after Favre was injured in a prime-time game at Dallas. Although the Packers lost, Rodgers played well, completing 18 of 26 passes for 201 yards and one touchdown.
There's been no formal passing of the torch, but it's been assumed for three years that Rodgers would ascend to the throne when Favre retired. McCarthy called Rodgers on Tuesday, but the conversation was brief.
Following a Legend
How hard is it to replace a quarterbacking legend? We looked it up -- last year of the legend vs. first year of his replacement. Found some successes; found some failures. (Also found a few legendary QBs, such as Terry Bradshaw and Bart Starr, who didn't leave the game as full-season starters, so we left them out of this chart.) If past is prologue, here are some clues to what Packers fans might expect from Aaron Rodgers next season.
The Year After

| | | | | | | |
| --- | --- | --- | --- | --- | --- | --- |
| Legend (year) | Team | Rating | W-L | Next up (year) | Rating | W-L |
| Troy Aikman ('00) | Dallas | 55.7 | 5-11 | Quincy Carter ('01) | 63.0 | 5-11 |
| Dan Marino ('99) | Miami | 67.4 | 9-7 | Jay Fiedler ('00) | 74.5 | 11-5 |
| John Elway ('98) | Denver | 93.0 | 14-2 | Brian Griese ('99) | 75.6 | 6-10 |
| Jim Kelly ('96) | Buffalo | 73.2 | 10-6 | Todd Collins ('97) | 69.5 | 6-10 |
| Roger Staubach ('79) | Dallas | 92.3 | 11-5 | Danny White ('80) | 80.7 | 12-4 |
| Otto Graham ('55) | Cleveland | 94.0 | 9-2-1 | Tommy O'Connell ('56) | 41.6 | 5-7 |
"It was basically, 'Here's the news and we'll see you on March 17,'" Rodgers said.
March 17 is when the Packers begin offseason workouts for quarterbacks and new players. The real transition starts two weeks later when the rest of the squad begins workouts. But Rodgers is calm about the situation.
When news of Favre's retirement first broke Tuesday, it was about 6:30 a.m. in California. Rodgers was sleeping when his cell phone started ringing.
"After about the eighth call, I knew there was either an emergency or Brett had retired,'' Rodgers said. "I got up and checked the messages and then I went back to bed.''
Did sleep come easily because the moment Rodgers had been waiting for finally arrived?
"No, I was just tired,'' Rodgers said.
But the slumber of the offseason will end in less than two weeks and Rodgers is ready to get to work and take on his new role. The 24-year-old said he believes sitting for three years might have been the perfect preparation for what he faces.
"It was tough at times, not getting to really play for three years, but I look at that as a positive,'' Rodgers said. "I was allowed to come along at my own pace without the weight of a franchise on me because Brett had that. I think that will go a long way toward my development. But, on the flip side now, I've been in the league for three years, so there's no grace period now. I've got to go out there and be consistent and accountable to my coaches and my teammates.''
The expectations from fans, naturally, will be high and Rodgers knows he can't be exactly like Favre. He won't even try to do that, but he will carry some of the lessons he learned from his mentor.
"I think the greatest thing I learned from Brett was just watching him in practice,'' Rodgers said. "There would be days late in the season where he'd be dragging in the locker room and didn't really want to go out to practice. But, we'd get out there and the whistle would blow and he'd be going 100 miles an hour and be full of energy and enthusiasm because that's what the job demands. I got a firsthand look at what greatness is all about. Now, I've got to take advantage of that.''
Pat Yasinskas covers the NFL for ESPN.com.
ESPN Tampa Bay Buccaneers reporter
Previously covered NFC South for ESPN.com
Covered Panthers for The Charlotte Observer from 1999-2008
Began journalism career with The Tampa Tribune in 1990
BRETT FAVRE SAGA: OVER
After pushing and pushing to keep playing either in Green Bay or elsewhere, Brett Favre's storied career will continue in 2008. The unretired quarterback has been traded by the Packers to the Jets.
NFC North blog | AFC East blog
News
•
Favre on offseason saga: 'I knew I wanted to play'
•
Favre unlikely to play in Jets' preseason finale
•
Report: Pack's Favre deal included souvenirs, blog
•
On Day 5 with Jets, Favre says arm feels 'fatigued'
•
Favre finally arrives in New York, meets mayor
•
Rodgers: 'Still following Brett's legacy'
•
Jets introduce Favre in Cleveland
•
Favre era ends in Green Bay with trade to Jets
•
Favre leaves Green Bay, destination unknown
•
Favre: 'This probably isn't going to work'
•
Favre flying under radar in Green Bay
•
Favre: Reinstatement done, Green Bay flight set
•
Favre mulling offer; NFL ruling put off again
•
Favre actively weighing Packers' offer
•
Report: Packers mull dealing Favre in division
•
Team president meeting with Favre, agent
•
Source: Favre files for reinstatement
•
Rodgers takes over as starting QB
•
Favre signs reinstatement letter, waits to send
•
Favre won't report to Packers camp Sunday
•
Sources: Favre, Packers talk trade destinations
•
Favre support muted at shareholders meeting
•
Report: Favre doesn't have team-issued phone
•
Report: NFL security visits Vikings
•
Favre questions likely from shareholders
•
Packers reportedly weigh trade offers for Favre
•
Favre returns to Lambeau Field
•
Packers president supports GM, coach
•
What they're saying about Favre
•
Favre won't apply for reinstatement right away
•
Sources: Packers claim Vikings tampered
•
Favre may show up at camp
•
Favre 'clears it up' in interview with Fox
•
Few fans attend Favre rally in Milwaukee
•
Pack fans rally, calling for Favre reinstatement
•
Pack won't release Favre
•
Sources: Favre seeks unconditional release
•
Favre itching to return to field
Trade Commentary/Features
•
Clayton: History doesn't favor Favre, Jets
•
Chadiha: Packers will be fine without Favre
•
Wojciechowski: Divorce cause? Lack of trust
•
Clayton: Deal is a downer for Favre
•
Scouts Inc.: Jets now a playoff contender

•
Clayton: Questions, answers on Favre trade
•
Fantasy spin: Deal boosts value of many Jets
Other Commentary/Features
•
Clayton: 5 reasons Favre would start for Pack
•
Mosley: Favre is QB turned ringmaster
•
Wojciechowski: Favre and away the best solution
•
Clayton: Favre wins ugly duel
•
Clayton: It's a painful divorce
•
Chadiha: Rodgers unfazed by Favre circus
•
Yasinskas: Favre makes sense for Bucs
•
Wojciechowski: Packers can't win this game
•
Clayton: It's a delicate situation
•
Wright Thompson: Catching Favre's fastballs
•
Wojciechowski: What's the answer, Packers?
•
Williamson: Where could he end up?
•
Seifert: What happens after HOF QBs move on
•
Paolantonio: Favre is overhyped
•
Kiper: 2005 analysis of prospect Rodgers
•
Madden '09 cover boy Favre to stay retired
•
Thompson: Brett, we miss you already
•
Wojciechowski: Worth the price of admission
•
Price of signed Favre items to go up
•
Yasinskas: Rodgers ready to take the reins
•
FB Outsiders: Measuring Favre's greatness
•
Sando: Gunslinger mentality defined Favre
•
Yasinskas: Majkowski on Favre's legacy
•
Clayton: Questions surrounding Favre
•
Clayton: Packers will miss Favre's magic
•
Chadiha: Favre will regret decision
•
Keating: Favre just getting started
•
Hashmarks: Favre fun-loving guy
•
Burning Questions: Is Rodgers ready?
•
Experts: Is Favre the best, or among them?
•
Favre's top 10 moments
•
Forde: Favre's flair for dramatic started in college
•
Favre's rating in Mel Kiper's '91 draft guide
•
Favre's hometown quiet on day of his retirement
•
Sadness, shock envelops Green Bay
•
Wounded Army officer has last ball thrown
•
Around sports: What they're saying
•
Fantasy spin: Rodgers not top-20 QB
•
Scouts: Rodgers has talent to succeed

•
Packers local: Complete hometown coverage
Video
•
Favre traded to Jets for conditional pick
•
Jets GM on trade for Favre, imminent release of Pennington
•
Steve Young on Favre's Jets future
•
Cris Carter on what trade means to Jets?
•
Schlereth: Exciting news for Jets
•
Sal Pal on Favre's move to AFC
•
Rachel Nichols on Favre's pre-trade mindset
•
Favre interview: Part 3
|
2
|
1
SportsNation
•
How will Jets do with Favre behind center?
•
Fans react to Favre's retirement
Photo Galleries
•
Favre flashback
•
Top TD guns
•
Top TD targets
Nike Women's Away Game Jersey Green Bay Packers Aaron Rodgers #12 Shop »

MOST SENT STORIES ON ESPN.COM