Commentary
New trend coming in NFC South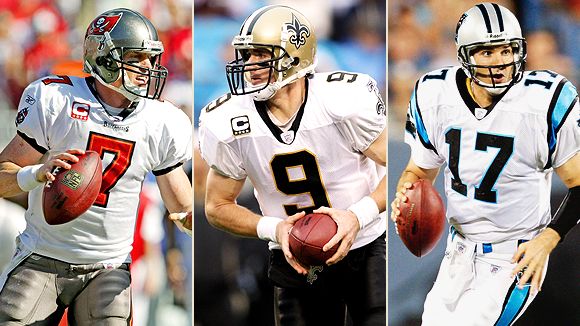 US PresswireJeff Garcia, Drew Brees and Jake Delhomme are the elder statesmen of the NFC South, each having represented the division in the Pro Bowl. But is it time for new faces under center?
Bruce Gradkowski
and
Chris Simms
share a bench on the
Tampa Bay Buccaneers
' sideline. They also, at least for a couple more weeks, are the answer to a trivia question that's about to prompt a new trend in the NFC South.
Of the 15 quarterbacks currently on active NFC rosters, Atlanta's D.J. Shockley, along with Gradkowski and Simms, are the only ones who were drafted by an NFC South team. Carolina doesn't even have a quarterback who was drafted.
This isn't an indictment of quarterbacking in the NFC South because the Bucs, Saints and Panthers have plucked Jeff Garcia, Drew Brees and Jake Delhomme off other rosters and seen them reach the Pro Bowl. But NFC South teams are about to stop ignoring quarterbacks in the draft.
They have to.
Garcia is aging, nobody knows how many throws Delhomme has left in his right elbow, and how can you sell tickets in Atlanta if Joey Harrington is the starting quarterback? Historically, the most important position on the field has been filled by outsiders in the league's "NASCAR" division.
Time to shift that car into reverse. When the NFL holds its annual draft in two weeks, there's going to be a new emphasis on quarterbacks. Simms' streak as the highest drafted (last pick of the third round in 2003) quarterback in the division is about to come to an end. It won't be much of a surprise if Atlanta, Carolina and Tampa Bay use early picks on quarterbacks and New Orleans looks for depth at the position in the middle or late rounds.
Here's a look at why each of the four NFC South teams could end up drafting a quarterback:
The Falcons used the first overall pick in 2001 on Michael Vick, but he's sitting in a federal penitentiary and his career could be over. New coach Mike Smith might be facing the biggest rebuilding job in history after the Vick debacle and the disastrous tenure of coach Bobby Petrino. Harrington, Shockley and Chris Redman are the only quarterbacks on the roster.
Harrington showed more moxie and savvy last year than people previously gave him credit for. On a good team, Harrington might be a solid quarterback, but the Falcons are far from a good team. They got rid of running back Warrick Dunn and tight end Alge Crumpler early in the offseason, and will ask former San Diego backup running back Michael Turner to carry their offense. What Atlanta needs is a franchise quarterback, and it wouldn't hurt the box office if he has mass appeal and no interest in pit bulls.
There's only one quarterback in this draft who fits that description: Boston College's Matt Ryan. Though Atlanta has plenty of other needs, and a team runs the risk of ruining a quarterback by drafting him high and throwing him in right away (see David Carr), the Falcons would make their biggest mistake since the hiring of Petrino if they pass on Ryan with the third overall pick.
Few coaches and front office people think Ryan is the next Peyton Manning or Tom Brady, but there's a strong consensus he's the best quarterback in this draft. Just selecting him would give Atlanta fans more reason to be excited about the Falcons than the city has been for a few years. Ryan is smart, charismatic and has no off-field issues in his background.
It might be wise to let Harrington take some lumps as Ryan gets comfortable. But this scenario make sense on every level, and Ryan would give an instant face to a franchise that doesn't have one.
If you look at what the Panthers have done so far this offseason, you could assume they think the only difference between a 7-9 season and the playoffs is a healthy Delhomme. But you might be wrong.
Coach John Fox and general manager Marty Hurney have long believed it takes a young quarterback too long to develop and generally have stayed clear of drafting players at that position. But their philosophy could change because there's no written guarantee that Delhomme's elbow will hold up after Tommy John surgery.
Injuries to Delhomme have kept the Panthers out of the playoffs the past two seasons and have put Fox and Hurney on the hot seat. They're high on young quarterbacks Brett Basanez and Matt Moore, but neither is ready to be a starter. Last year's failed experiment with Carr soured the Panthers on bringing in an expensive veteran backup.
But Carolina could use a long-term alternative if Delhomme goes down again. There's been some speculation that Ryan could slide to Carolina's 13th overall pick. The Panthers have done plenty of homework on Ryan and are ready to pounce if he's available. If he's not, they could consider Michigan's Chad Henne in the second round.
Brees is the best quarterback in the division, but the Saints don't have much behind him. Veteran Mark Brunell was brought in to be the backup. At this point in his career, Brunell is a guy who could fill in for a game or two, but that's all. Tyler Palko is the only other quarterback on the roster, and the Saints could find an upgrade for him in the middle or late rounds. A project like Colorado State's Caleb Hanie would make a lot of sense for the Saints.
Tampa Bay Buccaneers
Logic would say the last thing the Bucs need is another quarterback. They have six listed on their roster. But you can scratch off Jake Plummer, who has given no indication he plans to come out of retirement. And you can scratch off Simms. The Bucs are shopping him for trade, and he hasn't been participating in the team's offseason workouts. If Simms isn't traded, he could be cut. That leaves Garcia, Brian Griese, Gradkowski and Luke McCown.
Garcia had a very strong season last fall, but he's 38. Griese is a solid backup who could start a few games. But neither is the long-term answer, and Gradkowski and McCown are just ordinary. Coach Jon Gruden likes to stockpile quarterbacks, and he'll have a tough time passing up Lousville's Brian Brohm if he's available in the first round or Kentucky's Andre Woodson if he's still around in the second.
Pat Yasinskas covers the NFL for ESPN.com
ESPN Tampa Bay Buccaneers reporter
Previously covered NFC South for ESPN.com
Covered Panthers for The Charlotte Observer from 1999-2008
Began journalism career with The Tampa Tribune in 1990
SPONSORED HEADLINES
MORE NFL HEADLINES
MOST SENT STORIES ON ESPN.COM
2008 NFL DRAFT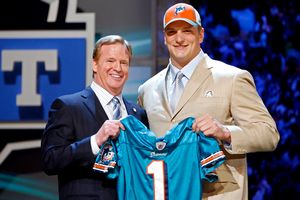 The 2008 draft lasted 14 hours, 26 minutes. Michigan offensive tackle Jake Long (above), selected by Miami, was the No. 1 overall pick. This year's Mr. Irrelevant -- the last pick in the draft -- is David Vobora, a linebacker from Idaho selected by St. Louis with the 252nd pick.


Round-by-round, team-by-team picks
•
Round:
1
|
2
|
3
|
4
|
5
|
6
|
7
•
AFC East:
Buffalo
|
Miami
|
N. England
|
NY Jets
•
AFC North:
Baltimore
|
Cinc.
|
Cleve.
|
Pitt.
•
AFC South:
Houston
|
Indy
|
Jax
|
Tennessee
•
AFC West:
Denver
|
K.C.
|
Oakland
|
San Diego
•
NFC East:
Dallas
|
NYG
|
Philadephia
|
Wash.
•
NFC North:
Chicago
|
Detroit
|
G.B.
|
Minnesota
•
NFC South:
Atlanta
|
Carolina
|
N.O.
|
Tampa
•
NFC West:
Arizona
|
S.F.
|
St. Louis
|
Seattle
Inside Radio City Music Hall
•
Panoramic views
Commentary/Features
•
Wickersham: Bears, Ravens take opposite turns
•
Williamson: Remembering Heath Benedict
•
Yasinskas: Falcons should be patient with Ryan
Day 2
•
Clayton: Six draft trends
•
Chadiha: 10 great marriages
•
Walker: NFC East draft review
•
Sando: NFC West draft review
•
Willamson: NFC North draft review
•
Yasinskas: NFC South draft review
•
Sando: AFC East draft review
•
Williamson: AFC West draft review
•
Walker: AFC North draft review
•
Yasinskas: AFC South draft review
Day 1
•
Clayton: Day 1 winners and losers
•
Williamson: Davis couldn't resist McFadden
•
Walker: Ravens had to work for Flacco
•
Sando: Long addresses Rams' D-line needs
•
Chadiha: AFC East hustle continues on draft day
•
Yasinskas: Ryan gives Falcons hope, identity
Mel Kiper
•
Kiper's team-by-team draft grades
•
Day 1 good, bad moves: Questionable Titans
News
•
2008 breaks previous trade record
•
Jets sign NCAA career rushing leader Woodhead
•
Lions pick Smith with first pick of second day
•
Miami, Long make it official
|
NFL Local
Video
•
Green: First-round pick instant analysis
•
Complete draft analysis
•
One-on-one with Jake Long
•
One-on-one with Chris Long
•
One-on-one with Matt Ryan
•
One-on-one with Darren McFadden
•
One-on-one with Glenn Dorsey
•
One-on-one with Vernon Gholston
•
Ed Werder on Cowboys
•
Norv Turner interview
•
Fantasy Spin
Audio
•
Jake Long
|
Chris Long
|
Matt Ryan
•
Darren McFadden
|
Vernon Gholston
•
Glenn Dorsey
|
Keith Rivers
|
Chris Williams
•
Lawrence Jackson
SportsNation
•
Vote:
Best first-round pick?
|
Potential busts?
•
Grades: How did your team fare?
Scouts Inc.
•
Analysis:
Round 1
|
2
|
3
|
4
|
5
|
6
|
7
Cheat Sheets
:
RB
|
DL
|
DB
|
LB
|
OL
|
REC
|
QB
•
McShay: Seven-round mock draft
•
Revisiting the 2005 draft
|
2005 re-draft