Commentary
Like marriage, head coach-GM union is rarely perfect
Head coach-general manager marriages can lead to greatness or tear teams apart. Either way, they're never simple, writes Pat Yasinskas.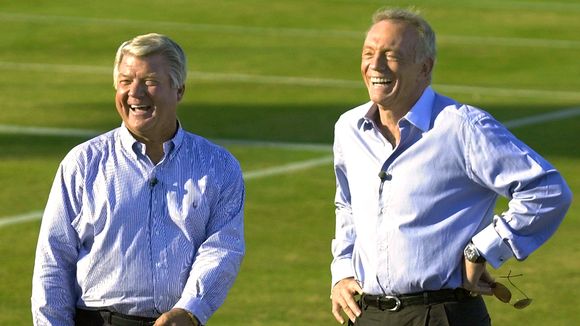 AP Photo/Tony GutierrezAt first, Jimmy Johnson, left, and Jerry Jones (shown here in 2002) were a perfect match. But in 1994, shortly after Dallas' second straight Super Bowl title, their relationship deteriorated. Johnson walked away and Jones brought in Barry Switzer.
In a hotel bar at the spring NFL owners meeting in 2003,
Tampa Bay Buccaneers
coach Jon Gruden -- knowingly standing within earshot of a few reporters -- ripped general manager Rich McKay.
In a similar venue about a decade earlier, Dallas Cowboys owner Jerry Jones, who might pride himself on playing the role of general manager more than anything else, wondered aloud if 500 other coaches could do Jimmy Johnson's job.
Gruden and McKay had won a Super Bowl together. Johnson and Jones had won two in a row. None of that really mattered as their feuds boiled over. McKay bolted for Atlanta and Johnson walked away from the Cowboys.
When egos clash or there's a struggle for power, not even success can smooth things over. The complex relationship between an NFL coach and general manager can help a team achieve greatness or rip a franchise apart.
"I've always equated the relationship to a professional marriage,'' Chicago Bears general manager Jerry Angelo said. "In fact, it's tougher than a marriage in a lot of ways. Over time, these things are pretty much destined to fail at some point. Think about history. There's really been only one perfect marriage that lasted forever, so to speak. That was Tom Landry and Tex Schramm [together in Dallas from 1960 to 1988], and that may be a once-in-a-lifetime kind of thing.''
Marital bliss? Hardly
Notable Power Struggles
A look at some of the rockier coach-general manager relationships in NFL history: Marty Schottenheimer vs. A.J. Smith: Schottenheimer coached the San Diego Chargers to a 14-2 record in 2006, but got fired after that season. The move was largely the result of a terribly strained relationship with Smith. At times, the two went for long stretches without even talking, and ownership sided with Smith. Jon Gruden vs. Rich McKay: They won a Super Bowl together, but that's about the only thing these two strong personalities ever had in common. Their feud became public when Gruden complained, in front of reporters, that McKay was too busy running the competition committee to bring in the right players for the Bucs. It wasn't long before McKay bolted for Atlanta. Bill Parcells vs. George Young: On paper, this was a dream team because Parcells and Young were as good as anyone in history at their positions. The duo produced big results, but there often was tension because not even New York was big enough for two egos of this size. Jimmy Johnson vs. Jerry Jones: They were college teammates at Arkansas and Johnson was Jones' hand-picked successor to the legendary Tom Landry. They turned around a franchise that was in disarray and won two Super Bowls together. But Johnson couldn't stand Jones' meddling in personnel matters and Jones, who owns the team and believed that gave him the power of a general manager, wasn't about to stop. Things turned ugly and Johnson walked away from the Cowboys after the 1993 season. Mike Martz vs. Charley Armey and Jay Zygmunt: Martz helped bring St. Louis to two Super Bowls in a three-year span but was in a constant power struggle with the front office. That blew up after Martz was sidelined by a heart ailment in 2005. The final straw came when Zygmunt denied Martz, who wanted to give his offensive coordinator some input, telephone access to the coaches' box. -- Pat Yasinskas
It's more than a little ironic that Angelo compares the coach/general manager relationship to a marriage. At least for large chunks of the year, the coach and general manager see as much of each other as they do their wives. In essence, they're the parents of a 53-player roster, not to mention the practice squad, scouting departments, assistant coaches and dozens of underlings.
Most GMs are in charge of assembling a roster, contract negotiations and managing the salary cap. Some even oversee travel and other logistical issues.
But the divorce rate is high.
"You don't really know a person until you have to live with them,'' Angelo said. "This business is a grind because there's so much pressure and that wears on people. And people change with success or failure. When people change, that's when things start to go south.''
Mike Holmgren and Ron Wolf reached a point where they no longer could coexist in Green Bay. Marty Schottenheimer got fired in 2007 after a 14-2 season largely because he and general manager A.J. Smith couldn't get along.
"That relationship is something I worry about constantly,'' said one veteran NFL owner, who requested anonymity. "You can have the best, most qualified people in the world, but it doesn't always matter. You're dealing with exceptionally competitive people, or else they wouldn't be where they're at. That makes me worry about their egos. Hell, I worry almost as much about the egos of their wives because they worry about who's making more money. It's a very tough relationship to keep healthy for a long period of time.''
Inherently flawed
When Denver Broncos owner Pat Bowlen fired general manager Ted Sundquist in March, he cited dysfunction within the organization. But Bowlen and other owners are part of the problem because they help to create the dysfunction by setting up power structures that often give rise to conflict more than harmony.
In the case of Sundquist, he was far more an administrator than a general manager. Coach Mike Shanahan had -- and now more than ever has -- all the power when it comes to personnel decisions. It's similar in New England, where coach Bill Belichick calls all the shots, although he has a widely respected right-hand man in vice president of player personnel Scott Pioli.
But there's no universal power structure as some teams don't even have an official general manager. There are all sorts of team presidents and vice presidents who often have the same duties as a general manager, but the way they interact with coaches varies from team to team, and final say on personnel matters can rest with a general-manager type, a coach or even a hands-on owner like Dallas' Jones or Oakland's Al Davis.
"In an ideal world, you would want the head coach to have all control because he, basically, is the most important man in your building,'' Angelo said. "And that's the way it used to be in the old days in most places. Unfortunately, though, the league has become so multifaceted with the salary cap and free agency and everything else, that it's almost impossible for one guy to do it all.''
Balance of power
Believe it or not, there are some coaches who don't want the duties of a general manager. Indianapolis' Tony Dungy and Carolina's John Fox are two examples of coaches who repeatedly have said they've got their hands full with on-field duties. Both coaches have balanced relationships with an executive -- Dungy with team president Bill Polian and Fox with general manager Marty Hurney.
Dungy has won a Super Bowl and Fox has been to one. They're examples that have been pointed to as more and more teams have gone to something closer to a 50-50 split in power in recent years.
"You have to be on the same page,'' said new Atlanta coach Mike Smith, who was hired to work with new general manager Thomas Dimitroff in January.
And it helps if you're reading that page with the same prescription lens in your glasses.
[+] Enlarge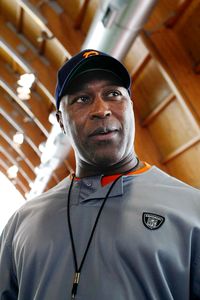 Scott Boehm/Getty ImagesLovie Smith's friendship with Jerry Angelo built the foundation for a successful working relationship.
"You have to share the same vision for your team,'' Angelo said. "It's not about who's right. It's about what's right.''
The coach/general manager marriage might have its best chance when the parties involved have dated for a bit.
Take the case of Angelo and Bears coach Lovie Smith. When Angelo was hired in 2001, coach Dick Jauron already was in place and there were differences in their vision for the Bears. When Jauron was fired after the 2003 season, Angelo was the driving force behind the hiring of Smith. The two were friends from their days in Tampa Bay, when Smith was an assistant coach and Angelo worked in the personnel department. Two seasons after Smith's arrival, he and Angelo had the Bears in the Super Bowl.
"Our personalities work well together,'' Angelo said. "We realized we had a shared vision during the hiring process. I already knew Lovie was a good person and a team guy. He had all the traits I was looking for. It's not all about having some ingenious plan. It's about having a solid plan and being able to work together to act on that plan.''
Or take the case of Fox and Hurney. Fox was an assistant with the Chargers in the early 1990s when Hurney was a mid-level front-office worker. They forged a friendship that led to Fox getting the Carolina job after George Seifert's disastrous 1-15 season in 2001. Hurney had been director of football operations with Seifert holding all the personnel power. Hurney, who was about to be elevated to general manager, spearheaded the coaching search along with team president Mark Richardson. They settled on Fox, who had never been a head coach on any level. In his second season, Fox had the Panthers in the Super Bowl.
"I knew I could communicate with John and he could communicate with me,'' Hurney said. "And we knew we could trust each other. I think the communication and trust are the two most important things in that relationship.''
Said Fox: "A lot gets made about 'final say' around the league, and some people really get caught up in that. But if you make a move that not everybody's happy with when you make it, then everybody's probably going to be unhappy with that move down the road."
Collaborative effort
But history together isn't absolutely necessary for a harmonious relationship. Cleveland general manager Phil Savage was groomed in Baltimore's front office, where general manager Ozzie Newsome has considerable power. Browns coach Romeo Crennel earned his reputation as a New England assistant, operating under Belichick's dictatorship.
In Cleveland, Savage and Crennel have forged a power structure based on teamwork that relies heavily on more than the just the coach and general manager. In recent months, they've engineered one of this offseason's most aggressive and complex overhauls. They traded their first three picks in this year's draft, but acquired defensive linemen Corey Williams and Shaun Rogers and receiver Donte' Stallworth. They also re-signed quarterback Derek Anderson, instead of letting him test restricted free agency, even though they have Brady Quinn, a first-round pick last year, waiting on the sideline.
"It went beyond Romeo and me,'' Savage said of the busy offseason. "When you're making decisions of that magnitude, you want the input of your scouts and your assistant coaches. With each of those moves, there was more of a consensus than at any other time since I've been here. When you've got a strong consensus like that, more than one set of eyes and ears, you feel like you're making the best possible decisions for the future of your team.''
The teamwork between Savage and Crennel was unconventional -- the team did not have a pick until the fourth round of this season's draft. But their offseason has been considered among the best.
"Phil and I were on the same page all the way through and we talked a lot about the implications of giving up draft picks," Crennel said. "But, with each of those moves, it became very obvious that we could get players who would help us more than any players we could get in the draft, and we both knew those were moves that we had to make."
That doesn't mean a head coach and general manager working in a balanced tandem, and giving heavy weight to the opinions of their assistant coaches and scouts, are always going to agree on every move.
"John and I have plenty of disagreements,'' Hurney said. "But it's healthy to have disagreements because that's usually going to lead to good decisions. When we have those disagreements, we talk things out and that sometimes is when you're at your most productive. If one of us wants to do something and the other doesn't, we just ask each other why. It's easy to say yes or no, but you need to get to the why. Usually, when we hear why each of us feels the way we do, things make more sense and the decisions become more clear.''
Pat Yasinskas covers the NFL for ESPN.com
ESPN Tampa Bay Buccaneers reporter
Previously covered NFC South for ESPN.com
Covered Panthers for The Charlotte Observer from 1999-2008
Began journalism career with The Tampa Tribune in 1990
EDITORS' PICKS
Marcus Mariota still doesn't trump Jameis Winston, but he makes a lot of sense for Tennessee at No. 2.
McShay

Mailbag: John Clayton explains why expanded playoffs are on hold and discusses overtime rules and extra points.
Story »

The Falcons should feel grateful that their punishments for piping in crowd noise weren't a lot more severe.
McClure »

MOST SENT STORIES ON ESPN.COM