Commentary
Stench from this mess won't go away
The NFL may want to bury this Spygate mess, but it's not that simple, Pat Yasinskas writes.
NEW YORK -- If we are to believe the National Football League, the big Matt Walsh revelations Tuesday were that he scalped some Super Bowl tickets for Patriots players and New England practiced an ineligible player.
Oh, and those few seconds of a close-up shot of a cheerleader that somehow got mixed in with about 59 minutes and 45 seconds of signal-stealing video that Walsh apparently did shoot? Well, "Matt Walsh did not shoot that part," two representatives from his lawyer's firm repeatedly told anyone who would listen.
[+] Enlarge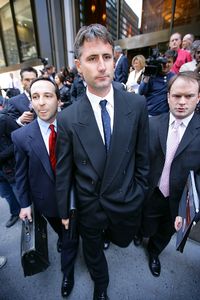 Chris Trotman/Getty ImagesFormer Patriots video assistant Matt Walsh met for more than three hours Tuesday with NFL commissioner Roger Goodell.
Aloha and have a good flight back to your home in Hawaii. That's what the NFL seemed to be telling Walsh, the former video department employee for the Patriots, whose 15 minutes of Spygate fame somehow turned into more than three months. So this is how it all ends? "I think as I stand before you today and having met with Matt Walsh and over 50 other people, I don't know where else I would turn,'' NFL commissioner Roger Goodell said. The NFL wants to just turn away, and it's easy to understand why. This thing has been going on since September, when the NFL caught the Patriots shooting video of New York Jets coaches as they gave hand signals. It has lasted through months of media hype, grew wings on a report the Patriots filmed an opponent's Super Bowl walkthrough and made Walsh's name roughly the equivalent of Bill Buckner's in New England. The Patriots want to just get on to a new season and forget about that loss to the New York Giants in the Super Bowl. And the NFL seemed to brush Walsh aside after a three-hour meeting that didn't produce the smoking gun (a hinted-at video tape of a walkthrough by the St. Louis Rams before Super Bowl XXXVI) many expected. Walsh looked boyish and harmless as he walked into and out of the NFL's Park Avenue office. But he told Goodell and other officials plenty behind closed doors and provided them with videotape of eight games in which the Patriots clearly were taping opposing coaches. Then, the NFL showed Walsh the door. "The fundamental information Matt provided was consistent with what we disciplined the Patriots for last fall in that they were taping coaches' signals against NFL policy,'' Goodell said. It's true Goodell was aggressive after the Jets told league officials they suspected their coaches were being taped. The league checked it out, confiscated the tapes, fined coach Bill Belichick $500,000 and the franchise $250,000, and made the Patriots surrender their first-round pick in this year's draft. The punishment might fit the crime or it might not have been enough. That's the biggest thing to keep in mind: There was a crime, a long and calculated violation of league rules. Goodell said he long ago concluded Belichick had been taping opposing coaches since he joined the Patriots in 2000. Walsh might not have revealed anything new, but he did lay out exactly how the Patriots cheated.
[+] Enlarge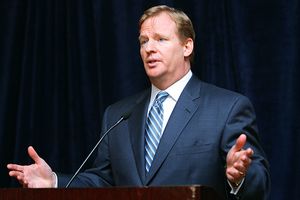 Chris Trotman/Getty Images"I don't know where else I would turn," NFL commissioner Roger Goodell told reporters.
"In great detail, we spoke about it,'' Goodell said. "Basically, he would videotape as part of his responsibility during the game, he would then take the tape, mark it and then hand it off to [longtime Belichick friend and assistant] Ernie Adams and he had no knowledge of where it went from there.'' That's where the questions start to pop up again. What was Adams' role in all this? Nobody's ever given much of a public answer. While Goodell was visibly relieved that there was no evidence of a videotape of the Rams' Super Bowl XXXVI walkthrough, there was the troubling revelation that Walsh was in the Superdome during St. Louis' practice that day. The explanation was that Walsh and the New England video crew were setting up their equipment but not filming. There might not have been tape and a camera, but Walsh said in his mind, he was recording what he saw: Marshall Faulk lining up to return a kickoff and formation tendencies by St. Louis' offense. Walsh said he relayed all that information to New England's assistant coaches, and it's anybody's guess how much of a role that played in a 20-17 victory against the Rams the next day. It's also anybody's guess how much of a role any of the videotapes played in New England's run to become the closest thing we've seen to a dynasty this decade. But it's obvious that success came with a tarnish that's not going to go away, even if this somehow is the last we hear of Walsh or Spygate. The Patriots knew exactly what they were doing and they knew it was wrong. "I think [the Patriots] were well aware of the fact that, at least according to Matt, he believed they were well aware of the fact this was something that shouldn't be done," Goodell said. In September, Belichick told Goodell he didn't think taping opposing coaches for future use was against league rules. "I think it's pretty well on the record here that I didn't accept Bill Belichick's explanation for what happened, and I still don't to this day,'' Goodell said. That brings us back to Belichick's reputation for arrogance. "[Walsh] actually described him at one point as the man behind the curtain as someone that he didn't see very often or didn't have any direct relationship with him or contact with him,'' Goodell said. Without further evidence, it might be impossible to further discipline Belichick. But don't let that curtain cover up the truth and don't point fingers at Walsh, Eric Mangini or anybody else for this mess. The man behind the curtain, ultimately, made the videotapes -- lots of them. He was the one cheating.
Pat Yasinskas covers the NFL for ESPN.com.
ESPN Tampa Bay Buccaneers reporter
Previously covered NFC South for ESPN.com
Covered Panthers for The Charlotte Observer from 1999-2008
Began journalism career with The Tampa Tribune in 1990
SPY GAMES
Former Patriots employee Matt Walsh met with NFL commissioner Roger Goodell and Sen. Arlen Specter to discuss Patriots' illegal videotaping.
Story
More News
•
Belichick says he made 'mistake'
•
Herald reporter: Sources never saw tape
•
Walsh admits he knew it was wrong
•
Senator wants inquiry
|
Read it (pdf)
•
Fish: Would Congress investigate Pats?
•
Boston Herald apologizes for false report
•
Clayton: Five things we learned from Spygate
•
Walsh sends eight tapes to NFL
•
Fish: Pats stole offensive signs
|
Timeline
•
Clayton: Spygate will expire quietly
•
Former Pats employee sends tapes to league
•
Fish: NFL faces serious questions
•
Goodell to punish Pats, depending on evidence
•
Walsh, NFL to finally talk
|
Agreement
•
Goodell growing impatient with Walsh stalemate
•
Kraft, Belichick apologize to owners
•
Walsh still working on deal for testimony
•
Rams player, fans withdraw lawsuit
•
Spygate revelations might not be imminent
•
NFL, Walsh close to deal to turn over tapes
•
Report: Specter calls on Goodell to release letters
•
Report: Goodell proposes crackdown on cheating
•
Specter says Pats 'stonewalling' Spygate probe
•
Committee lauds Goodell's handling of Spygate
•
Goodell hoping deal to talk to Walsh close to done
•
Report: Belichick denies Pats taped Rams' drills
•
Walsh's attorney: NFL indemnity offer falls short
•
Specter prepared to extend Spygate investigation
•
Goodell has no regrets about destroying tapes
•
Source: Specter wants NFL indemnity for witness
•
Goodell, Specter to discuss Spygate Wednesday
Commentary
•
Mortensen: What were Rams thinking?
•
Yasinskas: Spygate stench won't go away
•
Paolantonio: Goodell's Spygate responsibility
•
Clayton: Spygate closing with a whimper
At The Pro Bowl
News
•
Ex-Pats video assistant mum on Spygate probe
At The Super Bowl
News
•
Goodell willing to give Pats' Walsh indemnification
•
Goodell, Specter won't meet until after Pro Bowl
•
Vermeil doubts spying made difference for Pats
•&nbsp
Goodell to meet with Sen. Specter about Spygate
•&nbsp
Report: N.E. taped Rams before XXXVI
•
Fish: Ex-Ram Warner suspicious of Pats
•
Specter to Goodell: Let's talk
•
Fish: Possible 'Spygate' witness surfaces
Commentary
•
Once burned, Goodell turns fireman
•
Munson: Congressional interest is serious business
•
Pasquarelli: Specter should stick with politics
•
Clayton: Spy saga won't distract Patriots
•
Hashmarks at Goodell's news conference
Letters
•&nbsp
Specter to Goodell (.pdf)
•&nbsp
Goodell to Specter (.pdf)
From September
News
•
NFL has all materials from Pats in spying scandal
•
NFL reviews how tape leaked to Fox
•
Belichick to turn over materials in spying probe
•
Pats owner perturbed by Belichick's spy games
•
Goodell orders Pats to turn over all video
•
Sources: Patriots give Belichick extension
•
Wilson spies inconsistencies in Belichick case
•
NFL fines Belichick $500K, Pats $250K for spying
•
Bill Belichick's apology to Patriots community
•
Clayton Q&A: Patriots can survive this penalty
•
Two days later, Belichick still won't comment
•
Some Eagles question Pats' tactics in Super Bowl
•
Belichick issues apology amid accusations
•
Sources: Goodell determines Patriots broke rules
Commentary
•
Clayton: NFL penalty for Belichick, Pats too light
•
Mosley: Pats lose first-rounder? Roger that
•
Scouts Inc.: What the Pats will miss in '08 draft
•
Chadiha: Legal spying widespread in NFL
•
Sando: What's legal, what's not in spy game
•
What they're saying: Players, coaches, pundits
•
Luksa: Spy stories once had comedic value
•
Bryant: Belichick deserves two-week banishment
•
Clayton: Goodell to treat breech seriously
•
Simmons: The camera doesn't lie
•
Simmons: Cheating not necessary to win opener
Video

•
What should happen to the Pats?
•
Belichick deflects videotape-related questions
•
Former Patriot thinks team should be punished
•
Reactions from around the league
Audio

•
Mike Vrabel, Pats linebacker: Don't criticize the players

•
Chris Mortensen: Situation might motivate the Patriots

•
Keyshawn: It was 'scouting,' not cheating

•
Salisbury: Story blown out of proportion

SportsNation
•
Vote: Was New England's punishment fair?
•
Mixed reader results on NFL spying

MOST SENT STORIES ON ESPN.COM