Commentary
Brown, Sayers and Sanders ended careers early
For three of ESPN.com's top 10 RBs of all time -- Jim Brown, Gale Sayers and Barry Sanders -- their careers ended earlier than many expected.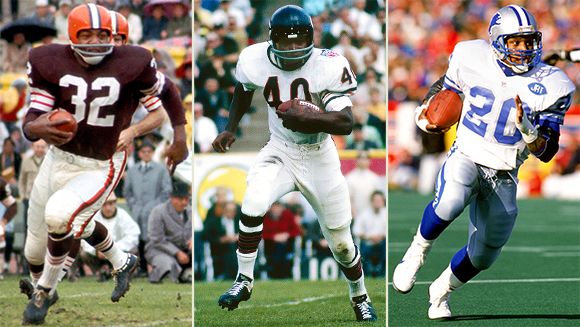 US PRESSWIRE/ GETTY IMAGESAn ESPN.com panel of experts helped determine that Jim Brown, left, is the top running back in NFL history. Gale Sayers, whose career was cut short by knee injuries, is ranked fifth while Barry Sanders is second.
Gale Sayers and Jim Brown retired before their 30th birthdays. Barry Sanders, who retired days after his 31st birthday, was right behind them.
The premature ends to their NFL careers didn't stop any of the three from making ESPN.com's list of the top 10 running backs in history. Brown topped the list, Sanders was No. 2 and Sayers ranked fifth.
"You think about those three and wonder where all the records would be if they had played well into their 30s," said former Kansas City cornerback Emmitt Thomas, who will be inducted into the Pro Football Hall of Fame in August.
Sayers scored 22 touchdowns as a rookie for the Chicago Bears in 1965, but two major knee injuries cut his career short, and he retired in 1971.
"The sad thing is that if he were playing today and had those injuries, he'd probably still be playing,'' former Minnesota Vikings running back Robert Smith said. "There have been so many advances in the medical field that his injuries probably wouldn't have been a big deal. It's too bad, because he was an unbelievable runner. He had an innate sense, like he had eyes in the back of his head, and he always knew where the defenders were and how to avoid them."
The end of the road for Brown and Sanders wasn't as tragic, but it was just as abrupt.
At 29, Brown announced his retirement on July 14, 1966. He walked away as the NFL's all-time leading rusher with 12,312 yards, but many felt he was still in the prime of his career.
Brown's retirement came while he was part of the cast filming "The Dirty Dozen." Cleveland owner Art Modell insisted Brown leave the movie set and report to training camp. The running back instead chose to walk away from the game.
"He had other things he wanted to do with his life," said Thomas, who entered the league the summer Brown retired. "He's been very successful at a lot of other things, but you still wonder what he might have done if he'd played a few more years."
Sanders' retirement in the summer of 1999 was just as stunning. He was healthy, and his 15,269 rushing yards ranked behind only Walter Payton (16,726 yards) at the time. Sanders kept quiet about the reasons for his retirement at first but later admitted his decision was due to frustration about the continuing struggles of the Detroit Lions.
"Barry was such a special runner," said longtime NFL coach Dan Reeves. "You could play an eight-man front against him, and it didn't matter because he'd just bounce off people. He didn't always have a lot around him, but he always made it interesting. I think everybody wonders about what he could have done if he spent his career with a lot of talent around him."
Pat Yasinskas covers the NFL for ESPN.com.
ESPN Tampa Bay Buccaneers reporter
Previously covered NFC South for ESPN.com
Covered Panthers for The Charlotte Observer from 1999-2008
Began journalism career with The Tampa Tribune in 1990
SPONSORED HEADLINES
MORE NFL HEADLINES
MOST SENT STORIES ON ESPN.COM
BEST RUNNING BACKS

In Part 1 of a two-part report, Scouts Inc. ranks the NFL's top 64 running backs. In Part 2, ESPN.com ranks the top 10 RBs of all time. In the first two presentations of this occasional series, ESPN.com ranked the all-time best QBs in February and the all-time best wide receivers in March.


HOT READ PART 2: All-time best RBs
•
DISCUSS
•
Yasinskas: After Brown, debate gets interesting
•
Yasinskas: Three greats who retired early
•
SportsNation: Rank the top 10 all-time backs
•
Zoom Gallery: From Brown to Dickerson
•
Watch: NFL Live debates best ever
HOT READ PART 1: Today's best RBs
•
DISCUSS
•
Scouts rankings:
1-20
|
21-40
|
41-64

•
Clayton: Current pool of HOF-caliber RBs
•
Hashmarks: Debating the list
•
Football Today podcast: Peterson No. 2?

•
Watch: NFL Live on who got the shaft
•
SportsNation: Rank your top 20
•
Zoom Gallery top 10: LT to Lynch
•
Todd McShay: Ranking top 10 in college

More coverage
•
Sando: Julius Jones fueled by recent past
•
Chadiha: Five RBs with a lot to prove in '08
•
Green: '08 best and worst RB duos

BEST WIDE RECEIVERS OF ALL TIME
•
Sando: Jerry Rice is No. 1, but who's next?
•
Zoom Gallery: Top 10 receivers of all time
•
Sando: Who is Don Hutson?
•
SportsNation: Wide receiver quiz
•
SportsNation: Rank the all-time best
•
Luksa: Bob Hayes an overlooked great
•
Scouts: Ranking top receivers 1-64

BEST QUARTERBACKS OF ALL TIME
•
Sando: Brady not best yet, but time on his side
•
ZOOM gallery: Top 10 QBs of all time
•
Chadiha: Ranking the best QBs by decade
•
Best QBs by jersey numbers
•
Scouts Inc.: Ranking the top 64 QBs of today

•
SportsNation: Rank the greatest QBs
|
Vote
•
Super Bowls: Ranking every QB's performance