Commentary
New faces help cover old Falcons' scars
With new head coach Mike Smith and rookie QB Matt Ryan, the Falcons are trying to cover the scars left by Bobby Petrino and Michael Vick, writes Pat Yasinskas.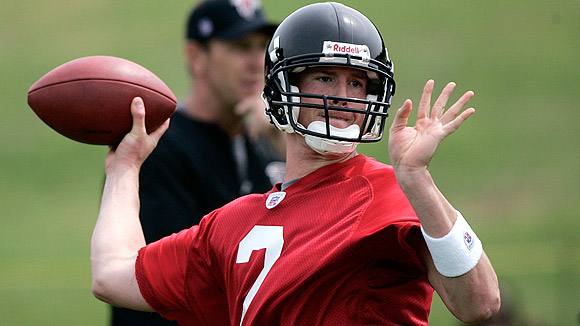 AP Photo/John BazemoreRookie quarterback Matt Ryan starred at Boston College, and after being selected No. 3 overall in the 2008 draft, he bears the responsibility of helping the Falcons move on from the Mike Vick era.
The National Football League hasn't seriously talked about adding an expansion team in quite some time -- so the
Atlanta Falcons
went ahead and became one on their own. Yes, they've been around for decades, but the Falcons spent the past six months talking about a new start. It's not just talk. Almost everything is new with the Falcons, and that's a wonderful thing.
Fantasy Update
AJ Mass breaks down the fantasy prospects for the Falcons. Story
The previous year was as difficult as any franchise has ever had, and owner Arthur Blank did everything he could think of to erase it. He restructured his front office and cut ties with popular veteran players
Warrick Dunn
and
Alge Crumpler
as well as the not-so-popular
DeAngelo Hall
. But, most important, Blank brought in the anti-Bobby Petrino and the anti-
Michael Vick
. New coach
Mike Smith
actually talks to his players, and rookie quarterback
Matt Ryan
doesn't even own a dog. It may take a long time for the Falcons to fully heal, but they've done a good job of covering the scars left behind by Petrino and Vick.
What we learned from minicamp
Before Petrino packed up his things in the middle of the night and left for the University of Arkansas in December, things were so bad that linebacker
Keith Brooking
-- who grew up in Georgia, played at Georgia Tech and spent his entire career with the Falcons -- didn't even want to be in Atlanta.
Once Smith got on the field for minicamp, Brooking said his feelings changed. The former Jacksonville defensive coordinator never has been a head coach on any level. But he has strong social skills, which may be the most important characteristic he brings to the job.
The players are totally buying in to Smith, which is something that never happened with Petrino and even was an issue when the mercurial Jim Mora coached Atlanta before that. Smith has brought sanity and a plan -- play good defense and run the ball well on offense -- and that's more than the Falcons have had in recent years. In many ways, this roster is depleted, and it might take several years for Smith's plan to fully take hold. But for the first time in a long time, the guys in Atlanta's locker room believe there at least is a plan.
Still unresolved
So far, Smith has done everything right. From assembling a stellar cast of assistant coaches to signing top free agent running back
Michael Turner
to drafting Ryan, everything has been calculated in regards to football and healing the team's public relations image. But the biggest question mark of all is how the Falcons will handle Ryan, who was drafted to be the face of the franchise and has the perfect profile. There's tremendous temptation to just go ahead and make Ryan the starter from day one. But that's a decision the Falcons haven't made yet, and they won't make it lightly. The reality is, though Ryan is a significant part of the franchise's future, it might be best to open the season with him on the sidelines. It's rare for any rookie quarterback to come in and have immediate success, especially on a team that's likely to struggle. The Falcons need to consider the textbook cautionary tale here and think about
David Carr
. Back when the expansion
Houston Texans
came along, they took Carr with their first pick and made him the starter immediately. Houston never was able to put an offensive line around Carr, and last year in Carolina, it looked as if he had a case of shell shock that may not ever be cured. The recent history of the Falcons means that expectations aren't high and the team might be able to bring Ryan along slowly. He needs to get on the field and he will at some point this season, but it might make a lot more sense to let
Chris Redman
or
Joey Harrington
take the lumps for a bit as this team sorts things out. The Falcons plan to use rookie
Sam Baker
at left tackle, and it might be wise to let him develop before exposing Ryan's blind side to the pass rush.
Injury analysis
This might be the brightest spot of all for the Falcons, largely because they got rid of so many veterans and have no significant injury issues. Turner, who was signed away from San Diego, had touch-up surgery on his shoulder right after last season. But he's completely healthy now and has fresh legs after serving as LaDainian Tomlinson's backup.
Who's the leader?
The Falcons are better off without the distractions that came with Vick and Hall. But they did lose some quality veteran leadership when Crumpler and Dunn left, and receiver
Joe Horn
wants out of Atlanta. There has been a lot of talk about the Falcons' being a team without any leaders. But that's not entirely true. Brooking and offensive lineman
Todd Weiner
are great locker-room guys who will be counted on heavily to relay Smith's message at the start. But new leaders will have to emerge. The Falcons believe Turner is a prime candidate to step into a leadership role immediately and believe Ryan will grow into one once he starts playing.
Training camp start date:
July 26
Pat Yasinskas covers the NFL for ESPN.com.
ESPN Tampa Bay Buccaneers reporter
Previously covered NFC South for ESPN.com
Covered Panthers for The Charlotte Observer from 1999-2008
Began journalism career with The Tampa Tribune in 1990
DIVISION CHECKUP
With the draft way back in the rearview mirror and minicamps over, ESPN.com takes a division-by-division look at every team before training camps begin next month. Training camp dates

•
Arizona: All eyes on quarterback
•
San Francisco: Can Martz rejuvenate offense?
•
Seattle: Hawks hope young WRs emerge
•
St. Louis: Shortcomings at wide receiver
•

Scouts' NFC West roundtable
•
SportsNation:
Vote on who will win West, more
•
Denver: Who's the featured back?
•
Kansas City: Instant impact from picks?
•
Oakland: Turning the corner?
•
San Diego: Runaway train?
•

Scouts' AFC West roundtable
•
SportsNation:
Vote on who will win West, more
•
Atlanta: New beginning
•
Carolina: Fox in the crosshairs
•
New Orleans: Defensive overhaul
•
Tampa Bay: Gruden weathering storm
•

Scouts' NFC South roundtable
•
SportsNation:
Vote on who will win South, more
•
Houston: In the running?
•
Indianapolis: Depth perception
•
Jacksonville: O-line is cause for concern
•
Tennessee: Young saddled with shaky WRs
•

Scouts' AFC South roundtable
•
SportsNation:
Vote on who will win South, more
•
Chicago: Many pressing questions
•
Detroit: Blue-collar mentality
•
Green Bay: Great expectations
•
Minnesota: Meshing new with old
•

Scouts' NFC North roundtable
•
SportsNation:
Vote on who will win North, more
•
Baltimore: Change in the air
•
Cincinnati: Johnson in eye of storm
•
Cleveland: Riding the momentum
•
Pittsburgh: Big Ben armed and ready
•

Scouts' AFC North roundtable
•
SportsNation:
Vote on who will win North, more
•
Dallas: Beware of Ware
•
New York: Will Super Bowl affect focus?
•
Philadelphia: Counting on McNabb
•
Washington: Campbell adapting to Zorn
•

Scouts' NFC East roundtable
•
SportsNation:
Vote on who will win East, more
•
Buffalo: Edwards taking control
•
Miami: Parcells turning up the heat
•
New England: Veterans still hungry
•
New York Jets: Pennington or Clemens?
•

Scouts' AFC East roundtable
•
SportsNation:
Vote on who will win East, more

MOST SENT STORIES ON ESPN.COM