Commentary
Crowd pleaser: Favre would put Bucs fans back in seats
Brett Favre can still play at a high level. He also can fill up a stadium, which is why he makes perfect sense for the Buccaneers, writes Pat Yasinskas.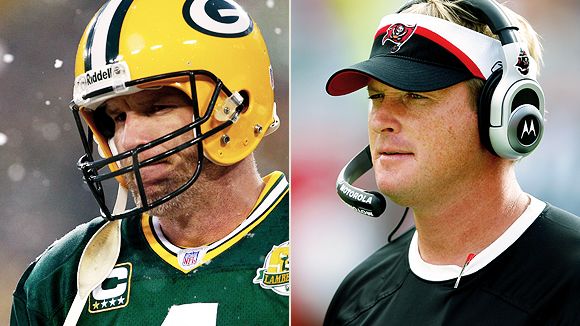 Getty ImagesBuccaneers head coach Jon Gruden, right, would be wise to pursue Brett Favre, writes Pat Yasinskas.
Forget all the talk about old ties to Jon Gruden or that
Brett Favre
could fit nicely in Tampa Bay's West Coast offense for just a second.
If Favre really is ending his retirement and really is leaving Green Bay, the NFL's other Bay is the perfect spot for one hugely significant reason -- money. Of the teams that have been mentioned as possible Favre suitors (Chicago, Minnesota, Carolina and Baltimore to name four), all may have a great need at quarterback. But the Bucs need the 38-year-old Favre the most.
They already have their own 38-year-old quarterback in Jeff Garcia. He's coming off a Pro Bowl season, and you can make a case that -- at this age -- Garcia and Favre are comparable in terms of skills. But Favre can do one thing Garcia can't, and that may play a huge role in how things sort out.
Favre can fill up a stadium.
Tampa Bay is a unique market, and the Bucs are at a unique time in their existence. Since moving back to Tampa six months ago, I've experienced some shock at the way the Bucs are perceived locally these days. Friend after friend has told me how he elected not to renew his season tickets after his 10-year agreement at Raymond James Stadium expired at the end of last season.
The Bucs had a lot of empty seats even as they were winning the NFC South last year and went down to the wire to sell out their home playoff game. You can bet that didn't go unnoticed by ownership.
Favre Coverage

NFC North blogger Kevin Seifert has the latest on Brett Favre's possible comeback, including a complete transcript of his interview with Fox News' Greta Van Susteren. Blog
Malcolm Glazer owns the Bucs, but he's not in good health. Sons Joel and Bryan run the business side of the franchise, with Gruden and general manager Bruce Allen calling the football shots.
Gruden has a history of wanting any quarterback he thinks can play -- and he knows Favre can play. Gruden also has a history of winning with older quarterbacks (Rich Gannon, Brad Johnson and Garcia), so it's no stretch to see the coach could want Favre. It's no stretch to see Allen, who has plenty of salary-cap room, finding a way to trade for Favre or signing him to a new contract if the Packers were to release him.
But final approval for something like that ultimately would come down to the Glazer brothers, and that's why it would make so much sense. The Glazers may be more reclusive than their fans would like, but they're sharp businessmen who want to win.
They once made a bold move to win a Super Bowl, firing the popular Tony Dungy and replacing him with Gruden. Since Gruden won that Super Bowl after the 2002 season, he hasn't won anything big, and he and Allen aren't all that popular with the media or the fan base. They catch a lot of grief for moves such as parting ways with safety John Lynch a few years back and re-signing troubled tight end Jerramy Stevens.
That's part of the reason the Bucs are facing difficulty in filling up their stadium this season. Throw in the facts that just about everybody in Tampa has a hometown team somewhere else and there are about 1,000 other things to do on Sunday afternoons when the weather is perfect, and that can make it tough to sell tickets.
Putting No. 4 in pewter would make it easy. Favre is the closest thing the NFL has to a living legend, and the Glazers are too smart not to realize that.
Back when the Glazers first bought the team in the mid-1990s, the terribly inept and Creamsicle-colored Bucs used to draw 20,000 or 30,000 for a lot of games at the old Tampa Stadium. The exceptions were when Detroit and Barry Sanders came to town and when Favre and the Packers traveled south. When Green Bay came to town, the Big Sombrero looked like Lil' Lambeau, as most of the crowd of 70,000 wore Favre jerseys.
Maybe Favre will end up somewhere else, maybe he'll stay in Green Bay or maybe he'll stay retired, but putting him in a Bucs jersey makes an awful lot of sense on a lot of levels.
Garcia might have been a one-year wonder, and he's been making noise about wanting a contract extension. Gruden and Allen, who were schooled in the Raiders' institute of diplomacy, aren't above handing Garcia a release instead of a new contract (while still stringing Chris Simms along, of course).
It's not hard to picture Favre making the Bucs a game or two better than Garcia did, and anything is possible when Favre's in the playoffs. His hometown in Mississippi is just a quick plane ride across the Gulf of Mexico, and he could visit on days off.
The Bucs have some talent at wide receiver and think they can squeeze 1,000 rushing yards out of Warrick Dunn or Earnest Graham or somebody, and the defense is still very good. Favre's the most durable quarterback in history, Garcia is not, and Gruden has had to resort to playing No. 3 quarterbacks too many times in recent years.
It's a win-win situation on the football side and, most importantly, the business side.
In a best-case scenario, Favre could make one more Super Bowl run. In a worst-case scenario (injuries and Favre's age showing), the Bucs probably still could contend for the playoffs.
In any scenario with Favre, the Bucs could sell a lot of tickets and keep their stadium full.
Pat Yasinskas covers the NFL for ESPN.com.
ESPN Tampa Bay Buccaneers reporter
Previously covered NFC South for ESPN.com
Covered Panthers for The Charlotte Observer from 1999-2008
Began journalism career with The Tampa Tribune in 1990
SPONSORED HEADLINES
MORE NFL HEADLINES
MOST SENT STORIES ON ESPN.COM
BRETT FAVRE SAGA: OVER
After pushing and pushing to keep playing either in Green Bay or elsewhere, Brett Favre's storied career will continue in 2008. The unretired quarterback has been traded by the Packers to the Jets.
NFC North blog | AFC East blog
News
•
Favre on offseason saga: 'I knew I wanted to play'
•
Favre unlikely to play in Jets' preseason finale
•
Report: Pack's Favre deal included souvenirs, blog
•
On Day 5 with Jets, Favre says arm feels 'fatigued'
•
Favre finally arrives in New York, meets mayor
•
Rodgers: 'Still following Brett's legacy'
•
Jets introduce Favre in Cleveland
•
Favre era ends in Green Bay with trade to Jets
•
Favre leaves Green Bay, destination unknown
•
Favre: 'This probably isn't going to work'
•
Favre flying under radar in Green Bay
•
Favre: Reinstatement done, Green Bay flight set
•
Favre mulling offer; NFL ruling put off again
•
Favre actively weighing Packers' offer
•
Report: Packers mull dealing Favre in division
•
Team president meeting with Favre, agent
•
Source: Favre files for reinstatement
•
Rodgers takes over as starting QB
•
Favre signs reinstatement letter, waits to send
•
Favre won't report to Packers camp Sunday
•
Sources: Favre, Packers talk trade destinations
•
Favre support muted at shareholders meeting
•
Report: Favre doesn't have team-issued phone
•
Report: NFL security visits Vikings
•
Favre questions likely from shareholders
•
Packers reportedly weigh trade offers for Favre
•
Favre returns to Lambeau Field
•
Packers president supports GM, coach
•
What they're saying about Favre
•
Favre won't apply for reinstatement right away
•
Sources: Packers claim Vikings tampered
•
Favre may show up at camp
•
Favre 'clears it up' in interview with Fox
•
Few fans attend Favre rally in Milwaukee
•
Pack fans rally, calling for Favre reinstatement
•
Pack won't release Favre
•
Sources: Favre seeks unconditional release
•
Favre itching to return to field
Trade Commentary/Features
•
Clayton: History doesn't favor Favre, Jets
•
Chadiha: Packers will be fine without Favre
•
Wojciechowski: Divorce cause? Lack of trust
•
Clayton: Deal is a downer for Favre
•
Scouts Inc.: Jets now a playoff contender

•
Clayton: Questions, answers on Favre trade
•
Fantasy spin: Deal boosts value of many Jets
Other Commentary/Features
•
Clayton: 5 reasons Favre would start for Pack
•
Mosley: Favre is QB turned ringmaster
•
Wojciechowski: Favre and away the best solution
•
Clayton: Favre wins ugly duel
•
Clayton: It's a painful divorce
•
Chadiha: Rodgers unfazed by Favre circus
•
Yasinskas: Favre makes sense for Bucs
•
Wojciechowski: Packers can't win this game
•
Clayton: It's a delicate situation
•
Wright Thompson: Catching Favre's fastballs
•
Wojciechowski: What's the answer, Packers?
•
Williamson: Where could he end up?
•
Seifert: What happens after HOF QBs move on
•
Paolantonio: Favre is overhyped
•
Kiper: 2005 analysis of prospect Rodgers
•
Madden '09 cover boy Favre to stay retired
•
Thompson: Brett, we miss you already
•
Wojciechowski: Worth the price of admission
•
Price of signed Favre items to go up
•
Yasinskas: Rodgers ready to take the reins
•
FB Outsiders: Measuring Favre's greatness
•
Sando: Gunslinger mentality defined Favre
•
Yasinskas: Majkowski on Favre's legacy
•
Clayton: Questions surrounding Favre
•
Clayton: Packers will miss Favre's magic
•
Chadiha: Favre will regret decision
•
Keating: Favre just getting started
•
Hashmarks: Favre fun-loving guy
•
Burning Questions: Is Rodgers ready?
•
Experts: Is Favre the best, or among them?
•
Favre's top 10 moments
•
Forde: Favre's flair for dramatic started in college
•
Favre's rating in Mel Kiper's '91 draft guide
•
Favre's hometown quiet on day of his retirement
•
Sadness, shock envelops Green Bay
•
Wounded Army officer has last ball thrown
•
Around sports: What they're saying
•
Fantasy spin: Rodgers not top-20 QB
•
Scouts: Rodgers has talent to succeed

•
Packers local: Complete hometown coverage
Video
•
Favre traded to Jets for conditional pick
•
Jets GM on trade for Favre, imminent release of Pennington
•
Steve Young on Favre's Jets future
•
Cris Carter on what trade means to Jets?
•
Schlereth: Exciting news for Jets
•
Sal Pal on Favre's move to AFC
•
Rachel Nichols on Favre's pre-trade mindset
•
Favre interview: Part 3
|
2
|
1
SportsNation
•
How will Jets do with Favre behind center?
•
Fans react to Favre's retirement
Photo Galleries
•
Favre flashback
•
Top TD guns
•
Top TD targets