Goodell inherits healthy NFL, but much work lies ahead
In replacing Paul Tagliabue as the new NFL commissioner, Roger Goodell has some pretty big shoes to fill, and the league's perceived prosperity aside, not a lot of time to grow into them, writes Len Pasquarelli.
Updated:
August 11, 2006, 12:41 PM ET
By
Len Pasquarelli
| ESPN.com
NORTHBROOK, Ill. -- The dead giveaway at every NFL owners meeting: When the limos begin queuing in front of the fancy hotel where the league's fraternity brothers are bivouacked, you know the boys are ready to bolt for the nearest small airport at which private jets are already revving their engines.
Limousines at league owners meetings are pretty much the equivalent of white smoke at a papal election. They represent two words: Done deal.
And so it was on Tuesday afternoon at around 2:40 Central time, roughly 20 minutes before the 32 owners were to commence the initial balloting as they sought to elect a successor to retiring commissioner Paul Tagliabue, when big, black town cars began pulling into the hotel parking lot here.
In the window of one limo was a printed placard that simply read "Mr. Rooney," and in another was a hand-lettered sign that said "Mr. Richardson." And if you listened hard enough, you could almost discern the sound of small jet engines at nearby Palwaukee Airport.
Dan Rooney and Jerry Richardson, owners of the Pittsburgh Steelers and Carolina Panthers, respectively, were the co-chairmen of the eight-man commissioner search committee, the group that whittled the original list of nearly 200 candidates down to the five finalists, who were presented Monday and Tuesday to the full league membership assembled outside Chicago.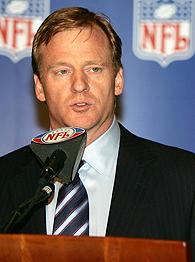 Jonathan Daniel/Getty ImagesGoodell addressed the media after owners elected him NFL commissioner by unanimous vote.
If Rooney and Richardson weren't in the know about what was to transpire in the much-discussed election, well, no one was.
But they knew, as did just about everyone else, how the process would shake out. Less than three hours later, the parking lot was filled with limos and the commissioner's spot was filled as well. Roger Goodell, the man who wore the favorite's mantle from the day Tagliabue announced he was leaving the league that he served so brilliantly since 1989, did nothing to fumble a job that clearly was his to lose.
It didn't hurt that Rooney, perhaps the league's most revered and respected owner and a man who knows a little about backroom politics, delivered a rousing endorsement before the voting even began.
"I told [the other owners] that I was going to vote for the best person to be commissioner," Rooney said. "And I told them I had no doubt that was Roger Goodell."
Not quite the equal of a Russian election, or of the process that will take place when Fidel Castro inhales his last sweet drag on a hand-rolled Cuban cigar, the NFL election was still pretty much a fait just waiting to be paired with an accompli. How lopsided was the voting? Well, ESPN.com confirmed that, despite a Monday resolution which stipulated that all five finalists would remain on the ballot through three votes, the field was narrowed to two men after only one round.
Goodell's lone competition, using that term in the most relative sense imaginable, was Gregg Levy, the league's outside counsel (the role Tagliabue held before becoming commissioner), and really the only other candidate most owners could have identified in a lineup. On the fifth ballot, Goodell was elected to the job for which he had long apprenticed, by a unanimous vote.
His obvious strengths aside, Goodell can only hope the public display of solidarity lasts a little longer in private as well.
For all the terrific accomplishments of the Tagliabue Era, for the nonpareil prosperity he has engendered in what has grown into a $6 billion-a-year industry, the NFL is not without storm clouds on the horizon. And those are storm clouds that, frankly, could make Goodell's honeymoon a brief one.
"I don't think there really is any honeymoon period for Roger," said Marc Ganis, the president of Chicago-based Sportscorp Ltd., a confidant of dozens of owners and a man conversant in league affairs. "I think his honeymoon ends the minute he takes the job. He's got to hit the ground running, believe me. There are still a lot of key issues facing the league: the labor situation, revenue sharing, the Los Angeles market and how to deal with that. He inherits a great league, a league in tremendous shape, but it's not as if he's walking into a perfect situation."
Said New York Giants co-owner Steve Tisch: "There doesn't need to be a honeymoon period, and with Roger, I don't think there will be."
Tisch offered that Goodell generated such strong support because of his experience, his relationships, the "tremendous trust and confidence" the owners have in him, as well as the "integrity" they know he has. In the not-too-distant future, Goodell, 47, the son of former U.S. Sen. Charles Goodell of New York, will need all of those qualities and more to help maintain the NFL's pre-eminent status.
Perhaps the most daunting reality is this one: Although the league and the NFL Players Association touted the recent extension to the collective bargaining agreement as a long-lasting peace, it really isn't. The two sides have the option, as early as November 2008, of opting out of the agreement. There certainly have been strong indications from several owners who believe the union won excessive advantages, and also from NFLPA executive director Gene Upshaw, that they may exercise the opt-out rights as soon as they can.
That would turn back the clock, perhaps, to the precipice on which the league and its players stood only five months ago. In fact, five months after the CBA extension was ratified, it still doesn't really exist in written form, and there are still key issues over which the two sides can't agree. One owner has joked that the CBA extension might actually be voided before anyone receives a final copy of it, or before the so-called "qualifiers" that determine the enhanced revenue sharing are in place.
The revenue-sharing issue, behind the scenes at least, remains a festering problem. It was not manifested in Tuesday's election, even though there were hints some low-revenue owners might oppose Goodell because he had played such a prominent role in crafting an agreement that didn't adequately address their concerns. As usual, those low-revenue owners talked a better game than they played, and ultimately lined up behind Goodell's candidacy.
But there could come a time when the rhetoric of those owners becomes rebellion, and Goodell is going to have to make a quick move to assuage them.
As for the Los Angeles market, an issue in which Goodell played his typically key role, the costs of placing a franchise there and building a stadium have risen exponentially in the last few years. Some have placed the combined costs at $1.5 billion to $2 billion. In a league that has thrived without a franchise in the nation's second-largest market, there is some feeling such costs are prohibitive and there are more productive places to funnel funds.
A somewhat nervous-looking Goodell appeared before the media, his voice quivering just a little, and vowed to carry on the work of his two mentors: Tagliabue and Pete Rozelle. He acknowledged in his address to the owners that he had stressed three elements: the game, the strength of the 32 individual teams and the continuing search for innovation.
"I think that the league has always tried to find a better way of doing things," Goodell said.
It will be difficult for Goodell, even with his long and diverse tenure in the NFL, to do things much better than did Rozelle and Tagliabue. But times have changed and Goodell is the personification of that. One of his first jobs was cutting newspaper clippings when he was a public relations aide for the New York Jets. Nearly three decades later, there aren't nearly as many newspapers to clip from, and everyone in the league, including its commissioner, comes under more instant scrutiny.
On Tuesday afternoon, as the owners debated the merits of the candidates, Goodell noted that he retreated to his hotel room to occupy himself with work as he awaited the results of the voting and his future. It wasn't until Rooney knocked on his door to deliver the good news when Goodell was certain he would be the new commissioner.
"Thankfully, I had just finished putting my pants back on," Goodell recalled, laughing.
Here's hoping the new commissioner had his shoes on as well. He's got some pretty big wing tips to fill in succeeding Tagliabue, and the NFL's perceived prosperity aside, not a lot of time to grow into them.
Senior writer Len Pasquarelli covers the NFL for ESPN.com.
SPONSORED HEADLINES
MORE NFL HEADLINES
MOST SENT STORIES ON ESPN.COM
EDITORS' PICKS
Can the Lions win in Green Bay? Here are all our Week 17 picks.
NFL Nation »

J.J. Watt isn't just a trendy MVP pick. There's a smart argument to be made for why he deserves the award.
Sando

Viewer's Guide: Can Detroit's defense overcome Green Bay's Lambeau advantage? Here are the Week 17 trends to track.
Graphic »