Commentary
Spying scandal tests Goodell's law-and-order image
His transformation from Cleveland disaster to guru complete, his legacy as a Hall of Fame coach secure, Bill Belichick standing diminished in front of his public would be considered incongruous, but for the times in which he lives.
He coaches arguably the best football team in the universe and is busted for videotaping a team he'd already mashed in the playoffs a year earlier, a childish offense that may cost him dearly. By apparently cheating against a clearly inferior opponent -- and his former protégé Eric Mangini -- the coach with more offensive weapons than the Pentagon joined a notorious list of famous head-scratchers. Belichick's actions now echo those of Winona Ryder, the fabulously rich shoplifter; Barry Bonds, better than anybody walking the earth, but who reportedly took steroids, though unknowingly, anyway; and Kobe Bryant, sex symbol to a million women yet who was accused of rape -- a case later dismissed.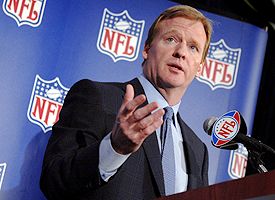 Barely a year into Roger Goodell's crackdown on misconduct, the NFL boss' get-tough philosophy is being tested by New England's spying scandal.
Belichick is now viewed as a person who because of some weird, destructive mix of arrogance (because he obviously didn't think he would be caught) and insecurity (because he felt he needed to steal signals to win in the first place) unnecessarily undermined his own achievements.
The Patriots' 38-14 win was largely untainted, for the tape was confiscated in the first quarter. Still, there will be much conversation about how, if at all, this strange episode will affect the already polarizing Belichick, or if his past accomplishments -- Super Bowls, for example -- will be cast in a different, harsher light. But as we watch Belichick, it will be just as important to watch NFL commissioner Roger Goodell.
How Goodell administers punishment of Belichick and the Patriots this week will say much about his commissionership, for the Belichick case offers Goodell a high-profile opportunity to show he is capable of imposing hard sanctions on infractions of varying nature.
It is currently unclear what is on the confiscated tape. Belichick apologized Wednesday but did not say exactly for what he was sorry. But the practice of stealing signals in football does not fall under the rubric of gamesmanship, as it does in baseball. Baseball teams don't have 700-page playbooks, as does Washington associate head coach Al Saunders. Nor do baseball players use parts of their offseason to devise game plans for opponents, and their teams aren't threatened with the loss of draft picks for relaying back to the hitter the next pitch will be a curveball. Technological espionage, however, is unacceptable in both sports. During parts of the 2003-05 seasons, opposing scouts were convinced the Boston Red Sox were stealing signs using a center-field camera.
Should it turn out that the New England tape is damaging, and Belichick and the Patriots cheated their way to an opening day win, Goodell's response will be revealing.
If he is to be taken seriously and as anything more than a hammer for management, Goodell needs to levy a serious penalty on Belichick and the Patriots, for in today's sporting climate -- Tim Donaghy, Troy Glaus, the Tour de France and the growing, disturbing talk of tennis match fixes -- upholding the integrity of the sport is just as important as suspending a player for a DUI.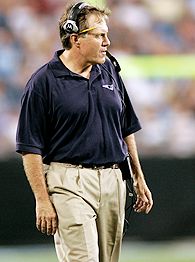 Grant Halverson/Getty ImagesBill Belichick offered apologies but no explanation for the incident in which his club is accused of spying on the Jets.
The Patriots face possible sanctions, quite probably the loss of draft picks as punishment. What needs to happen, if indeed it is proved the Patriots incongruously cheated their way to an opening day victory against an inferior opponent? The Patriots should be put at some disadvantage during the regular season. Goodell should suspend Belichick two games -- ban him from the sidelines, the locker room and coaches' meetings -- and should not allow him to work on game plans, participate in practice or communicate with his team for two weeks.
With the players, Goodell's position is established. He is the Law and Order Commissioner. His first platform, the issue upon which he has chosen to stake the first chapter of his commissionership, is player conduct. His record to date -- his approach to Tank Johnson, Chris Henry, Pacman Jones and Michael Vick -- is clear. Even many players refer to him as the league's top cop. They understand his mission and fear his authority.
But Goodell now must sanction perhaps the league's most visible team, with a powerful owner. Robert Kraft may not be a household name to those outside of the 617 area code, but along with Jerry Jones in Dallas, Daniel Snyder in Washington and Jeffrey Lurie in Philadelphia, Kraft, with his signature zeal, is part of the league's emerging big-money revenue clique. Goodell must, in effect, show he is willing to treat Belichick's white-collar, high-tech transgression in a similar manner as Frostee Rucker's violent crime. Ostensibly both can affect how the paying customer views the legitimacy of the sport.
Violence is clearly more visceral, and certainly in the outside society violent behavior cannot be equated to breaking the rules of a game. Inside the sport is another matter, where punishment is based on negatively affecting the health and welfare of the sport. Belichick and the Patriots apparently violated a league rule in place to ensure fair contest, the root of the sport.
If Goodell does not act decisively, he will only confirm a basic truth about the commissioner-player relationship in all professional sports -- that he works for management. Of course, it has always been this way, the fiction is that the commissioner is anything but the collective employee of 32 owners. That will change only when the players have a say in who receives the jobs Messrs. Goodell, Selig, Bettman and Stern now hold.
Until then, Goodell must act. Failure to do so will prove him to be more union antagonist than impartial arbiter, the protector of football interests on all sides. If he lets Belichick off easily, Goodell will be less Law and Order Commissioner and more Company Man.
Howard Bryant is a senior writer for ESPN.com and ESPN the Magazine. He is the author of "Shut Out: A Story of Race and Baseball in Boston" and "Juicing the Game: Drugs, Power and the Fight for the Soul of Major League Baseball." He can be reached at Howard.Bryant@espn3.com.
Senior Writer
Senior Writer, ESPN.com and ESPN The Magazine
Author of "The Last Hero: A Life of Henry Aaron"
Author of "Juicing the Game"
SPONSORED HEADLINES
MORE NFL HEADLINES
MOST SENT STORIES ON ESPN.COM
SPY GAMES
Former Patriots employee Matt Walsh met with NFL commissioner Roger Goodell and Sen. Arlen Specter to discuss Patriots' illegal videotaping.
Story
More News
•
Belichick says he made 'mistake'
•
Herald reporter: Sources never saw tape
•
Walsh admits he knew it was wrong
•
Senator wants inquiry
|
Read it (pdf)
•
Fish: Would Congress investigate Pats?
•
Boston Herald apologizes for false report
•
Clayton: Five things we learned from Spygate
•
Walsh sends eight tapes to NFL
•
Fish: Pats stole offensive signs
|
Timeline
•
Clayton: Spygate will expire quietly
•
Former Pats employee sends tapes to league
•
Fish: NFL faces serious questions
•
Goodell to punish Pats, depending on evidence
•
Walsh, NFL to finally talk
|
Agreement
•
Goodell growing impatient with Walsh stalemate
•
Kraft, Belichick apologize to owners
•
Walsh still working on deal for testimony
•
Rams player, fans withdraw lawsuit
•
Spygate revelations might not be imminent
•
NFL, Walsh close to deal to turn over tapes
•
Report: Specter calls on Goodell to release letters
•
Report: Goodell proposes crackdown on cheating
•
Specter says Pats 'stonewalling' Spygate probe
•
Committee lauds Goodell's handling of Spygate
•
Goodell hoping deal to talk to Walsh close to done
•
Report: Belichick denies Pats taped Rams' drills
•
Walsh's attorney: NFL indemnity offer falls short
•
Specter prepared to extend Spygate investigation
•
Goodell has no regrets about destroying tapes
•
Source: Specter wants NFL indemnity for witness
•
Goodell, Specter to discuss Spygate Wednesday
Commentary
•
Mortensen: What were Rams thinking?
•
Yasinskas: Spygate stench won't go away
•
Paolantonio: Goodell's Spygate responsibility
•
Clayton: Spygate closing with a whimper
At The Pro Bowl
News
•
Ex-Pats video assistant mum on Spygate probe
At The Super Bowl
News
•
Goodell willing to give Pats' Walsh indemnification
•
Goodell, Specter won't meet until after Pro Bowl
•
Vermeil doubts spying made difference for Pats
•&nbsp
Goodell to meet with Sen. Specter about Spygate
•&nbsp
Report: N.E. taped Rams before XXXVI
•
Fish: Ex-Ram Warner suspicious of Pats
•
Specter to Goodell: Let's talk
•
Fish: Possible 'Spygate' witness surfaces
Commentary
•
Once burned, Goodell turns fireman
•
Munson: Congressional interest is serious business
•
Pasquarelli: Specter should stick with politics
•
Clayton: Spy saga won't distract Patriots
•
Hashmarks at Goodell's news conference
Letters
•&nbsp
Specter to Goodell (.pdf)
•&nbsp
Goodell to Specter (.pdf)
From September
News
•
NFL has all materials from Pats in spying scandal
•
NFL reviews how tape leaked to Fox
•
Belichick to turn over materials in spying probe
•
Pats owner perturbed by Belichick's spy games
•
Goodell orders Pats to turn over all video
•
Sources: Patriots give Belichick extension
•
Wilson spies inconsistencies in Belichick case
•
NFL fines Belichick $500K, Pats $250K for spying
•
Bill Belichick's apology to Patriots community
•
Clayton Q&A: Patriots can survive this penalty
•
Two days later, Belichick still won't comment
•
Some Eagles question Pats' tactics in Super Bowl
•
Belichick issues apology amid accusations
•
Sources: Goodell determines Patriots broke rules
Commentary
•
Clayton: NFL penalty for Belichick, Pats too light
•
Mosley: Pats lose first-rounder? Roger that
•
Scouts Inc.: What the Pats will miss in '08 draft
•
Chadiha: Legal spying widespread in NFL
•
Sando: What's legal, what's not in spy game
•
What they're saying: Players, coaches, pundits
•
Luksa: Spy stories once had comedic value
•
Bryant: Belichick deserves two-week banishment
•
Clayton: Goodell to treat breech seriously
•
Simmons: The camera doesn't lie
•
Simmons: Cheating not necessary to win opener
Video

•
What should happen to the Pats?
•
Belichick deflects videotape-related questions
•
Former Patriot thinks team should be punished
•
Reactions from around the league
Audio

•
Mike Vrabel, Pats linebacker: Don't criticize the players

•
Chris Mortensen: Situation might motivate the Patriots

•
Keyshawn: It was 'scouting,' not cheating

•
Salisbury: Story blown out of proportion

SportsNation
•
Vote: Was New England's punishment fair?
•
Mixed reader results on NFL spying