Commentary
Winning in style? Not on Monday night
If the Cowboys can play as poorly as they did on Monday night and still win, there's no telling what Dallas can accomplish this season, writes Len Pasquarelli.
Originally Published:
October 9, 2007
By
Len Pasquarelli
| ESPN.com
ORCHARD PARK, N.Y. -- If it's true that every championship team has to earn at least one ugly victory on its way to a title, the NFL might consider handing over the Vince Lombardi Trophy for Super Bowl XLII to Dallas Cowboys owner Jerry Jones right now.
Although Dallas' improbable 25-24 victory over the Buffalo Bills here Monday night will rate as one of the most insanely exciting games in recent history, even some of the Cowboys players acknowledged afterward that the last-second win totally redefined winning ugly.
"That last kick, man, was a thing of beauty," said tight end Jason Witten, whose nine catches for 103 yards helped keep Dallas' offense from total collapse. "But most of what came before it, well, that was butt-ugly, wasn't it?"
No argument here. And none, either, in a Cowboys locker room where disbelief at what had just transpired -- with Dallas overcoming an eight-point deficit by scoring a touchdown and a field goal in the final 20 seconds -- overshadowed delirium.
There was plenty of rhetoric from the Cowboys (5-0) about how resilient they were in the face of adversity. But, in truth, the victory was nothing shy of ridiculous.
In a game in which Dallas actually never led until there was no time left on the clock, and until rookie Nick Folk's winning 53-yard field goal sailed straight down the middle and silenced a stunned home crowd, the Cowboys perhaps steeled themselves for a run at the league title.
But if the victory proves in the long run to be a galvanizing one, it will also be recalled years from now as pretty grotesque, as well.
To maintain their unblemished record, the Cowboys had to overcome several lapses on special teams, uninspired play in virtually every facet of the game, and lots of warts. Mostly, however, they had to overcome the horrific performance of quarterback Tony Romo, who had six turnovers. That included five interceptions, with four of the pickoffs coming in the first half, and two of them returned for touchdowns by the resourceful Buffalo defense.
The folks who represent Romo at Creative Artists Agency, and who are anxious to complete a lucrative, long-term contract for the fifth-year veteran, probably won't be dialing up Jones to ratchet up negotiations this week. On the other hand, Dallas brass should have considered tendering a contract proposal at halftime, because Romo's stock arguably has never been lower since he was elevated to the starting lineup last season.
Queried at one point about one of his five interceptions, Romo responded: "Which one? I mean, I threw a few of them, you know? Give credit to the Bills, because they really did outplay us. Or at least they outplayed me. But I guess sometimes you've got to win one like this, huh?"
No team figures to win one like this again anytime soon.
Fortunately for the Cowboys, the Bills, whose three touchdowns came on interception returns by safety George Wilson and defensive end Chris Kelsay, and a 103-yard kickoff runback by Terrence McGee, could never slam the door completely shut. That was in part because of an offensive effort that Buffalo wide receiver Lee Evans called "embarrassing," and because of some dubious play-calling, particularly in the fourth quarter.
Having relied most of the night on an ultra-conservative game plan, one that had rookie quarterback Trent Edwards throwing underneath the Dallas coverage in only the second regular-season start of his career, the Bills' staff called for a somewhat risky pass at a time when a field goal might have secured the victory.
Starting his first game of the season, Dallas cornerback Terence Newman intercepted the Edwards effort, which was tipped by linebacker DeMarcus Ware. And even though Buffalo thwarted the ensuing Dallas possession with its fifth interception, the failure of the Bills to play it safe and kick a field goal proved deadly.
Edwards, who completed 23 of 31 attempts for 176 yards in what could best be described as a horizontal passing game, adamantly defended the play-call.
"You don't want to be running the ball and just giving it to [tailback] Marshawn Lynch all the time," Edwards said.
On the critical third-down play, though, judiciousness might have been the best option. Certainly, the Buffalo coaching staff will be second-guessed for the call.
Romo rallied the Cowboys to a touchdown with 20 seconds remaining by completing nine of 11 passes. But the Cowboys failed on what would have been tying two-point conversion when Wilson strafed the ball out of Terrell Owens' hands.
In keeping, though, with the improbable evening, Dallas recovered the onside kick. And after a replay reversed what would have been a 22-yard Owens catch, Folk -- who became Nick Folk-hero on this night -- twice nailed the winning field goal, having to kick it a second time after the Buffalo sideline called timeout just as the ball was snapped on the initial attempt.
Said Owens: "He kicked the longest field goal in history, 106 yards. Hey, it was one for the record books."
Not quite, although the unlikely victory was, indeed, one for the books. And one that Dallas will be talking about for a long time. Maybe right up to Super Bowl time.
"To play as [poorly] as we did and somehow still win -- and, believe me, I'm still not exactly sure how we did it -- that's a real character builder," said wide receiver Patrick Crayton. "I mean, we stumbled all over the place, but we didn't fall down, and that was big."
Len Pasquarelli is a senior writer for ESPN.com.
THE DUEL IN DALLAS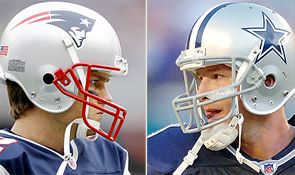 It's a battle of unbeatens ... and a potential preview of Super Bowl XLII. It's T.O. vs. Moss, Romo vs. Brady. It's 5-0 New England vs. 5-0 Dallas on Sunday at Texas Stadium (4:15 p.m. ET).
Commentary/features
•
Clayton's First and 10: Expect lots of offense
•
Garber: Moss and T.O. are two of a kind
•
Bendetson: Unsung Green gets job done for Pats
•
Sando: Brady, Moss among scheme-busters
|
List
•
Harasta: Sharing a moment with the Folk hero
•
Joyner: Cowboys defense passing the test

•
Wojciechowski: Mr. Belichick, meet Mr. Romo
•
Helyar: Romo's marketability a 'perfect storm'
•
Pasquarelli: Cowboy ugly win against Bills
•
Tafoya: Is Romo the next Brett Favre?

•
Power Rankings: Pats No. 1, Cowboys No. 3
•
Great Debate: Will Pats go 16-0 this season?
•
Hashmarks: Matt Mosley blogs on the big game
News
•
Cowboys' Phillips denies 'Spygate' comments
•
T.O. goes silent until after the game
Video
•
Belichick, Phillips sound off
•
Is T.O. nervous for the duel?
•
Werder: T.O. lets sign speak for itself
•
Nix: Brady, receivers keep improving
•
Parcells: What Romo, Dallas will face
•
Duel dialogue: Cowboys leaking oil?
•
EA Sports Madden Challenge: Dallas
Audio
•
Parcells, Keyshawn, Mort on Romo, more

•
Green: Game preview
•
Green: Debating which team is better
•
Tirico: Jerry Jones on QB Tony Romo

•
Mosley: Taking the temperature in Dallas

•
Mortensen: Romo will improve with age

•
Mosley: Bills wake-up call for Dallas

•
Clayton: Timeout rule needs a change

Scouts Inc.
•
Horton's Film Room: Romo's misreads
•
Pats will come hard after Romo
•
Take 2: Pats-Cowboys scouting report
•
Green: Cowboys should use more of Barber
•
Pats vs. Cowboys: Tale of the Tape
•
Green: The new Moss is same as old Moss
•
How to slow down the playmakers
•
Kretz: Newman gives Dallas options
•
Patriots-Cowboys scouting report
•
Kidd: Patriots key on Cowboys TE
•
Maalouf: Dallas special teams will struggle
•
Green: Romo can lead Dallas to Super Bowl
•
Horton: Here's why the Patriots could go 16-0
Zoom Gallery
•
Scouts Inc. on under-the-radar players
Simulations
•
EA simulation: Patriots 41, Cowboys 10
•
AccuScore: Moss makes major difference
SportsNation
•
Pats-'Boys: Who'll win? Who'll make the plays?
•
Rank the Patriots and Cowboys
Community
•
Post a comment on Dallas' Tony Romo
•
Join the conversation on Power Rankings
•
Readers discuss Cowboys' win in Buffalo
Animated Plays
The Cowboys could have their hands full with a defense that is the master of disguise. •
Patriots' games on defense
2007 Results
NEW ENGLAND (5-0)
•
Game 1:
Patriots 38, Jets 14
•
Game 2:
Patriots 38, Chargers 14
•
Game 3:
Patriots 38, Bills 7
•
Game 4:
Patriots 34, Bengals 14
•
Game 5:
Patriots 34, Browns 17
•
Patriots clubhouse page
DALLAS (5-0)
•
Game 1:
Cowboys 45, Giants 35
•
Game 2:
Cowboys 37, Dolphins 20
•
Game 3:
Cowboys 34, Bears 10
•
Game 4:
Cowboys 35, Rams 7
•
Game 5:
Cowboys 25, Bills 24
•
Cowboys clubhouse page

MOST SENT STORIES ON ESPN.COM