Commentary
Circle Nov. 2 for Pats-Colts marquee matchup
Now that the 2008 NFL schedule has been released, Mike Sando rates the games from the supreme (luxury box seats) to the very good (end zone seats).
Originally Published:
April 15, 2008
By
Mike Sando
| ESPN.com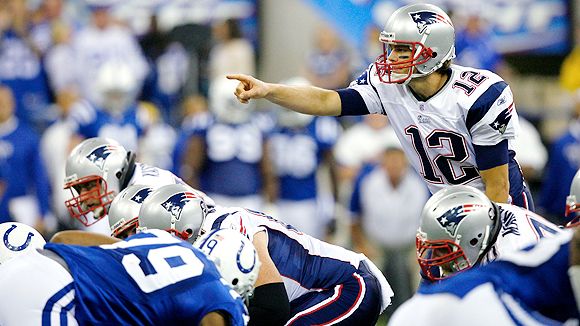 Joe Robbins/Getty Images Whenever Tom Brady and the Patriots face the Colts, it's the must-see game of the regular season.
Nine teams cracked our list of eight projected luxury-box matchups. The fun is in seeing which teams emerge as worthy additions or substitutions once the season gets going. High-profile rematches give the Colts, Patriots, Steelers and Cowboys chances to avenge difficult defeats from the previous season, always a good place to start. Here's where we'd want to sit for 40 of the best games of the season:
LUXURY BOX
Patriots at Colts -- Nov. 2: Indy couldn't finish 2006 version of this classic.
Colts at Chargers -- Nov. 23: Peyton Manning, Adam Vinatieri seeking redemption.
Patriots at Chargers -- Oct. 12: Unfinished business for LaDainian Tomlinson, Chargers.
Giants at Cowboys -- Dec. 14: Cowboys couldn't beat 'em when it mattered.
Steelers at Browns -- Sept. 14: Statement game for whichever team prevails.
Jaguars at Colts -- Sept. 21: Jags have lost past three in RCA Dome.
Cowboys at Packers -- Sept. 21: Aaron Rodgers played well at Dallas last season.
Steelers at Patriots -- Nov. 30: Schedule sends Steelers to New England -- again.
CLUB LEVEL
Cowboys at Steelers -- Dec. 7: Old rivals haven't met since 2004 season.
Eagles at Cowboys -- Sept. 15: Tony Romo struggled in most recent meeting.
Steelers at Jaguars -- Oct. 5: Ben Roethlisberger took playoff loss to Jags personally.
Cowboys at Redskins -- Nov. 19: Classic rivalry almost always worth a look.
Browns at Steelers -- Dec. 28: Beating Steelers in Pittsburgh a tall order.
Redskins at Cowboys -- Sept. 28: Skins had 423 yards in Dallas last season, still lost.
Chargers at Steelers -- Nov. 16: San Diego pass rush could test Big Ben.
Colts at Jaguars -- Dec. 18: Healthy David Garrard gives Jags a chance at home.
50-YARD LINE
Patriots at Jets -- Sept. 14: Bill Belichick returns to scene of the crime.
Redskins at Seahawks -- Nov. 23: Jim Zorn has inside info for playoff rematch.
Giants at Steelers -- Oct. 26: Eli Manning, Big Ben compare Super Bowl rings.
Giants at Vikings -- Dec. 28: Vikings had four picks versus Manning in 2007.
Browns at Eagles --Dec. 15: Both offenses can pile up the yardage.
Bears at Vikings -- Nov. 30: Bernard Berrian returns to Chicago -- in purple.
Steelers at Titans -- Dec. 21: Both teams pride themselves on being physical.
Packers at Seahawks -- Oct. 12: Ryan Grant's footprints stamped all over Seahawks.
20-YARD LINE
Redskins at Bengals -- Dec.. 14: Chance to revisit Chad Johnson trade rumors.
Texans at Titans -- Sept. 21: Matt Schaub, Albert Haynesworth square off.
Rams at Seahawks -- Sept. 21: Rams kicker Josh Brown heads back to Seattle.
Eagles at Ravens -- Nov. 23: Ravens coach John Harbaugh built résumé with Eagles.
Saints at Panthers -- Oct. 19: Dan Morgan surely has this one circled on calendar.
Falcons at Chargers -- Nov. 30: Michael Turner returns to San Diego a wealthy man.
Bills at Jaguars -- Sept. 7: Jags' ground game runs into familiar face, Marcus Stroud.
Eagles at Bengals -- Nov. 16: Asante Samuel versus Bengals' passing game.
END ZONE
49ers at Rams -- Dec. 21: Isaac Bruce won't look right in 49ers' colors.
Broncos at Raiders -- Sept. 8: Always a grudge match between AFC West rivals.
Bucs at Falcons -- Dec. 14: Georgia Dome welcomes back Warrick Dunn.
Broncos at Falcons -- Nov. 16: Jason Elam gives Falcons an edge if it's close.
Cardinals at Jets --Sept. 28: Arizona wanted Calvin Pace back, but Jets got him.
Lions at 49ers -- Sept. 21: Fired by Detroit, Mike Martz surfaced in San Francisco.
Raiders at Chiefs -- Sept. 14: Raiders riding rare one-game win streak at Arrowhead.
Saints at Bears -- Dec. 11: Both teams looking to recapture 2006 form.
Mike Sando covers the NFL for ESPN.com.
NFL Insider
ESPN Insider NFL columnist and blogger
Covered the NFL since 1998
Member of Pro Football Hall of Fame selection committee
2008 NFL Schedule

The NFL released the full 2008 regular-season schedule on Tuesday. Among the highlights: The Buffalo Bills play host to the Miami Dolphins in Toronto on Dec. 7.
Story | Schedule

Analysis
•
Hashmarks blog
•
Clayton: Degree of difficulty tough for AFC North
•
Clayton: NFC East gets primetime showcase
•
Sando: Pats-Colts remains marquee matchup
•
Walker: Schedule questions (and answers)
•
Mosley on MNF schedule
• Complaint dept:
AFC
|
NFC
•
Scouts: Intrique list

•
Does strength of schedule matter?
SportsNation
•
Vote: Predict every game!
•
Your thoughts on the 2008 schedule?
Schedule breakdowns
•
2008 NFL opponents
•
Strength of schedule
•
Divisional matchups

MOST SENT STORIES ON ESPN.COM