Commentary
After Jim Brown, best-ever RB debate gets interesting
ESPN.com assembled a panel of eight great football minds to determine the 10 best running backs of all time, and there's not much debate over who's No. 1, Pat Yasinskas writes.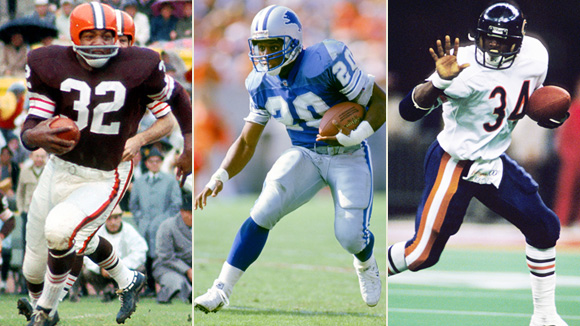 Getty ImagesFrom left: Jim Brown averaged 5.2 yards a carry; Barry Sanders rushed for 2,053 yards in 1997; Walter Payton finished his career with 16,726 yards rushing.
It started with eight great football minds and seemingly a simple request.
Rank the 10 best running backs in NFL history.
By the time all was said and done, Don Shula, Marv Levy, Dan Reeves, Robert Smith, Jerry Richardson, Floyd Reese, Jack Bushofsky and Emmitt Thomas had thrown around nearly four dozen names, debated the merits of runners who had seemed flawless when they entered the Pro Football Hall of Fame and helped pare a list to include only the most elite of the elite. (Click here for bios of panelists.)
With lots of input from those eight, ESPN.com subjectively developed a list that spanned different eras, took changes in the game into account and came to this conclusion -- Jim Brown was the best running back ever.
Top 10 RBs of All Time
Don Shula, Marv Levy, Emmitt Thomas, Jack Bushofsky, Dan Reeves, Jerry Richardson, Robert Smith and Floyd Reese helped ESPN.com evaluate the best running backs in NFL history. ESPN.com weighed their contributions, balancing rankings with anecdotal evidence and statistics to create the following list:
(ZOOM gallery)
1. JIM BROWN
Career:
Upon retiring before '66 season, the Browns' RB was all-time leader in rushing yards (12,312), all-purpose yards (15,549) and touchdowns (126).
Quick quote:
"Incredible combination of speed and power. As a defensive back, I'm happy he retired just as I came into the league, because my career might have been a lot shorter if I had to tackle him.'' -- Thomas
Video:
Career Highlights
2. BARRY SANDERS
Career:
Sudden retirement in '99 came with the Lions' RB trailing only Walter Payton on the all-time rushing list. Ran for more than 1,500 yards in a season five times.
Quick quote:
"He's the only guy I've ever seen who could hurt defenders without touching them. He'd have them twisting their ankles and running into each other.'' -- Reese
Video:
Career Highlights
3. WALTER PAYTON
Career:
Played on mediocre Bears teams until late in career but retired as leading rusher (16,726) in history.
Quick quote:
"The most complete back ever."' -- Shula
Video:
Career Highlights
4. EMMITT SMITH
Career:
Smith, who played 13 seasons for Dallas and two for Arizona, took over as all-time rushing leader in '02. His 164 rushing touchdowns are the most in history.
Quick quote:
"Phenomenal and extremely tough player. Incredible balance and leverage.'' -- Reeves
Video:
Career Highlights
5. GALE SAYERS
Career:
Knee problems forced him to retire in '71 after seven seasons with the Bears. At 33, he was the youngest person selected to the Pro Football Hall of Fame.
Quick quote:
"I used to watch him and say, 'How can anybody be that good?'" -- Levy
Video:
Career Highlights
6. LADAINIAN TOMLINSON
Career:
The Chargers' RB has at least 1,200 rushing yards and 50 receptions in each of his first seven seasons.
Quick quote:
"He brings as much versatility as any running back ever has.'' -- Smith
7. MARSHALL FAULK
Career:
Began career with Indianapolis in '94 but was traded to St. Louis in '99 and became cornerstone of "Greatest Show on Turf." First running back in history to lead his team in receptions in five different seasons.
Quick quote:
"Could have been an All-Pro as a wide receiver.'' -- Bushofsky
8. O.J. SIMPSON
Career:
The Bills' great became the first player in NFL history to rush for 2,000 yards in a season when he gained 2,003 in '73.
Quick quote:
"He had it all. He had the same type balance as Jim Brown, and he could just keep going and going.'' -- Reeves
9. LENNY MOORE
Credentials:
One of Johnny Unitas' key weapons for the Colts, he scored a touchdown in 18 straight regular-season appearances between '63 and '65.
Quick quote:
"He may be underappreciated, but he was very similar to what Marshall Faulk has been more recently.'' -- Richardson, who was Moore's teammate for two years in Baltimore.
10. ERIC DICKERSON
Credentials:
Reached 10,000 rushing yards in 91 games (the fastest pace in history) and rushed for 2,105 yards in '84. Played for Rams, Colts, Falcons and Raiders.
Quick quote:
"He didn't look fast, but he was so long-legged that he could go the distance.'' -- Reeves
Barry Sanders, Walter Payton and Emmitt Smith were right behind him. Gale Sayers, LaDainian Tomlinson, Marshall Faulk, O.J. Simpson, Lenny Moore and Eric Dickerson also made the list.
"I came into the league in 1965, and that was Jim Brown's last year," said Reeves, who played for the Dallas Cowboys before going on to coach the Denver Broncos, New York Giants and Atlanta Falcons. "There hasn't been anyone quite like him since, and I don't know that there ever will be. He had the size to run over people and the speed and elusiveness to make them miss. Nobody has ever had that combination quite like him."
Richardson, the first former player since George Halas to own a team when he was awarded the expansion Carolina Panthers, watched Brown from the sidelines.
"Everyone knows Jim Brown was great," said Richardson, who played receiver for the Baltimore Colts in 1959 and 1960. "But unless you saw it up close, I don't think you can truly appreciate the combination of power, speed and agility he possessed."
At a position that players with all sorts of different styles have had enormous success, Brown is the prototype of all prototypes. That's why he was the relatively easy choice for No. 1. At 6-foot-2 and 232 pounds, Brown played for the Cleveland Browns from 1957 to 1965.
Brown owned the NFL career rushing record with 12,312 yards when he suddenly walked away from the game to pursue a movie career. That record has been passed to Payton and now Emmitt Smith, but Brown's status has endured.
"There are a lot of ways you can look at the numbers," said Bushofsky, who worked in scouting and personnel for Tampa Bay, Indianapolis, Carolina and Washington for four decades. "But I think when you're talking about the best ever, you have to boil it down to how many times they touched the ball, rushing and receiving, and how many times they scored. You can't argue with Jim Brown on that."
In 118 career regular-season games, Brown scored 126 touchdowns (106 rushing, 20 receiving) while carrying 2,359 times and catching 262 passes. He scored once every 20.7 times he touched the ball, and he averaged 5.2 yards a carry and 104.3 rushing yards a game.
Reeves, Bushofsky, Thomas and Richardson each voted Brown first on their ballots. Shula split his first-place vote between Brown and Sanders, who finished No. 2. No panelist rated Brown lower than third.
"The only reason I'm not putting him No. 1 is because of his size," former Minnesota Vikings running back Robert Smith said. Smith rated Brown No. 2 behind Sanders. "He was running against defensive linemen who were the same size as him. That would be like a running back today running against 11 defensive backs. But that's not Jim Brown's fault."
Balancing act
Each panelist was asked to take into account the changes in the game. For example, Brown began his career when the NFL played a 12-game regular season. The league switched to a 14-game format in 1961 and to the current 16-game schedule in 1978.
Each submitted a ballot and agreed to make his top choice public, though some asked that the order of the rest of their lists be kept private. Each also talked extensively about the running backs on his list and, in many cases, about the players left off his list.
The ballots were calculated, but the result of the vote was used only as a guideline as ESPN.com assembled the final list. In some cases, less weight was given to votes from those who played with or coached a player, whereas more weight was given to impartial votes.
When it came to statistics, panelists were asked to try to think in relative terms. Players such as Brown didn't have as many opportunities to assemble as gaudy statistics as Tomlinson, who is ranked No. 6 and is the only active player on the list.
"To narrow it down to just 10 is nearly impossible," Reeves said. "I'm sitting here with a list of 40 or 50 guys, and you could make a legitimate case for every single one. You have to take in a lot of different factors and try to balance it all out."
Balance was what ESPN.com sought most as it tried to put every candidate into perspective. Panelists such as Levy, 82, and Shula, Richardson and Bushofsky, who are in their 70s, were relied upon heavily to present the case for the running backs some of the younger panelists never saw play.
Old-timers such as Red Grange, Marion Motley, Paul Hornung and Joe Perry received votes, but Brown and Moore (No. 9) were the only running backs who began their careers before 1965 to make the list.
"A lot of people forget about Lenny Moore or don't even know about him," Bushofsky said. "But he could stand the test of time. He was basically Marshall Faulk before Marshall Faulk."
Moore played for the Baltimore Colts from 1956 to 1967. He never came close to rushing for 1,000 yards in a season, but he was a combination halfback/flanker who produced 12,451 total yards and 113 touchdowns. Moore helped clear the way for running backs such as Faulk and Tomlinson to become huge parts of the passing game. Moore also played for, arguably, some of the best teams in history, and he helped his case by helping Johnny Unitas become one of the best quarterbacks ever.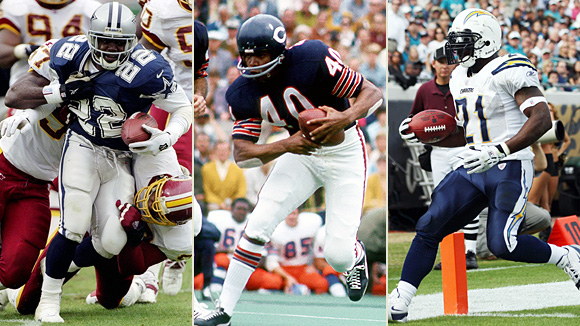 Getty Images/US PresswireFrom left: Emmitt Smith is the all-time leading rusher with 18,355 yards; Hall of Famer Gale Sayers averaged five yards a carry; LaDainian Tomlinson of the Chargers is the only current player to make ESPN.com's elite 10.
Emmitt Smith: Big on results, not flash
Playing on a team that was a big winner wasn't necessarily a requirement to make the list. Super Bowl titles might have helped Emmitt Smith's status. He's the all-time rushing leader (18,355 yards) and played on three Super Bowl championship teams with Dallas. Along with quarterback Troy Aikman and receiver Michael Irvin, Smith formed "The Triplets" and, no doubt, also was aided by an exceptional offensive line and strong defense.
"I think production counts for a lot, and Emmitt always produced," Shula said. "He may not have been as flashy as some other guys, but he gave you results. He was a big part of the reason that team was so good."
Conversely, Sanders, Sayers, Simpson and Eric Dickerson made the list without playing for teams that won championships, and Payton's Chicago Bears didn't reach the Super Bowl until nearly the end of his career.
"I don't want to take anything away from Emmitt at all," said Robert Smith, who ranked Emmitt Smith at No. 6. "But I would have liked to have seen Barry Sanders running with that team. When you factor in size and the team he was playing with, Barry was probably working with the least of anybody and he still got the most out of it."
At 5-foot-8 and 203 pounds, Sanders was blessed with exceptional speed and cutting ability but was cursed because he landed with the Detroit Lions, who lost during much of his career. But Sanders did help the Lions win a playoff game in the 1991 season (the franchise's only postseason victory since 1957).
Before the 1999 season, Sanders, who was closing in on Payton's all-time rushing record, stunned the football world by retiring. He later admitted his decision stemmed from frustration over Detroit's lack of success and concerns about the franchise's future.
"I just wish that Barry Sanders hadn't retired when he did," said Thomas, who will be inducted into the Pro Football Hall of Fame in August. "He still was at the top of his game and could have gone on a long time."
Sanders wasn't the only runner on the list whose career ended prematurely. Sayers entered the league in 1965, but two major knee injuries ended his career by 1971. No player on the list drew more varied opinions than Sayers. Levy split his No. 1 vote between Sayers and Payton while two other panelists left Sayers off their lists, saying his career wasn't long enough.
"If Sayers didn't have the injuries, he would have been the best player in history," Levy said. "He was the smoothest, most unbelievable athlete ever."
Bushofsky, who voted Sayers at No. 3, acknowledged that he's a fan of durability. "But I'll make an exception on this one," Bushofsky said. The guy averaged 5 yards a carry and almost 12 yards a catch. You can't leave him off."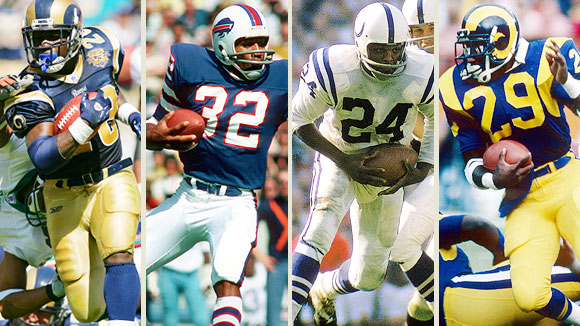 Getty Images, US PresswireFrom left: Marshall Faulk was dangerous running and receiving; O.J. Simpson was the first to rush for 2,000 yards; Lenny Moore averaged 4.8 yards a carry and 16.6 per reception; Eric Dickerson had 13,259 yards rushing.
Who's left out
Plenty of other great running backs were left off the list.
"I'm looking at the rest of my list and seeing guys like Curtis Martin, Thurman Thomas, Jim Taylor, Terrell Davis, Tiki Barber, Fred Taylor and Marcus Allen," Reeves said. "It's very hard to leave names like that off."
All those names got strong consideration. So did Earl Campbell, Franco Harris, Tony Dorsett, Larry Csonka, John Riggins and Shaun Alexander. On the flip side, Simpson did make the list, despite his postcareer legal issues.
Simpson, who became the first to break the 2,000-yard barrier in 1973, appeared on six of the eight ballots and was rated as high as No. 2.
"People may want to forget it now," Reese said. "But for a time, O.J. was the face of the NFL."
The faces have changed with time. From Brown's power to Payton's grace to Sanders' speed, the qualities of the best running backs are constantly evolving. These days, Tomlinson is the standard for running backs.
Tomlinson, Alexander, Fred Taylor and Adrian Peterson were the only active running backs to receive votes from the panel. Alexander and Taylor came close to making the list. Peterson, who will enter just his second season after an outstanding rookie campaign with Minnesota, will have to put in much more time.
Tomlinson already has been in the league for seven years and has 10,650 rushing yards and 3,375 receiving yards and 129 touchdowns.
"If Tomlinson keeps going the way he is, call me back in a few years," Shula said. "We might have to put him at the top of the list. If Peterson keeps playing like he did as a rookie, call me back in 10 years and we might have to redo the whole list."
Jack Bushofsky
Born: Oct. 8, 1937
Credentials: Longtime scout and front-office executive who spent time with Tampa Bay, Indianapolis, Carolina and Washington … Legendary for work ethic, frequently showing up an hour or two before other scouts at workouts for college players … Spearheaded one of the most successful drafts of this decade, as Carolina took future Pro Bowlers Dan Morgan, Kris Jenkins and Steve Smith in the first three rounds of the 2001 draft … A former college head coach at Austin Peay, is now retired and living in Florida.
Marv Levy
Born: Aug. 3, 1925
Credentials: Coached the Buffalo Bills to four consecutive Super Bowls … elected to Pro Football Hall of Fame in 2001 … after working for legendary coach George Allen as an assistant with the Los Angeles Rams and Washington Redskins, got his first professional head coaching job with Montreal of the Canadian Football League and led the Alouettes to three Grey Cup appearances before leaving to become head coach of the Kansas City Chiefs in 1978 … joined the Bills in 1986 … in Buffalo, won six AFC East titles and was considered one of the pioneers of the no-huddle offense … returned to the Bills as general manager in 2006 and retired after last season.
Floyd Reese
Born: Aug. 8, 1948
Credentials: After playing defensive tackle at UCLA and working as an NFL assistant coach, took over as general manager of the Houston Oilers in 1994 … After the franchise became the Tennessee Titans, Reese's personnel decisions helped the team reach two AFC Championship Games and one Super Bowl … Drafted NFL rookies of the year Eddie George, Jevon Kearse and Vince Young … Drafted NFL co-MVP Steve McNair.
Dan Reeves
Born: Jan. 19, 1944
Credentials: Spent eight seasons playing for the Dallas Cowboys, while also serving as a player/coach near the end of his career … Threw a touchdown pass in the legendary 1967 "Ice Bowl" loss to Green Bay … Became coach of the Denver Broncos in 1981 and went 110-73-1 in 12 seasons while making three Super Bowl appearances … Coached the New York Giants from 1993 to 1996 … Coached the Atlanta Falcons from 1997 to 2003, leading the team to its only Super Bowl appearance after the 1999 season.
Jerry Richardson
Born: July 18, 1936
Credentials: The only person in modern NFL history to play in the league and own a team (Chicago's George Halas was the last) … Was a wide receiver for the Baltimore Colts for two seasons and caught a touchdown pass from Johnny Unitas in the 1959 NFL Championship Game … Took his $3,500 playoff check from that season and used it to start a food service that evolved into Hardee's and Denny's … After earning his fortune, began a crusade to bring the NFL to the Carolinas and was awarded an expansion team in 1993 … His low-key, but powerful style made him one of the league's most influential owners.
Don Shula
Born: Jan. 4, 1930
Credentials: Coached the 1972 Miami Dolphins to the only undefeated season in modern NFL history … Led the Dolphins to victories in Super Bowls VII and VIII … Won five AFC Championships and 11 division titles while coaching Miami and the Baltimore Colts; posted a 328-156-6 regular-season record … Member of the 1970s All-Decade Team … Member of the Pro Football Hall of Fame … Played defensive back in the NFL before coaching … Signed with Cleveland in 1951, was traded to Baltimore in 1953 and finished a seven-season career with Washington.
Robert Smith
Born: March 4, 1972
Credentials: Led in NFL in rushing in 2000 with 1,521 yards and retired after that season … Played eight seasons with Minnesota Vikings, finishing career with 6,818 rushing yards and 32 rushing touchdowns … Averaged 4.8 yards a carry and was selected to two Pro Bowls … In high school, was first player to win Ohio's Mr. Football Award twice and went on to star at Ohio State … Currently works as television analyst for ESPN.
Emmitt Thomas
Born: June 3, 1943
Credentials: Will be inducted into Pro Football Hall of Fame on Aug. 2 … Joined the American Football League's Kansas City Chiefs as a cornerback in 1966 (the team merged into the NFL in 1970) and played 13 seasons … Led NFL with 12 interceptions in 1974 and finished career with 58 interceptions … Selected to five Pro Bowls … Has worked as an assistant coach in NFL since 1981 … Currently an assistant head coach for the Atlanta Falcons.
Pat Yasinskas covers the NFL for ESPN.com.
ESPN Tampa Bay Buccaneers reporter
Previously covered NFC South for ESPN.com
Covered Panthers for The Charlotte Observer from 1999-2008
Began journalism career with The Tampa Tribune in 1990
BEST RUNNING BACKS

In Part 1 of a two-part report, Scouts Inc. ranks the NFL's top 64 running backs. In Part 2, ESPN.com ranks the top 10 RBs of all time. In the first two presentations of this occasional series, ESPN.com ranked the all-time best QBs in February and the all-time best wide receivers in March.


HOT READ PART 2: All-time best RBs
•
DISCUSS
•
Yasinskas: After Brown, debate gets interesting
•
Yasinskas: Three greats who retired early
•
SportsNation: Rank the top 10 all-time backs
•
Zoom Gallery: From Brown to Dickerson
•
Watch: NFL Live debates best ever
HOT READ PART 1: Today's best RBs
•
DISCUSS
•
Scouts rankings:
1-20
|
21-40
|
41-64

•
Clayton: Current pool of HOF-caliber RBs
•
Hashmarks: Debating the list
•
Football Today podcast: Peterson No. 2?

•
Watch: NFL Live on who got the shaft
•
SportsNation: Rank your top 20
•
Zoom Gallery top 10: LT to Lynch
•
Todd McShay: Ranking top 10 in college

More coverage
•
Sando: Julius Jones fueled by recent past
•
Chadiha: Five RBs with a lot to prove in '08
•
Green: '08 best and worst RB duos

BEST WIDE RECEIVERS OF ALL TIME
•
Sando: Jerry Rice is No. 1, but who's next?
•
Zoom Gallery: Top 10 receivers of all time
•
Sando: Who is Don Hutson?
•
SportsNation: Wide receiver quiz
•
SportsNation: Rank the all-time best
•
Luksa: Bob Hayes an overlooked great
•
Scouts: Ranking top receivers 1-64

BEST QUARTERBACKS OF ALL TIME
•
Sando: Brady not best yet, but time on his side
•
ZOOM gallery: Top 10 QBs of all time
•
Chadiha: Ranking the best QBs by decade
•
Best QBs by jersey numbers
•
Scouts Inc.: Ranking the top 64 QBs of today

•
SportsNation: Rank the greatest QBs
|
Vote
•
Super Bowls: Ranking every QB's performance

MOST SENT STORIES ON ESPN.COM